This amazingly delicious white chocolate raspberry mousse is made a little healthier with Greek yogurt and is made without eggs! Naturally gluten-free.
Happy Valentine's Day! :) I suppose that most of you have already picked out your Valentine's Day dessert. I'm a pretty last-minute kind of person myself so I rarely have my menus planned ahead of time. This post is for you!
Mr. T has decided to grace us with his presence again (and I mean that in a non-sarcastic way!) to provide you with a super easy recipe that's pretty much impossible to mess up! We LOVE the mix of white chocolate, cream cheese and raspberries and this dessert is just that. Now over to Mr. T!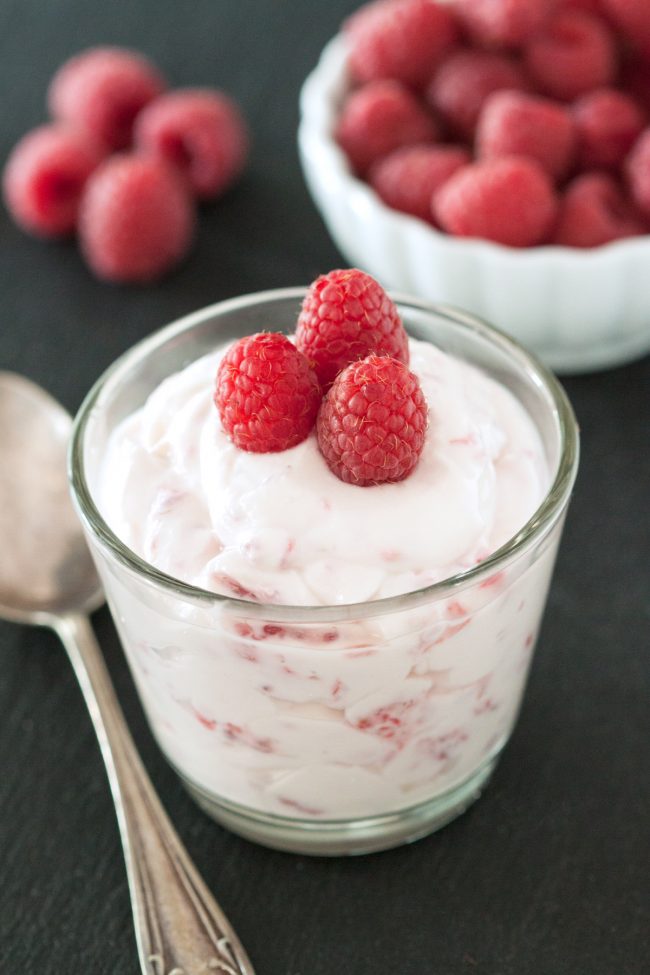 Happy Valentine's Day everyone! I am sure that at least some of you are like me in that you wait until the last minute to get certain things done. Like thinking about what to make your wife for Valentine's Day. So, if you are still searching for a nice and quick Valentine's Day surprise, look no further!
We Germans have this very true saying 'Liebe geht durch den Magen', which basically means that you win someone's heart by making delicious food for them. This creamy mousse will help you with that! ;)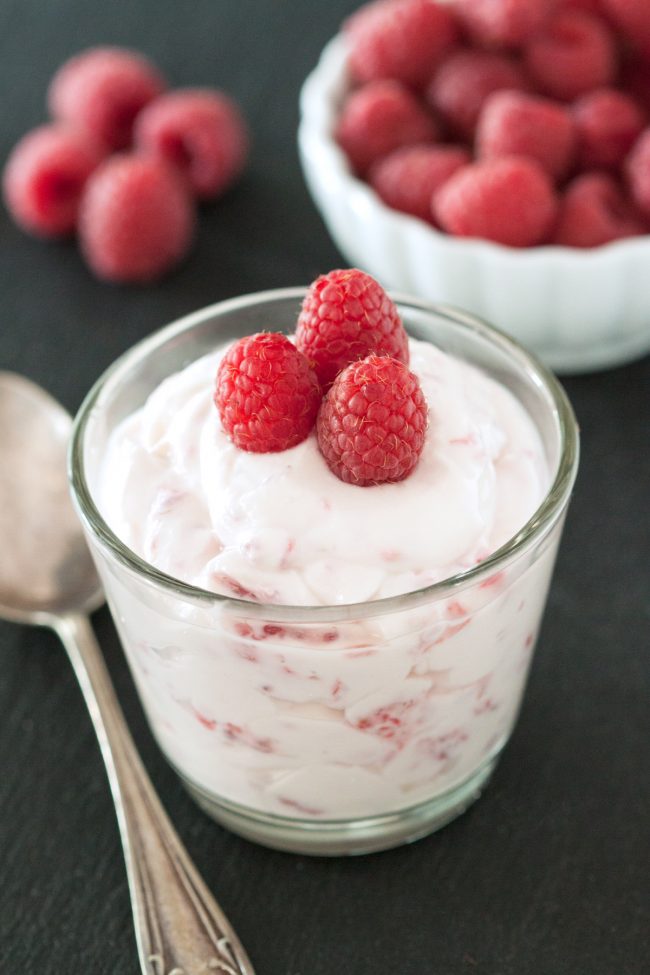 It's relatively quick and easy to make. The texture is kind of difficult to describe. Actually, we weren't sure if we should call this mousse or no-bake cheesecake filling. If you eat it immediately, it's more like no-bake cheesecake filling. And if you chill it a while, it's more mousse-like, but not quite like normal mousse. It's not as airy (or at least, not as airy as I remember mousse to be). And the Greek yogurt gives it a nice tang.
Unfortunately, I'll have to come up with something else to surprise Erin with. Suggestions are more than welcome! ;)
❀
White Chocolate Raspberry Mousse (without eggs!)
Prep Time:
Cook Time:
Ready in:
Yield:

2 servings
Ingredients
1/4 cup (60ml) whipping or heavy cream
4 ounces (112 grams) cream cheese
1/3 cup (56 grams) white chocolate, chopped and melted
1/2 cup (120 grams) plain Greek yogurt
1/2 cup (60 grams) raspberries (frozen or fresh), mashed with a fork
a few fresh raspberries for garnish, optional
Directions
In a small bowl, with an electric mixer, beat the cream until stiff peaks form. Be careful to not over mix or it'll turn into butter!
In a separate medium bowl, using the same beaters, mix together the cream cheese and melted white chocolate. Add the Greek yogurt and mix until well combined and then add the mashed raspberries and stir.
Fold in all but a tablespoon of cream (you'll use that tablespoon to use on top of the mousse). Try to keep the mousse as light as possible. Spoon the mousse into two serving glasses and serve, or chill until serving, up to eight hours.
Top with the leftover cream and garnish with raspberries, if desired.