These healthy muffins for kids get all their sweetness from bananas and sweet potato. Perfect for little ones! They're also paleo, vegan, gluten-free and nut-free.
I've made my son a few date-sweetened muffins so far but he doesn't seem to really like them. These are the first muffins that he really went for! And I really like them, too.
They're not the most beautiful muffins ever, but you know… they're banana-sweetened. And made with sweet potatoes, tapioca flour / starch, coconut flour and coconut oil.
With ingredients like that, I don't really care what they look like. My son has never had a regular muffin like these paleo chocolate banana muffins or paleo blueberry muffins so he also didn't care. :)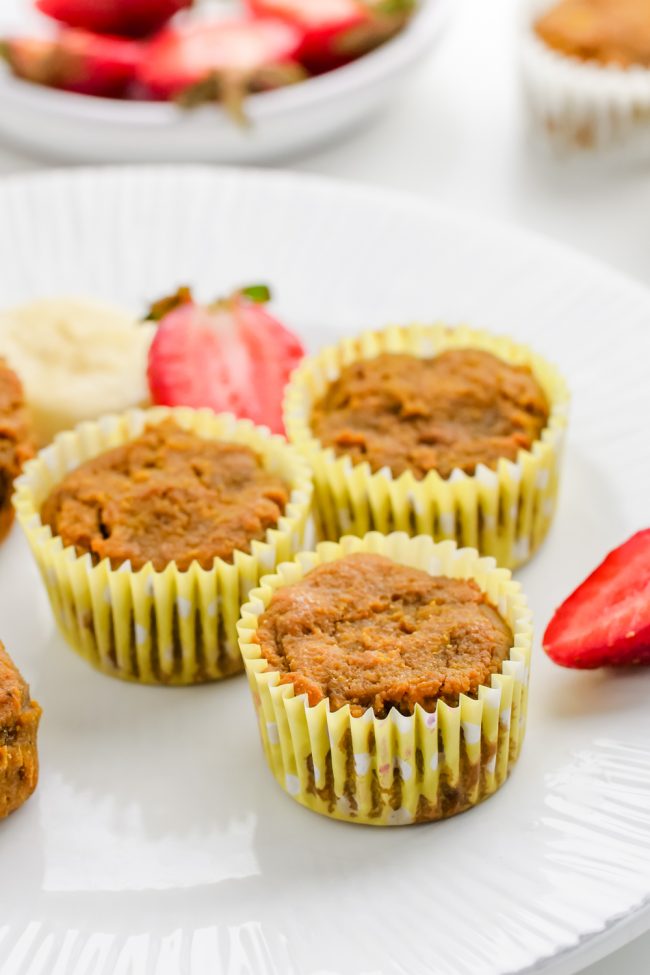 I've made these as mini muffins, regular muffins and in cake form. It's easiest for my son to handle them as mini muffins and figure it may be the same for other kids, so that's what you're seeing today.
If making them as regular muffins, it takes a loooong time. Like 40 minutes. Same with cake. I actually only made a 2″x2″ (I use such a small pan to test fourth batches of brownies, like my favorite gluten-free brownies!)
I've also tried these muffins with pumpkin instead of sweet potato, thinking that obviously it would work, but nope. It's still hard for me to believe that it didn't work but the possibility that I just screwed up the measurements is a possibility (and very easy to do when making an eighth of the recipe!).
The texture is different than your regular wheat-based muffin but still really good! If you refrigerate them, make sure to microwave them a little first or let them come to room temperature. They're super dense when cold.
I love the ingredients in these. I've only made them with tapioca flour / starch but I'm pretty sure arrowroot would work. I'm doubtful anything else would.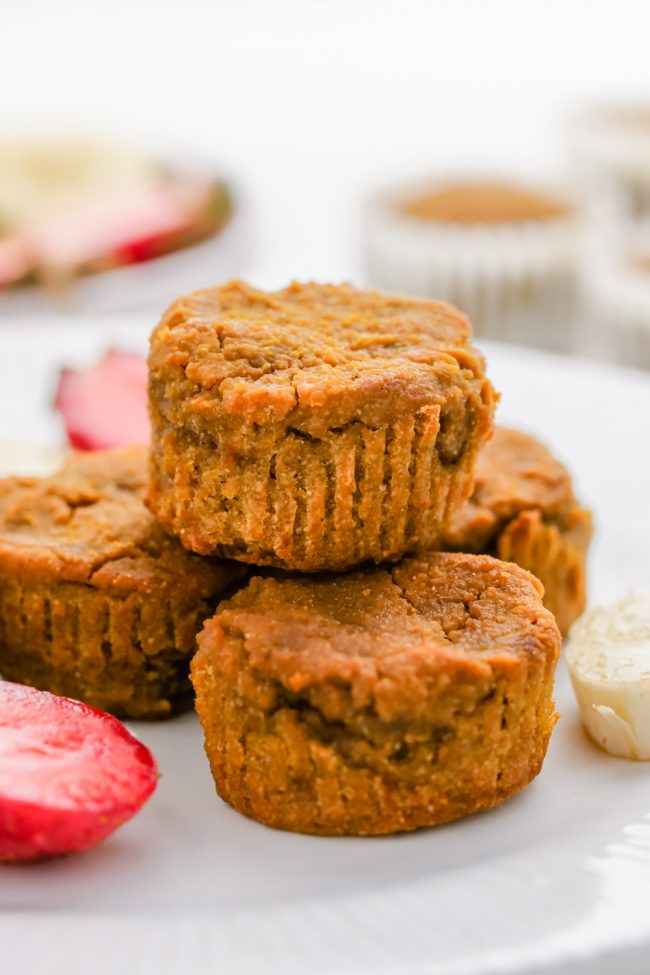 Maybe cornstarch? I try to avoid corn (except in this gluten-free cornbread which I must make for Thanksgiving!) so I haven't tried it.
I also like that these healthy muffins for kids have quite a bit of healthy fat in them. This is pretty much the only good on-the-go snack that my son enjoys with some good calories and fat in it.
He usually just eats vegetables, fruit and cheese. I think I'll make him my gluten-free cheese crackers soon but they're soooo absurdly addictive. Any other healthy snack ideas without added sugar?
I was really surprised after trying the first muffins. Banana-sweetened baked goods so often taste cardboardy! Hot from the oven, they're kind of creamy / mousse-y but once they've cooled, they're more like normal muffins.
It's hard to describe what they taste like, though. They don't taste very much like sweet potatoes, bananas or cinnamon. Just a nice blend of everything, I guess!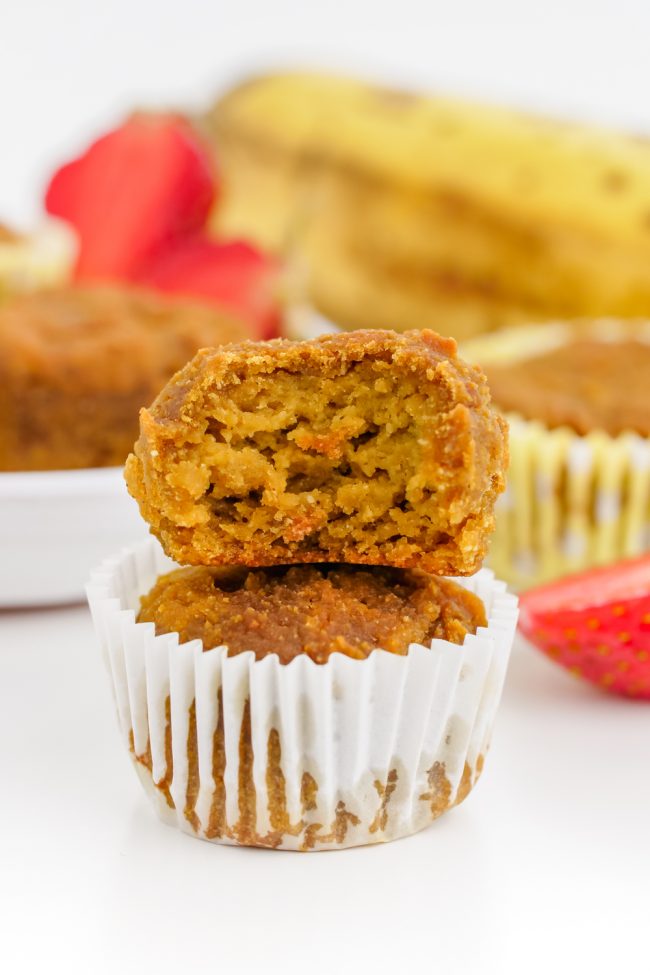 Make sure to use really ripe bananas (riper than what you see in the video). I've made them with just ripe bananas and they weren't nearly as tasty.
The only downside to these muffins is that they stick badly to regular paper muffins. They slid right out of the silicone liners and the waxed paper ones were fine but just regular paper ones were problematic.
If they stick, let them sit for several hours and then try to remove the wrappers. It should be much easier!
I also made them without any liners and without greasing the pan, which was a non-stick pan, and they came out pretty okay. If you're patient enough, you could grease all 24 muffin molds but I was too lazy for that.
You can make these muffins with either raw or cooked sweet potato. If using raw, you need to use a food processor or high-speed blender to process together the coconut oil, sweet potato and banana until it's a puree and then add the rest of the ingredients.
When I made them with cooked sweet potato, I cut them into 1.5″ chunks and cooked in a pressure cooker at high for about 10 minutes. There are lots of ways to cook sweet potatoes and you can use whatever method you normally use.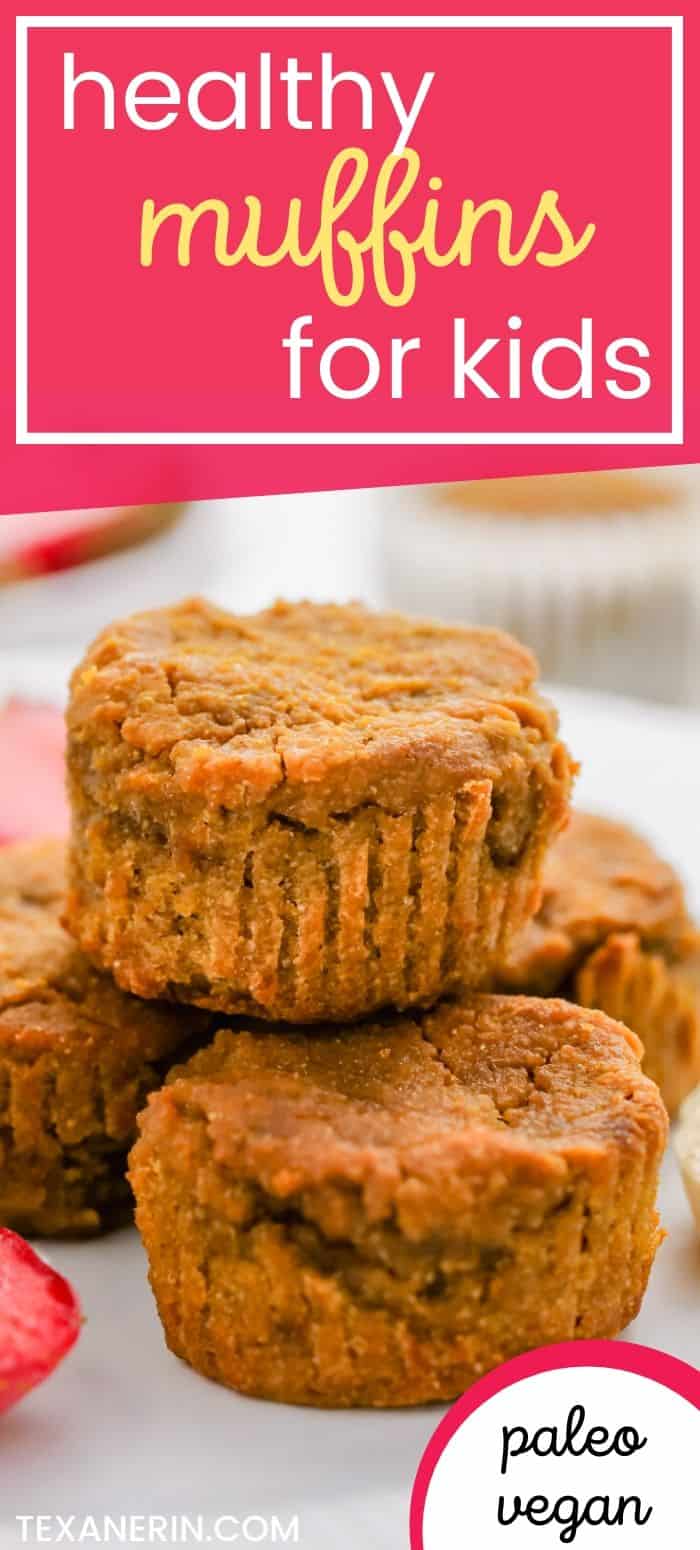 Questions about these healthy muffins for kids?
Can you taste the coconut? Nope!

Can I reduce the oil? You could use a little less.

Can I use something other than coconut oil? Any type of butter or oil should work!

What can I use instead of bananas? I don't recommend experimenting with this. They're needed for the sweetness, flavor and for bulk.
Can I use something other than sweet potato? I tried pumpkin and failed. I'm not sure what else could work. Anyone have some ideas?

Can I use something other than tapioca flour / starch? Arrowroot flour / starch probably works but I haven't tried it. I don't think anything else would work (perhaps cornstarch but I'm not positive!)

Can I use something other than coconut flour? There's no sub for coconut flour, unfortunately. It absorbs so much more liquid than any other type of flour.

Do I have to use a food processor / high-speed blender? If you use raw sweet potato, you do. This recipe also works with cooked sweet potato. If using that, you can just mash the sweet potatoes and bananas together in a bowl.
❀
Healthy Muffins for Kids (vegan, paleo, gluten-free)
Prep Time:
Cook Time:
Ready in:
Yield:

24 mini muffins
Ingredients
1/2 cup (113 grams) coconut oil, melted or at least very soft (not hard and solid)
170 grams (without the peel) very ripe banana (this is 3/4 cup puree or about 1 1/2 medium bananas but please weigh it!)
1 1/2 cups (210 grams) raw chopped sweet potato or cooked sweet potato
1 1/2 teaspoons apple cider vinegar, white vinegar or lemon juice
1/2 teaspoon vanilla
6 tablespoons (45 grams) tapioca flour / starch
6 tablespoons (48 grams) coconut flour
1 teaspoon cinnamon
3/4 teaspoon baking soda
1/4 teaspoons salt
Directions
Preheat the oven to 350 °F (175°C) and line a mini muffin tin with 24 muffin liners. Silicone or waxed work best. See post for more details.
If using cooked sweet potato, skip Step #3. In a large bowl, mash the bananas and sweet potato together until pureed. I like to use the bottom of a glass to mash it. Then stir in the coconut oil. Go to Step #4.
If using raw sweet potato: In a small food processor or a small jar of a high-speed blender (like the one used for making nut butter), process coconut oil, banana and sweet potato (added in that order) at high speed until totally pureed and smooth.
Pour into a large bowl and stir in the vinegar and vanilla.
In a medium bowl, stir together the remaining ingredients. Add this to the wet mix and stir just until combined.
Fill the liners full and bake for 30 minutes or until they're no longer squishy and seem firm.
Let the muffins cool for 5 minutes in the pan and then turn out onto a wire rack to cool completely.
Place in an airtight container and store at room temperature for up to 4 days or refrigerate for about a week. They also freeze well. Reheat in the microwave before serving the chilled muffins.