This gluten-free cornbread is sweet, soft, and can also be made as muffins! With a dairy-free and vegan option.
For me, Thanksgiving isn't complete without cornbread. Give me some turkey, cornbread, and some Gluten-free Apple Crisp, and I'm good. And if there's Sweet Potato Mac and Cheese on the table, that's a nice bonus.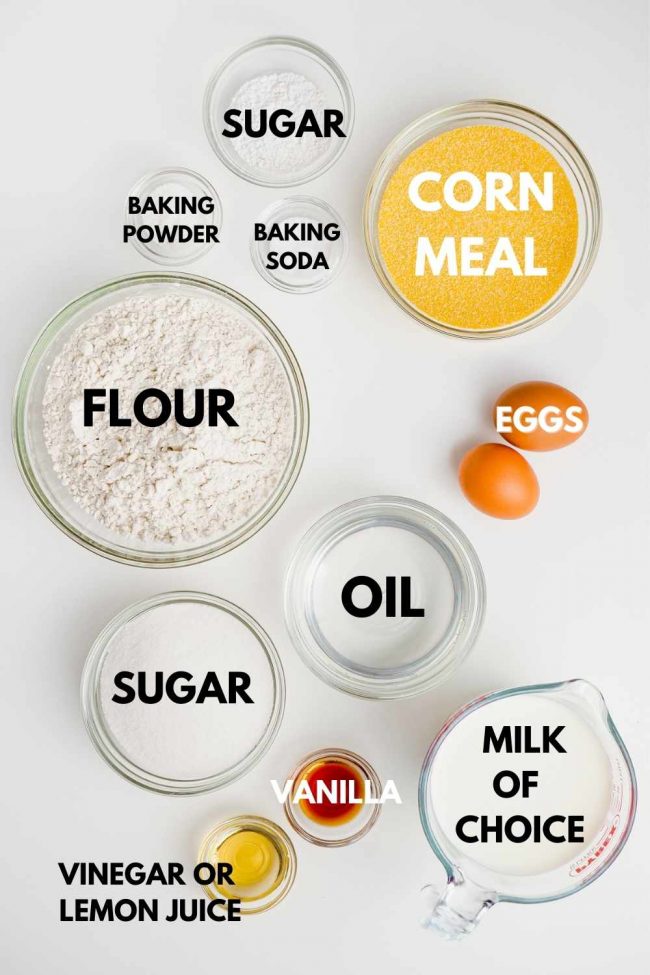 Ingredients
Buttermilk – I've included directions on how to make homemade buttermilk in the notes. Just use plant-based milk to make this cornbread dairy-free.


Oil – You can use whatever type of neutral-tasting oil that you'd like. I don't recommend olive oil as it'd have a strong taste.

If you want to use canola, grapeseed oil or vegetable oil, you can certainly use it.

I like coconut oil, so that's what I used. Be sure to use refined coconut oil so that there's not any coconut taste!


Granulated sugar – you can't just omit it. It's needed for taste and the structure of the recipe.


Egg – You can also use a chia egg for a vegan version.


Vanilla extract – Yup! This is a sweet cornbread recipe, and so the vanilla fits right in.


Cornmeal – this is not the same as corn flour!


Bob's Red Mill Gluten-Free 1-to-1 Baking Flour – This is my favorite GF baking mix. If you use a different one, the results might not be as great.


Salt, baking powder and baking soda – baking powder and soda aren't interchangeable, so you need to use both of them.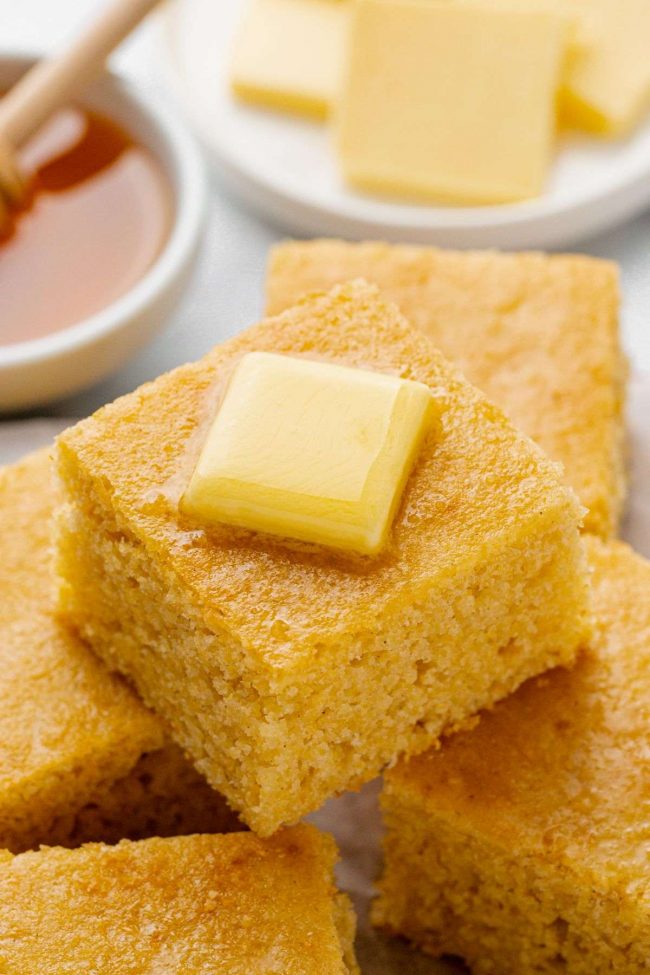 Sweet + fluffy
When it comes to cornbread, I'm all about sweet. I like my cornbread cake-like. This recipe uses 1/3 cup cornmeal and 2/3 cup flour, so this isn't super corny. For me, it's the perfect ratio!
This gluten-free cornbread is soft and fluffy right out of the oven. But it's also great at room temperature!
After it's sat for a while, it becomes a little denser. But it's a nice dense!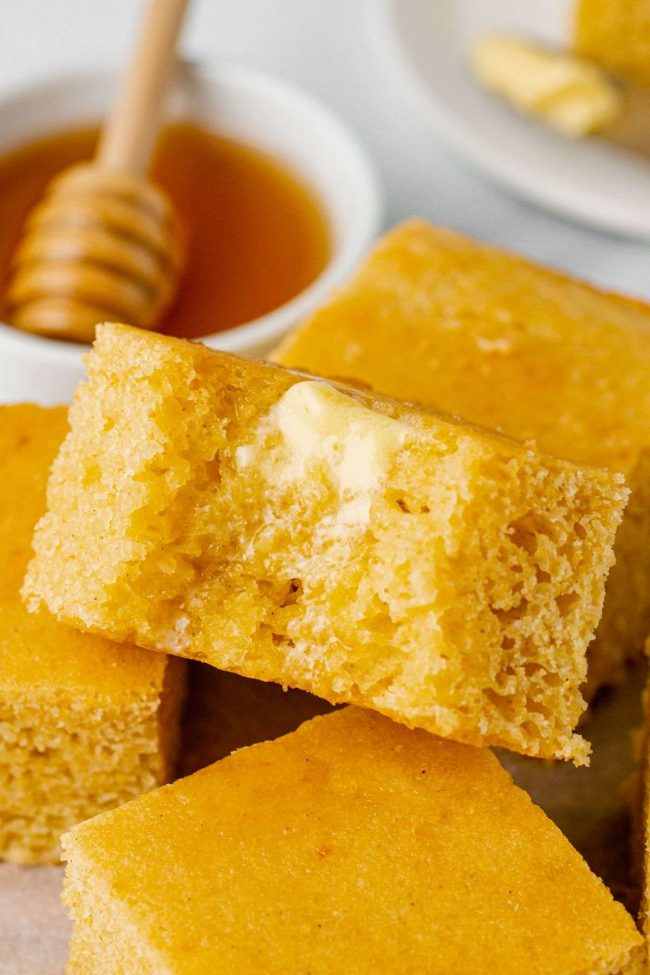 If you don't like your cornbread sweet, this recipe isn't for you. You unfortunately can't just omit 1/2 cup of sugar from a recipe and expect it to work. If only things were that easy. ;)
Even with all that sugar, I don't think this cornbread is very sweet. So you don't have to worry that there won't be space for more sugary sweets, like my Pecan Pie Bars, Vegan Pumpkin Pie or Swedish Apple Pie (all of which can be made gluten-free!).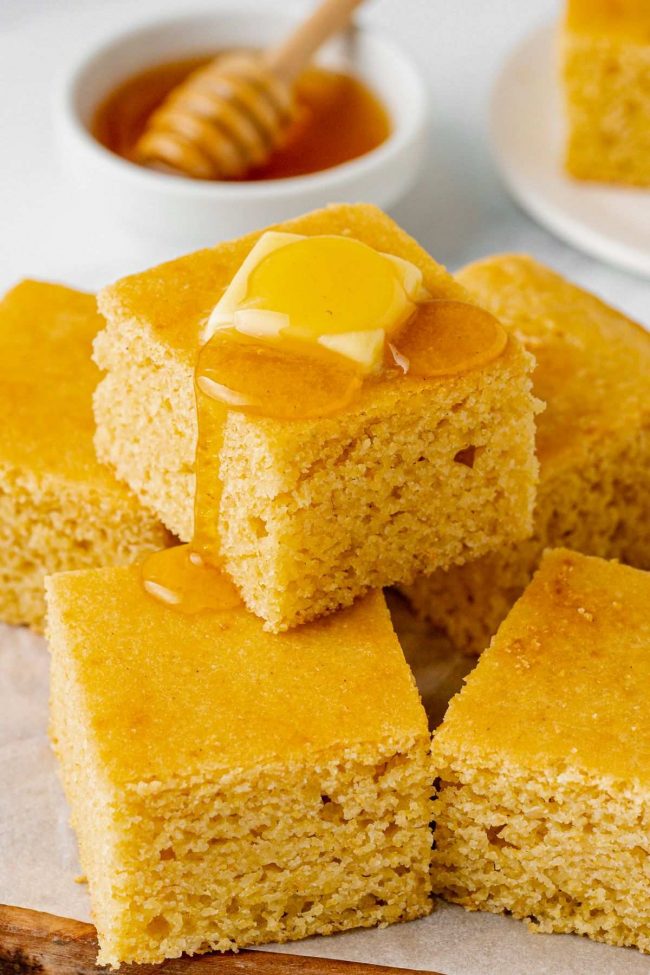 How do I make this recipe as muffins?
Line a muffin pan with 12 liners and bake them for 12-16 minutes. I love making them this way for easy-to-freeze portions!
If you're making them for Thanksgiving, this is especially handy. But you can also freeze the whole pan of cornbread, thaw and reheat for "fresh" cornbread on Thanksgiving day!
Does it taste gluten-free?
Definitely not! If you're worried about picky non-gluten-free family members not liking this cornbread, don't worry. It's every bit as delicious as the version with gluten!
I know because I've tried it. They definitely won't be able to tell a difference!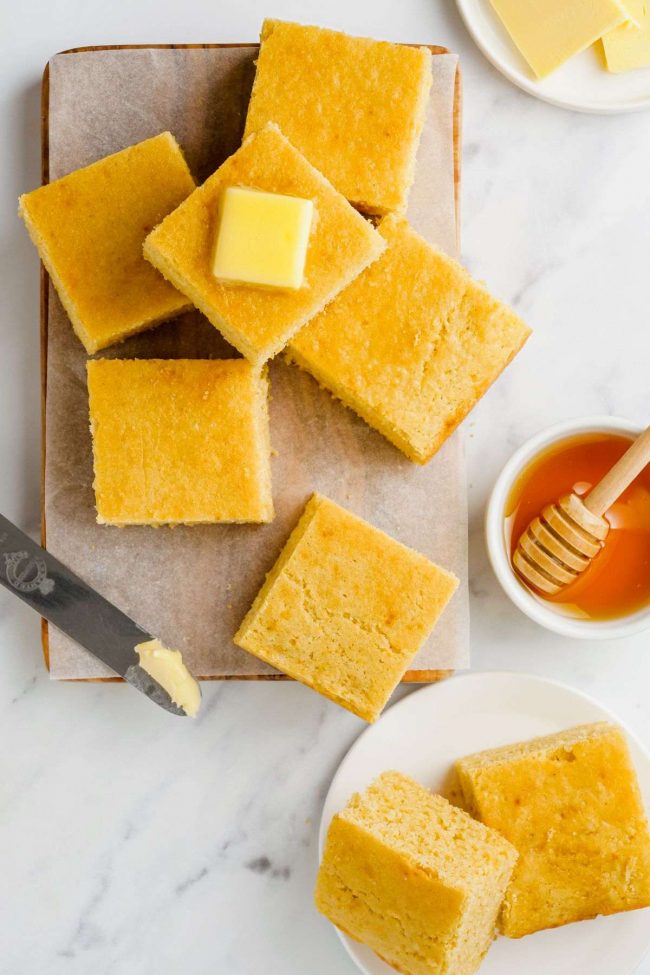 Don't need it to be gluten-free?
Perhaps you're looking for dairy-free or vegan cornbread and don't care about gluten. If that's you, check out my Dairy-free Cornbread.
It's a doubled version of this recipe and has the option of using all-purpose flour or white whole wheat flour.
And if you don't care about it being dairy-free, you can use 1 cup + 2 teaspoons of buttermilk in place of the homemade dairy-free buttermilk!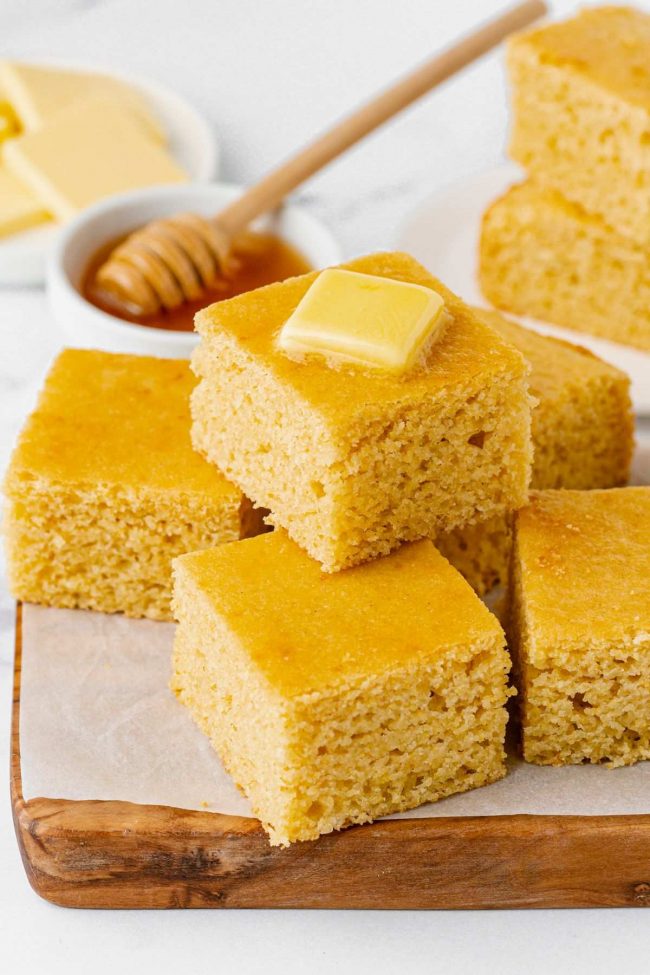 Substitution questions:
Can I use buttermilk powder instead of regular buttermilk? I've never actually used buttermilk powder, so I really have no idea. I'm assuming it'd work, though!


What about just plain milk? I'm not sure. By leaving out the buttermilk, you're omitting the acidity. That could affect the baking soda, and I'm not sure how you'd need to adjust the baking soda, if at all. I think it'd work, but I'm really not sure. If you try it out, let us know!


Can I use a different gluten-free flour? You have to use something that's a 1-to-1 replacement for all-purpose flour. Something like oat flour, rice flour, almond flour, etc. won't work.
Other types of gluten-free baking blends should work, but since I haven't tried it, I can't guarantee it. But again, you must use something that's meant as a 1-to-1 sub for all-purpose flour!


Can I sub something for the cornmeal? Not that I'm aware of. Cornmeal is pretty unique!


Can I sub something for or omit the sugar? I think coconut sugar wouldn't taste very good in this cornbread. Subbing honey or maple syrup wouldn't work unless you reduce the liquids a bit (and I have no idea by how much, so I'm not going to guess). You can't just omit all the sugar, but you could reduce it a little if you want.


Can I add a can of corn? I think if you drain it really well, you should be fine. Haven't tried it, though, so I can't guarantee it.


Can this be doubled for a 9×13? Yes! Bake it for 23 minutes.
More Thanksgiving recipes
These Red-skinned Mashed Potatoes are super rich and creamy. They can be made paleo, vegan or whole30-friendly.
Wondering How to Make Cranberry Sauce? It's easy with just cranberries, orange juice and zest with a little sweetener. It can be made vegan and paleo.
These Healthier Sauteed Apples are a great healthy dessert. They're lightly sweetened with maple syrup and super quick and easy to prepare. They're naturally gluten-free, vegan, paleo and dairy-free.
There's no doubt you'll want to have a slice of Paleo Vegan Pumpkin Pie! It's super creamy, rich and decadent.
If you're looking for a chili recipe for this gluten-free cornbread, I have several on my other blog, Food Doodles, that you could try. Like this Kid-friendly Chili, Venison Chili or this Big Batch Three Bean Chili with Beef that will surely warm up a crowd.
You could also give this Corn Chowder a try! These Instant Pot Dairy-free Mashed Potatoes also look great. As does this Gluten-free Green Bean Casserole.
If you make this gluten-free cornbread, please tell me about it! If you post pictures on social media, tag #texanerin, so I can see your delicious baked goods! Thanks, everyone and enjoy!
❀
Gluten-free Cornbread - Soft and Fluffy!
Prep Time:
Cook Time:
Ready in:
Yield:

16 slices or 12 muffins
Ingredients
Wet ingredients:

1 cup + 2 teaspoons (246 milliliters) room temperature buttermilk1
1/3 cup (80ml) neutral-tasting oil - if using refined* coconut oil, it should be melted and still warm2
1/2 cup (100 grams) granulated sugar
1 large (50 grams, out of shell) egg, room temperature OR for vegan, use 1 chia egg3
1 teaspoon vanilla extract

Dry ingredients:

2/3 cup (88 grams) medium grind gluten-free cornmeal
1 1/3 cups (184 grams) Bob's Red Mill Gluten-Free 1-to-1 Baking Flour
3/4 teaspoon salt
2 1/2 teaspoons baking powder
1/2 teaspoon baking soda
Directions
Preheat the oven to 350 °F (175 °C) and line a muffin pan with 12 muffin liners or line an 8" x 8" pan with a piece of parchment paper.
In a large mixing bowl, stir together the buttermilk, oil, sugar, room temperature egg (or chia egg), and vanilla and stir until well combined.
In a medium mixing bowl, stir together all the dry ingredients. Add the dry mixture to the wet and stir just until combined.
Pour into the prepared pan. Bake muffins for 12-16 minutes and bread for 20-25 minutes. The edges should be very lightly browned and the top should feel firm. The toothpick test doesn't really work well with this bread. I recommend using a small fork to dig in to the center just a bit to make sure it's fully done.
Let the muffins cool for 5 minutes in the pan and then remove to a wire rack to cool completely. Let the bread cool completely in the pan.
Store any leftovers in an airtight container for up to 3 days. It can be refrigerated for 5 days. It freezes great for up to 3 months.
Notes
To make homemade dairy-free/vegan buttermilk: pour 2 teaspoons of apple cider vinegar, white vinegar or lemon juice into a large mixing bowl. Add a cup of dairy-free milk. Let sit for 5 minutes. Use in place of the buttermilk.
I used refined coconut oil, which has no coconut taste. If you use unrefined, this cornbread may have a slight to mild coconut taste.
To make the chia egg, mix together 1 tablespoon ground chia seeds + 3 tablespoons water until gloopy like an egg.
For vegan, use oil, dairy-free buttermilk and 1 chia egg.
For dairy-free, use the above homemade dairy-free buttermilk.