This sweet homemade apple cider is lightly sweetened with maple syrup and is made totally from scratch – no apple juice here! Naturally gluten-free, vegan and dairy-free.
Mr. T has been on an apple buying spree for the past two months. All of a sudden, he's interested in trying every variety of apple out there so when they're on sale, he comes home with a few pounds (which is how they're sold). Now I have about 20 pounds of apples and can't get rid of them quickly enough! This homemade apple cider could alternatively be called "What To Make When You Have Too Many Apples." I wouldn't use fancy or expensive apples in this cider just because it seems like such a waste – any old apples will do!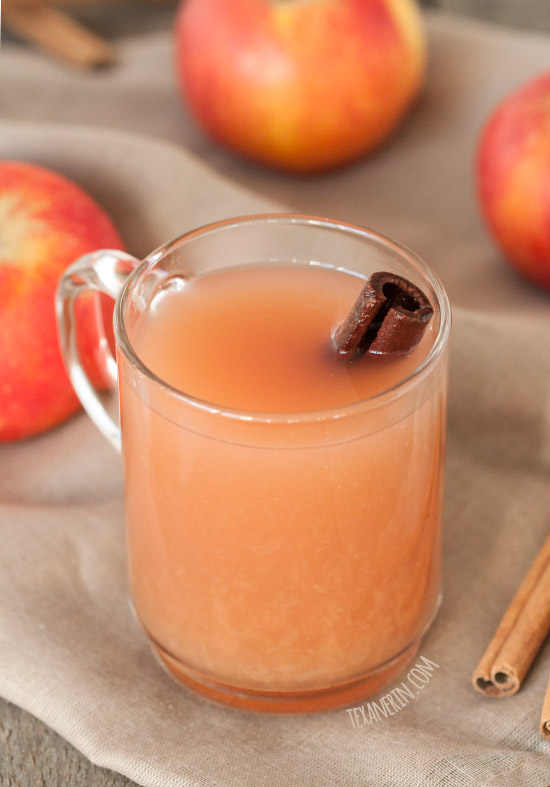 I've made this apple cider twice so far and both times I used 3 pounds of apples. Here's how the batches differed:
The first time:
I used mushy 2 month old apples that had lost their juiciness
Had to keep adding water to the pot so that the apples didn't stick
Yielded 1 3/4 cups of a quite syrupy mixture (I added 1 3/4 cups of water for a total yield of 3 1/4 cups of cider)
Used a cheesecloth to wring out the liquid and that left a little pulp, which you can see in the picture
The second time:
I used fresh super juicy apples
Never had to add more water
Yielded 3 cups (3 1/4 cups after adding 1/4 cup water)
Used a clean tea towel and there wasn't any pulp in the cider at all
They tasted exactly the same, so if you have old apples, use them! Just make sure that they're still good and flavorful. If you use apples that taste like nothing (looking at you, Red Delicious!) then your apple cider will also taste like nothing. Or actually, it'll taste like cinnamon maple syrup water, which doesn't sound that bad, but it's not what we're going for here.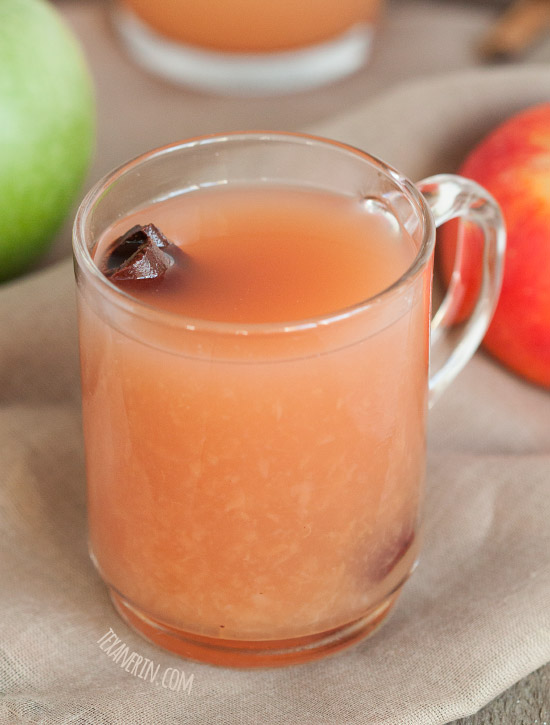 I made it a second time because my yield seemed so much smaller than what I'd seen online. Some recipes were claiming a yield of 1 gallon from only 10 apples. A gallon! I did use small apples but I still don't see how that's possible. This is another case for adding weights to recipes. ;) American apples must be much larger than I remember.
I sweetened my apple cider with just 3 tablespoons of maple syrup and it was perfect for us. That's much, much less sweetener than other recipes so you may want more. You can always add more maple syrup, sugar or whatever sweetener you want to use later on, but you can't remove it, so I recommend using 3 tablespoons and adding more to taste when it's finished.
I originally made this as a trial run for Thanksgiving and while it's really tasty, I don't know if it's practical for large Thanksgiving dinners. For a family of four – sure! But for 20? You'd almost need half an orchard. ;) We'll be going to a friend for Thanksgiving this year (where I'll be the only American!) and we'll be about 6 people. I'm definitely going to double this recipe, bring it and represent. :D
❀
Homemade Apple Cider
Prep Time:
Cook Time:
Ready in:
Yield:

3 1/4 cups cider
Ingredients
3 pounds (1360 grams) sweet and preferably not tart apples (this is about 10-12 small apples)
3 tablespoons maple syrup
2 cinnamon sticks
2 teaspoons ground allspice (you can add this at the end, to taste, if you prefer)
Directions
Core the apples and cut into 1" slices. I like to use something like this to core and slice at the same time.
Place the maple syrup, cinnamon sticks and allspice in a large lidded pot. Add the apples and then cover the apples with 1" of water. Give it a good stir.
Cover and boil on medium for 1 hour, checking occasionally to make sure the apples aren't sticking. Add water, as necessary. If using old apples, be sure to check every 15 minutes.
After one hour, check the apples, and stir.
Turn the heat down to low and continue simmering until the apples almost completely broken down (about an additional hour). Remove from the heat.
Let the apples cool for an hour or until cool enough to touch. Remove the cinnamon sticks.
Get out a jug or whatever storage container you'd like to use. Directly over that container, strain the apples through a fine mesh sieve or use a clean tea towel or cheesecloth to wring out the liquid. Taste and add sweetener and / or more spices to taste.
Let the cider cool to room temperature and then cover and refrigerate. Can be stored for up to 3 days.