This gluten-free banana bread recipe yields a super moist, flavorful and not at all gummy loaf that is sure to please even gluten-eaters! It's also dairy-free with a vegan option.
I wasn't going to post again before Easter but apparently, a ton of people are baking banana bread at the moment and I just happened to have had this banana bread recipe ready to go for a while. So I figured it was time to post!
I can't believe how many years it's taken me to get up a gluten-free version of my first ever recipe, this whole wheat banana bread. I posted this spelt banana bread recipe over on Food Doodles this week should you prefer spelt.
It just took me a while to find the right flour blend. The one I usually use resulted in a denser loaf than I'd like. So I ordered some flours from the US to try out another blend I like that uses white rice flour, tapioca starch, potato starch and xanthan gum.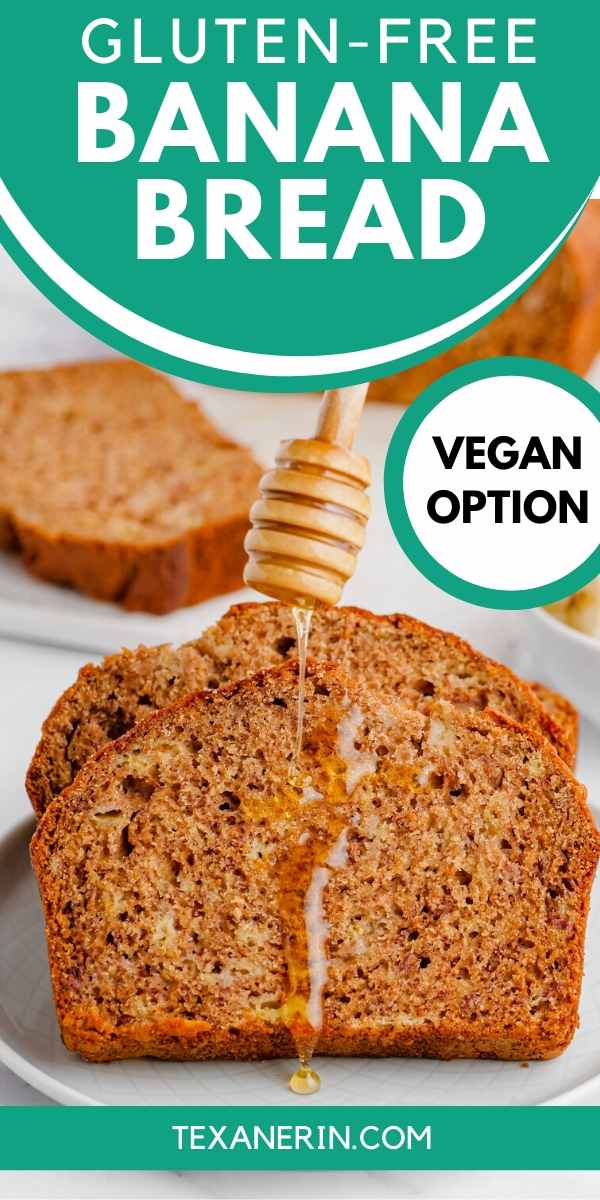 So this gluten-free banana bread isn't one of my healthier recipes but it tastes like traditional banana bread and has a perfect texture so I can live with that. Every now and then. ;)
I think gluten-free bread recipes, even quick breads, are so difficult to get right. This is actually the first I'm ever posting! So you can be rest assured that I took my time to make it as perfect as possible.
I mentioned having to order some of the flour from the US because whenever I use the tapioca flour / starch I buy here, none of the recipes I try online work. And I mean recipes that have great reviews! So obviously I'm the one with the issue and not the recipes.
I've read that the tapioca flour / starch you can find at Asian food shops can give you different results but the kind I buy is expensive, organic stuff from a mill. So I don't think it matters where it comes from. They can just vary a lot.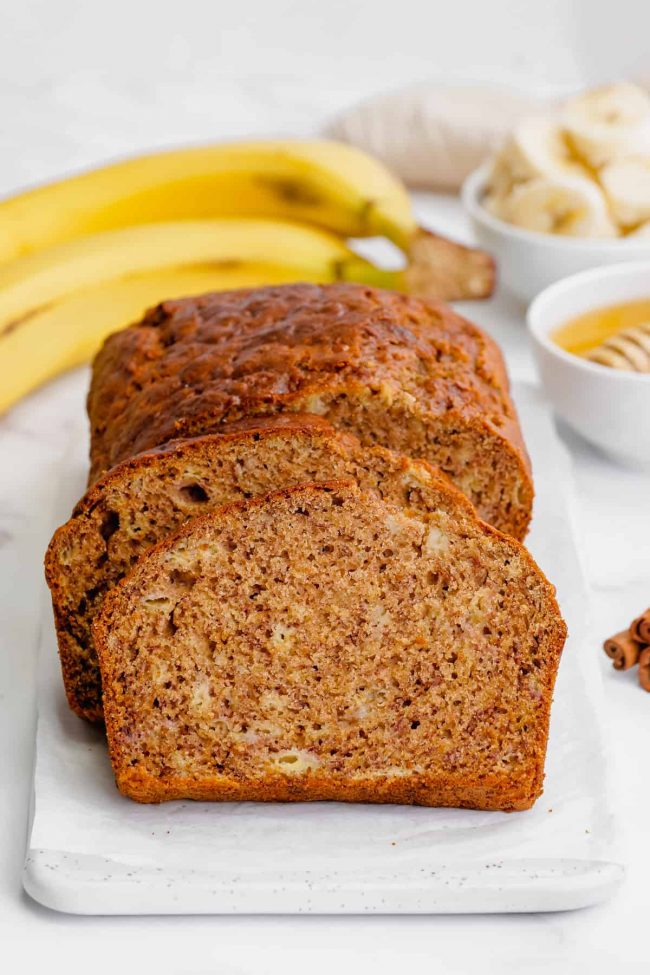 By the way, if you live outside of the US, I have a tip for you. iHerb might have some amazing shipping deals to your country. Up until about 2 weeks ago (it changed due to the current situation), I could order whatever I wanted from there to Germany and if it was 40 to about 130 euros, I didn't pay anything for shipping. I prepaid customs and it came right to my door. Right now they have up a message saying that the free shipping option is gone for the moment but will hopefully return once things are back to normal!
For people who say I should buy local, I do! But when 90% of my readers are in the US, I need my recipes to use flours that work the same as they do in the US. I'm obsessed with exactness.
But on to this gluten-free banana bread!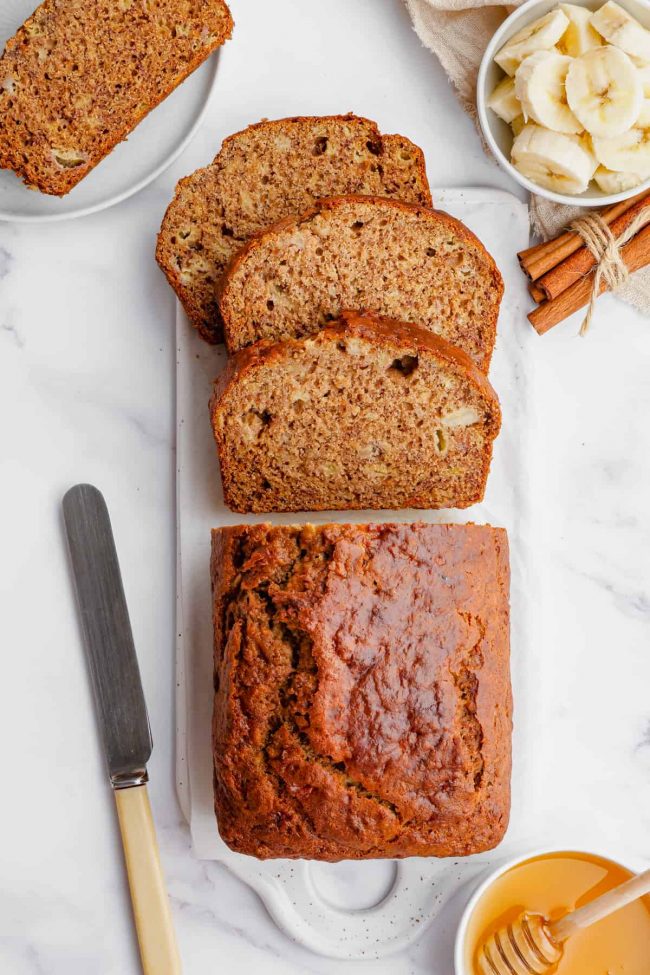 It's every bit as delicious as the whole wheat version, which is just as tasty as if making it with all-purpose flour.
It is a little denser than some banana bread recipes, but we all loved it. And take a look at the video! It's not at all gummy, which is often a problem for gluten-free bread recipes.
I hesitantly tried a vegan version, assuming there was no way it'd work, but I was happy to have been proven wrong! It worked great. It's a tiny bit denser than the egg version but we all gobbled it up happily.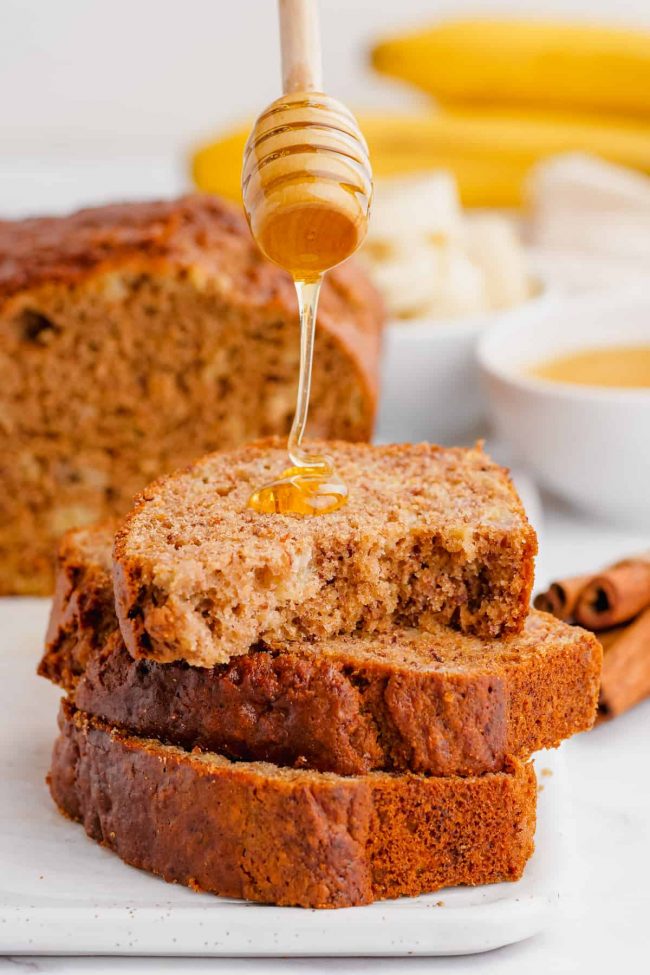 For another gluten-free banana recipe, try these gluten-free banana pancakes. We make them weekly and the reviewers love them, too!
These paleo chocolate banana muffins are also still super popular. Maybe because they're so fudgy and have an awesome texture! This healthy cranberry orange banana bread also looks fantastic!
And that's pretty much all I have. I see now that my banana recipes are kind of lacking. Any requests?!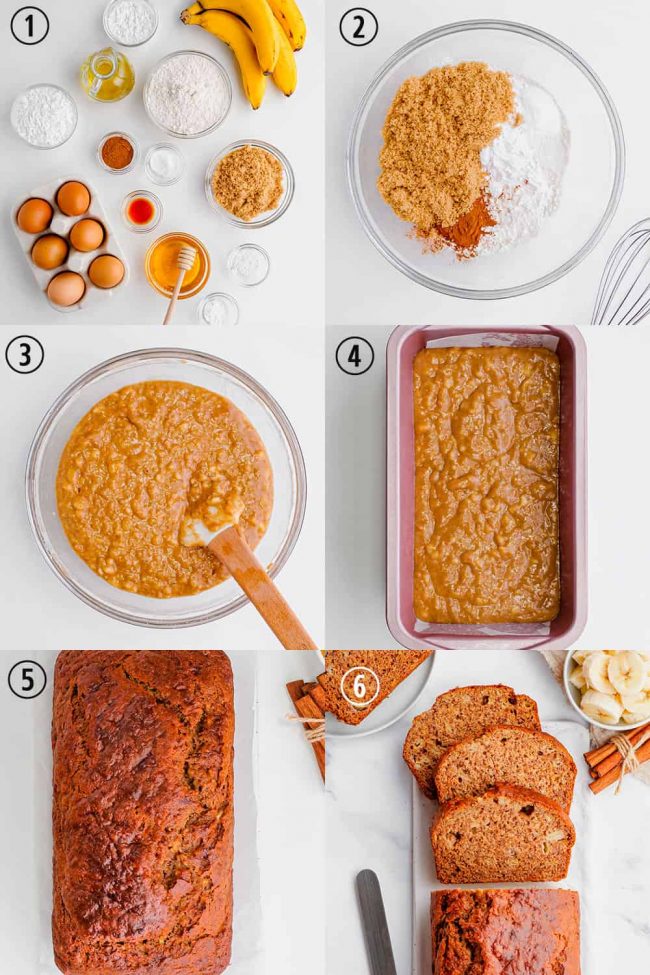 Substitution questions about this gluten-free banana bread recipe?
Can I use a different type of flour or a flour blend?

I've tried this recipe with a gluten-free baking blend (Bob's Red Mill 1:1, which has worked in almost everything I've tried it in) and it didn't work as well as the blend of flours I've listed below. You can experiment with other gluten-free flour blends that are meant as a 1:1 sub for all-purpose flour (you'd use 1 1/2 cups and omit the xanthan gum, assuming that's already in your mix) but I don't recommend it as I'm pretty sure the result will be gummy and too dense.

Can I use something instead of brown or coconut sugar?

Granulated sugar or raw sugar would work but I think it tastes better with the more flavorful sugars.

Can I use something other than eggs / chia eggs?

Those are the only two egg subs I've tried. I'm hesitant to recommend flax eggs or any sub I haven't tried in this recipe because it's already so super moist and perfectly dense, that I'm worried that other subs might send it over the edge.

Can I use something other than honey or maple syrup?

I think any liquid sweetener that you'd use in place of either of those would work.

What can I use in place of the bananas?

It might seem like a funny question but someone's sure to ask! I must simply recommend finding a non-banana bread recipe if you don't like bananas. :)
❀
Gluten-free Banana Bread (vegan option)
Prep Time:
Cook Time:
Ready in:
Yield:

8-12 slices
Ingredients
1 cup (140 grams) white rice flour
1/3 cup (52 grams) potato starch
2 tablespoons + 2 teaspoons (20 grams) tapioca flour
1/2 teaspoon xanthan gum
1 teaspoon baking soda
1/2 teaspoon baking powder
1/2 teaspoon salt
2 teaspoons cinnamon
1/2 cup (100 grams) brown sugar (coconut sugar also works)
2 large (50 grams each, out of shell) eggs or chia eggs for vegan1
1/4 cup (80 grams) honey or (60 ml) maple syrup for vegan
3 tablespoons oil (I used olive oil)
1 teaspoon vanilla
4 medium (480 grams without the peel) overripe bananas, mashed
Directions
Preheat the oven to 350 °F (175 °C). Place a piece of parchment paper in a 9"x5" loaf pan.
In a medium-sized bowl, whisk together white rice flour, potato starch, tapioca flour, xanthan gum, baking soda, baking powder, salt, cinnamon and sugar.
In another medium-sized bowl, lightly beat the eggs. Add honey, oil, vanilla and mashed bananas.
Add the wet mix to the dry mix, but just until combined.
Pour into the prepared pan.
Bake for 45 minutes or until a toothpick inserted in the middle comes out clean.
Remove to a rack to cool for 15 minutes before turning out onto the rack to cool completely. Store in an airtight container for up to 5 days.
Notes
To make the 2 chia eggs you need for this recipe, mix together 2 tablespoons of ground chia seed with 6 tablespoons of water until well combined. Let sit for about 1-2 minutes or until goopy like regular eggs.