This paleo pumpkin cake is wonderfully moist and fuss-free! Topped off with maple cream frosting and maple candied pecans.
I've gotten quite a few questions about converting my gluten-free pumpkin donuts into a cake recipe. I feel bad about not having a definite answer and just telling people, "I don't know because I haven't tried it, but here's what I'd do…" so I just tried it out. :)
To convert that recipe into this cake, I used a 9″ springform pan lined with a piece of parchment paper (you can see the creases around the edges of the cake created by the parchment paper in the below picture). You'll definitely want to make sure your parchment paper isn't too close to the top of the oven.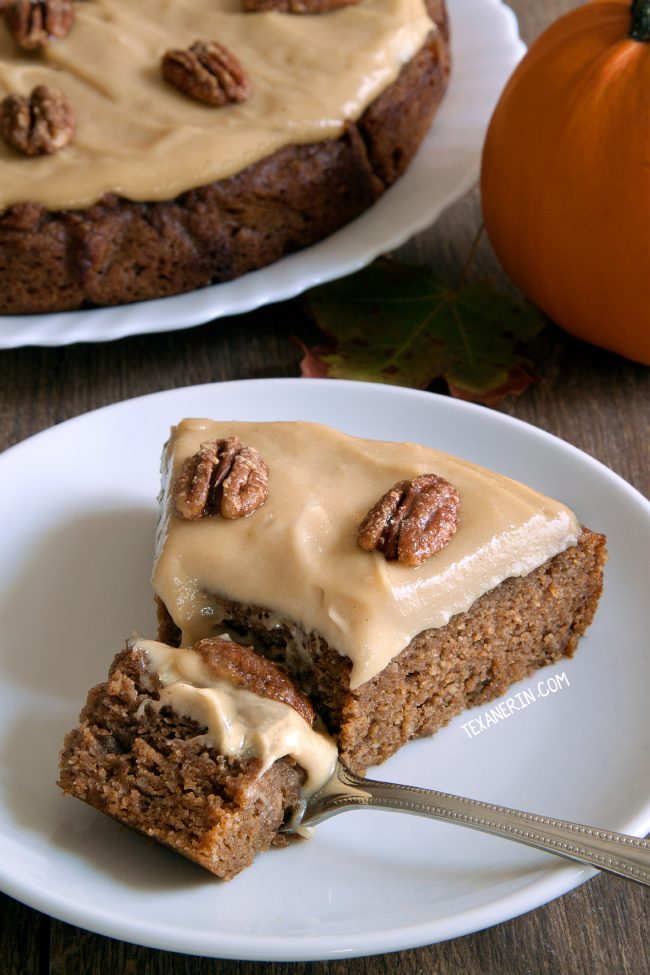 You'd think I would have learned this basic principle by now since I basically line everything except for bundt pans with parchment paper! But nope. The first time I baked this paleo pumpkin cake, a fire was involved.
I think the parchment paper is necessary when using a springform pan so that the batter doesn't leak and cause a smoky oven. If you have a round 9″ closed cake pan and don't want the creases you see in my picture, then just line the bottom with parchment paper and then grease the sides of the pan with coconut oil (or whatever you usually use).
If you don't have a 9″ round pan and want to use an 8″ or 10″ pan, you'll have to adjust the baking time. I think using a 10″ pan would yield too thin of a cake, but if it's your only option, it'll still work!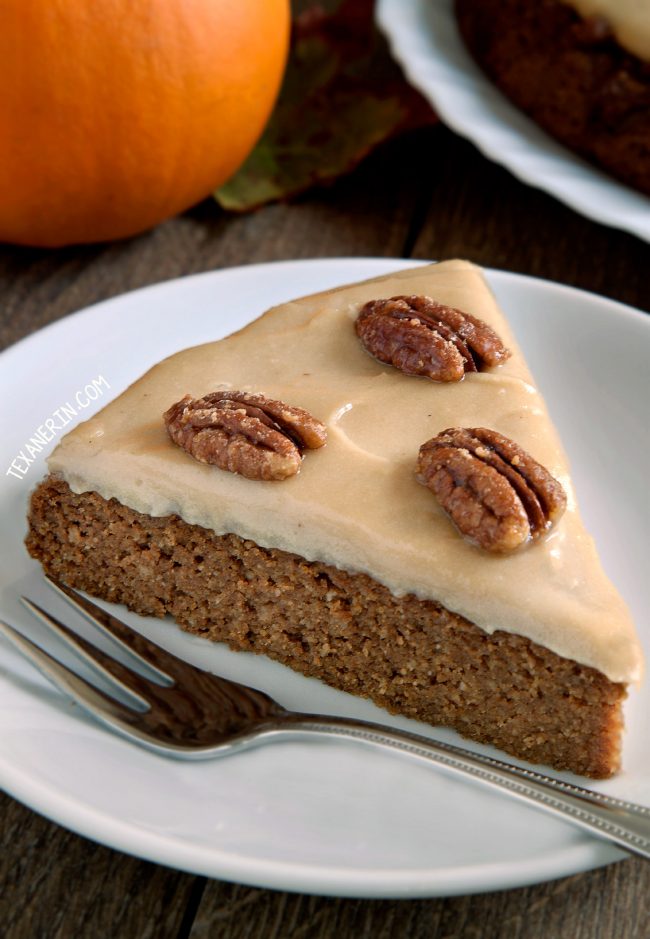 To top if off, I used the paleo maple cream frosting recipe I posted a few weeks ago. It's so perfect on this cake!
I was kind of bummed when it came time for decorating this paleo pumpkin cake. The frosting's way too soft to pipe (not that I wanted to do that, anyway) but the cake just looks blah with only the frosting on top.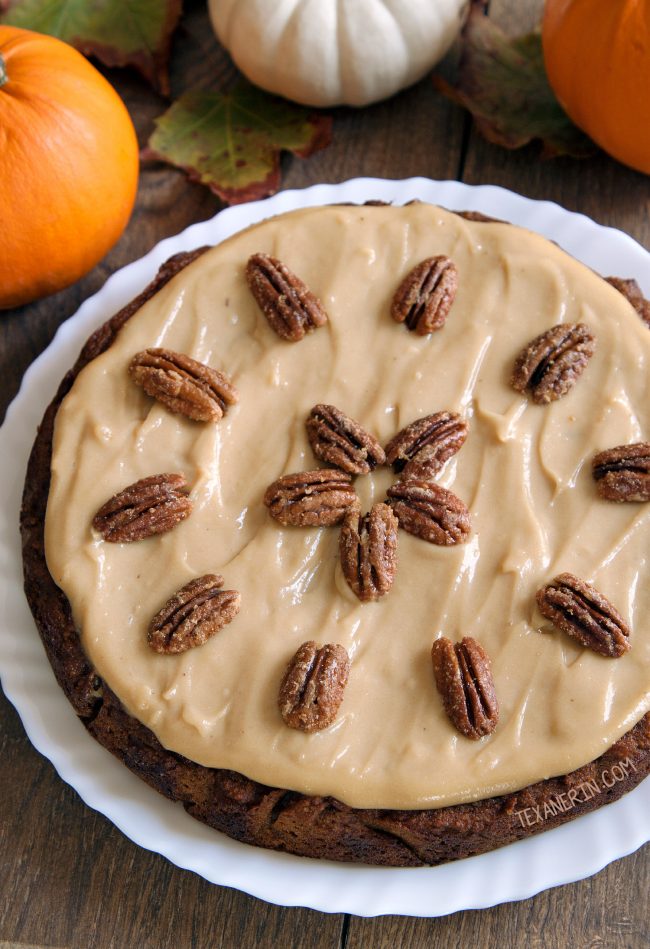 Then I came across the maple candied pecans I had recently used for something else. They're handy. I made a half batch and have been using them to decorate everything! Like this paleo vegan pumpkin pie and these mini maple cheesecakes.
Just be sure to put them on the cake right before serving. Otherwise they kind of "melt." Except melt's not the right word. You know what I mean. :D Enjoy!
If cake's not your speed, try this paleo pecan pumpkin pie fudge or these gluten-free pumpkin maple spice granola bars!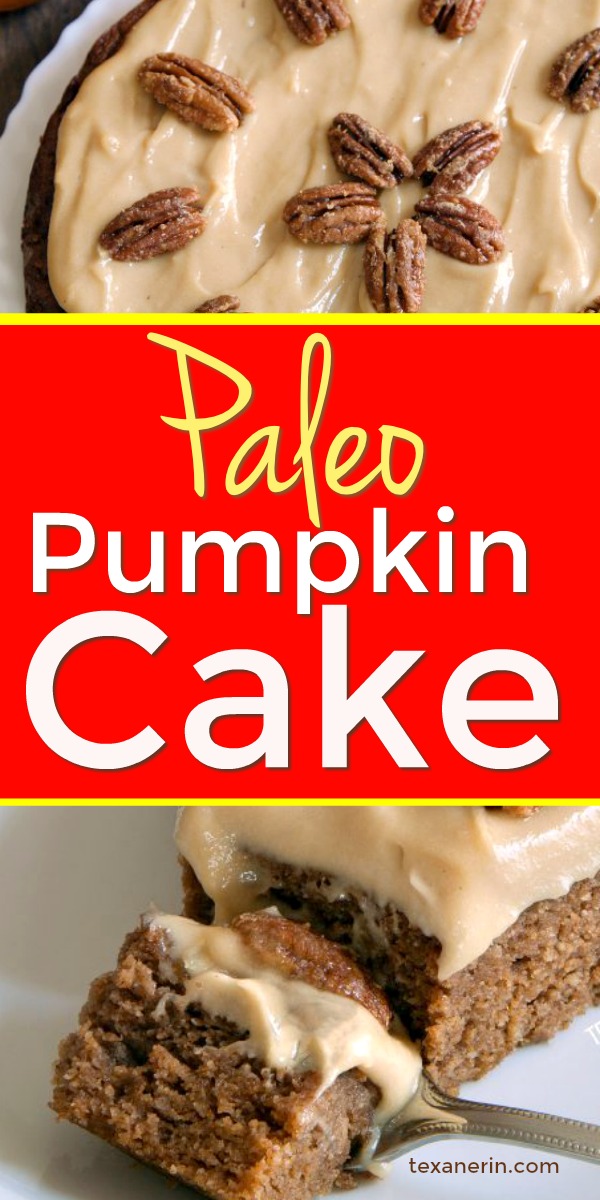 And if you prefer a muffin version, try my paleo pumpkin muffins. It's the same exact batter as this cake but the muffins have streusel on top. :)
❀
Paleo Pumpkin Cake with Maple Cream Frosting (grain-free, gluten-free, dairy-free)
Prep Time:
Cook Time:
Ready in:
Yield:

8 slices
Ingredients
For the cake:

1/2 cup (64 grams) coconut flour
3/4 cup (75 grams) almond flour
1 1/4 teaspoons baking soda
3 1/2 teaspoons pumpkin pie spice
1/4 teaspoon salt
4 large eggs (50 grams each, out of shell), room temperature
7 tablespoons (98 grams) coconut oil, melted1 (you can also use unsalted butter for a non-dairy-free / paleo version)
1/2 cup (120 milliliters) maple syrup
2 tablespoons coconut sugar
1/2 cup (120 grams) canned pumpkin puree (not pumpkin pie filling)
2 teaspoons vanilla extract

For the frosting:

1 cup (132 grams) raw unsalted cashews, soaked2
1/4 cup + 1/2 teaspoon (62 milliliters) maple syrup (I recommend using the darker Grade B kind like this so that the maple taste is more intense)
2 teaspoons water
1 1/2 teaspoons vanilla extract
1/8 teaspoon salt
1 teaspoon lemon juice

For the topping:

1/3 batch (or more) maple candied walnuts made with pecans
Directions
For the cake:

Preheat the oven to 350 °F (176 °C). Place a piece of parchment paper in a 9" springform pan, so that the bottom and sides are lined.
In a large bowl, mix together the dry ingredients (coconut flour through salt).
In a separate medium bowl, mix together the wet ingredients (eggs through vanilla).
Add the dry mixture to the wet mixture and stir just until combined.
Pour the batter into the prepared pan.
Bake for 25 minutes or until a toothpick inserted in the middle comes out clean. Let cool completely in the pan.

For the frosting:

While the cake is baking, prepare the frosting. Drain the cashews and place all the ingredients in a high-speed blender jar (I don't think this would work in a food processor).
Process on high speed for about 40 seconds or until totally smooth and no chunks remain.
Add more lemon juice, vanilla and salt, if desired. Refrigerate for about 2 hours before frosting your cake.
Spread the frosting over the cake. Refrigerate the frosted cake for up to 3 days. Top with maple pecans immediately before serving.
Notes
I used refined coconut oil, which has no coconut taste / smell to it. If you use unrefined, this cake may have some coconut taste.
To soak the cashews, place them in a large mug, small pot, or some kind of container that's safe to pour boiling water into. Pour enough boiling water over the cashews to cover them. Let them sit 1 1/2 to 2 hours.