This homemade basil pesto is super easy to make and is loads better than store bought!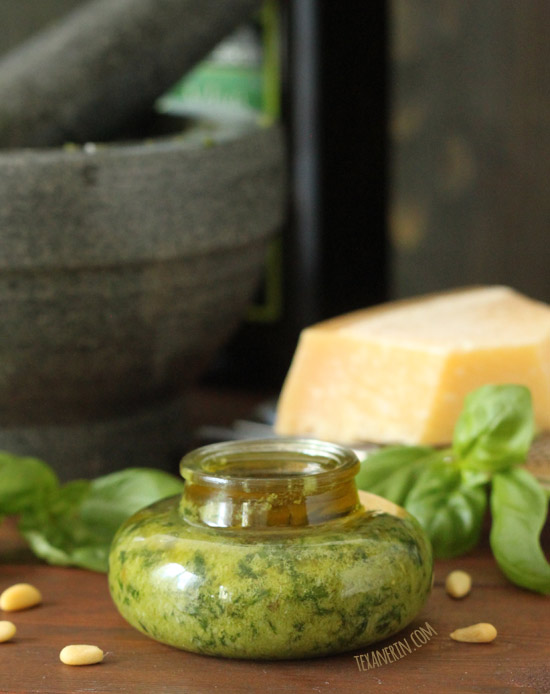 I'm bummed. I wanted to post some whole wheat ravioli, along with this pesto and the homemade pasta but I'm hardly functioning at this point so only pesto it is.
What's weird is that I had no idea what pesto was until a few weeks ago. I knew it was green and slimy (okay, not really, but that's what I thought!) and those two things don't appeal to me very much so I never tried it.
I'm stupid sometimes. I've been missing out for years!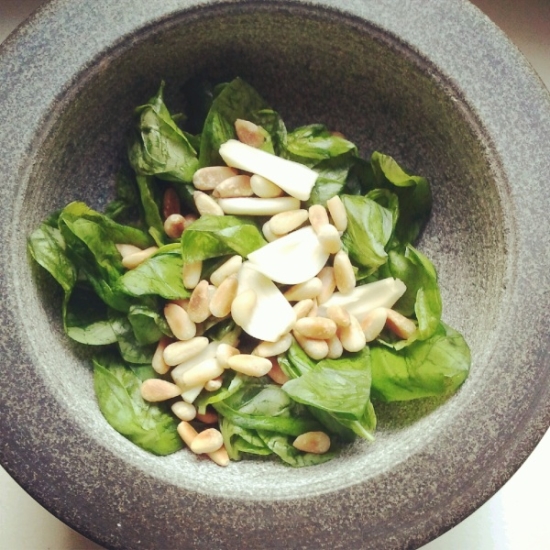 Since I can't compare this to other basil pesto, I let other people try it and supposedly it's really, really good. I thought it was wonderful, but who am I to judge? Update: I've now tried oodles of store bought pesto and none of them hold a candle to this homemade basil pesto! :)
So, the word pesto is the shortened form of pestato, which is the past tense of pestare, which means to pound or crush. Am I the only language nerd who finds stuff like that interesting?
Try to ignore that this shot was taken with my phone. :) And ignore the fact that you don't just grind everything together, although I did the first time and it wasn't that much different!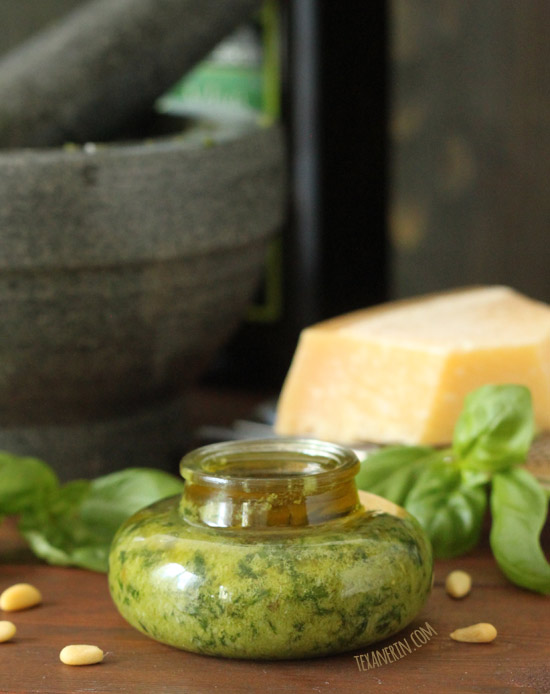 When I looked online for pesto recipes, I was annoyed by the handfuls and cups and bunches measurements. I don't know how to measure fresh basil. Is it supposed to be packed? And a bunch?! That measurement is absolutely useless to me. So I weighed it. I like stuff to be exact. :)
I did a lot of research before I came up with this homemade basil pesto recipe and it seems like the traditional, and the best way according to many, is to make homemade pesto with mortar and pestle. It gives it some texture in comparison to just throwing everything in the food processor. I'm sure it'd be quicker to do it that way, but it really only took me about five minutes to do it by hand.
Need some ideas on what to do with your glorious new homemade pesto? Here are 10 ways to use pesto!
❀
Homemade Basil Pesto
Prep Time:
Cook Time:
Ready in:
Yield:

3/4 to 1 cup
Ingredients
3 tablespoons pinenuts
1/4 teaspoon salt + more to taste
4 garlic cloves, cut in half
30 grams fresh basil (2 cups), clean and patted dry
1/3 cup Pecorino Romano or Parmesan
1/4 cup olive oil + more to cover pesto
Directions
Place pinenuts in a small pan over medium-low heat and cook until brown, stirring every now and then so that they don't burn. It will only take a few minutes and they go from brown to burned quite quickly, so stick around.
Take the pan off the heat and let cool a few minutes.
Meanwhile, crush and grind the salt, garlic and two tablespoons pinenuts in the pestle. Just smash it a few times.
Then add half the basil and half the olive oil, and continue to crush and grind.
Add the rest of the basil and oil and smash until it's almost to the texture of your liking, and then add the last tablespoon of pinenuts and the cheese and crush and grind a few more times.
Place in a small jar and cover with a layer of olive oil. Cover and store in the fridge for up to about a week.