These air fryer smashed potatoes are super simple to make with very little prep time, and they're ready in just 30 minutes. They're easy to make vegan and are naturally gluten-free.
Smothered in melted garlic butter, garnished with salty Pecorino Romano or Parmesan cheese and parsley, these crunchy smashed potatoes are a scrumptious side for your favorite family dinner.
If you like crunchy potatoes, then these will be a super treat! They're small potatoes that are smashed flat making it fun to get the kids involved.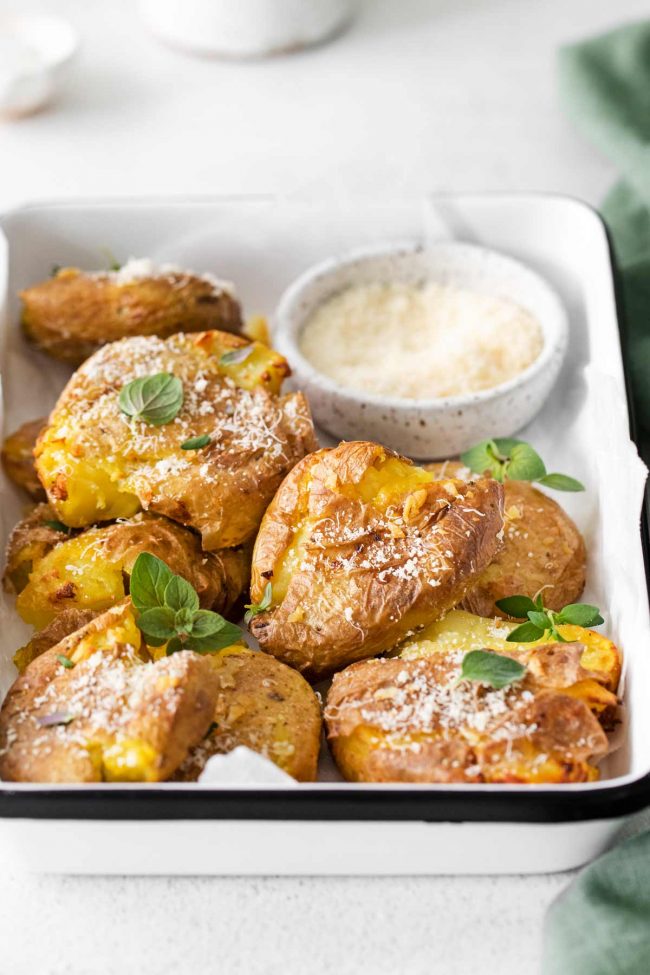 Since there's no pre-boiling, it makes dinner less messy, with very little prep, which means less effort and cleanup. I've had this Roasted Smashed Potatoes with Garlic and Cheese recipe on the blog for a couple of years, and then it occurred to me – why not make them in the air fryer!?
Using the air fryer means you get hot crispy potatoes that are light and fluffy in very little time. Just like with these Air Fryer Baked Potatoes, making them in the air fryer means you won't heat up your house.
Ingredients
Small potatoes (yellow or red) – I used small potatoes that were about 1 1/2″ long. But you can use mini or large potatoes that have been cut into smaller pieces.


Butter – this adds a lot of flavor, but I usually omit it for a vegan version.


Garlic – you can omit this, if desired. I'm usually in a hurry and use granulated garlic.


Grated Pecorino Romano or Parmesan cheese – I also usually omit this, but if you're not avoiding cheese, feel free to pile it on!


Olive oil


Tips
You can smash the potatoes with a spatula, rolling pin, the bottom of a glass or criss-cross with a fork. I like to smash them with the bottom of a glass, which really breaks them up. The smaller the bits, the crunchier they get!


After cooking for the initial 15-20 minutes, add as many potatoes to the air fryer basket as will fit in a single layer. You don't want to overcrowd the air fryer, so may need to cook them in two batches.


Keep a close eye on them once you add the garlic butter; you don't want the garlic to burn.


I used extra virgin olive oil. If you prefer, you can use avocado oil or any oil with a higher smoke point so you can cook the potatoes on high heat.


Not all air fryers are the same, so your cook time might be slightly different.


For smaller baskets, you might want to shake and stir them a couple of times.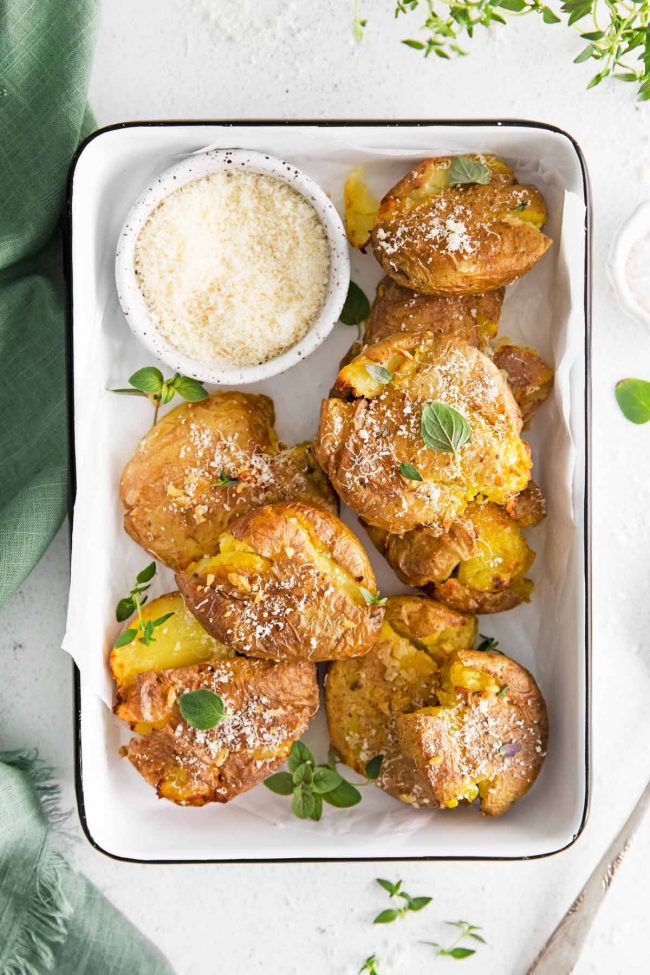 How to keep them warm
You may need to cook these in batches depending on the number of people you are serving and the size of your air fryer. If you're serving more than just a few people, using the oven may be more practical.
To keep smashed potatoes warm, transfer them to the oven set at 200 °F (93 °C) for up to 30 minutes.
I'd wait to finish them with cheese and other garnishes until all the batches are cooked and you're ready to serve.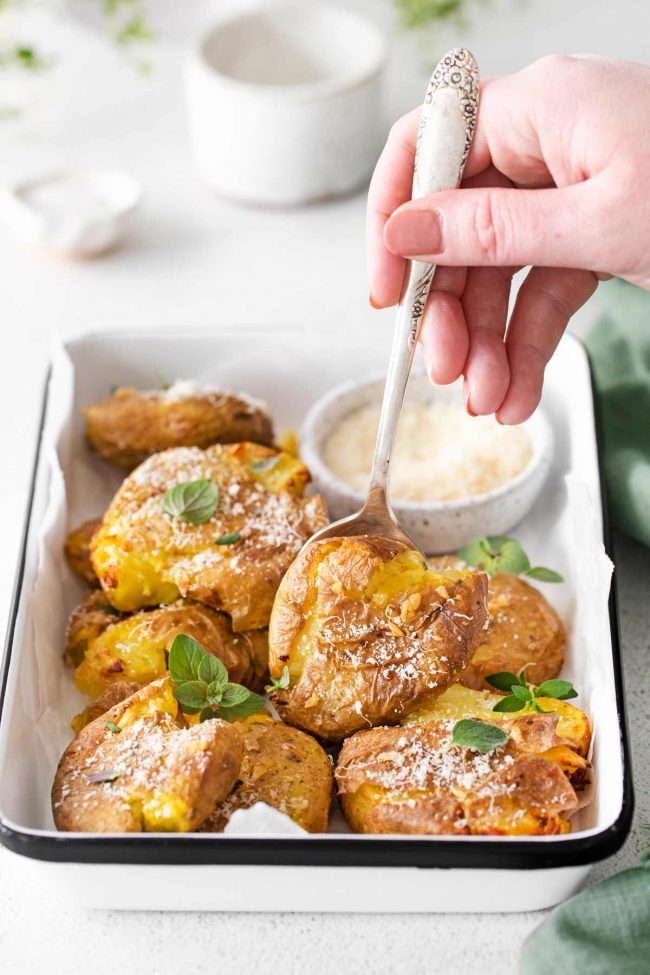 How to reheat
I like them crispy, so I like to reheat them in the air fryer at 350 °F (177 °C) for about 4 minutes. Again, you don't want the garlic to burn, so keep an eye on them.
If you'd rather reheat them in the oven, preheat it to 350 °F (177 °C) and cook them for 10 minutes.
Or you can use the microwave, although it will make them mushy. I would highly advise against this option if you can help it! But if you must, heat them on a microwave-safe plate in 1-minute intervals until you get the desired temperature.
Vegan smashed potatoes
I've had this recipe ready to post for over a year. I just realized I had never posted it. 😬 During that time, how I make these smashed potatoes has evolved.
In place of the butter, I use olive oil. Then I add lots of garlic and sometimes a bit of lemon zest.
We don't miss the butter or cheese at all!
But if you'd like to make your own vegan butter, this recipe takes only 10 minutes, including prep.
As I mentioned above, I smash the potatoes way more than you see in the photos. The type of air fryer I usually use, the Ninja SP101 Foodi 8-in-1 Digital Air Fry, is like a mini oven and comes with a normal baking sheet without any holes. So I can smash the potatoes as much as I'd like without the risk of them falling through the holes.
I make them about three times a month, and everyone is always very excited when they see them. Which says a lot because my boys aren't generally very excited about side dishes. :)
It's our favorite side dish, by far.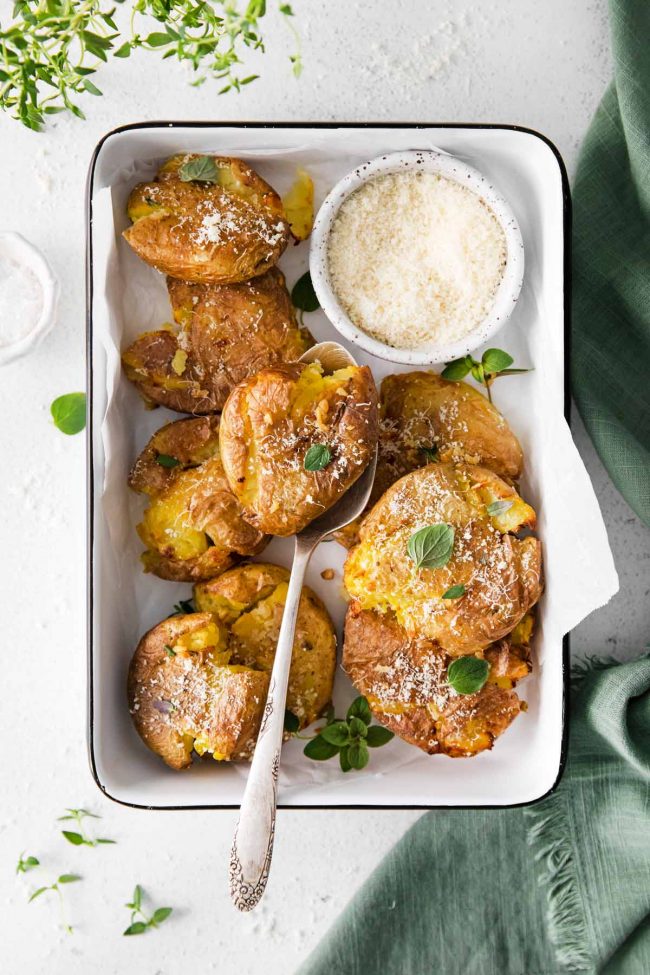 Additional toppings
I stick to garlic and lemon zest, but you could add red pepper flakes or cayenne for a little heat. Adding a little smoked paprika would also be nice. I'd probably omit the lemon zest if using that.
Or you could add different fresh herbs like rosemary, thyme or Italian seasoning.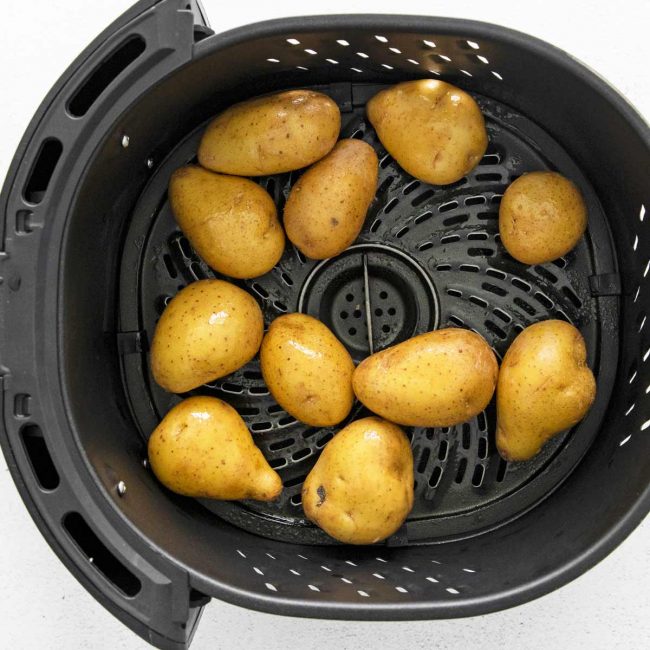 Why use an air fryer?
Air frying makes cooking food super easy. It consistently turns out crispier food in less time than a conventional oven, and it won't heat up your house!
Plus, there is so much you can do in the air fryer.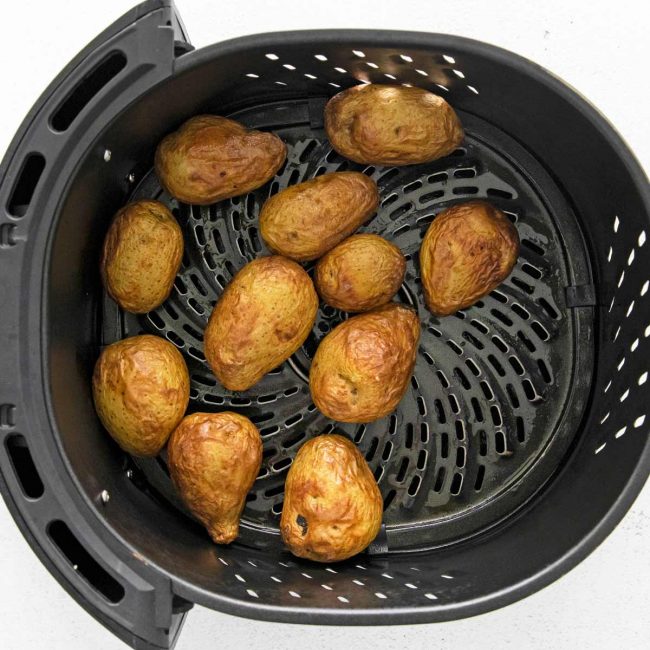 Oven directions
If you don't have an air fryer, you can make these smashed potatoes (or this Small Potatoes Recipe!) in the oven.
Prepare the potatoes by washing and poking holes with a fork.
Boil in salted water until you can easily pierce the skin with a fork (about 20 minutes).
Preheat oven to 425 °F (218 °C) and brush the baking sheet with a little oil.
Once potatoes are done, drain and let them cool a bit, then transfer to a baking sheet.
Smash the potatoes with the bottom of a glass, spatula or a fork.
Lightly season them and bake for 25 to 30 minutes or until crispy and golden brown.
Garnish with cheese, plate and serve!
You can use parchment paper for easier cleanup.
At the 15 minute mark, you may want to check them and flip them for even crispiness.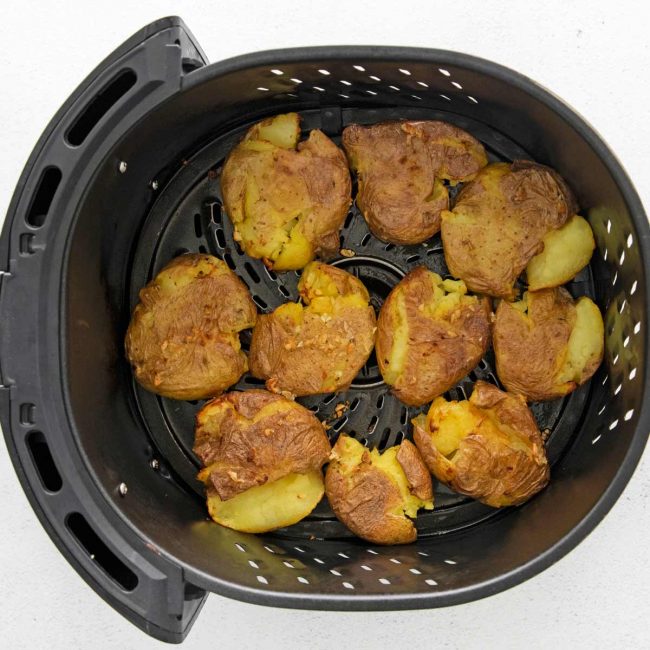 Other sides for meals
Here are a few of my favorites.
If you make these air fryer smashed potatoes, please be sure to leave a comment below and let me know what you think. And if you share a photo on social media, please tag #texanerin so I can be sure to see what you've got on your table! Enjoy. :)
❀
Air Fryer Smashed Potatoes
Prep Time:
Cook Time:
Ready in:
Yield:

4
Ingredients
1 pound (450 grams) small potatoes (yellow or red) or larger potatoes cut into 1" chunks
1 tablespoon olive oil
1/2 teaspoon salt
2 tablespoons (28 grams) melted unsalted butter or olive oil
4 cloves garlic, minced or 1 teaspoon granulated garlic
1/3 to 1/2 cup (30-45 grams) grated Pecorino Romano or Parmesan cheese - optional
Directions
Wash and dry the potatoes well. Place the potatoes, olive oil and salt in a large bowl and toss to combine.
Transfer to the air fryer and air fry the potatoes at 400 °F (205 °C) for 15-20 minutes, or until tender.
While they're cooking, stir together the melted butter or olive oil and garlic in a small bowl.
Remove the potatoes from the air fryer and smash them with the bottom of a glass, a rolling pin, a fork or a firm spatula.
Put them back in the air fryer basket in a single layer. If they don't fit, make them in batches.
Bush the potatoes with the prepared garlic butter and air fry for another 10-20 minutes, or until they're golden brown and as crisp as you'd like them.
Sprinkle with grated cheese, if using, and serve.
Refrigerate in an airtight container for up to 3 days. See post for reheating options.
Notes
For vegan, use olive oil in place of the butter and omit the cheese.