These 100% whole wheat white chocolate gingerbread brownies are so very gooey and bursting with winter goodness!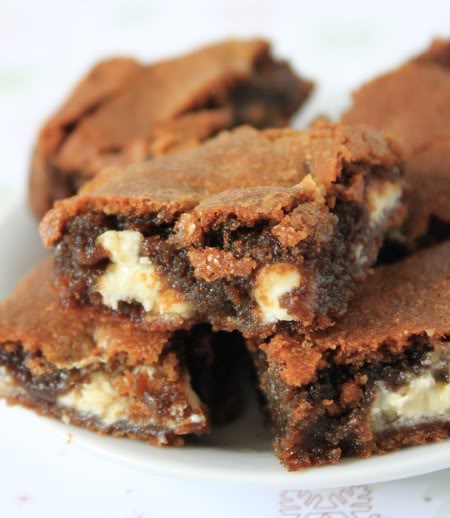 Why eat ginger cookies or gingerbread when you can eat white chocolate gingerbread brownies? They're gooey.
And they taste sinful and not the least bit "healthified." If you're new here, I like to make things healthier without making them taste that way! I don't do grainy or cardboardy tasting baked goods.
I made them slightly healthier by using coconut sugar, olive oil (I swear you can't taste it!) and honey. Dessert is still dessert, though, so I'm not saying you can eat an entire pan of these. That would be fun, though. ;)
If you don't have whole wheat flour, whole spelt would be great! And I assume that all-purpose flour would work, too.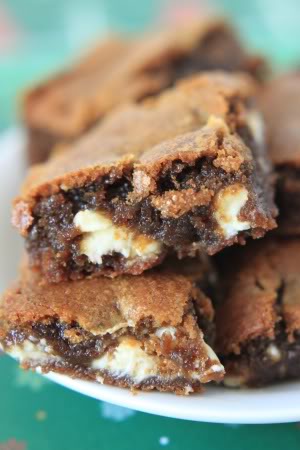 I know a lot of people don't like white chocolate so you can leave that out if you like. But really, at least try good white chocolate before declaring you don't like it. The stuff from the store is just plain gross!
When I first took them out of the oven, I thought there was WAY too much oil but once they cooled, they weren't greasy.
I guess you could do 3 tablespoons each of olive oil and the canola oil, but then I couldn't guarantee the gooeyness. Though I imagine they'd be fine.
Want something in cake form? Try this Healthy Gingerbread Cake with Cream Cheese Frosting!
❀
Gingerbread Brownies with White Chocolate (100% whole wheat)
Prep Time:
Cook Time:
Ready in:
Yield:

16 brownies
Ingredients
1 1/3 cup (160 grams) whole spelt, whole wheat pastry, or whole wheat flour
3/4 teaspoon baking soda
1/4 teaspoon salt
3/4 teaspoon cinnamon
1/2 teaspoon ginger
1/4 teaspoon nutmeg
1/8 teaspoon cloves
Wet:
1/4 cup (60ml) olive oil
1/4 cup (60ml) canola oil
1/4 cup (50 grams) unrefined or coconut sugar (or normal brown sugar)
1 egg
1/4 cup (88 grams) molasses
1/4 cup (80 grams) honey
1/2 teaspoon vanilla
6 ounces (170 grams) white chocolate chips or chunks
Directions
Preheat your oven to 350°F / 175°C. Stir together the dry ingredients together in a small mixing bowl. In a medium bowl, stir together the wet ingredients. Add the dry ingredients to the wet ingredients and mix only until combined. Fold in the white chocolate pieces. Put a piece of parchment paper in an 8″x8″ pan or spray the pan with cooking pan or butter it. Spread the batter evenly over the bottom of the pan. Bake for 20 – 25 minutes or until it's clearly set in the middle. Mine still looked underdone after 20 minutes, but after cooling, they were perfect. I wouldn't leave them in longer than 25 minutes.
As an Amazon Associate, I earn from qualifying purchases. For more info, see my disclosure.