Quick and easy homemade raspberry apple sauce with only 4 ingredients! Naturally paleo and vegan.
One of my problems with snacking is that it usually involves some form of sweetener. Not here! All you need are apples, frozen raspberries, and a little apple and lemon juice. I eat this stuff all day. Seriously. It's just so great for the super lazy. I love fruit but sometimes I just couldn't be bothered but I'm usually up to opening the jar of apple sauce and pouring a huge bowl of it. This I can do.
The texture is exactly like store bought apple sauce, with the exception of some raspberry seeds, but the flavor is all raspberry. If you smack your mouth around a little (does that even make sense?) then you can taste some apple. But it's subtle. And with my totally-not-sweet frozen raspberries, this is slightly tart. You could add a little honey if you like, but I don't think it's necessary.
I've made it a few times and there is such a thing as adding too many raspberries. It'll just be runny and not sweet enough. So don't use more raspberries unless you want to add store bought apple sauce to make it thicker! And that kind of defeats the whole point of making apple sauce, doesn't it?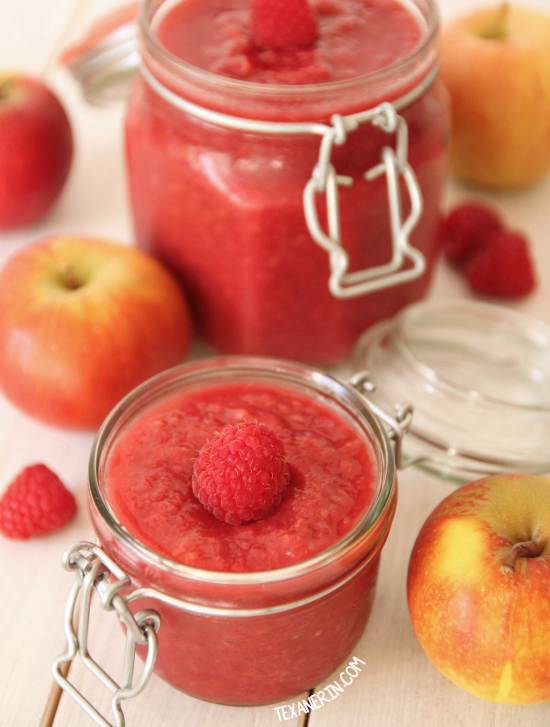 I don't know a thing about apples. I go to the store and pick the cheapest that are labeled as sweet and not sour. So use any sweet apples you like! And feel free to use more. Mr. Texanerin made this as a surprise for me one day and used an extra pound of apples and it tastes pretty much the same. We've also stopped using the apple juice. It's sweet enough for me without it!
The quickest and least messy way to puree it is to use an immersion blender, followed by food processor, and then a food mill. I imagine a blender would work but I don't even want to think about the mess!
And look at the color! So much more appetizing looking than my strawberry apple sauce. Much quicker, too.
❀
Homemade Sugar-free Raspberry Apple Sauce (naturally gluten-free, vegan)
Prep Time:
Cook Time:
Ready in:
Yield:

8 cups
Ingredients
3 1/2 pounds (1587 grams) apples
26 ounces (750 grams) frozen raspberries
3/4 cup (177ml) unsweetened apple juice, optional1
1 tablespoon lemon juice
Directions
Core each apple (do not peel!) and cut into about 6 pieces. Add the apples, frozen raspberries (thawed or frozen), apple juice, if using, and lemon juice to a large pot. Bring to a boil and continue to simmer, partially covered, for about 30 minutes. Remove the lid and simmer for another 10.
Remove from the heat and let cool for about 20 minutes and then use an immersion blender to puree it. Cool and store in the fridge for up to 4 days. Freeze any leftovers after that.
Notes
I make mine without as I don't like it too sweet. If making this for kids, I suggest making it one time with apple juice and then reducing or omitting the next time!