Are you wondering how to heat up overnights? It's not complicated at all! Typically, overnight oats are eaten cold, which is perfect for the hotter months. Overnight oatmeal is no-cook and doesn't need to be heated, but you may find yourself wanting a warm breakfast instead.
It makes it super convenient to heat overnight oats to avoid being rushed in the mornings. There's no pot to clean up that you would normally use making regular oatmeal for one thing. And heating it doesn't make it as mushy as if you were cooking oatmeal, as there's still a little chew to the oats.
Microwave method
The best way to heat overnight oats is to use the microwave. It's convenient, less messy and saves time.
In the microwave, put overnight oats into a microwave-safe bowl.
Add a touch more liquid and stir.
Heat in 30-second intervals, stir.
Then heat another 30 seconds if needed until you get the desired temperature.
Top with your favorite toppings and enjoy.
The only tricky thing to watch out for when using a microwave is the liquid will need to be extremely hot for the oats to thicken and become more creamy. Once it reaches a boiling point, the oats can bubble up and make a mess.
To avoid this, use a container that is twice as big as the amount of oats you have prepared. And keep an eye on it. When they start bubbling up, stop the microwave, stir, top and enjoy.
It's the simplest and quickest way to get a warm and cozy breakfast or snack.
Stovetop method
If you have more time, you can heat overnight oats on a stovetop. Be sure to take caution to not burn it.
Overnight oats will thicken as they soak, so you'll need to add a bit more liquid.
Add enough liquid to just cover the bottom of a saucepan and heat over medium.
Once the liquid is at a slight boil, add the overnight oats to the liquid, and turn the heat down to low.
Stir constantly until warm.
Add toppings and enjoy.
You can use milk, plant-based milk, or water to reheat the oats. If you want extra creaminess, you can add a dollop of yogurt or a dash of milk once it is heated.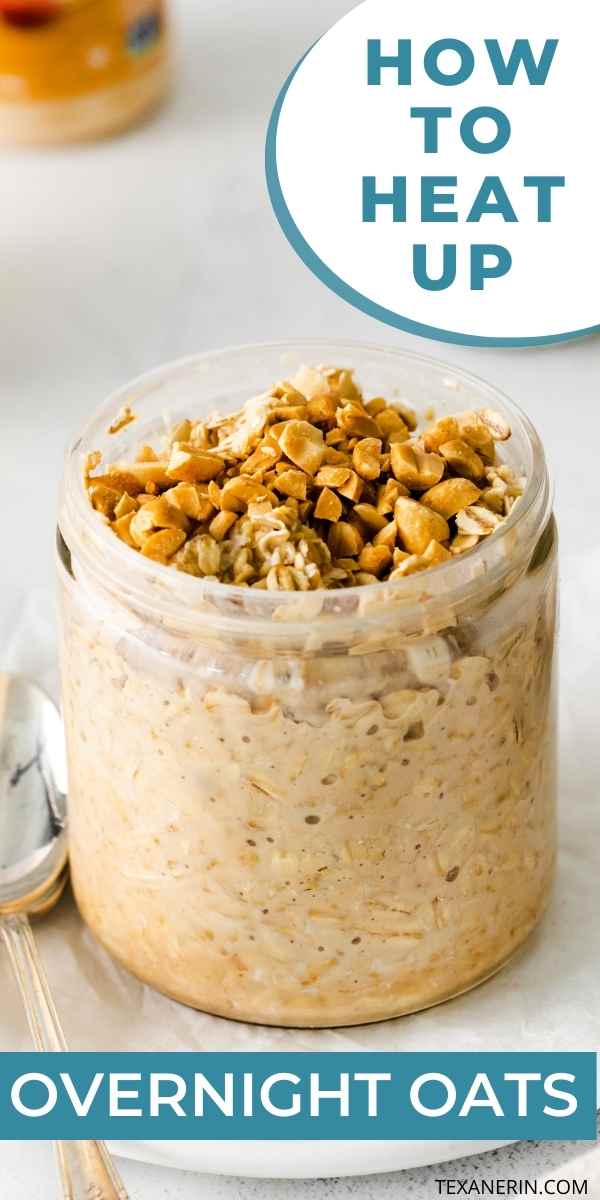 (the photo above is my PB2 Overnight Oats recipe)
Does the texture change when heated?
During the cooking process, oats absorb liquid. The more time overnight oats are stored in the fridge, the more liquid will be absorbed, and the texture will change accordingly.
When you warm overnight oats, you'll want to add liquid – either milk (whatever type) or water. It'll make the oats extra rich and creamy and the texture will be more like freshly cooked oatmeal.
I recommend adding the toppings once the oats are warmed. I like to add fresh fruit, nuts and seeds, and I get the best taste and texture by adding it on top. Especially if you're adding yogurt or bananas.
Whether you eat overnight oats straight out of the fridge or heat them up, you'll have an amazingly healthy and tasty treat for breakfast.
If you heat up your overnight oats, tell me what you think!
And if you want to learn even more about overnight oats, you might want to check these posts out: