These PB2 overnight oats are the ultimate healthy breakfast. They call for just 5 basic ingredients and are the perfect hearty breakfast with added protein and flavor from peanut butter powder (or regular peanut butter). They're also gluten-free with a vegan option.
Overnight oats are a powerhouse of nutrition packed with loads of fiber and protein. You can be on your way to having a great day just by opening the fridge and taking out a bowl of creamy, smooth oatmeal!
It takes about 5 minutes of prep. Then you let the oats soak overnight in the fridge and when you wake up, you have an awesome breakfast waiting for you.
They even travel well, so if you're in a rush, there's no need to skip this important meal. Plus, it's a perfectly easy recipe that kids can make on their own. I also have these Easy Recipes for Kids to Make, should you want to lighten your food prep load. ;)
I mean, we all love pancakes for breakfast, but how many people have the time to actually cook every day in the morning?
And more importantly, overnight oats won't cause a carb coma like pancakes, waffles, donuts, etc. – at least not a recipe like this that has a nice blend of carbs, fat and protein – and not much sweetener. The same is true of my Matcha Protein Shake!
That's why this overnight oatmeal is my go-to quick breakfast.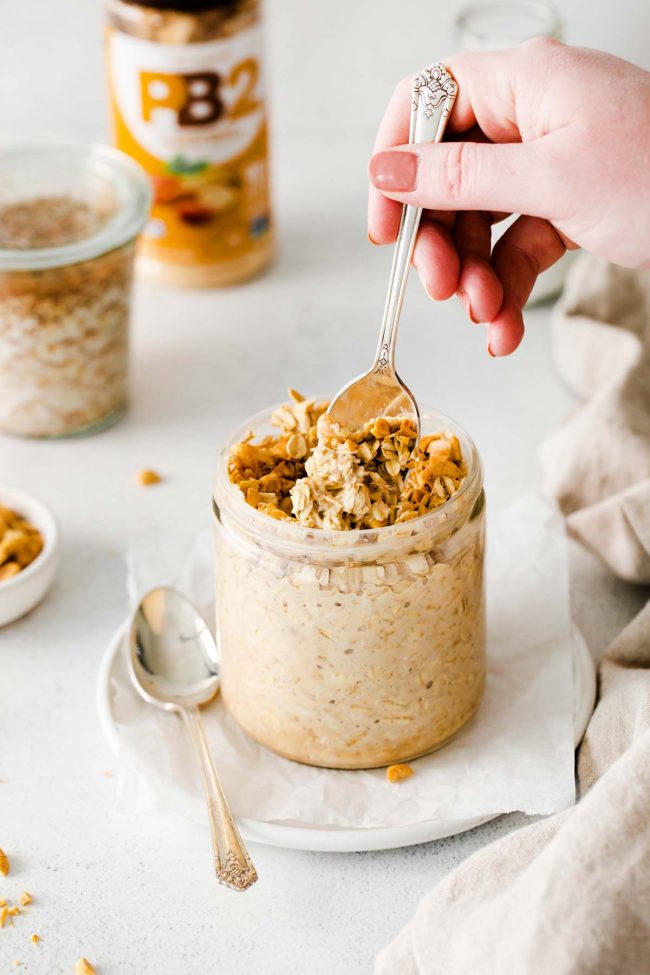 Ingredients
Rolled oats or quick oats if you prefer a smoother, creamier texture
Milk (dairy or non-dairy)
PB2 powder or natural peanut butter
Maple syrup
Vanilla extract
Lemon juice, optional, to neutralize phytic acid – you can't taste it at all in this recipe
Chopped peanuts and peanut butter, as garnish, optional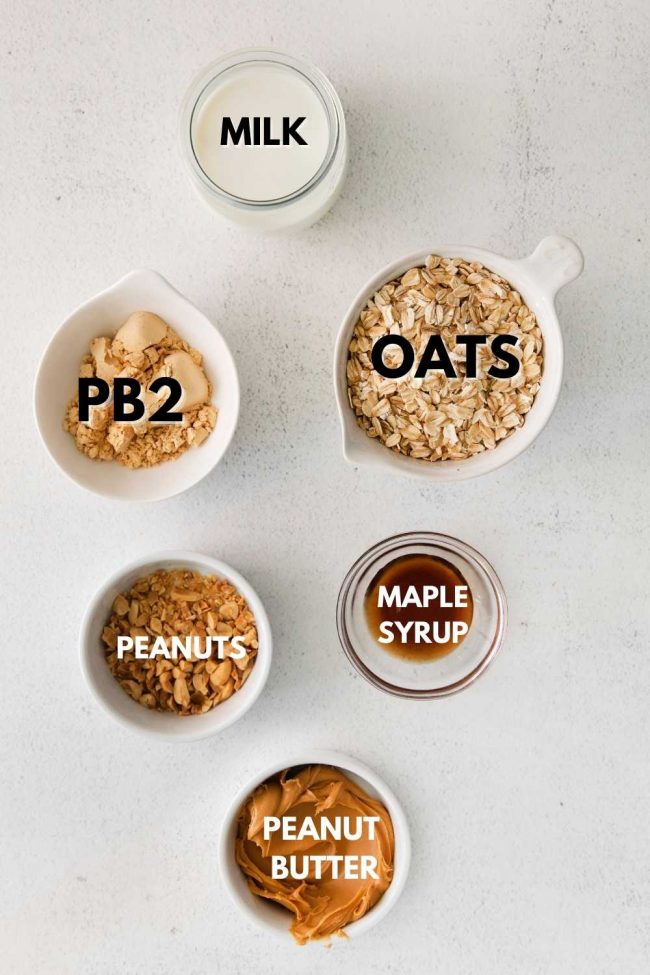 How to make PB2 overnight oats
It's super easy to make these peanut butter oats!
Combine all of the ingredients in a small bowl or jar.
Refrigerate overnight or for at least 4 hours. If you want to neutralize the phytic acid, you need to read the notes at the bottom of the recipe because there's an additional step, and you need to let them sit at room temp before placing in the fridge.
Stir, garnish and serve!
This recipe is made for one, but you can easily make more by making extra bowls for the entire family. It takes about 5 minutes to prep and at least 4 hours to refrigerate to get an easy, wholesome breakfast or snack.
Ingredient notes
Protein powder is what makes these "protein oats". I recommend using a good quality, reputable brand. Keep in mind, the peanut butter powder will flavor the oats strongly, so choose one that you like the taste of!


Rolled oats are larger than quick oats and tend to break down less in this recipe because they aren't already broken up. I love the texture that old-fashioned oats bring to the recipe, but you could use quick oats if you prefer.


Quick oats yield the smoother texture that you usually see in other overnight oats recipes. If you want smooth and creamy, definitely use quick. If you like a bit of bite, use rolled.


I used cashew milk, but feel free to use whatever you have on hand – dairy or non-dairy.


Maple syrup is a great sweetener that even has some health benefits. It contains 24 antioxidants and is high in vitamins and minerals like potassium, magnesium, calcium and zinc. It's still sugar, though, so don't go wild with it.

Make sure you go with pure maple syrup because non-pure maple syrup can have preservatives, high fructose corn syrup and many other added ingredients that fail to be healthy.


Keep reading for more topping ideas. If you'd like to use homemade peanut butter, I've got a great post on How To Make Peanut Butter.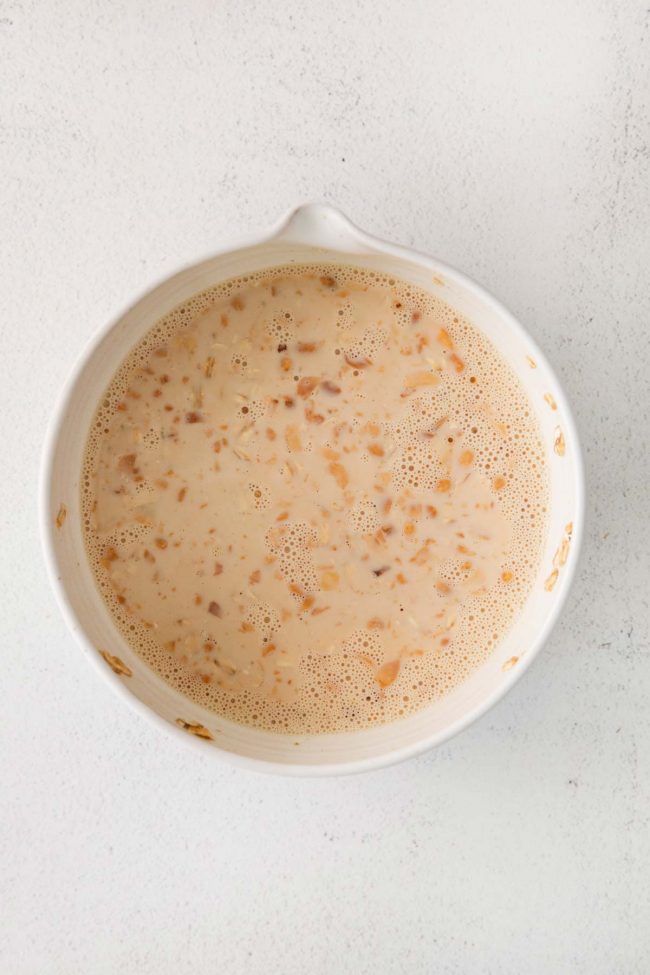 Tips
If you don't use PB2 like I did, it's important to note that different brands of peanut butter powders will absorb different amounts of liquid. So go with the recommended amounts and if the oats are too dry the next morning, stir in a splash of milk.


The longer the oats sit in the fridge, the more they will absorb liquid until they reach a saturation point. So you want to add enough liquid to avoid them drying out. If you're prepping for a few days in advance, you might want to add a bit more liquid than you would if you were eating them the next day. This will make them extra-creamy even a few days later.


If the oats are dry, just add more milk when serving, but don't overdo it. Soupy oatmeal is not the consistency we are wanting here.


I don't recommend using instant oats. Instant oats have been cut up to cook quickly. Using instant oats to make overnight means they will completely dissolve in the liquid. Steel-cut oats will have a thicker density and will be a bit chewy. I haven't tried them, so can't recommend them with confidence.


If you add toppings like nuts or fresh fruit, you want to add those right before eating. If you add them to the bowl to refrigerate overnight, they'll absorb liquid and you'll have spongy nuts and fruit that is mushy. To avoid that, just add them to the bowl in the morning.


Generally, airtight containers are the best to maintain freshness for longer periods. If you're making these ahead for a week's worth of oats, it's best to use glass with a tight lid rather than plastic. Plastic absorbs grease and smells from past food storage and glass doesn't. So avoid funky flavors in your oatmeal by using glass jars.


Don't forget to stir just before eating. The oats at the bottom of the bowl will be mushier than the ones at the top, so if you give it a quick stir, you get a combination of textures for a well-balanced breakfast.


More info on overnight oats
When I was done writing this post, it was 5,100 words! I know most of you just want the recipe and don't want to scroll forever, so I broke it up into several posts.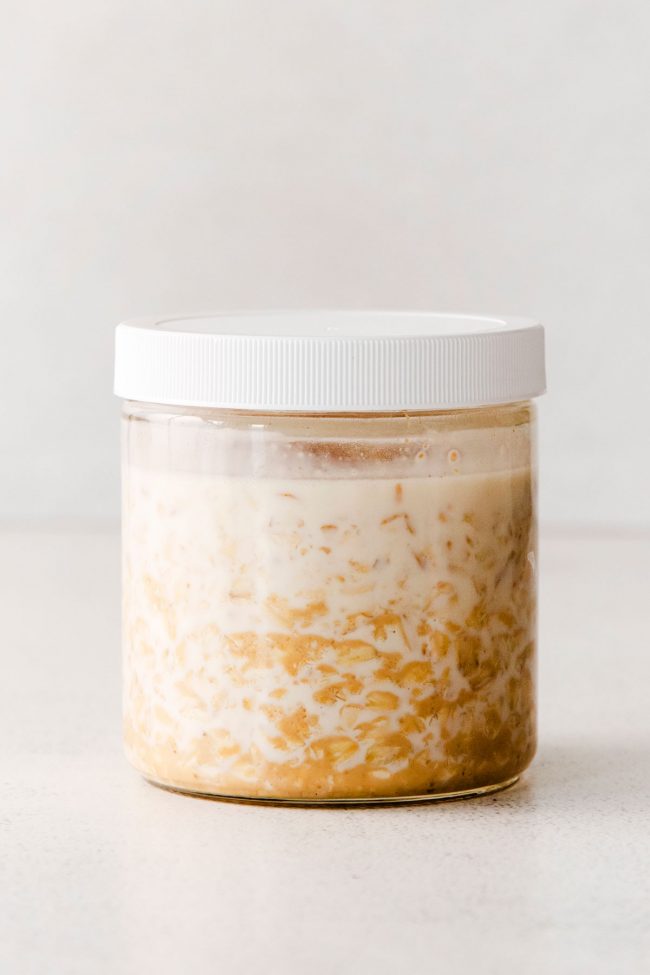 What is PB2?
PB2 is a relatively new innovative spin on classic peanut butter. It's made of roasted peanuts that are pressed to remove the natural oils and then ground into a fine powder.
It's packed with peanut butter flavor but has 85% few calories from fat.
It can be used as a powder or rehydrated to form a paste. It's perfect for oatmeal and smoothies, but can be stirred into batters, shaken onto Vegan Popcorn or used to flavor sauces.
PB2 is a great source of fiber and protein, a good amount of iron, and 10% of your daily value of both vitamin E and folate.
It's so easy to incorporate into your diet that not only is it convenient, but it adds nutritional value.
Toppings and add-ins
Overnight oats are perfect for making a delicious, healthy breakfast for the entire week! But you may want to add in some nuts, seeds, or fruit to break up the monotony.
I love sliced bananas with this peanut butter oatmeal! But don't add them until you're ready to eat, or they'll oxidize and turn brown overnight in the fridge. I also think diced apples would be a great addition.
Fresh fruit like blueberries or strawberries will hold their shape better than softer fruit like blackberries or raspberries. You can use cooked, fresh or frozen berries and fruit.
If using flaxseeds or chia seeds, the absorption rate of the oats may be off. If you feel it needs a little more liquid when you stir the oats, then go ahead add a splash more.
Adding dried fruit is another great way to get more variety from this simple recipe. Go ahead and add it the night before, and refrigerate as it will plump up overnight.
Mixing in your favorite fruit, nuts and seeds gives it more complexity and a little crunchiness, so be creative and find what tastes best to you.
Flax seeds are also a great addition that should be soaked before consuming making them a perfect addition to mix right into the oatmeal before refrigeration. It helps break down the protein in the seeds for easy digestion.
If you want it extra creamy, you can add yogurt, but note that it will be slimy if you mix it before refrigerating it. It's best to add it to the bowl when you're ready to eat it. And you might need a bit more sweetener if you use unsweetened yogurt.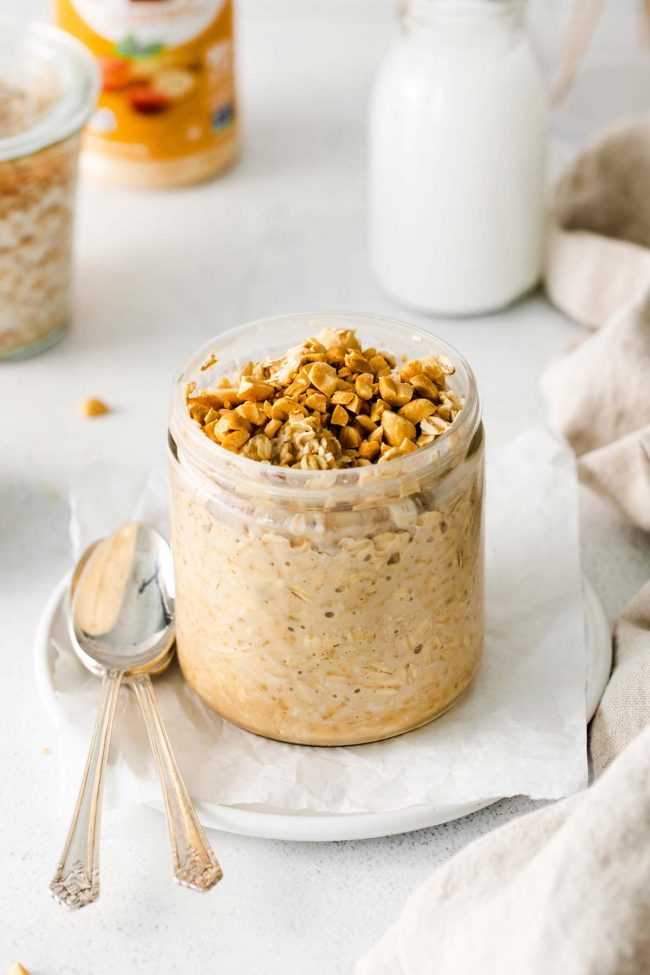 Peanut Butter Protein Powder = PB2
PB2 Original Powdered Peanut Butter tastes great! They also have a chocolate peanut butter powder, so you can get the best of both worlds. It's certified non-GMO, gluten-free and vegan. It can be easily found at Target, Walmart, Amazon or on their website.
There are other peanut butter powders, so you have some options for making overnight protein oats.
Naked has Powdered Peanut Butter in bulk, so you can make plenty of high-protein snacks. It's made with only roasted peanuts from US farms, certified gluten-free and vegan, and has no additives or preservatives. You can shop their products online or look for them on Amazon.
Crazy Richard's Peanut Butter Powder is made from 1 ingredient, certified non-GMO, gluten-free and plant-based. It is not labeled vegan, so if you're vegan, you might go with a certified brand. You can find Crazy Richard's PB powder at Target, Walmart or online.
I also tried this recipe with Vega Sport Premium Protein, Peanut Butter. It's packed with 30 grams of protein per serving and is vegan, non-whey, gluten-free and non-GMO. I found that the PB2 powder absorbed a little less moisture than other protein powders. So just note that if it is not as moist as you would like, add a little more milk.
I hope I gave you enough options to find the best protein powder for you!
By the way, if you're looking for some baked treats with extra protein, check out these Protein Brownies! They're ultra fudgy and taste like good ol' regular brownies. They're gluten-free and dairy-free with a paleo option.
How to store peanut butter powder
There's no need to refrigerate this peanut butter powder, but you do want to store it in a cool, dark, dry place like a pantry or cupboard. Storing at a cooler temperature ensures that it will last longer.
It will keep in a pantry for up to 12 months, so if you buy in bulk, you should be able to use it up within the year.
If you need it to last longer, you can freeze it or store it in the back of your fridge, but don't forget about it! ;)
Can I use regular peanut butter instead of powder?
Sure! I like to use powder because it's extremely convenient. And it reduces calorie intake which sometimes I need because, you know, I tend to bake a lot of cookies, cakes and brownies! I like to have all the extra protein for breakfast so that I can be full of energy for baking in the afternoon. ;)
You can use any other nut butters you like!
Just use 2 tablespoons of peanut butter like you would the powder.
You'll just add it in with the other ingredients and give it a stir. It doesn't need to be completely incorporated with the milk – it'll just give you swirls of peanut butter with every bite.
And if you love peanut buttery protein treats, check out my Protein Cookie Dough!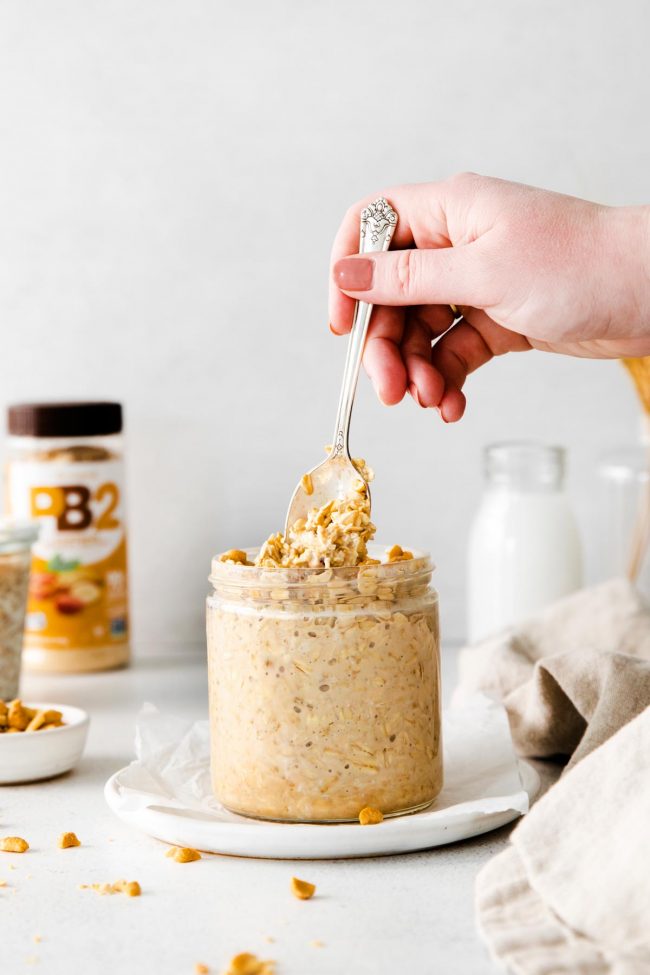 Gluten-free and vegan versions?
This is easy to do! Just use gluten-free oats for a gluten-free version. You can read more about that here → Are Oats Gluten-free?
To make it vegan, use plant-based milk. I always use cashew milk in my overnight oats, just because I prefer it over every other type of vegan milk, but you can use any type of plant-based milk that you'd like.
If you want to use canned coconut milk, I'd probably water it down. Use 1/4 cup of canned coconut milk + 1/4 cup of water. And be prepared for the oats to taste quite coconutty!
For a peanut butter version, that's not actually a bad thing because peanut butter + coconut is actually a delicious combination. Like in these Peanut Butter Oatmeal Bars!
Other no-cook recipes that are made with peanut butter and oats
Nutritional info
The following information is provided as a courtesy and is an estimate only. I'm not a nutritionist nor a dietician. This information comes from online calculators. Although I do everything to attempt to provide accurate nutritional information, these figures are only estimates. Be aware that varying factors such as product types or brands used can change nutritional information in any recipe.
Here's the label for the whole recipe, using cashew milk, lemon juice, and excluding optional toppings. The label titled PB2 Overnight Oats uses 2 tablespoons of PB2 and the other one is calculated using 2 tablespoons of natural peanut butter.
The PB2 version is much lower in calories, but lower in fat. This is also a bonus for some people, but I like healthy fat, which also helps keep you fuller for longer! So I usually go with the peanut butter (non-PB2) version, which is also higher in protein.
It's quite a bit higher in calories, but it's a nice balance, I think, of carbs, protein and fat. And it really keeps you full for a long time.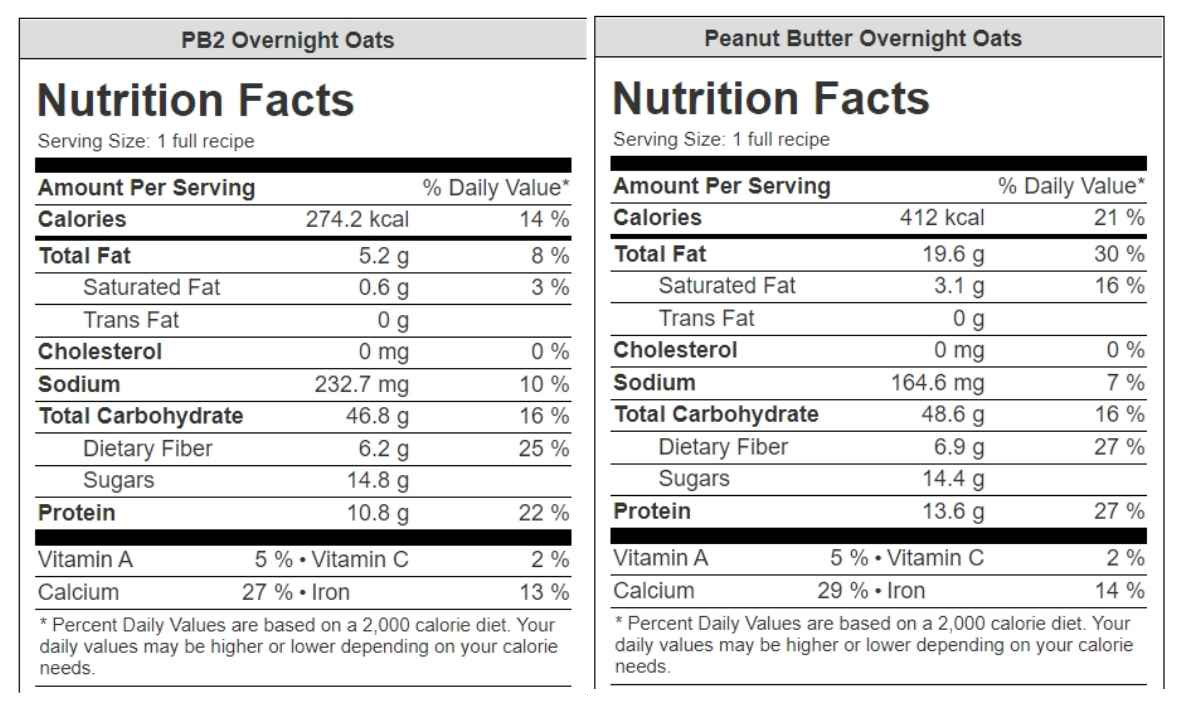 That's it for today! I hope you enjoy these PB2 Overnight Oats. If you make them, I'd love for you to leave a comment below and let me know what you think!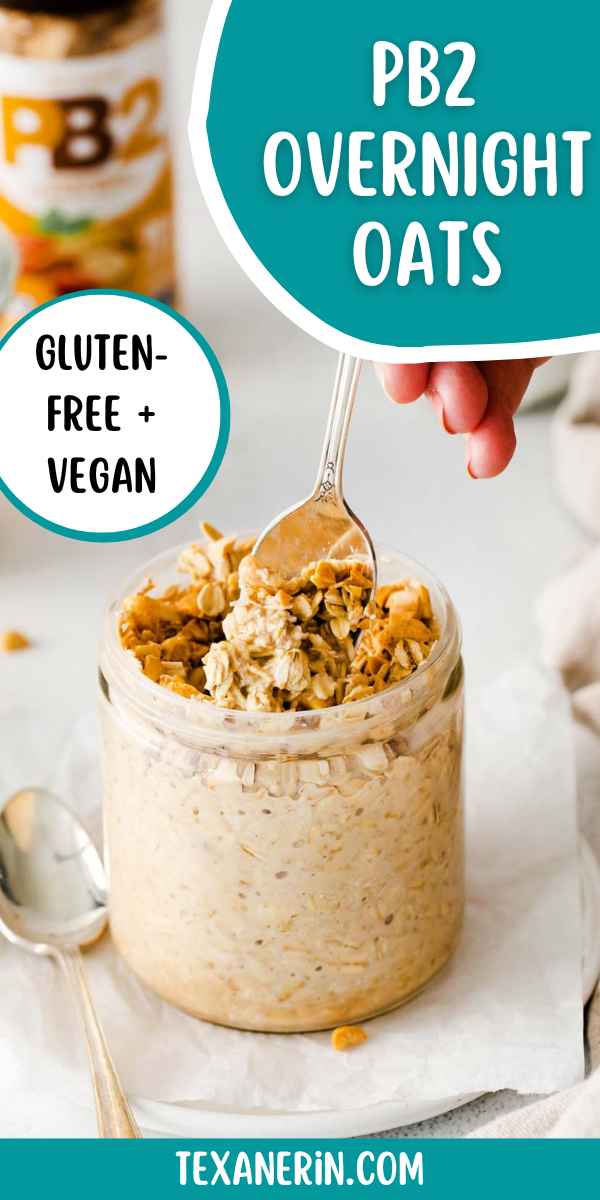 Resources if you're new to gluten-free/vegan eating!
❀
PB2 Overnight Oats
Prep Time:
Cook Time:
Ready in:
Yield:

1 serving
Read the notes if using lemon juice!
Ingredients
1/2 cup (47 grams) rolled oats or quick oats for a smoother texture
1/2 cup (120 ml) milk (dairy or non-dairy)
2 tablespoons PB2 powder1
2-3 teaspoons maple syrup
1/2 teaspoon vanilla extract
pinch of salt
optional – splash of fresh lemon juice2
Optional garnishes:
chopped peanuts
peanut butter
Directions
Combine the oats, milk, PB2, 2 teaspoons of maple syrup, vanilla, salt and lemon juice, if using, in a small bowl or jar. Refrigerate for at least four hours, preferably overnight.
When you're ready to eat it, taste and stir in another teaspoon of maple syrup if desired (I use it). And if it tastes bland or if the peanut butter flavor doesn't pop, you need to add more salt!
If desired, top with peanut butter and chopped peanuts. Serve immediately.
If preparing in advance, don't add any toppings. Cover and refrigerate for up to 6 days, noting that the oats will become softer and softer the longer it sits.
Notes
You can also use 2 tablespoons of natural peanut butter in place of the PB2.
Adding lemon juice neutralizes the phytic acid, making it more digestible. For more details, check out my post on → Overnight Oats Benefits. If you want to do that, soak them for at least 12 hours. Ideally, you'd use slightly warm milk to soak the oats, let them soak at room temperature (or slightly warmer than room temperature, like a laundry room or in a sunny spot) for 4 hours. I'm too lazy to heat up the milk and use cold milk, put the bowl with the prepared oats on a cooling rack and put that over a burner that's still warm after making dinner. After 4 hours, move the oats to the refrigerator for the remaining 8+ hours. Don't forget to move them into the fridge after 4 hours, or else they might spoil and/or develop something undesirable.
If you're gluten-free, make sure to use gluten-free oats.
If you're vegan, make sure to use plant-based milk.