These lemon coconut oat balls are naturally gluten-free, sweetened with just a little maple syrup and have a vegan and dairy-free option!
I've been in the kitchen almost all day every day for the past few months working on the book but with this latest heat wave and no AC, I thought I'd take a break from baking and actually post something. I made these coconut balls last summer for Food Fanatic but never shared them over here. Food Fanatic added a neat function allowing me to embed the recipes in my posts over here without making you click on another link to get the recipe. So I'll be doing that from now on so you can see all my recipes. :)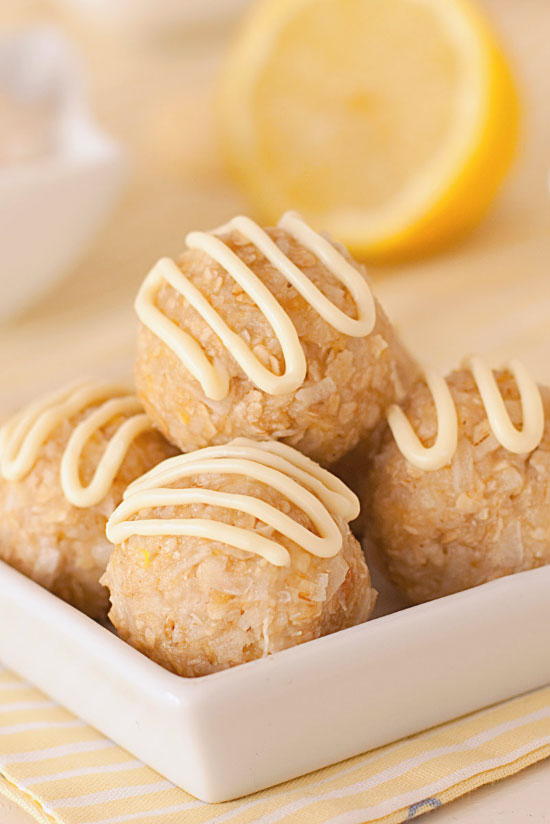 I absolutely love these little coconut oat balls. They're so easy to put together – you just mix everything together with a spoon and roll into balls. And they're super allergy friendly. They're gluten-free if you use gluten-free oats and vegan and dairy-free if you go a step further and make your own white chocolate. See here for a 4-ingredient vegan white chocolate recipe without any funkiness. And more importantly, at least to me right now, they're no-bake!
I tried baking this morning but after about an hour, I just gave up and decided to have a day at the computer. Even with a fan pointed directed at me, it's too hot. You'd think that someone from Texas would be able to better withstand the heat but nope. Air conditioning spoiled me! I'm the biggest pansy around when it comes to the heat.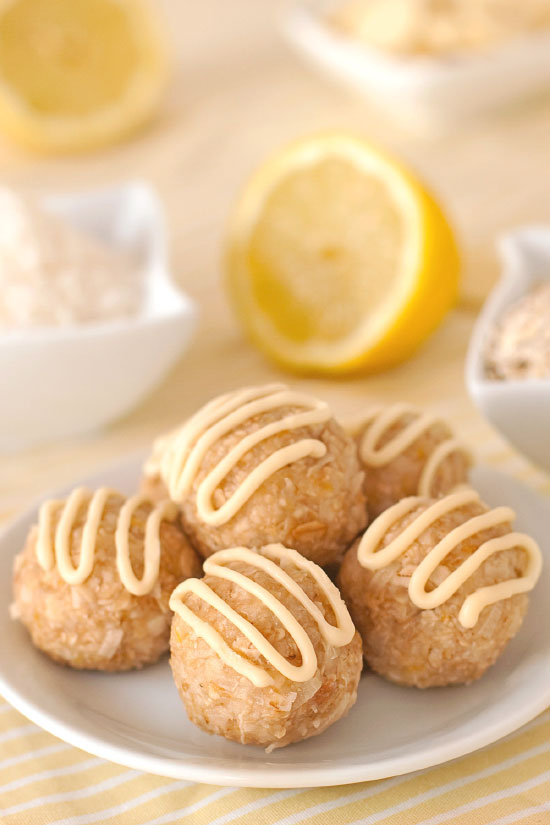 But back to the balls! These cheerful little lemon coconut oat balls use coconut butter as the source of fat. Make sure to use coconut butter, which is the ground up meat of coconut. You can make your own coconut butter with a bag of shredded coconut, or you can buy creamed coconut from an Asian food store. I use this kind and it's just as good as Artisana but so much cheaper! Don't try using coconut oil as these will turn out a greasy mess.
I'll be back at the end of the week with a grain-free treat. It'll even be… baked! I haven't posted a grain-free baked treat in ages and figure it's time. Until then, enjoy the balls. :)
And if you want another lemony gluten-free treat, try these Lemon Ginger Chia No-Bake Snack Bars From Healthy Seasonal Recipes!
As an Amazon Associate, I earn from qualifying purchases. For more info, see my disclosure.