These homemade candied pecans only have three ingredients, take 5 minutes to make, and are naturally paleo and vegan!
These homemade candied pecans are the perfect way to top off your autumnal treats! They taste and look great. They'd be perfect on these pumpkin cupcakes, maple cheesecakes or this vegan pumpkin pie.
But beware! You can't put these candied pecans on your treats too far in advance. The maple syrup coating will liquefy and you'll have a puddle of maple syrup under the pecans.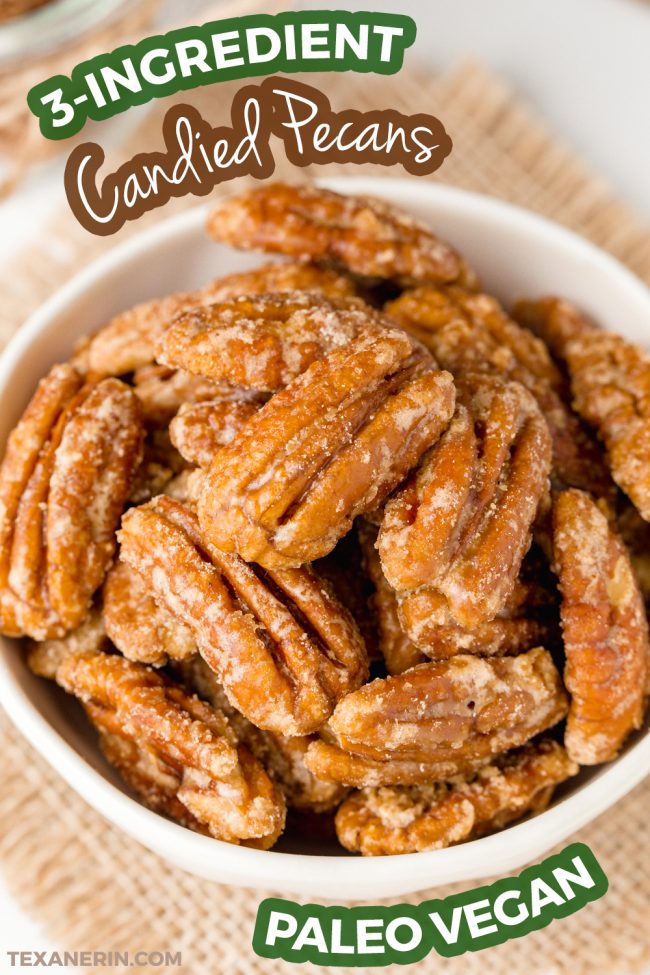 It's really best to put them on right before serving. That way you can be sure there won't be any issues!
I also have this candied almonds recipe if you need something that won't liquefy as easily. Be warned that those are super, super addictive. Like, eat the entire batch at once and then be really sad about it.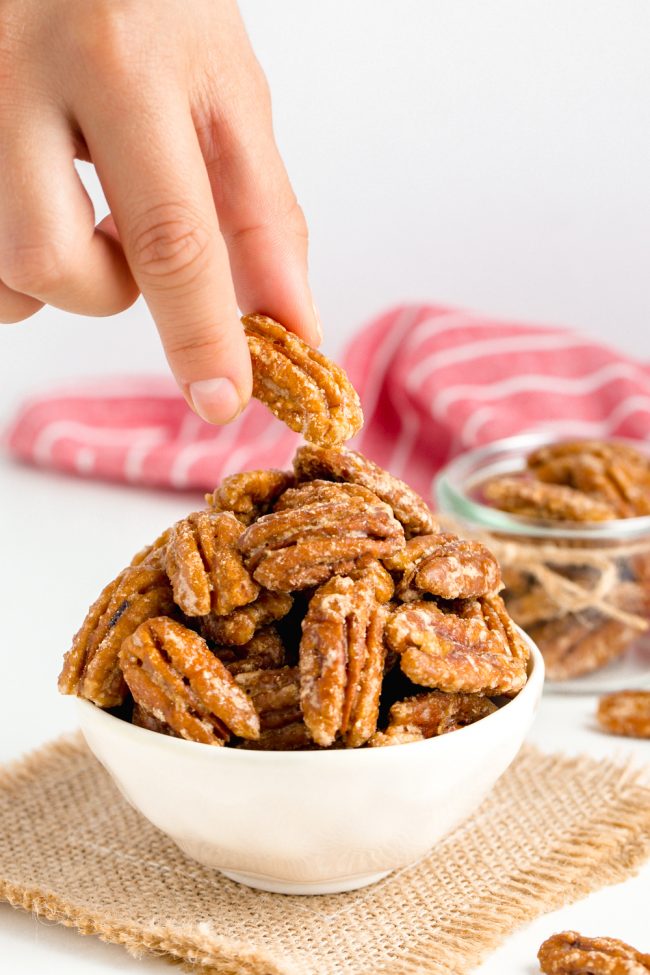 These candied pecans are perhaps a bit less addictive because of the lack of additional coconut sugar found in the candied almonds recipe. The almonds have a lot less sugar than regular candied nut recipes, but these candied pecans have even less sweetener.
There's just enough maple syrup to coat them.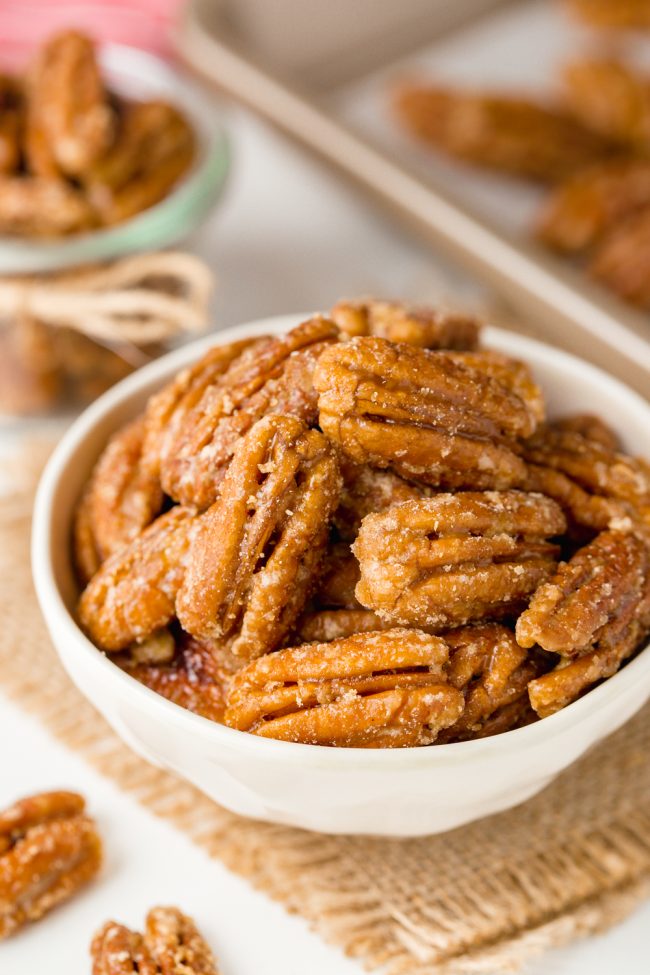 One thing I really love about these is how insanely quick they are. Put the pecans, maple syrup, vanilla and salt in the pan and cook for a few minutes. Done!
If you want, you could add some cinnamon or whatever spices you'd like to this candied pecans recipe. Or check out these Cinnamon Sugar Pecans. I think a little goes a long way!
There's not really much to say about these because there are so few ingredients and steps to the recipe.
I put these candied pecans in little bags and give them out as Christmas gifts. I'm also going to try these Soft Chewy Caramels this year!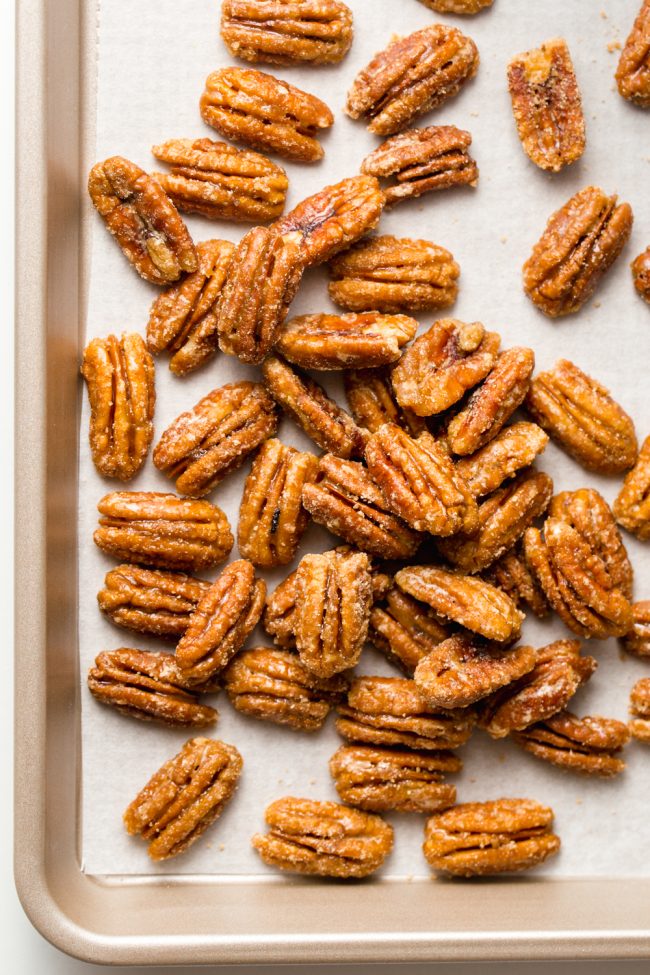 I've only tried this recipe with maple syrup and I'm not too hopeful that anything else would work the same way. I'm guessing honey would but I haven't tried it.
I have absolutely no idea when it comes to liquid low-carb sweeteners. I think that if it doesn't caramelize like sugar (or like maple syrup) then it wouldn't work here.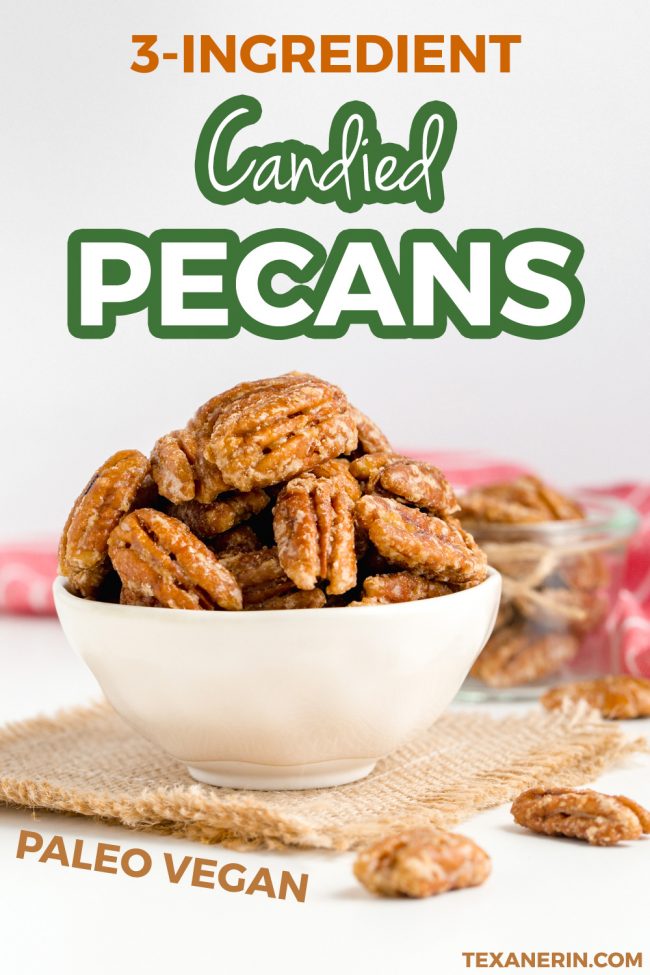 I haven't tried it but you can probably use whatever type of nut you'd like. Walnuts definitely work and are delicious.
If you try these out, I'd love to hear what you think!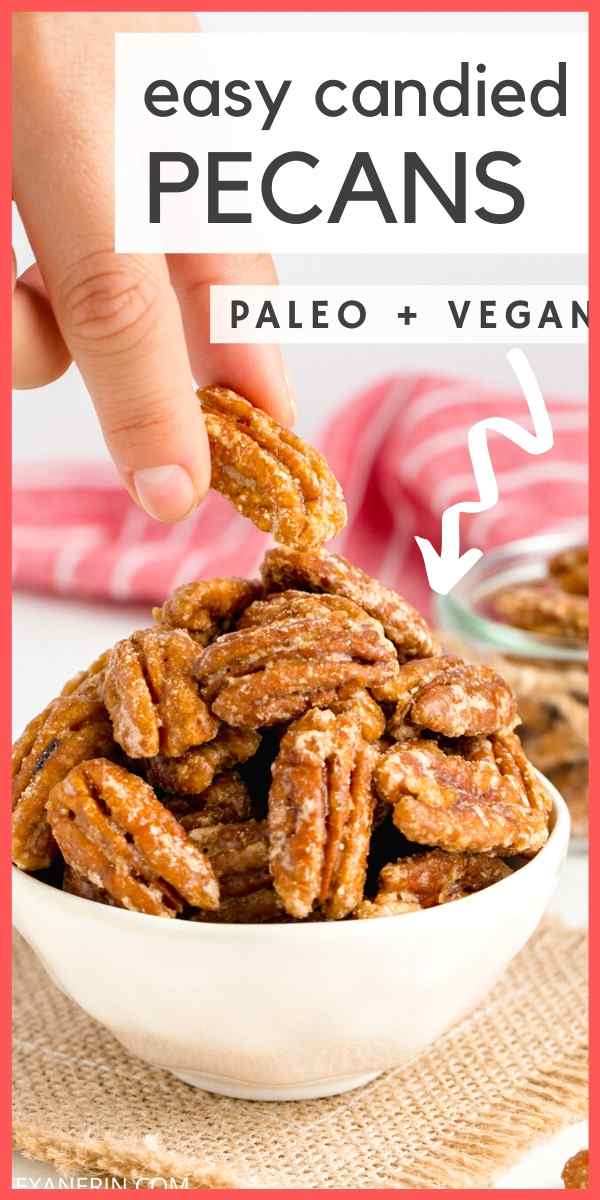 ❀
How to Make Candied Pecans (paleo, vegan)
Prep Time:
Cook Time:
Ready in:
Yield:

1 1/2 cups
Ingredients
1 1/2 cups (165 grams) pecans1
1/4 cup (60ml) maple syrup
1 teaspoon vanilla extract, optional
1/8 teaspoon salt (plus up to 1/8 teaspoon more)
Directions
Get out a Silpat or a piece of parchment or wax paper.
Preheat a non-stick pan over medium-high heat. It's important to preheat it first so that the maple syrup caramelizes properly.
Add the pecans, maple syrup, vanilla and 1/8 teaspoon salt to the pan.
Stirring almost constantly, cook for 2-5 minutes or until the syrup has caramelized. There should be no liquid left in the pan. The maple syrup coating will seem soft but will harden as it cools.
Spoon the pecans evenly onto the Silpat and spread. Test one now (making sure that the maple coating isn't so hot that you burn your tongue!) and if it's not salty enough, add more salt. If you don't want the nuts to be clumped together after cooling, make sure to separate them now.
These harden within about 20-30 minutes but let them cool for about 2 hours before placing them in an airtight container. When not kept in an airtight container, they start to get a little sweaty. Can be kept at room temperature for several weeks.
Notes
If you want to use these as a topping for a cake, cupcakes, etc., chop the nuts before candying.