This apple crumble cheesecake features an oat-based crumble crust and topping and a creamy brown sugar cheesecake filling. You can make it traditionally, whole grain or gluten-free with gluten-free oats and flour.
I love this Gluten-free Apple Crumble, and I love cheesecakes, so I thought why not combine them into one dessert?
This cheesecake is more time-consuming than a basic cheesecake because of the apples, which you have to peel, core and chop up. But because you're using the same mixture for the crust and the topping, the topping doesn't add any extra time to the recipe.
So it's not really all that bad. Definitely worth the extra 10 minutes to process the apples!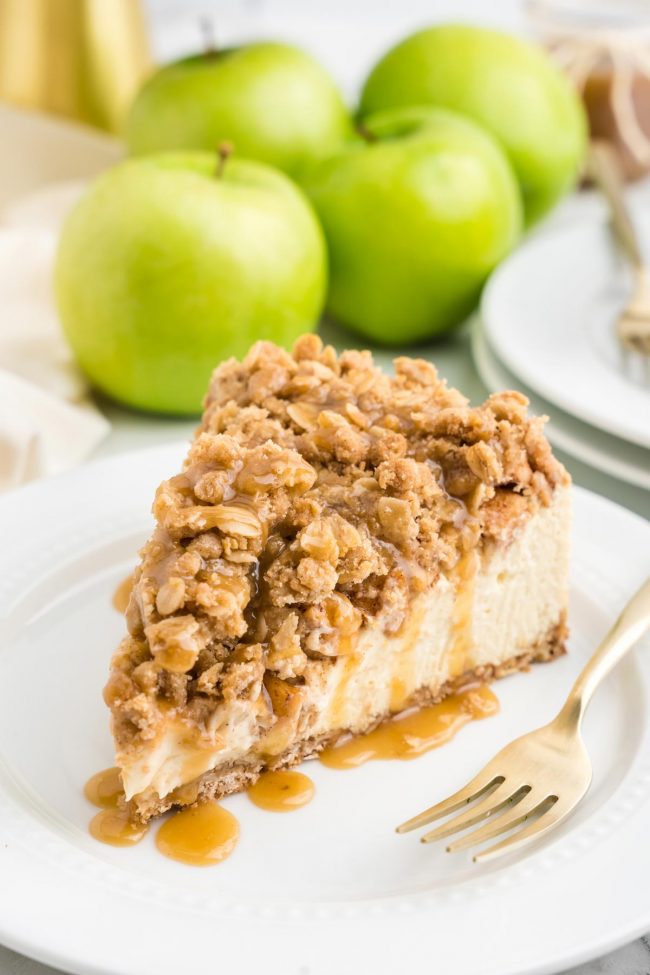 Ingredients
For the crust and topping:
Flour – you can use all-purpose flour, white whole wheat flour or King Arthur Gluten-free Measure for Measure Flour if you're gluten-free.


Rolled oats – I don't recommend quick oats! The result would be greasy. Instant oats and steel-cut also don't work.


Brown sugar – please use brown sugar and not granulated sugar. Not just for flavor reasons, but because the mixture holds together better with brown sugar.


Butter – this recipe is full of dairy, anyway, so I didn't test it with coconut oil. And I don't recommend using it as your mixture would be much too greasy if using it as a 1:1 replacement. If you insist on using coconut oil, I'm guessing you'd need 134 grams coconut oil + 34 grams water to replicate the fat content of US butter.


Cinnamon, baking powder and salt
For the cheesecake filling
Cream cheese – you must use regular full-fat cream cheese if you want your cheesecake to be rich and creamy. Reduced fat could work, but I'm not totally sure, and fat-free would not work.


Brown sugar and granulated sugar – this combination gives you more flavor than just all granulated sugar.


Sour cream – this makes the cheesecake super creamy! I haven't tried Greek yogurt or anything else in its place, so I can't say what effect it'd have. If you feel like experimenting, know that it might not work out.


Eggs – no subs here. Make sure to use large eggs. Not medium, not XL. That is, unless you live outside of the US. Then you need to really read the part at the bottom of this post.


Vanilla and salt
For the apples:
Apples – I use whatever I have on hand, but have listed some suggestions below.


Sugar – raw sugar, brown sugar or coconut sugar also work.


Cinnamon – apple pie spice could also be nice!
Note that the maple syrup and cream in the below photo are only if you want to make the caramel recipe! They're not needed for the cheesecake.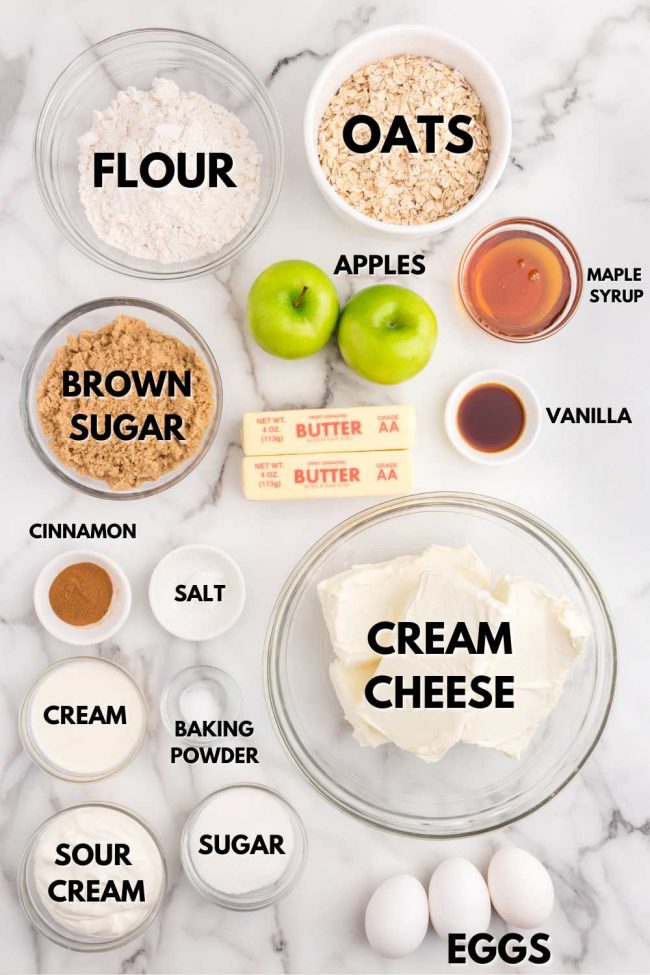 What apples to use
To be honest, I usually just bake with whatever we have sitting around. But if you need to buy some, you might as well pick up some proper baking apples!
Granny Smith, Honeycrisp, Golden Delicious, Rome, Jonathan, Jonagold, and Braeburn are great for baking.
Fun fact: Jonagold apples are the daughters of Jonathan (mother) + Golden Delicious (father) apples.
I would say the only thing you really need to worry about is using really old apples as they can be too mushy. I'd save those for apple butter and strawberry applesauce.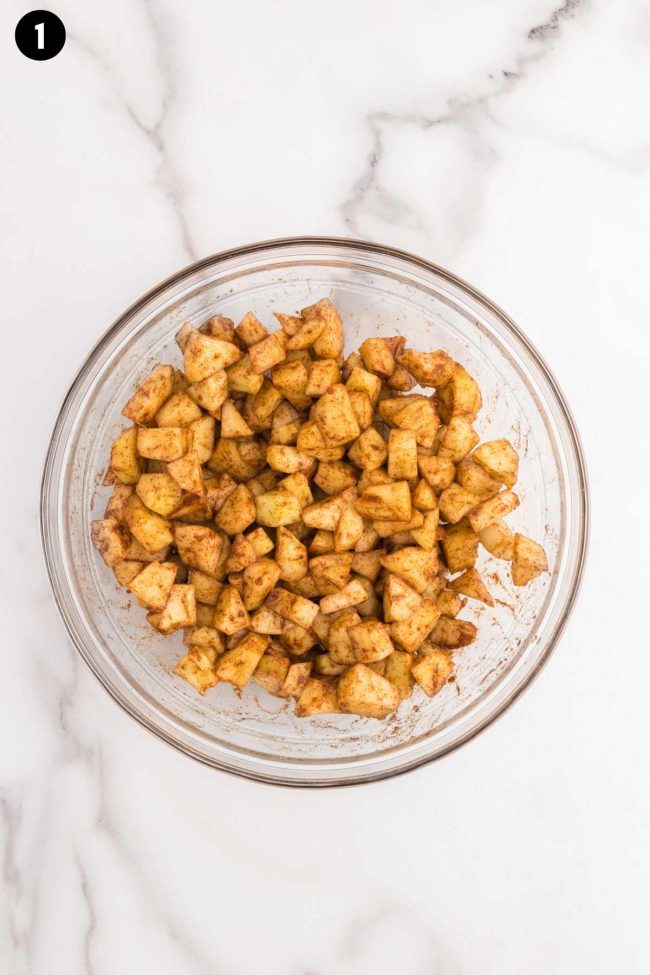 The crust
The crust uses the same mixture as the topping, so you're basically using crumble topping as a crust.
You use half of the crumble mixture for the crust and the other half for the topping.
To prevent a soggy crust, you need to pre-bake the crust for 15 minutes. If it has any holes in it after taking it out of the oven, lightly press the crust down with a spoon. That'll cover up the holes.
I recommend that you place the pan on a baking sheet or place something on the bottom rack of your oven to catch any spillage. I've had the butter leak once. The other 4 times, it didn't. But better safe than sorry!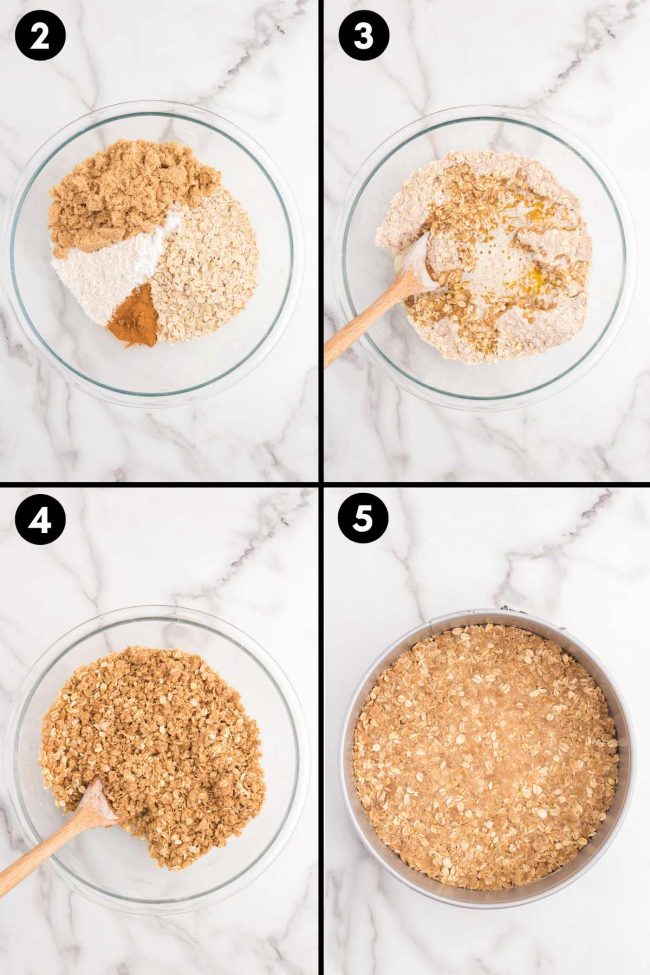 Cheesecake filling
In my Pumpkin Swirl Cheesecake, I talk a lot about how it's important to do a water bath, but not with this cheesecake!
As you can in the horizontal photo further down in this post, it comes out nice and level. So, this cheesecake is perfect if you dread thinking about a water bath. ;)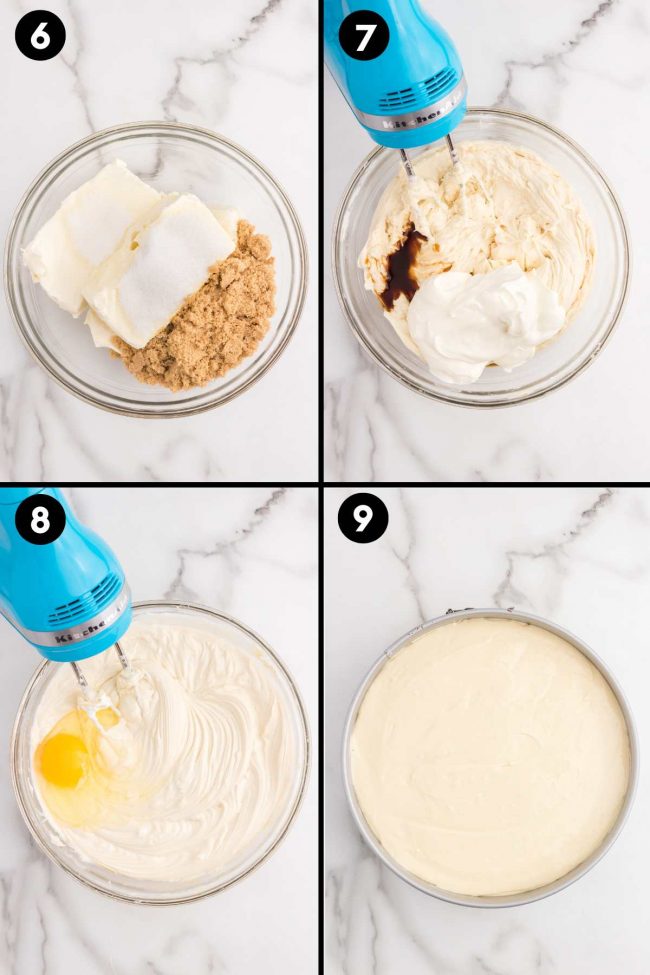 You prepare the apples before everything else so that they have time to sit and release their juices. You can slurp that up (it's apple juice with cinnamon and sugar, so you won't want to throw it out!), but adding the juice to the cheesecake would make it too runny.
Also make sure to spoon the apples carefully over the cheesecake filling. Don't just dump them on top.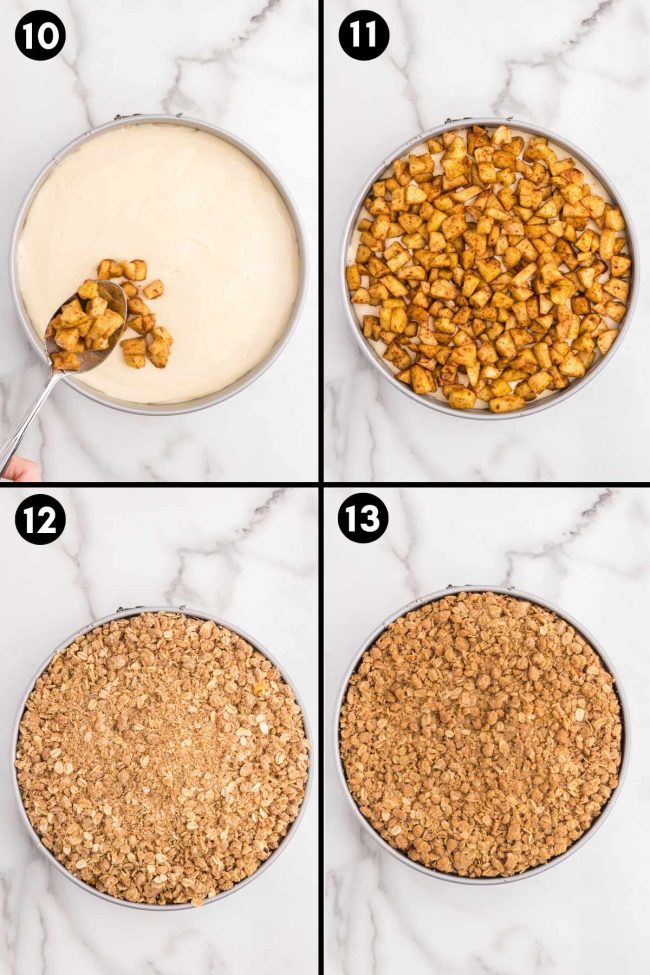 Caramel sauce
You can use whatever caramel you'd like. In the recipe, I link to my Salted Maple Caramel Sauce.
It's rich, buttery, and smooth with just the right amount of maple flavor.
I recommend Grade B maple syrup. If all you have is Grade A, you can use it, but you'll need to boil it longer. And note that there'll be less maple flavor if using Grade A.
It's the perfect sauce to drizzle over this apple crumble cheesecake, but it's also good on Maple Ice Cream, pancakes or cake.
You can make this caramel sauce ahead and store it in the fridge for up to 1 week. Before serving, just stir to reincorporate it and microwave for 10 to 15 seconds at half power.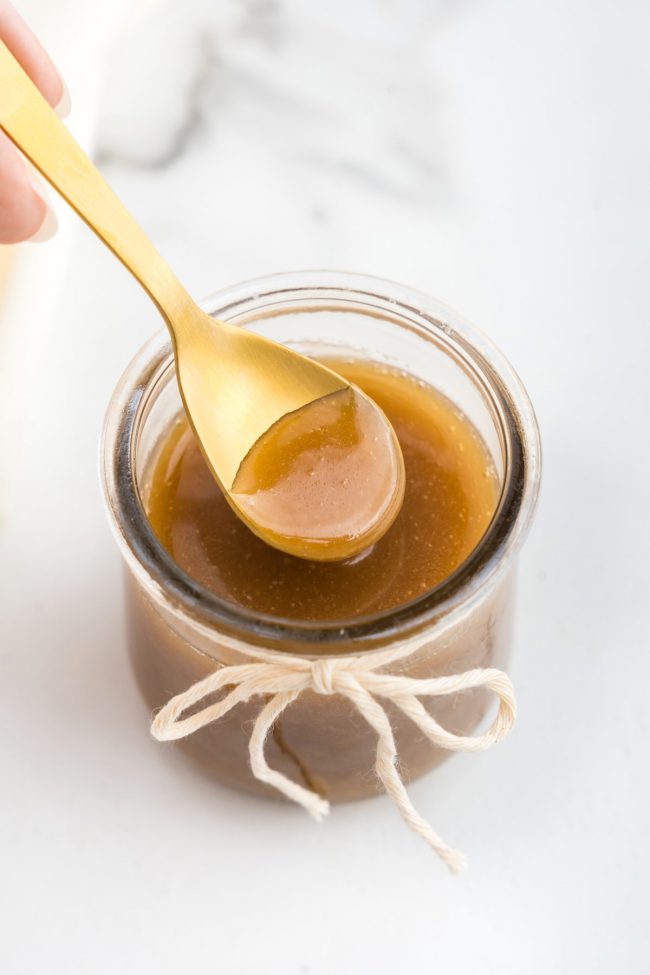 Gluten-free
You can make this cheesecake with regular flour or white whole wheat flour for a whole grain version, and if you're gluten-free, you need to use gluten-free flour and oats.
Pure, uncontaminated oats are naturally gluten-free. However, oats that are labeled as gluten-free are tested to ensure they contain less than 20 parts per million of gluten. You can read more in this post: Are Oats Gluten-free?
So if you're making this for friends or family and they're gluten-free, make sure you buy oats that say gluten-free on them. You'll find them in the gluten-free section of the store.
You also need to use a gluten-free flour blend that's meant as a 1:1 sub for all-purpose flour. I've only tested this recipe with King Arthur Gluten-free Measure for Measure Flour, so that's what I list in the recipe.
As to whether other brands work just as well, I can't say. The cheesecake came out just like the all-purpose version when using the King Arthur blend! So if your cheesecake doesn't have the perfect crust and topping, your flour blend is the reason.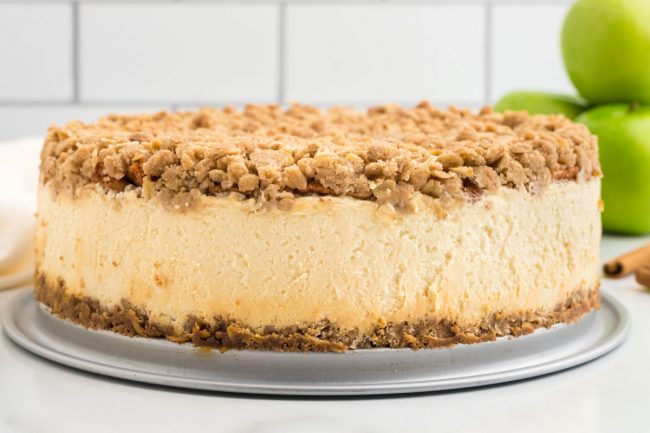 Vegan?
Unfortunately, using vegan subs in place of the cream cheese, eggs and butter won't work in this recipe. But I do have paleo vegan cheesecake recipes that would be great for Thanksgiving, and this Vegan Caramel Sauce would be perfect for drizzling on top.
Live outside of the US?
For those who live outside of North America and have the kind of cream cheese that's more of a spread for toast packaged in a tub and not a "brick" packaged in a foil wrapper, you'll have to do an extra step.
This recipe calls for 24 ounces or 680 grams of cream cheese. To get 680 grams, you'll need to buy 900 grams of cream cheese, place it in the middle of a clean tea towel, and squeeze the liquid out until you have the 680 grams required for this cheesecake.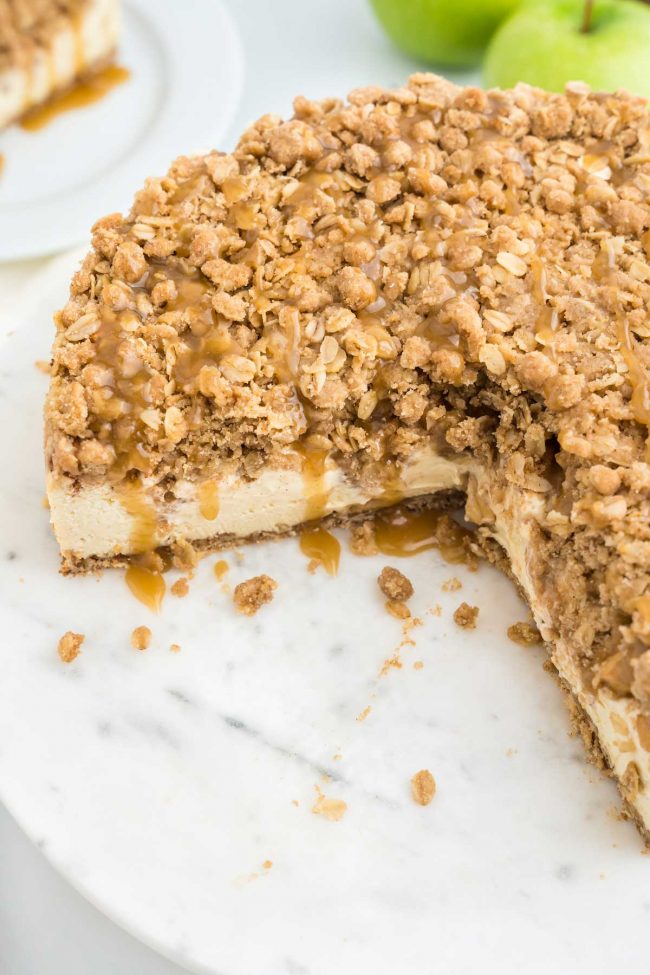 If you don't do this step, the cheesecake will be too watery and won't bake through. You'll probably try baking it for longer, which wouldn't really help, and it'd also burn the topping. So, it's really best to just avoid all that mess and do the tea towel trick!
Butter is also different. To replicate American-style butter for the crumble crust, use 163 grams of unsalted butter and add 5 grams of water.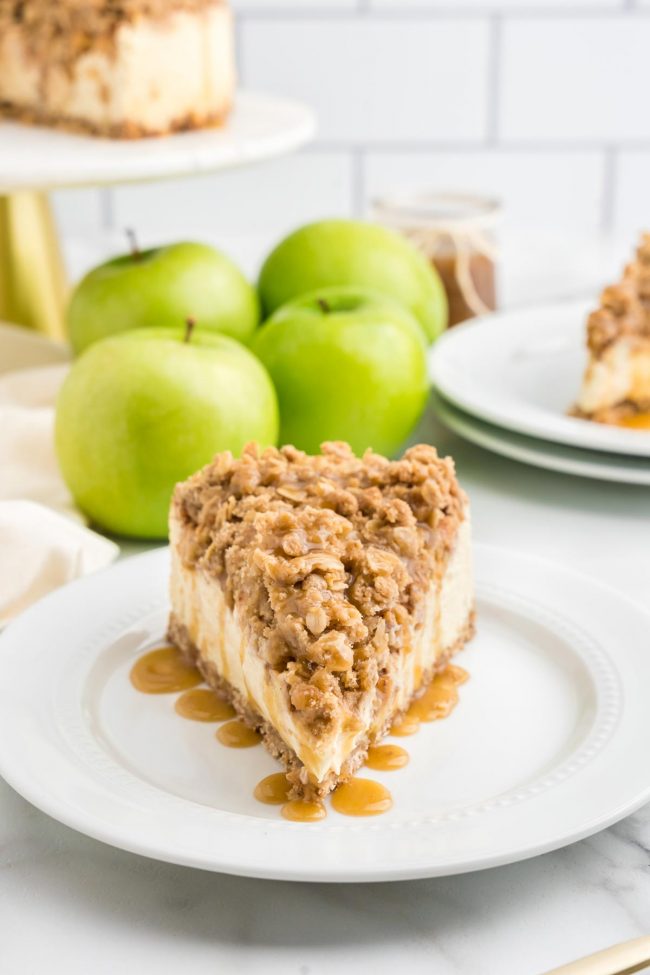 Also, medium eggs in the EU = large eggs in the US. So if you're in the EU, you need to use medium eggs when making US recipes (they almost always calls for large eggs). If you're not in the EU, you need eggs that are 50 grams without their shell.
I tested this recipe using the above tea towel trick, EU medium eggs, and German butter. My photographer in the US, of course, used all US ingredients, as called for in the recipe, and our results came out looking exactly the same.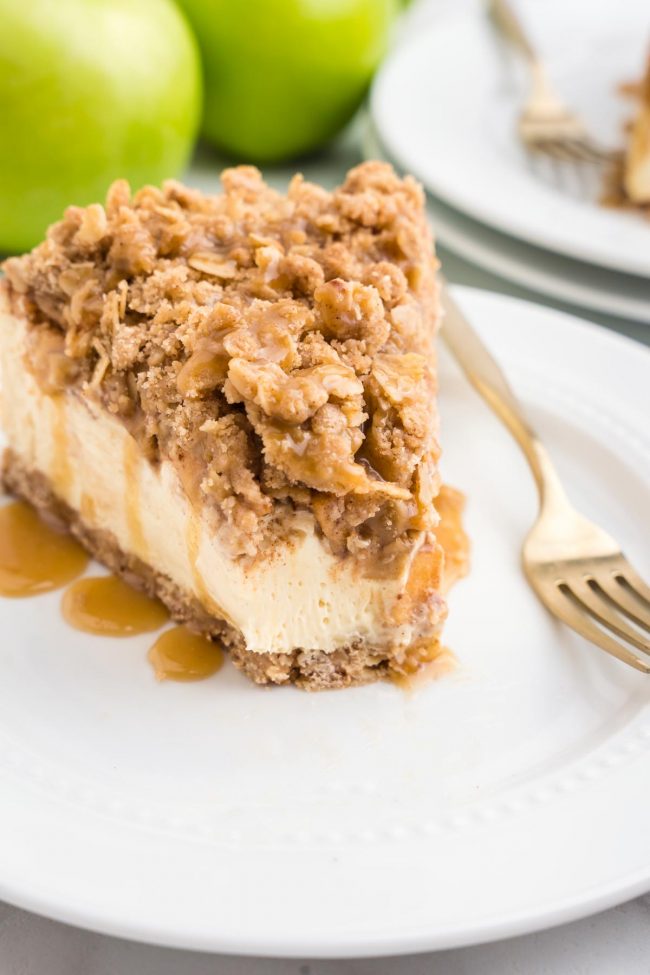 More Thanksgiving desserts
I hope you'll love this apple crumble cheesecake as much as we do. If you try it, please comment below and tell us what you think. Thanks!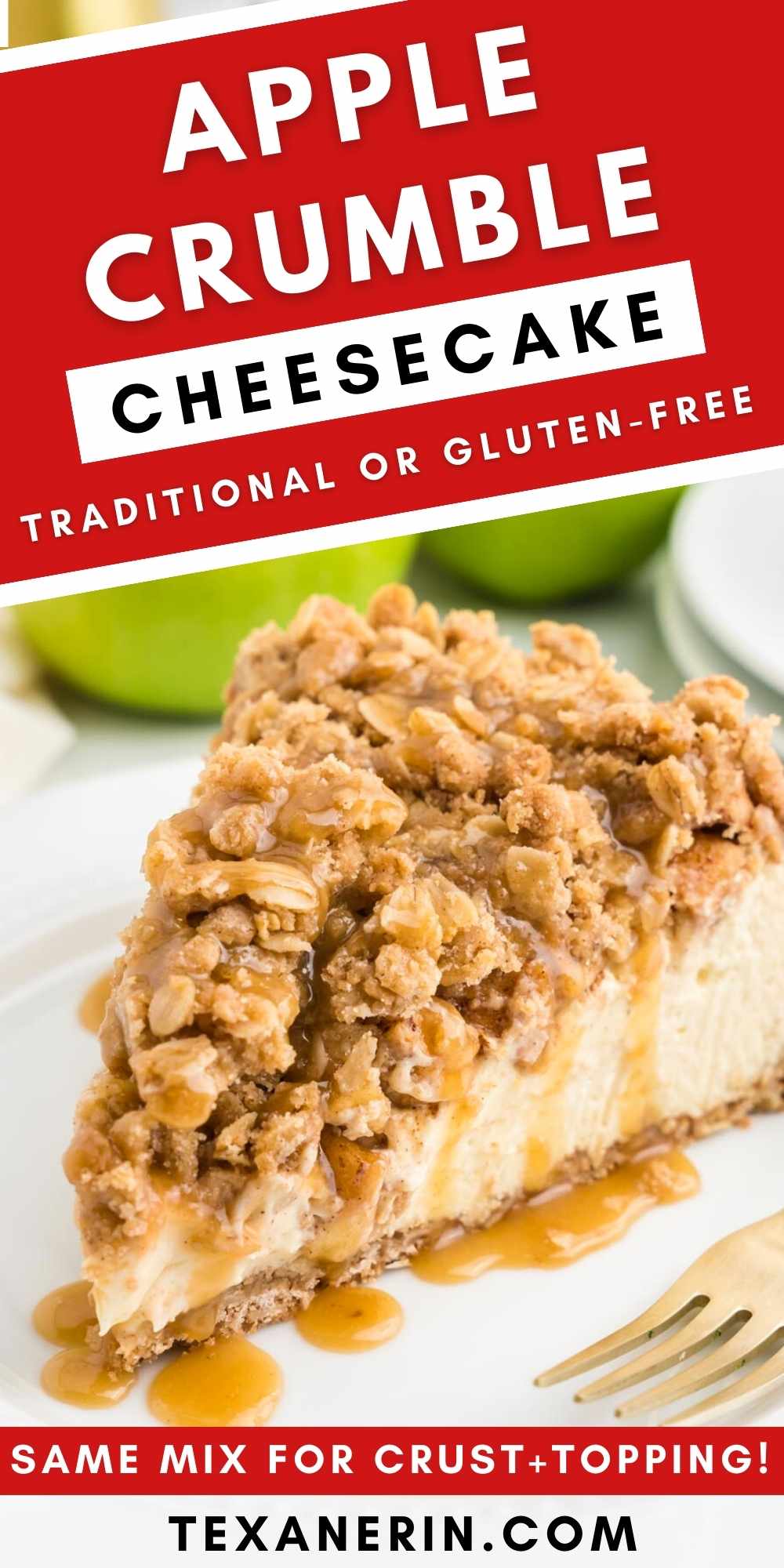 ❀
Apple Crumble Cheesecake
Prep Time:
Cook Time:
Ready in:
Yield:

16 slices
Ingredients
Apples:

2 1/3 cups (262 grams) peeled, cored and chopped (into about 1/3" chunks) firm baking apples (this was about 2 medium-sized, firm baking apples - the apples were 357 grams before peeling and coring)
1 tablespoon granulated sugar
2 teaspoons ground cinnamon

Crust:

1 1/4 cups (156 grams) all-purpose, white whole wheat, or for gluten-free, use King Arthur Flour Measure for Measure Gluten-free Flour
2 cups (180 grams) rolled oats1
1 cup (200 grams) brown sugar
1 tablespoon ground cinnamon
1/2 teaspoon baking powder
1/4 teaspoon salt
3/4 cup (168 grams) unsalted butter, melted and cooled slightly

Filling:

24 ounces (680 grams) cream cheese2, room temperature
1/2 cup (100 grams) brown sugar
1/4 cup (50 grams) granulated sugar
2 teaspoons vanilla extract
1/8 teaspoon salt
3/4 cup (173 grams) sour cream, room temperature
3 large (50 grams each, out of shell) eggs, room temperature

Topping:

Caramel sauce (I like this Salted Maple Caramel Sauce)
Directions
Prepare the apples:

Place the peeled, cored and chopped apples in a medium mixing bowl.
Sprinkle the sugar and cinnamon over the top and toss to coat the apples.
Set them aside while you prepare the rest. This helps extract their juices (I had about 2-3 tablespoons) which you DON'T want to add when spooning on the apples.

Make the crust:

Place a baking sheet or something on the bottom rack of your oven to catch any spillage that may happen when baking.
Preheat the oven to 350 °F (175 °C).
Grease just the bottom of a 9" springform pan.
In a large mixing bowl, stir everything but the butter together until well combined.
Stir in the butter until combined.
Remove half, a little less than 1 1/2 cups or 362 grams, and pat onto the bottom of the greased springform pan. If yours has a lip, make sure the crust goes over the lip of the pan.
Bake for 15 minutes. It's okay if the crust is bubbling or has holes. If it does, lightly press down the crust with a spoon after taking the crust out of the oven.
Let the crust cool for 15 minutes on a cooling rack. While the crust is cooling, prepare the filling.

Make the filling:

In a large mixing bowl, beat the cream cheese, brown sugar, and granulated sugar with an electric hand mixer at medium speed until well combined. Do not overmix!
Beat in the vanilla, salt and sour cream on low until combined, and add the eggs one at a time on low JUST until well combined.
Pour over the crust that's cooled for 15+ minutes.
Using a slotted spoon, evenly spoon the apples over the top of the crust, leaving the juice behind in the bowl.
Top the apples with the remaining topping. Pat down the topping very lightly to prevent pointy bits from getting burned during baking.
Bake for 40 minutes. It'll jiggle a bit when you remove the pan from the oven.
Cool on a cooling rack for 2 hours and then refrigerate for at least 8 before slicing. When slicing, you might want to remove the whole thing to a serving plate because you need to press down hard to get through the crust, and it might make scratches in your pan.
Topping with caramel sauce, if desired.
Cover and refrigerate for up to 4 days or freeze for up to 3 months.
Notes
If you're gluten-free, make sure your oats are labeled as gluten-free and use the gluten-free flour option listed.
If you live outside of the US - you likely have a different type of cream cheese than in the US. US cream cheese is firmer and meant for baking, rather than the kind for toast, like in Europe. For 8 ounces (225 grams) of cream cheese, buy a 300-gram package (the stuff at Aldi, Lidl, etc. works just as well as Philadelphia), put it in the center of a clean tea towel or cheesecloth, and squeeze out the liquid until you have 225 grams of cream cheese. So for this recipe, buy 900 grams of cream cheese and squeeze out the liquid until you have 680 grams of cream cheese left. Also, medium eggs in the EU = large eggs in the US. So if you're in the EU, you need to use medium eggs when making US recipes (they almost always calls for large eggs). If you're not in the EU, you need eggs that are 50 grams without their shell.