This mint chocolate tart is rich, creamy and so easy! Can be made gluten-free, grain-free, and 100% whole grain.
I posted this mint chocolate tart over on My Baking Addiction yesterday and had intended on trying out a dairy-free version but I just ran out of time. I left for the US on Saturday, spent about 1 1/2 days in Savannah, GA and now I'm writing this post from Beaufort, SC.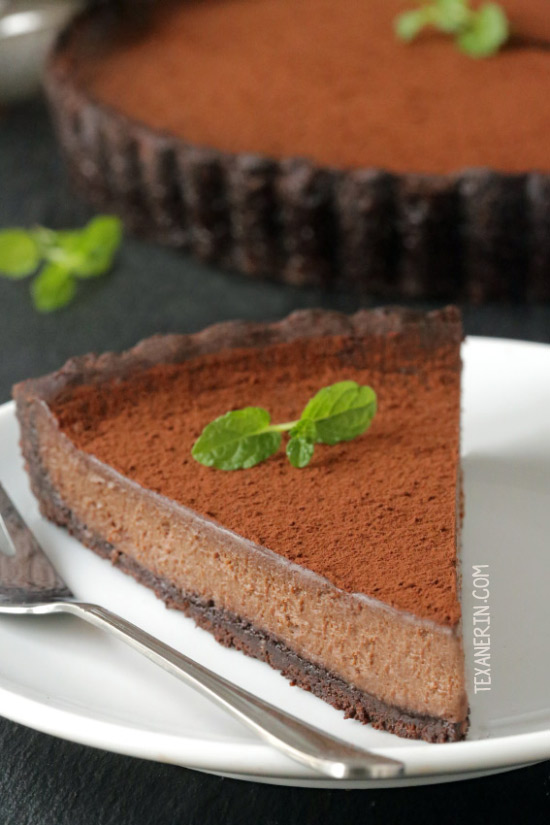 I know someone's going to ask if they can use coconut milk instead of whipping cream and while I think it'd work, I'm not 100% positive. Whipping cream is 30% fat whereas full-fat canned coconut milk is only 20% fat.
So what I'm thinking is that the filling will be soft, but still delicious. Hopefully the mint extract would totally overpower the coconut flavor in the milk because mint and coconut just sounds odd.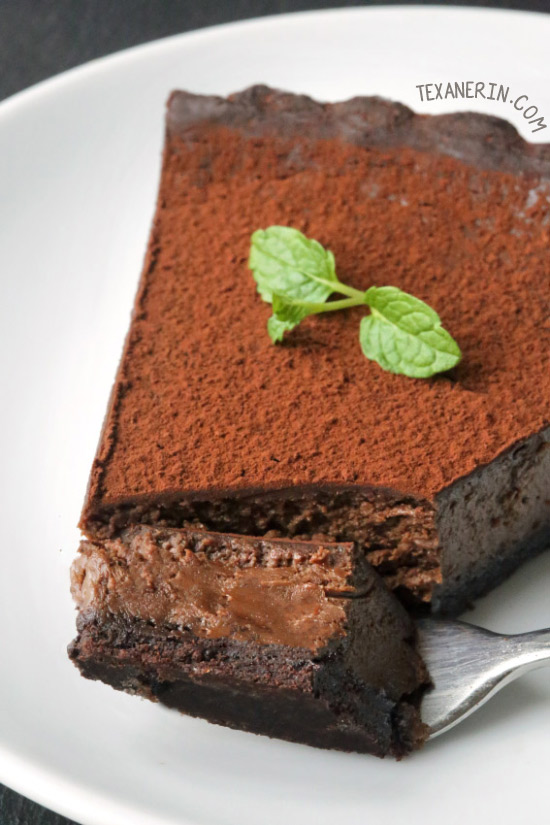 I originally tried this recipe out as six 4.75″ tarts. I used this Wilton set. You'll need to bake the crust for 8-10 minutes and the filling for 15.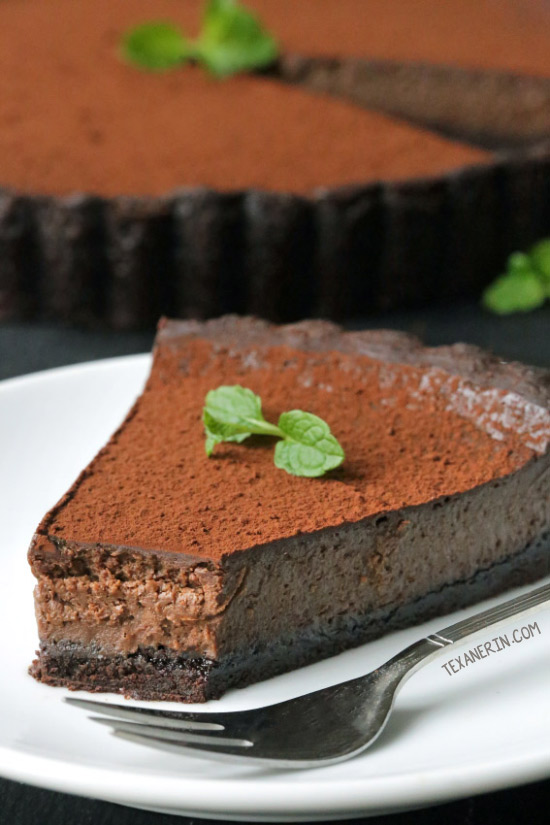 And if you don't like mint, omit it and use more vanilla. Or use another extract in its place! I tried this tart with almond extract and loved it, though I preferred this mint version.
After taking out the first batch of mini tarts, I was disappointed because the filling was kind of pudding-like. Then I figured that they needed to be chilled a little first so I stuck some of the tarts into the freezer to speed up the chilling process and kind of forgot about one of the tarts. I found it the next day and, to my surprise, it froze really well! So I think this would make an awesome make-ahead dessert for Christmas.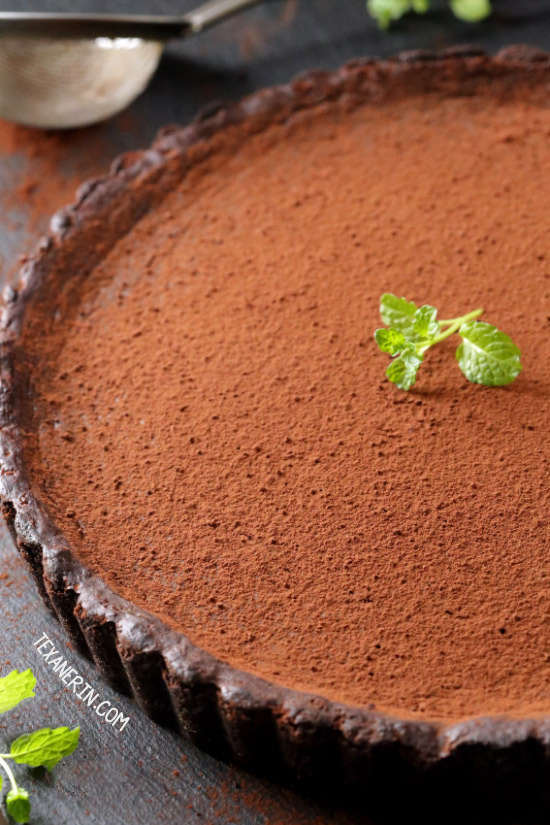 To defrost, let the 9″ tart sit at room temperature for about an hour and then dust with cocoa powder just before serving. The mini tarts needed more like 30 minutes to defrost.

❀
Mint Chocolate Tart (grain-free, gluten-free, 100% whole grain options)
Prep Time:
Cook Time:
Ready in:
Yield:

8-10 servings
Ingredients
For the crust:

3/4 cup (150 grams) granulated, raw or coconut sugar
1/2 cup (62 grams) whole wheat flour, white whole wheat flour or all-purpose flour or 1/2 cup + 1 tablespoon (70 grams) buckwheat flour for a gluten-free / grain-free version
1/2 cup + 1 tablespoon (65 grams) Dutch-process cocoa powder
1/8 teaspoon salt
6 tablespoons (84 grams) unsalted butter, melted

For the filling:

1 3/4 cups (298 grams) semi-sweet chocolate chips or chopped chocolate
1 1/2 cups (355 milliliters) whipping cream
3/4 teaspoon peppermint extract
1/4 teaspoon vanilla extract
2 large eggs, beaten
Directions
Preheat the oven to 350 °F (175 °C) and get out a 9" (23 cm) tart pan with a removable bottom.
In a large mixing bowl, stir together the sugar, flour, cocoa powder and salt. Stir in the melted butter until well combined and a dough forms.
Press up the sides and over the bottom of the tart pan.
Bake for 10 minutes. It'll have started to bubble slightly and will still be quite soft. Let cool for at least 10 minutes before filling.
After 10 minutes of cooling, the sides of the crust will be firm and the center will still be quite soft.
While the crust is baking and cooling, prepare the filling.
In a medium saucepan over medium-low heat, mix together the chocolate and whipping cream and stir frequently until the chocolate is melted. Remove from the heat. It shouldn't be that warm but if it is, let it cool about 5-10 minutes so that the eggs don't scramble when added.
Stir in the peppermint and vanilla extracts followed by the beaten eggs.
Place the tart pan on a baking sheet, which will make removing the tart from the oven easier.
Pour the filling over the partially cooled crust and bake for 22-27 minutes or until the center is set. When you tap the pan, there shouldn't be any ripples, but it won't be totally firm.
Let cool for about 1 hour and then chill for another 2 hours.
Dust with cocoa powder and top with mint leaves prior to serving, if desired.
Notes
If you're wondering how buckwheat is grain-free, please read here. :)
Source: My post on My Baking Addiction – Mint Chocolate Tart
As an Amazon Associate, I earn from qualifying purchases. For more info, see my disclosure.