This vegan caramel pecan cheesecake is also paleo, no-bake and truly rich, creamy and decadent. Nobody will miss the dairy in this recipe! It freezes great and can be made well ahead of time, making it perfect for Thanksgiving and Christmas.
If you want something that will impress your non-vegan, non-paleo and non-healthy eating friends and family during the holidays, this is it.
This is most definitely one of my very favorite desserts. Of all time. And I don't even really like pecans – at least not on their own.
But once you roast pecans and cover them in caramel or sugar, they become irresistible.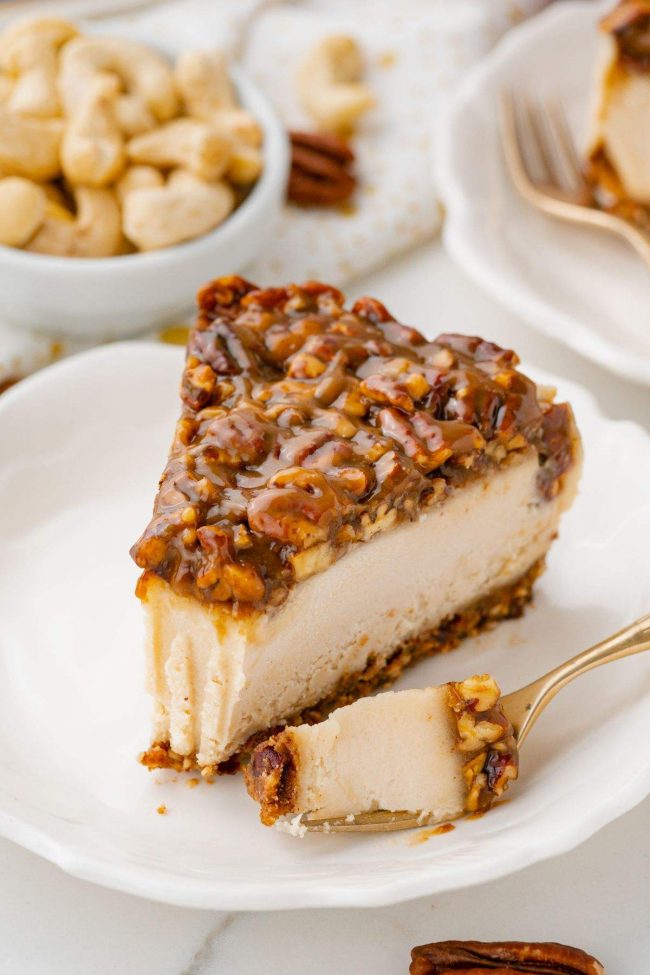 Here are some of my other favorite pecan recipes:
All of which are also paleo + vegan!
Today's recipe is my favorite vegan cheesecake, topped off with toasted pecans and vegan caramel sauce.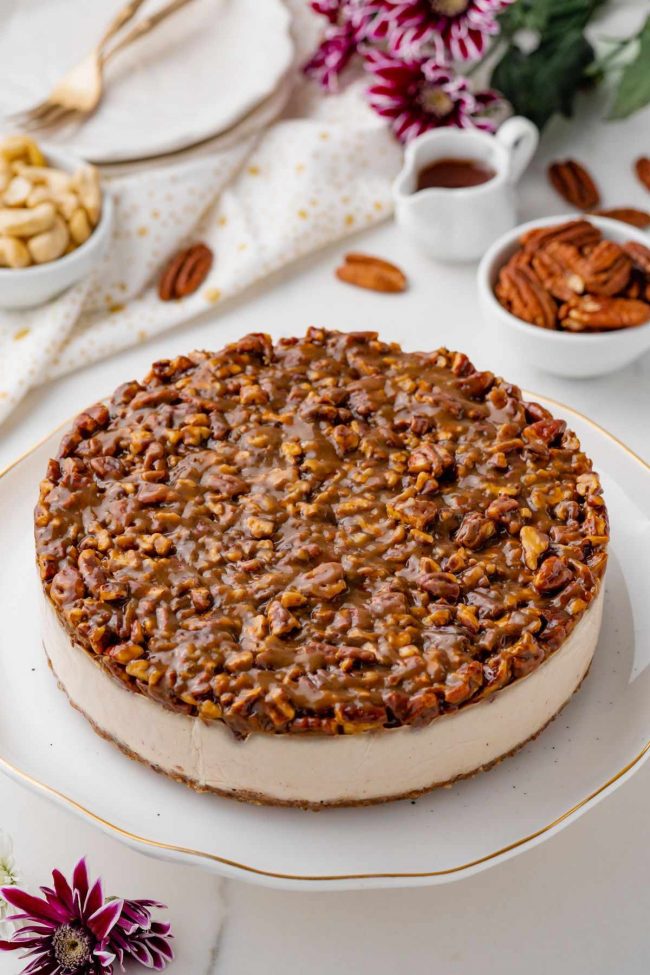 Worth the effort
It takes quite a while to make the crust, the filling, and the topping but it's a cheesecake. Cheesecakes are never super quick to make.
I do have an eggless cheesecake recipe coming soon that'll be quicker to prepare. It's full of dairy, though.
I find paleo or vegan cheesecakes to be more time-intensive, but so worth it! Especially this vegan pumpkin cheesecake. That is one show-stopping dessert!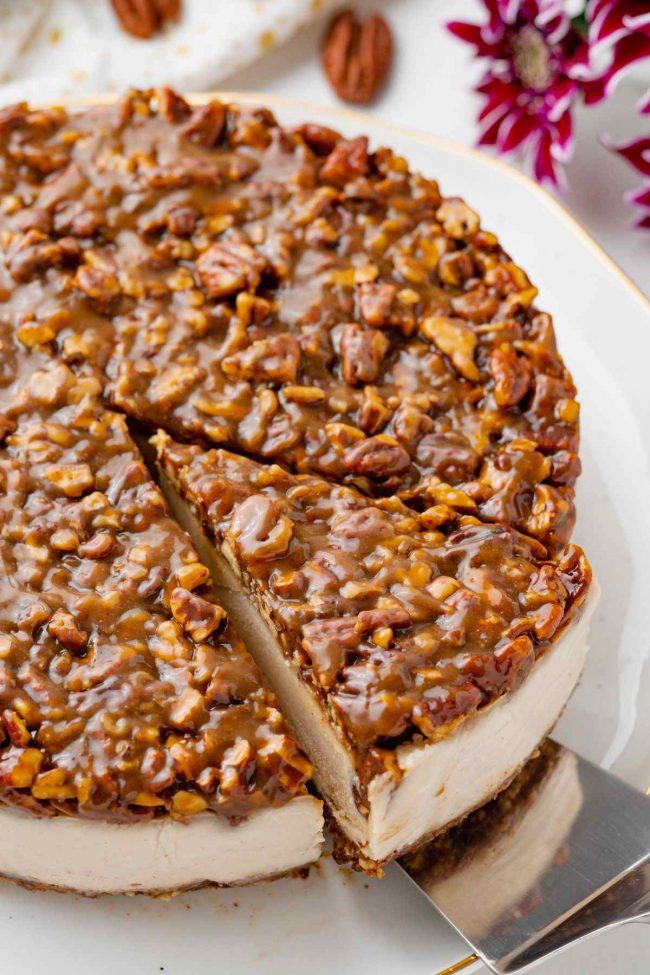 The yield
The yield is quite large, just like a regular cheesecake. If you don't have a large household, you can easily cut this cheesecake into pieces, freeze them and take a piece out when you're in need of something sweet.
The slices in the photos are way too big to serve after Thanksgiving or Christmas dinner. This cheesecake is super-rich, dense and creamy and most people will likely just want a small piece.
I say most people because I leave a lot of room for dessert. I don't care about green beans or other veggies – gimme some red-skinned mashed potatoes, gluten-free cornbread and I'm moving on to dessert!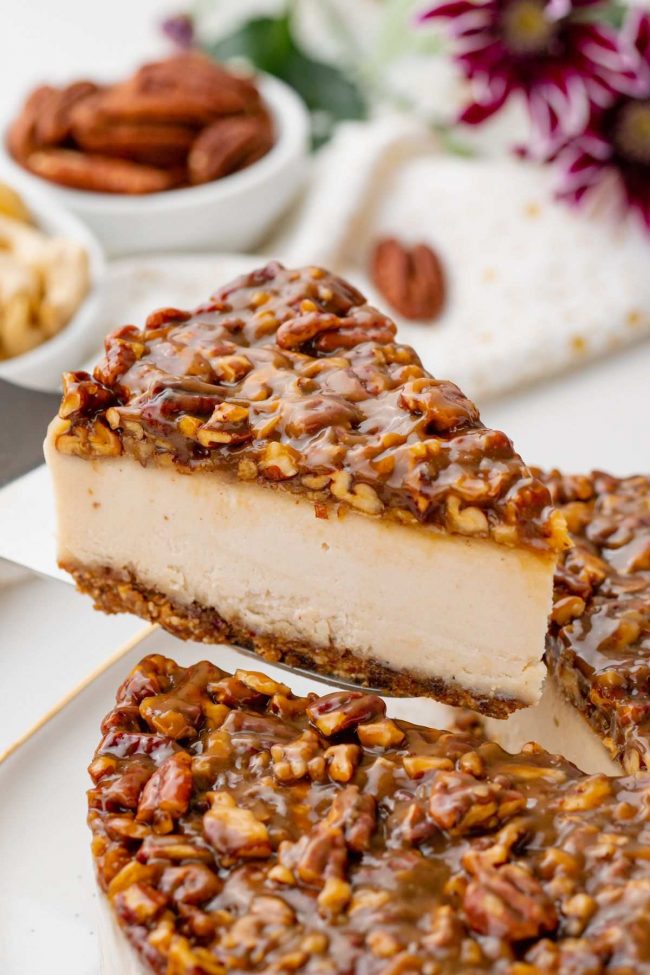 Different nuts on top?
I haven't tried it but I think any type of nut would work. As long as they're chopped a bit.
If you put whole nuts of any kind on there, the cheesecake is going to be too difficult to cut neatly.
An exception might be pine nuts but that'd be one expensive (or more expensive) cheesecake to make.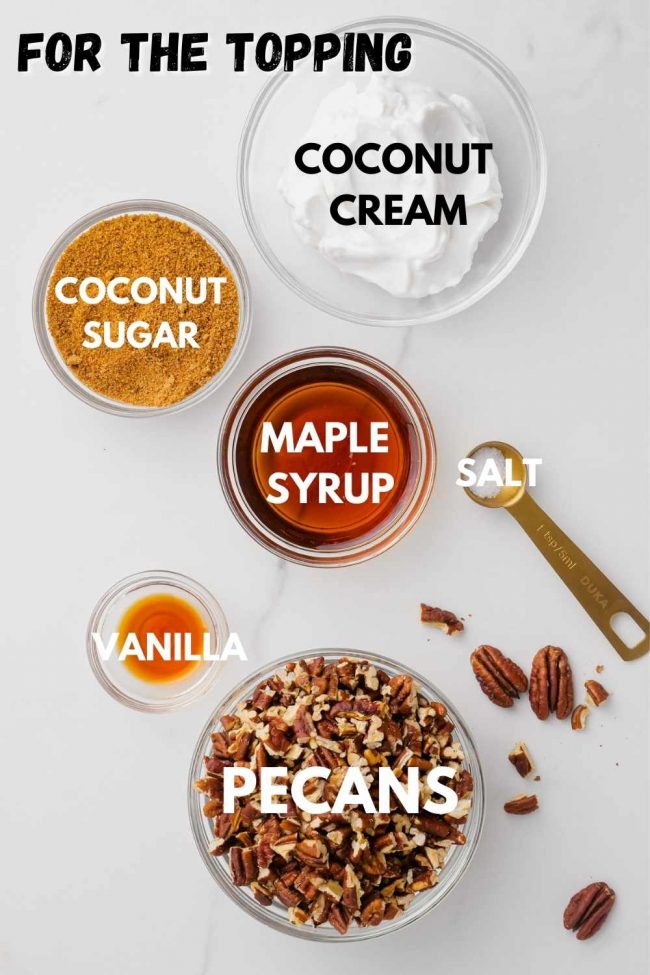 Toasted or raw nuts
This is a no-bake cheesecake and you can make the crust and the topping with raw nuts.
But if you toast the pecans, I think it tastes WAY better. I actually didn't even like the crust with raw pecans.
Roasting improves both the flavor and texture of the nuts.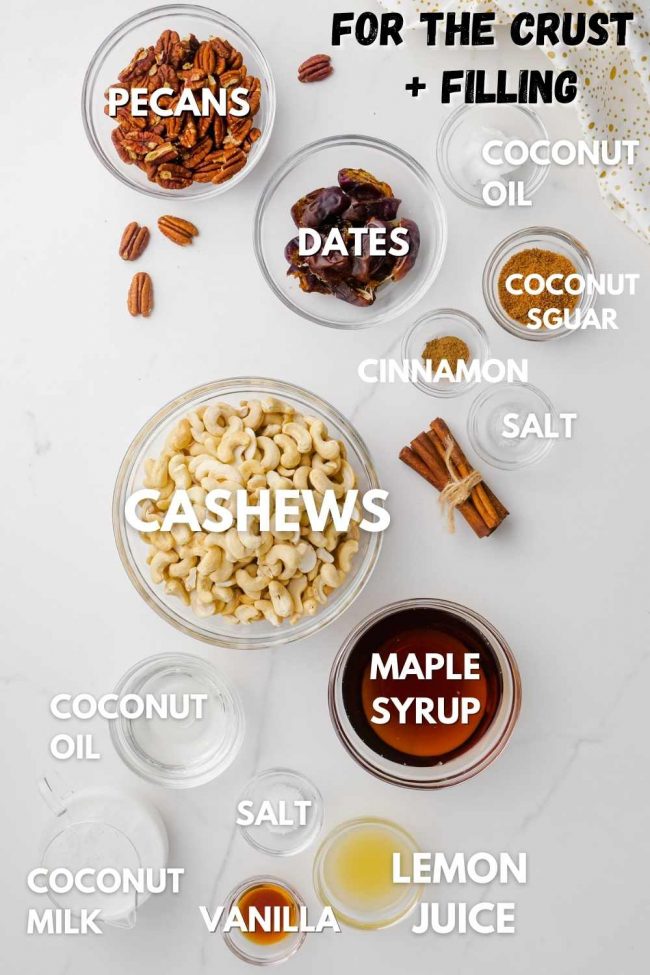 A great make-ahead dessert
This cheesecake freezes great. You could make this now and freeze it until Thanksgiving or Christmas morning.
I first made this last Thanksgiving. It was just for my husband and me.
It was so delicious that we couldn't be stopped and so I cut it into pieces, wrapped each in plastic wrap and hid them all around our freezer. I was still coming across pieces the next year and even months later, they were fantastic.
If you give this cheesecake a try, I'd love to hear what you think!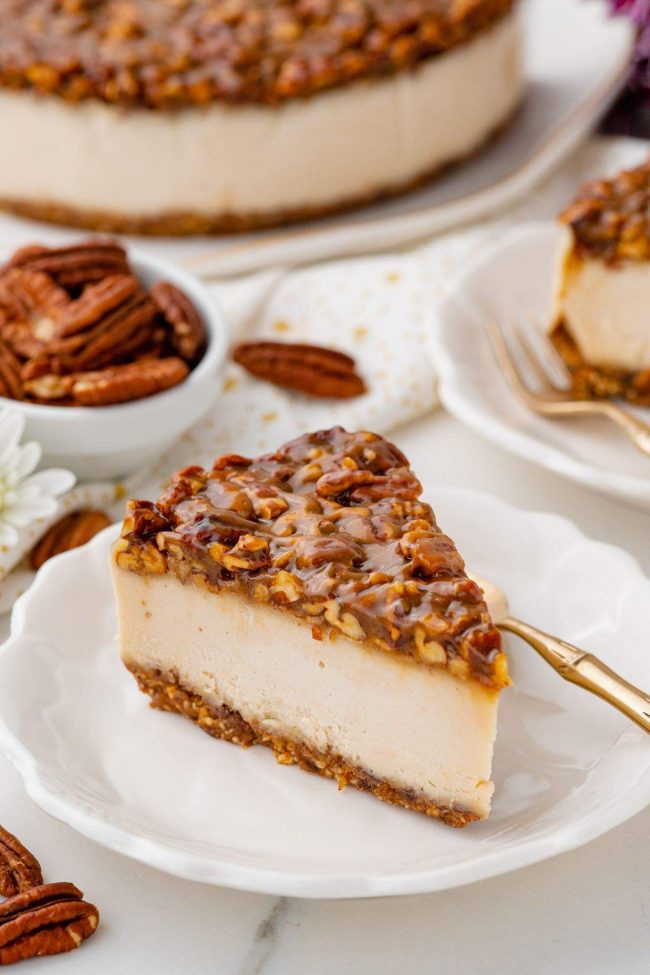 Questions about this recipe?
The crust
What can I use in place of the pecans?

I think any nut would work for the crust, as long as they're toasted. Walnuts would be my next pick after pecans.

Can I use something instead of dates?

I haven't tried it but perhaps prunes would work. You need something sticky like dates or else the crust won't hold together. So coconut sugar or something else won't work.

Can I use something instead of coconut sugar?

Any granulated sugar you'd like would probably work. It can't be a liquid one, though.

Can I use a different sized pan?

Definitely! Your cheesecake will just be thinner or thicker. Think about the crust, though. If you want an 8″x8″, you'll probably want to double the crust. Or maybe just 1.5x it? If you use a 6″ springform, you'll have a little too much crust and filling for the pan and will need to make a mini cheesecake for yourself to eat right away. ;)

I don't have a food processor or high-speed blender. What else can I use?

Sorry to say that you need one of those. You can't chop up the dates finely enough without one. And more importantly because of the filling. I really, really recommend a high-speed blender (not a regular blender!) over the food processor. It'll get the filling perfectly smooth and creamy. I can't say that all food processors will do the same (though I'm sure some would!).

The filling

Can I use something other than cashews?

For this kind of recipe where soaked cashews take the place of cream cheese, I don't think there's a good sub.

I'm allergic to soy so I have no idea if tofu works. I'd recommend just finding a tofu-based cheesecake filling if that's what you'd like to use. Then you could use this crust and topping recipe to make it a caramel pecan cheesecake!

Can I use something other than coconut milk?

Another type of milk might work but it won't be quite as rich, creamy or thick. It could also possibly be too soft to cut. I wouldn't recommend experimenting.

Can I use something other than maple syrup?

Any liquid sweetener would probably work (that you would use as a 1:1 sub for maple syrup or honey). Honey, for a non-vegan version, would give it quite a strong honey taste.

Can I use something other than coconut oil?

I've only tried this cheesecake with coconut oil and can only recommend using that. Make sure to use refined coconut oil so that there's no coconut taste!

Can I use something other than lemon juice?

Unfortunately not. It's needed to give the cheesecake it's slight zing. Without it, the cheesecake tastes kind of boring and flat.

The caramel sauce

Can I use something instead of coconut cream?

I can't think of a paleo or vegan sub. Heavy cream would probably work if you can have dairy. Almond milk, cashew milk, etc. would be too thin.

Can I use something instead of maple syrup?

I wouldn't recommend it! I know some people are probably curious about honey (for a non-vegan version) but I haven't had a good experience using honey in place of maple syrup in boiled caramel recipes.

Can I use something instead of coconut sugar?

Brown sugar would probably work for a non-paleo version.

Can I use something instead of pecans?

I think any kind of chopped and roasted nuts would be great for the topping.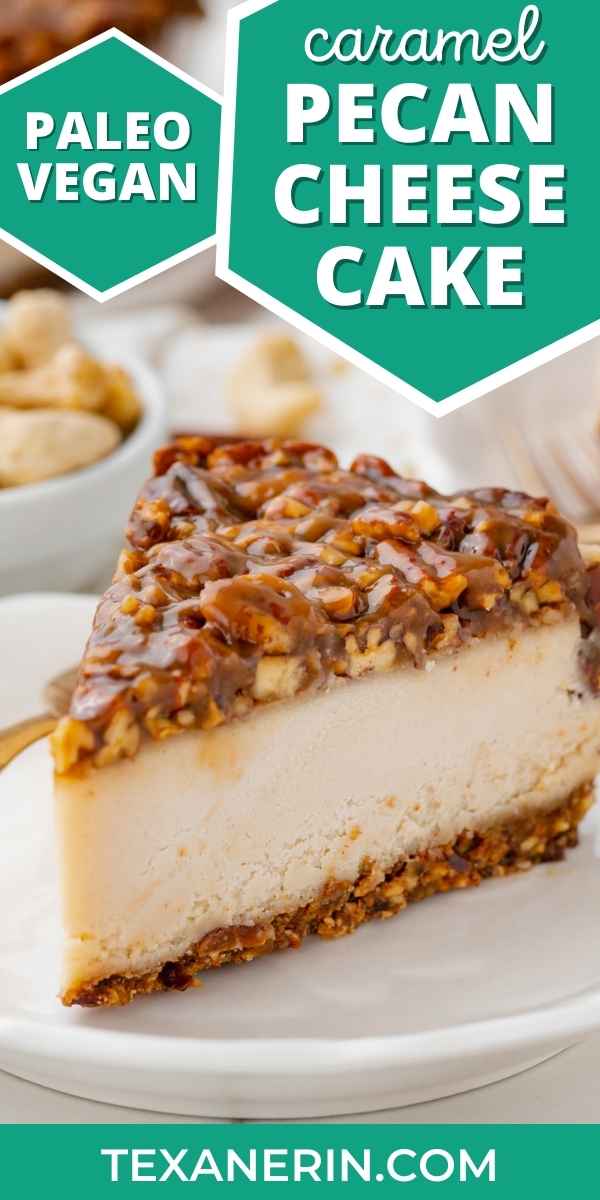 ❀
Vegan Caramel Pecan Cheesecake (paleo, no-bake)
Prep Time:
Cook Time:
Ready in:
Yield:

12 slices
Ingredients
For the crust:

1 cup (110 grams) roasted pecans, chopped1
1 tablespoon (14 grams) coconut oil2
1/2 cup (75 grams) pitted dates
1/4 teaspoon cinnamon
1 tablespoon (12 grams) coconut sugar, tightly packed
1/8 teaspoon salt

For the filling:

3 cups (435 grams) raw cashews3 (see notes)
3/4 cup (180 ml) full-fat canned coconut milk
2/3 cup (160 ml) maple syrup
2 teaspoon vanilla extract
1/4 cup (56 grams) coconut oil (I recommend refined)
3 tablespoons lemon juice
1/2 teaspoon salt

For the caramel:

2/3 cup (160 milliliters) coconut cream from a chilled can4 (not milk!)
1/4 cup (60 milliliters) maple syrup
1/4 cup (50 grams) coconut sugar, very tightly packed
1/4 teaspoon salt
1 teaspoon vanilla extract

For the topping:

the above caramel
1 1/2 cups (165 grams) roasted pecans, chopped
Directions
Prepare the crust:

Line the bottom and sides (all the way to the top) of a 7" circular springform pan with a piece of foil.
In the bowl of your food processor using an S-blade, pulse all the crust ingredients until it starts to come together. Depending on your food processor, this will take about 30-60 seconds. Pinch a bit of it together - it should stick together easily. You can also use a high-speed blender to make the crust but you have to scrape the sides of the container often. I thought it was much easier with a food processor.
Firmly press down the mixture over the bottom of the prepared pan. Place in the fridge or freezer while you prepare the filling.

Prepare the filling:

Get out a high-speed blender and make sure it's large enough to fit all the ingredients. The filling yields about 5-6 cups. Add all the filling ingredients, in the order listed, and blend for about 30-60 seconds, or even longer, depending on your blender, or until totally smooth and no lumps remain.
Pour the filling over the crust and place the cheesecake in the freezer for about 2 hours or until you think it's firm enough to put the caramel on top.

Prepare the caramel:

Add all the ingredients, except for the vanilla, to a saucepan or small pot. Put in a candy thermometer if you have one.
Bring to a boil, over medium heat, stirring frequently. Once it's come to a full boil, continue boiling for 8 - 10 minutes. Adjust the heat if you need to so that the mixture doesn't burn. I kept mine at 5 out of 9 and never had an issue with that.
The mixture quite quickly came to 194 °F (90 °C), and then it took several minutes before it started getting hotter. Then it quickly moved to 201 °F (95 °C). You could also see a change in the mixture when that happened (but maybe you won't so don't use that as a measure of it being ready). But it will be clearly thicker than when you started. If it's still super thin, it's not ready.
Remove from the heat and stir in the vanilla and pecans. Let cool enough so that it doesn't melt the cheesecake.

Decorate:

Pour the pecan caramel evenly over the top of the cheesecake. It'll take 9-12 hours for the cheesecake the freeze solid. To defrost it, set it out at room temperature for about 30-60 minutes (will depend on how warm your kitchen is). You can also thaw it in the refrigerator overnight. It can be kept in the refrigerator for 3-4 days for a softer consistency. We loved it both ways!
Notes
To roast the pecans for the crust and the topping, place 2 1/2 cups (275 grams) pecan halves on a baking tray. Toast the nuts for about 5-8 minutes or until they smell toasty, stirring them about halfway through. Let cool and then chop.
I used refined coconut oil for no coconut taste
It wasn't a problem for my Blendtec to use non-soaked cashews. If you prefer, you can put the cashews in a pot and pour boiling water over them. Let them sit for about 10-20 minutes and that'll soften them.
If using coconut cream, don't use any water that's pooled at the bottom of the can. If using a can of canned coconut milk, chill it overnight and use the top, hardened part (which is coconut cream).