This paleo pancake recipe is like a cross between typical fluffy American pancakes and crepes! They're also grain-free, gluten-free and dairy-free.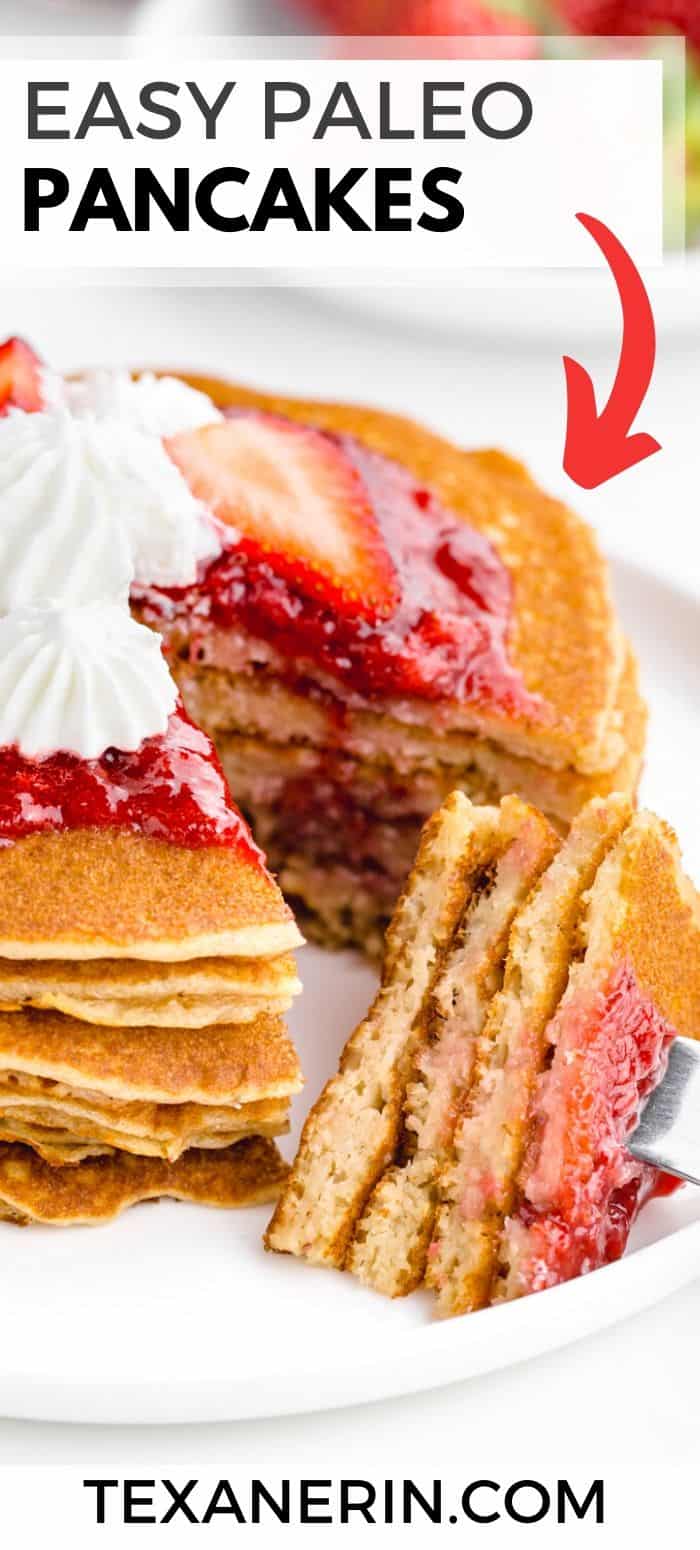 I normally eat leftovers for breakfast but sometimes I like something that's more of a treat, like these paleo blueberry muffins, banana pancakes or these paleo pancakes!
The first time I made this paleo pancake recipe, I used regular dairy-containing buttermilk and butter. It worked great. Then I needed to test them a whole bunch and eventually ran out of buttermilk.
So I figured I might as well make these pancakes dairy-free with homemade "buttermilk", which also turned them into paleo "buttermilk" pancakes! All you do is add vinegar or lemon juice to whatever dairy-free milk you wish to use.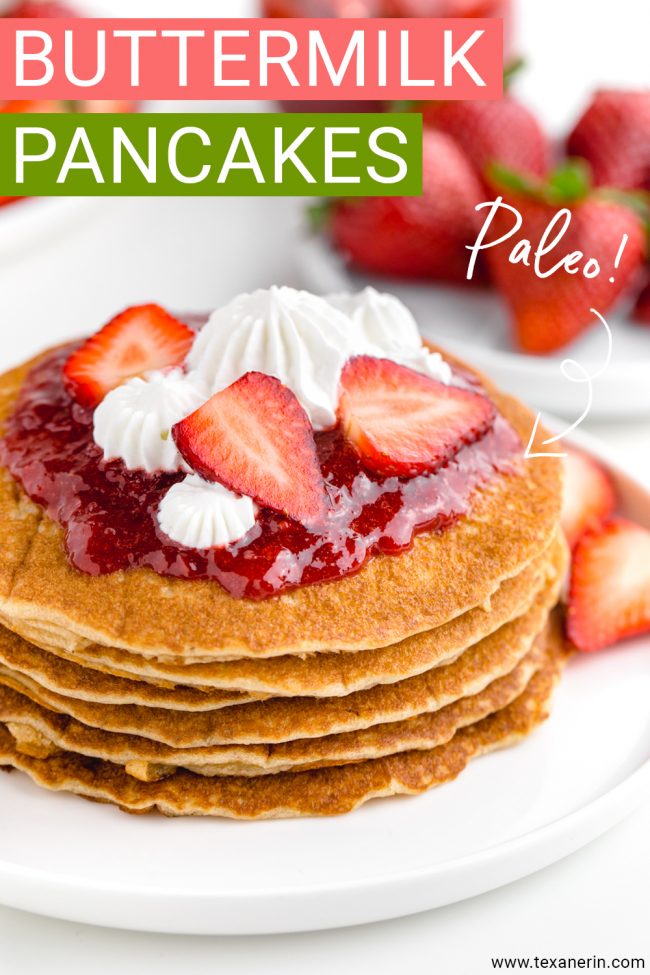 You really can't tell any difference between the store-bought buttermilk and homemade dairy-free buttermilk version. The stack you see here is actually a mix of the two.
The thickness is kind of different than what you're probably used to. They're not thick like regular American fluffy pancakes, but they're not nearly as thin as crepes.
They're just hanging out in the middle – but they're still pretty awesome! Especially for people like me who don't like their pancakes to be too bready.
I used a mix of blanched almond flour and tapioca flour, which is also called tapioca starch. I've been doing a lot of grain-free and nut-free cooking recently and have been using tapioca quite a bit, like in these healthy muffins for kids I posted last week.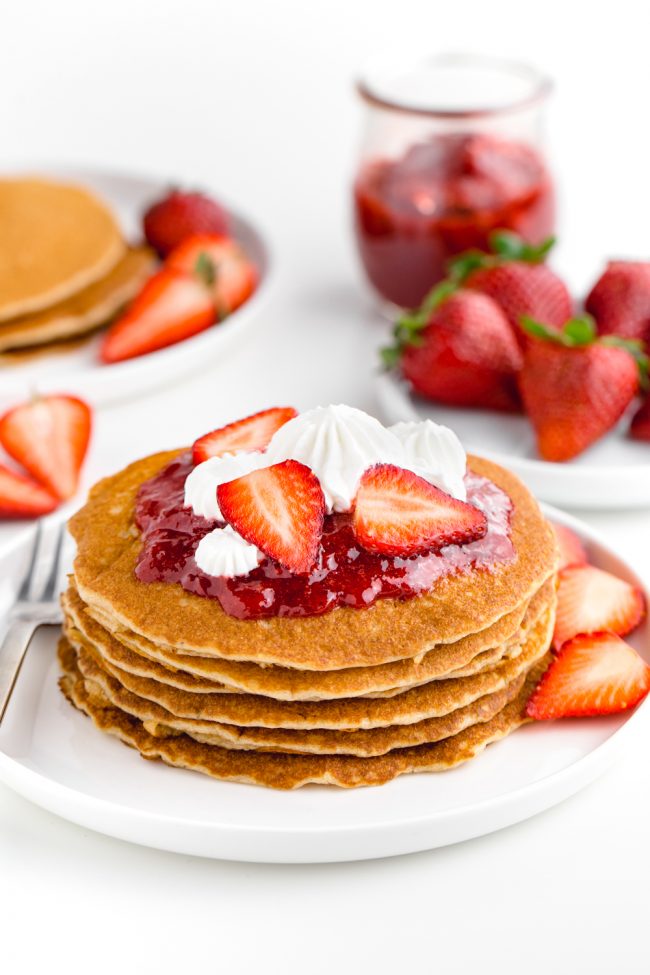 If you'd rather have coconut flour-based pancakes, try these light and fluffy coconut flour pancakes. They look amazing! As does these keto banana pancakes.
These paleo pancakes are perfect smothered in maple syrup or in this honey sweetened strawberry sauce. I make that sauce every year after coming home from strawberry picking (along with this 2-ingredient strawberry applesauce)!
One of winter's highlights, as sad as that may be, is coming across a long-forgotten bag of this sauce. Seriously. Winters here are ridiculously dreary and a little piece of summer is a cause for celebration! The same is true of these Healthy Lemon Bars!
You can make the sauce with frozen strawberries but I've never found store-bought frozen strawberries that even come close to freshly picked strawberries. However, if you use strawberries that taste like nothing, the sauce will probably come close to tasting like nothing. In case that wasn't clear. ;)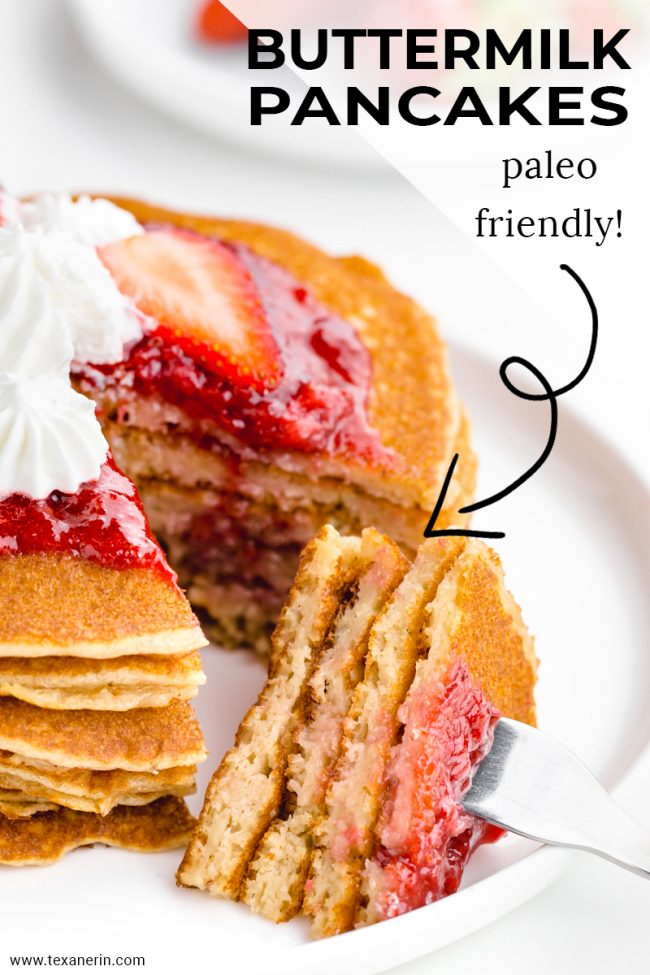 If you want something thicker, these paleo blueberry pancakes look perfect! Or if don't need a grain-free version, try these delicious looking gluten-free buttermilk pancakes.
I tried making these pancakes with chia eggs once but they didn't come out very well. If someone tries making these vegan, please share how you did it in the comments!
Questions about this paleo pancake recipe?
Can I use something other than almond flour? You can use almond meal if you don't mind the bits of skins from the almonds. You can also use any other nut flour / meal that you'd like.

Can I use something other than tapioca flour / starch? I believe arrowroot flour / starch would work well but I haven't tried it. I don't think anything else would work.

What can I use instead of coconut sugar or honey / maple syrup? You can use whatever granulated sugar you want in place of the coconut sugar or even omit it. You can use any liquid sweetener in place of the honey / maple syrup.
Can I use something other than eggs? I tried them with chia eggs and wasn't successful. I doubt other egg replacers would work well here.

Can I use something other than coconut oil? Whatever fat you want to use should probably work.
❀
Paleo Pancake Recipe (grain-free, gluten-free, dairy-free)
Prep Time:
Cook Time:
Ready in:
Yield:

10 pancakes
Ingredients
1 1/3 cups (315 milliliters) non-dairy milk of choice (or regular buttermilk for a dairy-containing version), room temperature
1 tablespoon + 1 teaspoon lemon juice or vinegar1
1 1/2 cups (150 grams) blanched almond flour
1/2 cup (58 grams) tapioca flour / starch
1 tablespoon coconut sugar
1 3/4 teaspoons baking powder (make sure to use grain-free baking powder, if necessary)
1 teaspoon baking soda
1/2 teaspoon salt
3 large eggs, room temperature
3 tablespoons (42 grams) coconut oil (or unsalted butter for a dairy-containing version), melted
1 tablespoon maple syrup or honey
1 tablespoon vanilla extract
Directions
If using store-bought dairy-containing buttermilk, skip to Step 2. Otherwise, prepare the dairy-free buttermilk. Add 1 tablespoon lemon juice to a 1-cup (240-milliliter) measuring cup and fill up with dairy-free milk. Add 1 teaspoon lemon juice to a 1/3-cup (80-milliliter) measuring cup and fill up with dairy-free milk. Let sit for 5 minutes while preparing the rest of the recipe.
In a medium mixing bowl, stir together the dry ingredients (almond flour through salt). Set aside.
In a large mixing bowl, stir together the wet ingredients (buttermilk through vanilla extract).
Gradually add the dry mixture to the wet and stir until no lumps remain.
Heat a non-stick skillet over medium heat.
Pour 1/3 cup of batter into the pre-heated pan and cook for about 2 minutes or until bubbles form and the bottom has lightly browned.
Flip the pancake over and cook for another minute or two.
Repeat with the remaining batter.
Serve immediately and keep any leftovers refrigerated for up to 4-5 days.
Notes
Omit if using store-bought buttermilk!