This pecan-crusted salmon is an easy way to transform salmon into something extra delicious! It's also Whole30-friendly, paleo and keto.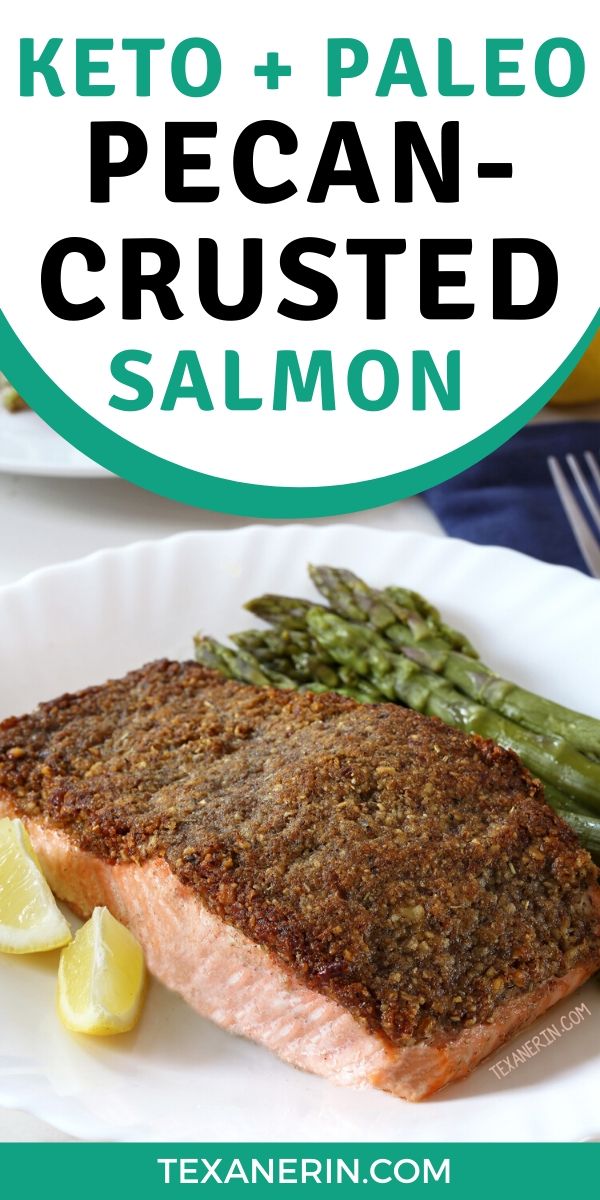 Scrolling through my Facebook feed, I see that a ton of people are doing Whole30. So it seemed like the right time to share this pecan-crusted salmon recipe! If you're looking for what to serve with it, these vegetable slow cooker quinoa with golden milk would also be great! As would these smashed potatoes.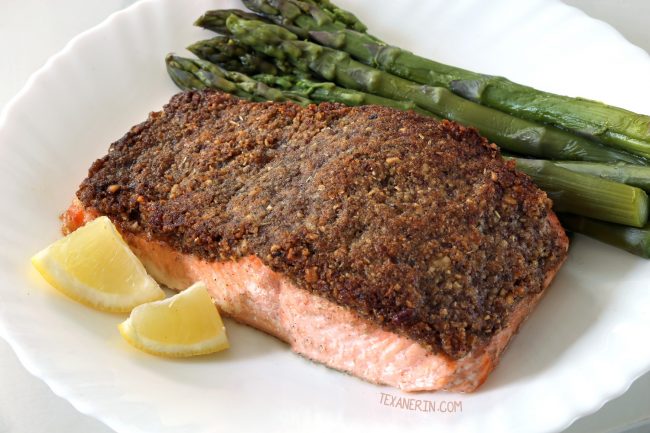 This is by far my favorite fish recipe and my go-to dish for when we have company. When we have someone come over for the first time, we always make this pecan-crusted salmon. We love that it's naturally gluten-free, grain-free and can easily be made dairy-free.
I have no idea if the topping would work on poultry or other types of meat because I haven't tried it but I don't see why it wouldn't. If you try it out, I'd love to hear how it goes!
I would happily eat salmon every day if I could. Along with these crispy baked sweet potato fries from Foodie With Family. Ever struggled with soggy fries? That post has loads of awesome tips which pretty much guarantee crispy fries!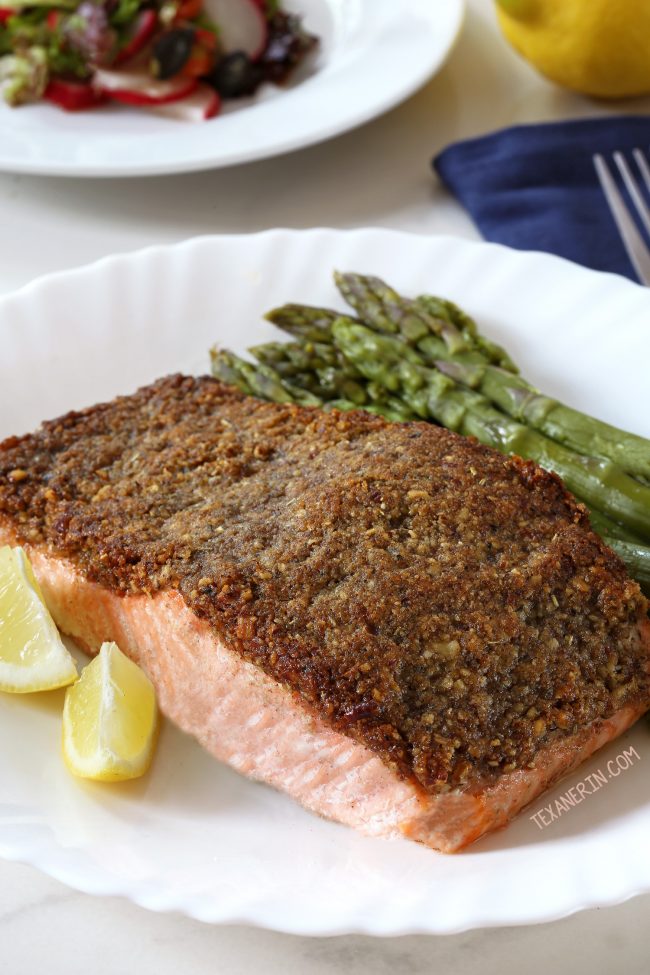 Unfortunately, fresh wild salmon is way beyond affordable where I live, so I always buy wild frozen salmon (except for when I made it to take these pictures!). The frozen filets are quite dinky and just not nearly as delicious as the fresh kind.
They don't even taste like salmon! But when you add this pecan topping, it makes those sad little filets just as delicious as with fresh fish. :) If you don't like pecans, it works just as well with walnuts.
I added a little more flavor with some paprika and herbes de Provence that makes this pecan-crusted salmon even more delicious.
By the way, have you ever looked up the serving size of salmon? So confusing!
I see some sources saying that 3-ounces is a serving, while others say 6-8 ounces is more typical. I put down 3 servings for the pound of salmon called for in this recipe but you'll have to eyeball it and decide what's a good amount for your family.
Should salmon not be your thing, try this delicious-looking Fish Almondine, which uses white fish!
If you try this pecan-crusted salmon, I'd love to hear what you think!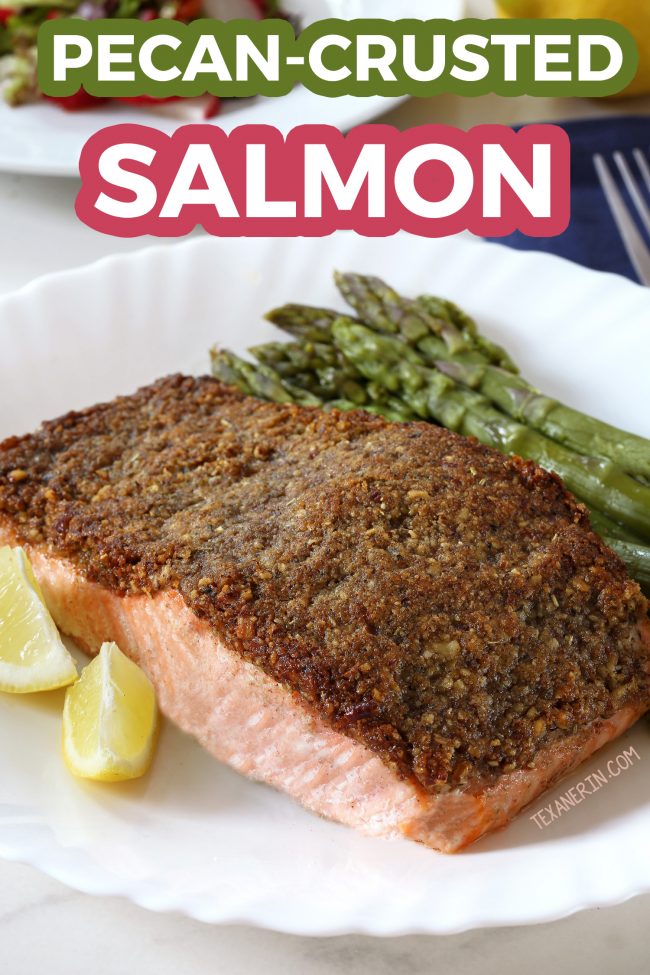 ❀
Pecan-crusted Salmon (whole30, paleo, keto)
Prep Time:
Cook Time:
Ready in:
Yield:

3 servings
Ingredients
1 cup (110 grams) pecans or walnuts
3/4 teaspoon salt
1/2 teaspoon freshly ground black pepper
2 teaspoons herbs de Provence (or Italian seasoning)
1/8 teaspoon smoked paprika (or regular paprika)
3 1/2 tablespoons (49 grams) coconut oil or 1/4 cup (56 grams) unsalted butter for a dairy + non-whole30 version
2 8-ounce (225-gram) salmon fillets (1 lb / 450 grams total)
lemon slices, optional
Directions
Preheat the oven to 350 °F (175 °C). Get out a casserole dish large enough for the salmon. Place the pecans in the casserole dish and toast the pecans for 3 minutes, mix, and toast for another 3-5 minutes or until the pecans smell toasty. Remove from the oven and turn the heat up to 400 °F (205 °C).
While the pecans are cooling, place the salt, pepper, herbs de Provence, smoked paprika and coconut oil in a high-powered blender or a food processor. Once the pecans have cooled, add them and then pulse a few seconds or until the pecans are nicely ground. If using a high-powered blender, be very, very careful that you don't overprocess them! It's easy to do.
Grease the casserole dish and place the salmon fillets in there. Divide the pecan mixture in half and pat evenly over the top of each fillet.
Bake for 14-20 minutes or until the topping has lightly browned and the fish flakes with a fork. Serve immediately with fresh lemon slices, if desired.
Source: My post on Cee – The Blog From Cohen's: Pecan Crusted Salmon