These Gluten-free Oatmeal Chocolate Chip Bars have the perfect chewy texture, and a rich taste and are made in a jelly roll pan, making them great for picnics and bake sales. With vegan and dairy-free options. They can also be made with white whole wheat flour or all-purpose flour if you're not gluten-free.
Gluten-free flour
I tested these bars with Bob's Red Mill Gluten-free 1-to-1 Baking Flour (the one in the blue bag) and King Arthur Flour Measure for Measure Gluten-free Flour (the one in the white bag).
They're my favorite gluten-free flour blends and the result in these bars is perfect. The bars aren't gritty and don't have a weird taste.
You could likely use other gluten-free baking blends that are meant as a 1-to-1 sub for all-purpose flour, but without trying them, I can't say for sure. I've heard great things about Cup 4 Cup but haven't tried it since it has milk powder.
If you try another brand and are disappointed in the taste or texture, definitely try one of the products I recommended!
You really can't even tell that they're gluten-free with them. With other products, that might not be true.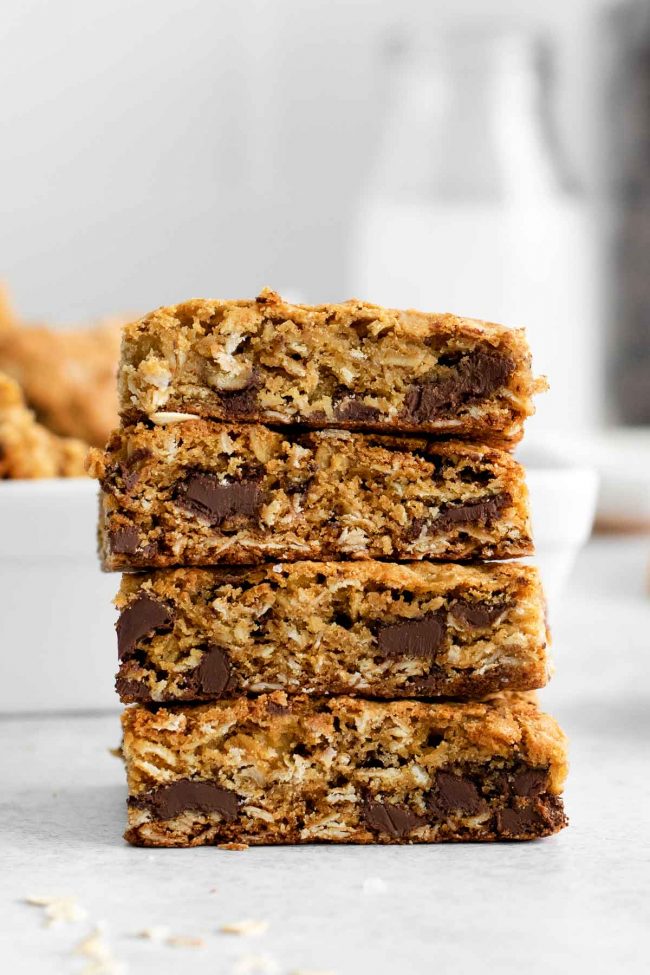 Oatmeal raisin version
I can never decide whether to make these as chocolate or oatmeal raisin bars, so before I add the chocolate chips, I divide the batter in half (470 grams, but that varies a little depending on what fat/sugar/flour combination you use). Then I pat one half of the dough into one half of the prepared pan and press chocolate chunks on top.
To the other half of the dough that's still in the bowl, I add 1 teaspoon of ground cinnamon and 1/2 cup of raisins. Mix and pat into the other half of the pan.
Then you don't have to choose!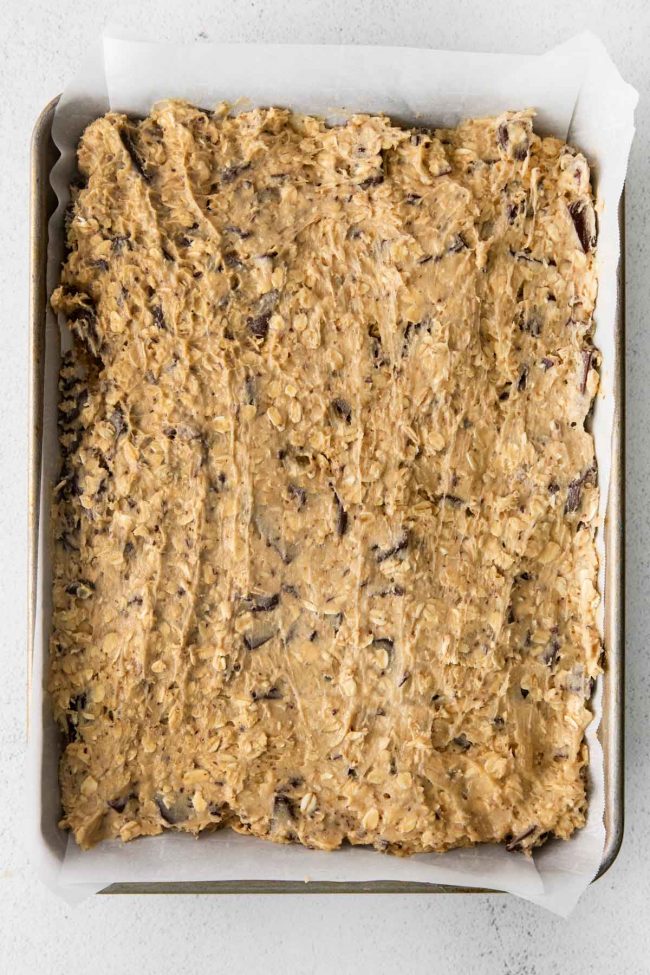 Dairy-free option
You just have to use dairy-free chocolate and coconut oil instead of butter. You could also use vegan butter, but then you should use the amount that's listed for butter and not for the coconut oil.
I do prefer the taste with butter, because it's butter, but they still taste amazing even with coconut oil!
I used refined coconut oil and recommend that you do, too, if you don't want your bars to have a coconut flavor. And if you'd like to use olive oil, check out these wonderful Gluten-free Cookie Bars.
Vegan option
You need to make them dairy-free as described above and also use a chia egg. This is the only egg sub I've tried, and I'm guessing others would work, but I haven't tried any others.
The bars are a little less chewy when using chia eggs, especially if using coconut sugar instead of brown sugar.
But they're still quite chewy and super tasty.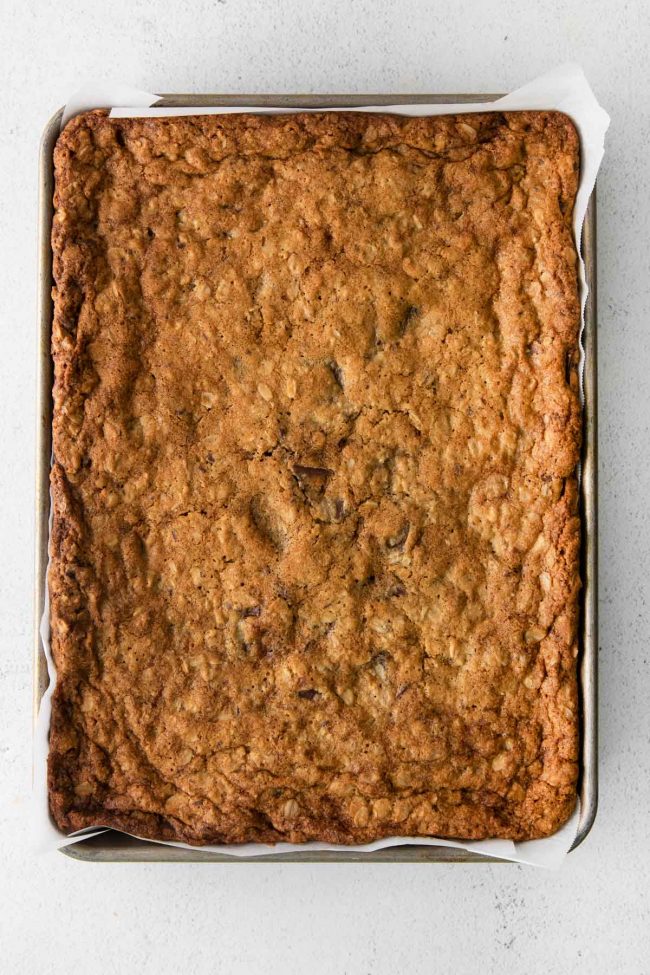 Sweetener options
You can use regular brown sugar, or for a healthier option, you can use coconut sugar.
I know I just mentioned this above, but I believe all the non-vegans are going to skip that section. So! The bars are definitely chewier with brown sugar, but they're still chewy with coconut sugar. Just not as chewy.
If you have another granulated sweetener that you like to use in place of brown sugar, it'd most likely work here. I'm guessing maple sugar would work.
I have no idea if sugar-free sweeteners would work here. But I know that liquid sweeteners won't work. There's no liquid to reduce in this recipe to make up for the added liquid from the maple syrup or honey or whatever.
Oat sub?
Nope. There just isn't a good sub for oats in this kind of recipe.
Quinoa flakes, rice flakes, and so on all have a very different texture and taste and almost definitely wouldn't work here.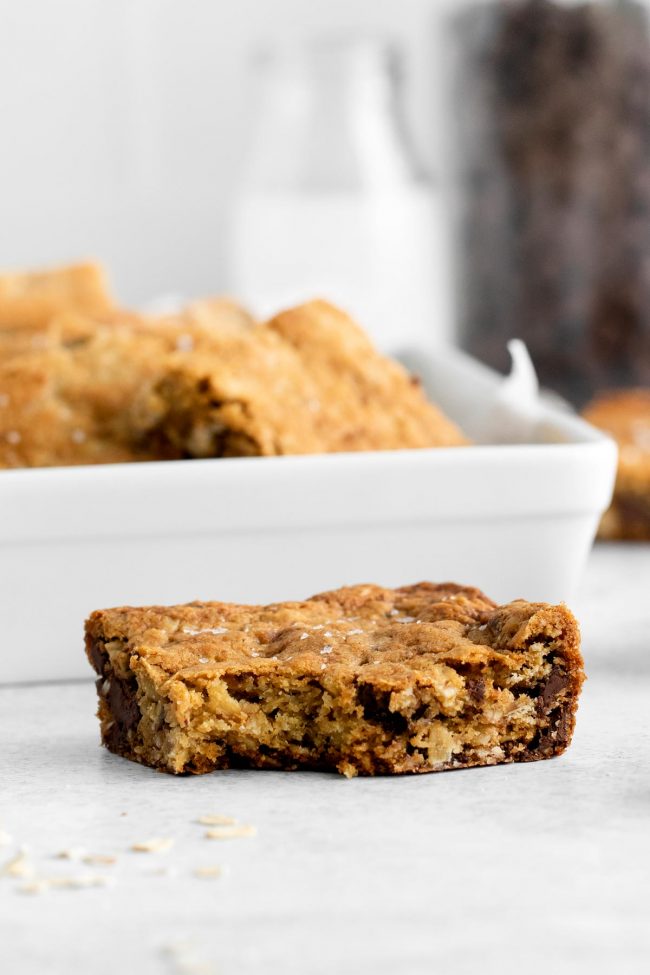 Use gluten-free oats!
If you're gluten-free, you need to use gluten-free oats! You can read more about that here → Are Oats Gluten-free?
Not gluten-free?
I've also tested these out with regular all-purpose flour and white whole wheat flour. Both worked great! You don't have to make any adjustments.
They taste just the same as the gluten-free version, except the version with white whole wheat does have a little whole wheat taste to it. If you make the oatmeal raisin version, the cinnamon covers up that taste.
Pan size
I baked these bars in a jelly roll pan. Mine is 14.75″ x 9.75″ x 1″. If you don't have a pan that size, you need to adjust the baking time.
Ideally, you'd use a pan with an area of around 145″ so that you don't have to adjust the baking time.
A half-sheet pan is larger than a jelly roll pan. Those are 18″ x 13″ x 1″. That's 1.6x as large as a jelly roll pan, so I wouldn't recommend using one of those.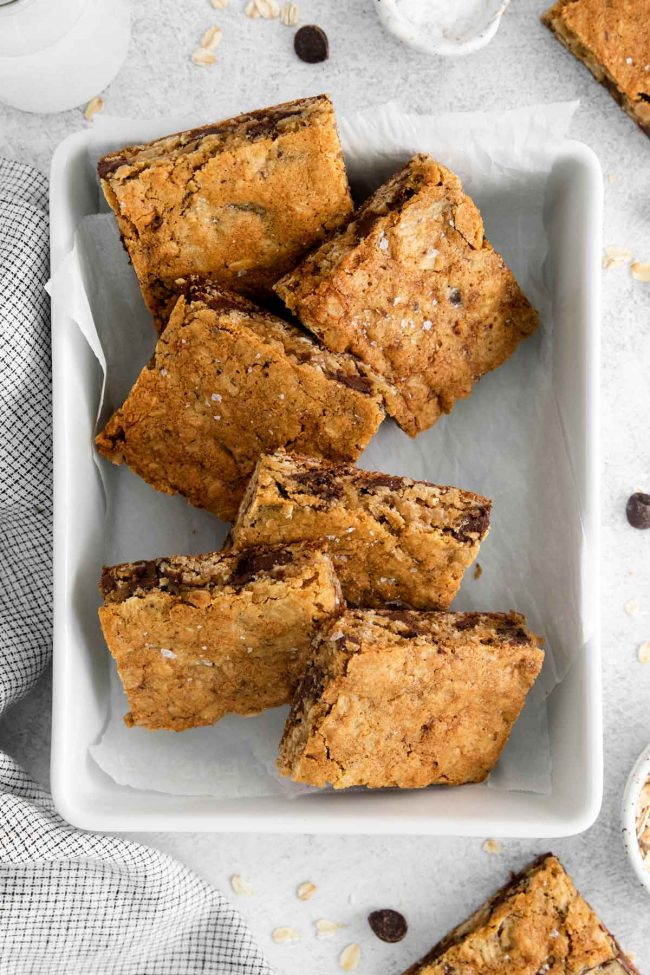 Yield + freezing
This recipe yields 18 bars. It's a lot. And they're very, very hard to resist.
So once they're cool, if you're like me, you might want to bury the cooked and cooled bars in the bottom of the freezer, or better yet, bring them to the basement freezer (if you have one) so you're not tempted.
I love these oatmeal bars straight from the freezer. My freezer is set at -18 °C (-.4 ° F), but if yours is much colder, then they might be too hard to eat without sitting a few minutes. I'm not sure as my freezer doesn't go any lower!
They're perfect for bake sales, picnics and traveling in general as they're very sturdy. The vegan + coconut sugar version is a bit softer and not as sturdy.
Can I halve the recipe?
I tried this in an 8″x8″ pan and the bars were too thin. I wouldn't recommend it.
So I'd recommend just making the whole batch and freeze what you don't want to eat within a week or so.
Other oatmeal cookie options
It's been years since I've made cookie bars (though I make these Paleo Peanut Butter Bars very frequently). But now that I've made these oatmeal cookie bars, I don't think I'll feel like making individual cookies in the future.
Not in my everyday life – I will of course continue to post cookie recipes. ;) Bar form is just so much quicker!
But should you want something different, I have 10 other healthy oatmeal cookie recipes. All but one (the whole wheat oatmeal cookies) are gluten-free.
I can't even tell you which ones are my favorite because I love them all.
They're all also vegan or have a vegan option. I hope you find one you like!
If you try these oatmeal bars or any of my other recipes, I'd love to hear about it! Please leave a comment or tag me on social media. :)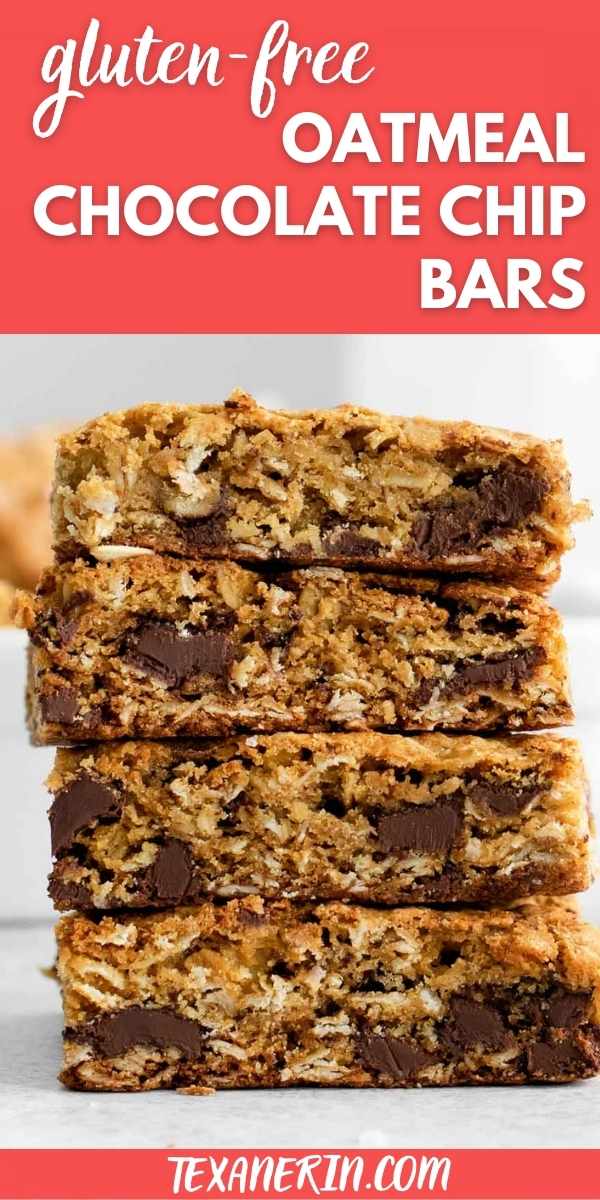 ❀
Gluten-free Oatmeal Chocolate Chip Bars
Prep Time:
Cook Time:
Ready in:
Yield:

18 bars
Ingredients
3/4 cup (168 grams) unsalted butter, room temp or 1/2 cup + 2 tablespoons (140 grams) refined coconut oil PLUS 1 tablespoon water for dairy-free/vegan
1 1/3 cups (266 grams) packed brown sugar or 1 1/3 cups (250 grams) coconut sugar1
2 large (50 grams each, out of shell) eggs or 2 chia eggs for vegan2
2 teaspoons vanilla extract
2 cups (184 grams) gluten-free rolled oats
1 1/2 teaspoons baking soda
1/2 teaspoon salt
1 1/2 cups (188 grams) King Arthur Flour Measure for Measure Gluten-free Flour3 or 1 1/2 cups (207 grams) Bob's Red Mill Gluten-free 1-to-1 Baking Flour4
2 cups (340 grams) chocolate chips
Directions
Preheat the oven to 350 °F (175 °C) and line a jelly roll (10"X15") pan with parchment paper.
Beat the fat and sugar together in a large mixing bowl using an electric hand mixer or stand mixer using the paddle attachment.
Beat at medium speed for about 1 minute until very well combined.
Beat in the eggs and vanilla at low speed until combined.
Sprinkle the baking soda and salt on top and then the flour and oats.
Mix at low until combined and then stir in the chocolate chips.
Use a silicone spatula to spread the dough over the bottom of the prepared pan.
Bake for 25-31 minutes (it depends on what combination of ingredients you use), or until the bars are golden brown and the bars are completely set in the center and don't look at all wet. They shouldn't be gooey like brownies.
Let them cool completely in the pan.
Store in an airtight container for up to 5 days, refrigerate for 2 weeks, or freeze for up to 3 months.
Notes
Note that it's best to weigh coconut sugar! Some brands are light and coarse and some brands (like the one I use) are very fine and dense.
To make the chia egg for this recipe, mix together 2 tablespoons of ground chia seeds and 6 tablespoons water. Let sit for about a minute until goopy like an egg. Read the post for notes on the texture difference.
If you use another brand of gluten-free baking flour that's a 1-to-1 sub for all-purpose flour, it'd likely work here, but without trying it, I can't say for sure.
If you're not gluten-free, you can use 1 1/2 cups (188 grams) all-purpose flour or white whole wheat flour.
For dairy-free: use coconut oil and dairy-free chocolate chips.
For vegan: use coconut oil, chia eggs and vegan chocolate chips.