These paleo no-bake raspberry cream pies have a super smooth and creamy filling and a cashew and toasted coconut-based crust. Vegan, grain-free, gluten-free and dairy-free.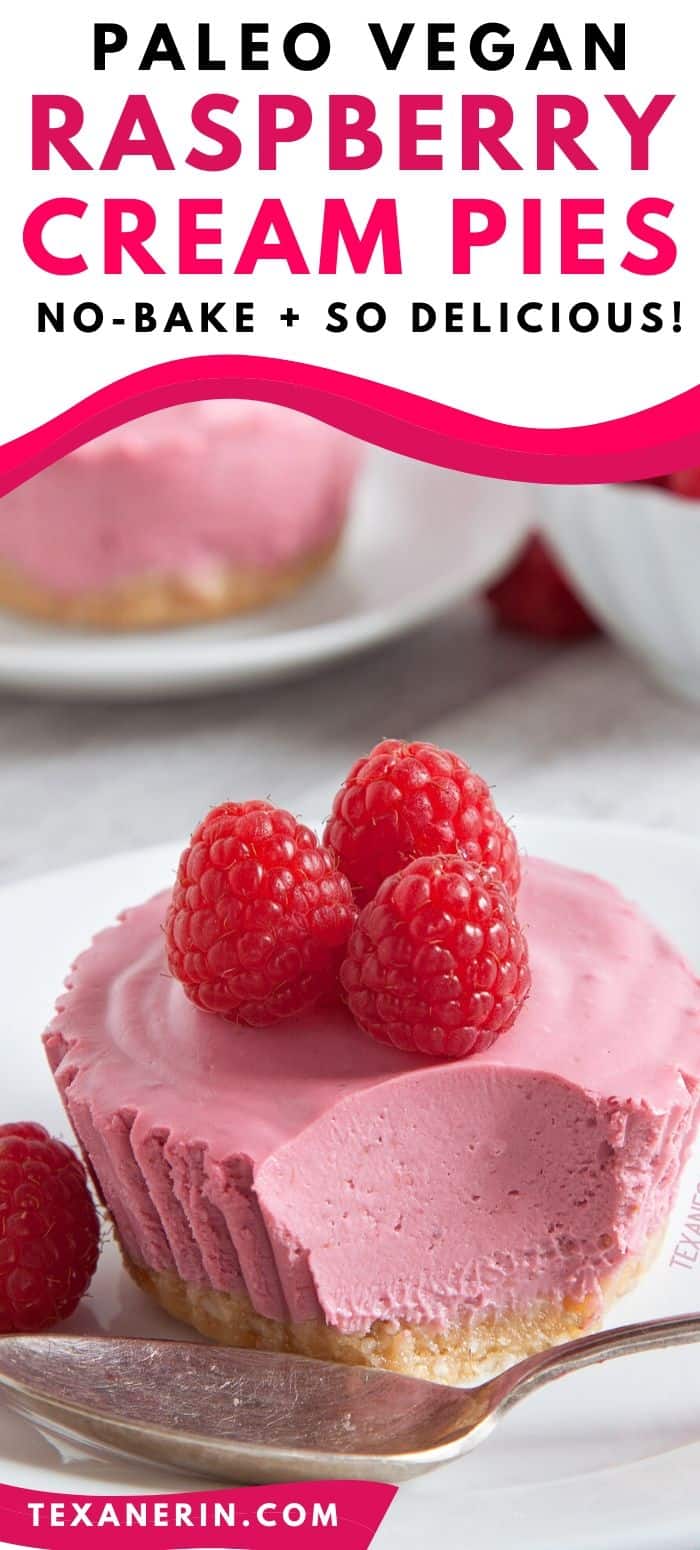 I wasn't really sure what to call these. They're not like vegan cheesecakes and they're not like regular raspberry pies… they're something new and different. :) I guess they're sort of mousse-like? But not really.
Because of the large amount of berries (3 cups!) in here, they have a bit more water in them than regular vegan "cheesecake" recipes and are therefore softer and not as firm.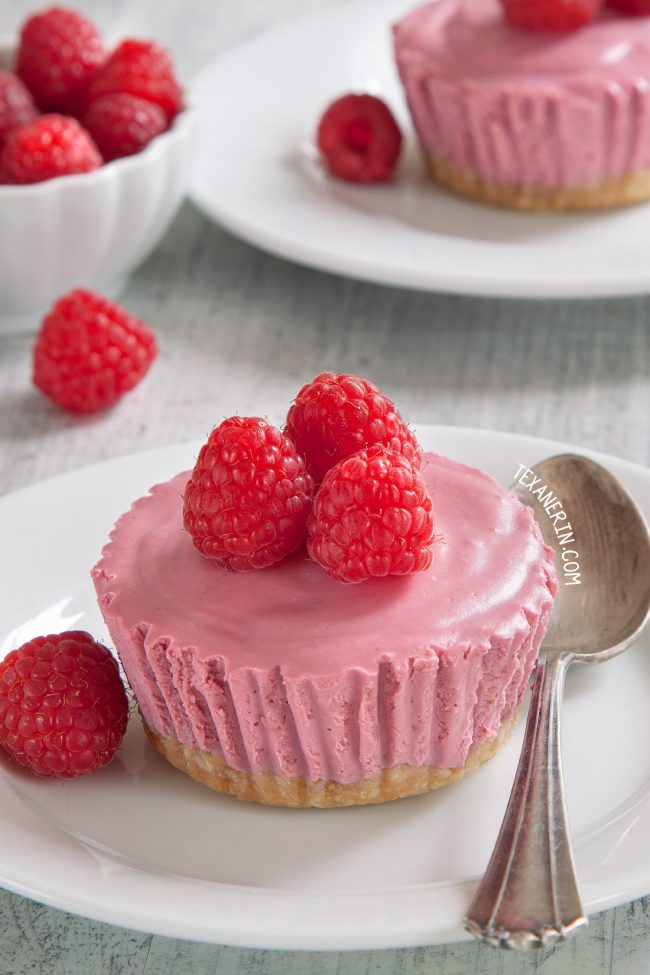 Mr. Texanerin said he didn't like the soft texture of these. He wanted the mixture to be thicker, like cheesecake. Well. I wanted the filling to be super raspberry-y and changing the recipe to add something else to firm up the texture lessened the raspberry taste.
Besides. I love the texture! It's soft and creamy. If you make them and decide you want the filling firmer, just freeze the pies for a while. But if you freeze them for 6+ hours, they'll need about an hour to defrost at room temperature.
The pies are totally smooth with the exception of raspberry seeds. By the way, I used frozen raspberries and 4 cups was 384 grams. That's more like 3 cups of fresh raspberries. If you just weigh the ingredients, you won't have to worry about that. :)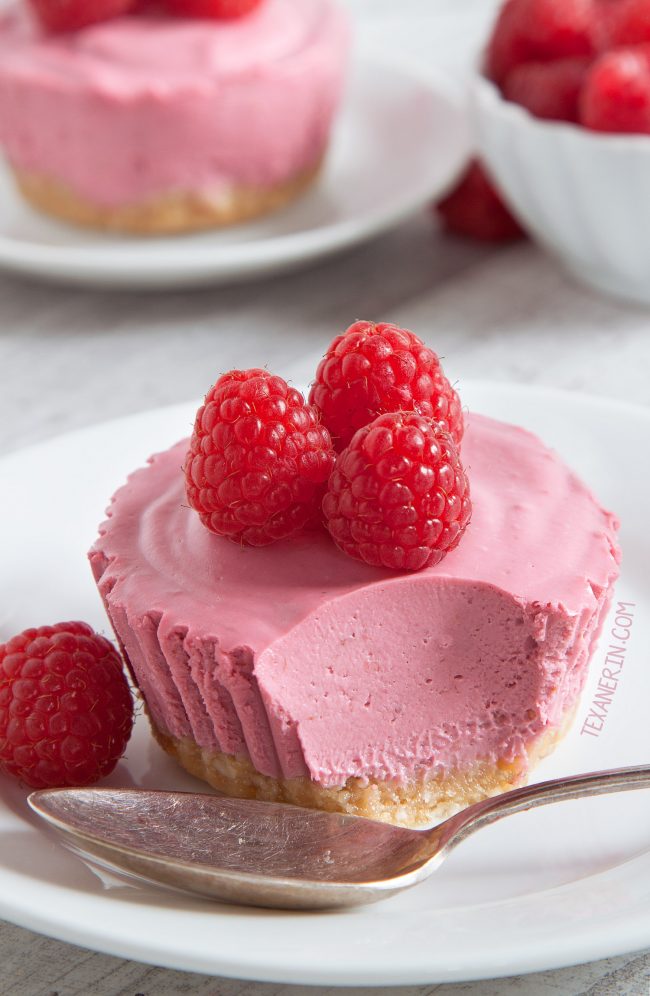 There's also a ton of fat. I guess you could consider these (healthy) fat bombs! If you want even more fat, you can up the coconut oil to 1 cup. They taste just the same and the texture is weirdly almost exactly as firm, too.
And if you hate coconut, don't make these. With the unrefined coconut oil and coconut cream, they have quite a bit of coconut taste to them!
One thing that's important is to make sure all your filling ingredients are room temperature or even a little warm or else the coconut cream and coconut oil won't blend together properly. I've done that a few times and it's really not a nice texture.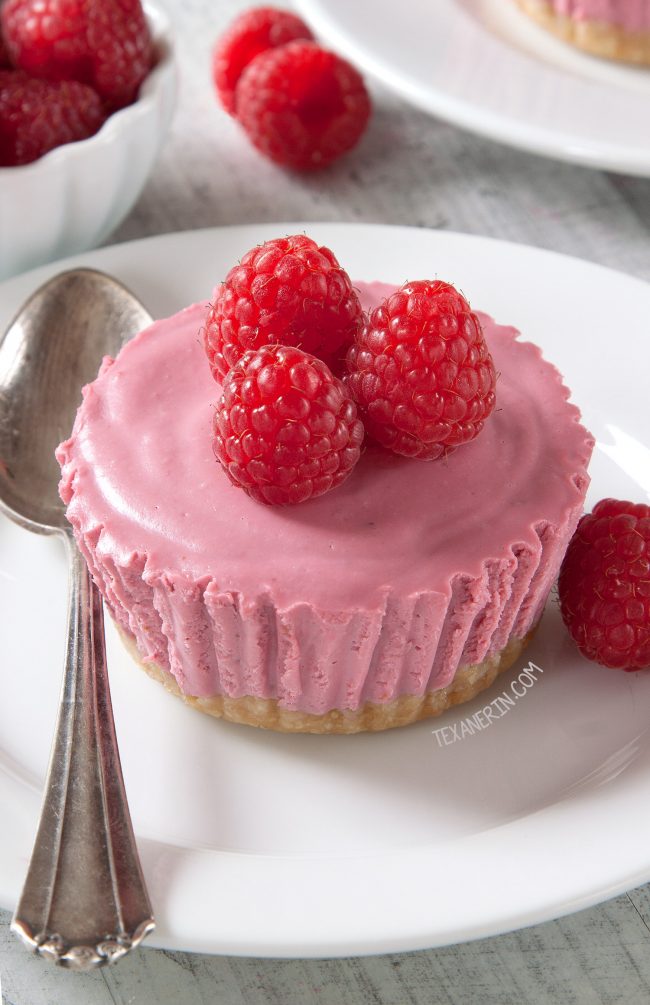 To be on the safe side, I suggest very lightly warming everything together. If you decide to bypass that step and your ingredients are too cool, creating a gritty texture after blending, pour the filling mixture into a little saucepan and lightly heat until warm.
It should then be smooth, but if it's not (like if the raspberries didn't get blended because you used frozen raspberries), then put it back in the blender for a little more processing.
The filling makes enough for 14 pies but that's an awkward number so I recommend making 12 pies and then pouring the remaining filling into two ramekins or some kind of glass that you can enjoy right away. Or just eat the remaining filling from the bowl with a spoon!
The crust is the exact same one I used in these paleo no-bake key lime pies. I loved it in that recipe and it fit these perfectly and I didn't feel like fiddling with something that wasn't broken. :)
For another no-bake paleo vegan treat, try this 5 Minute Mango Sorbet from Perry's Plate! This gluten-free raspberry pie also looks great.
❀
Paleo Raspberry Cream Pies (vegan, grain-free, gluten-free, dairy-free)
Prep Time:
Cook Time:
Ready in:
Yield:

12 mini pies + 2 ramekins
Please read the full recipe including the notes at the bottom before starting!
Ingredients
For the crust:

1/2 cup (43 grams) unsweetened shredded coconut
1 cup (145 grams) roasted cashews (mine were salted)
1 1/2 tablespoons maple syrup
1 teaspoon vanilla extract
pinch of salt

For the raspberry filling:

1 1/2 cups (218 grams) roasted cashews, soaked for 1 hour1 (mine were salted - there's no sub for the cashews)
3/4 cup (168 grams) unrefined coconut oil
1/4 cup (60 grams) coconut cream (the top, solid part from a can of full-fat coconut milk that's been refrigerated overnight)
1/2 cup + 1 tablespoon maple syrup
3 cups (384 grams) fresh raspberries, room temperature (do not use cold raspberries!)2
1/4 cup + 2 teaspoons (70 milliliters) freshly squeezed lemon juice
2 teaspoons vanilla extract
pinch of salt
Directions
Line a muffin pan with 12 muffin liners. Prepare the crust. Heat a pan over medium-high heat and add the coconut. Stir frequently until nicely toasted. Do not walk away from the pan as the coconut starts to burn very quickly! Pour the coconut into a small bowl and let cool for about 5 minutes. You can skip the toasting step but I think it adds so much flavor to the crust!
Place all the crust ingredients in a high-powered blender and process at low speed until the mixture starts to clump together. Don't process so long that it becomes pasty. When you pinch some of the mixture between your fingers, it should easily clump together. If it doesn't, add a tiny bit of water and process again until it does.
Divide the mixture between the liners (17 grams per liner) and use the bottom of a shot glass or your fingers to press the mixture firmly over the bottom of the liners.
Place the pan in the refrigerator while you prepare the filling.
In a medium saucepan or pot, mix all the filling ingredients together and warm them over low heat just until they're slightly warm and the coconut cream and oil are melted.
Wipe out the blender jar using a paper towel and pour the filling mixture in the blender. Blend for about 30-60 seconds at high speed until totally smooth. The mixture should be totally smooth, with the exception of raspberry seeds.
Pour about 1/4 cup (45 grams) of filling over each crust. Pour the remaining filling in the ramekins or another kind of dish.
Refrigerate for about 6 hours or until firm. If you're in a hurry, place the pan in the freezer.
Refrigerate the pies in an airtight container for up to 3 days. If you freeze them overnight, they'll need about 70-80 minutes at room temperature to defrost or about 1 1/2 - 2 hours in the refrigerator. Once properly defrosted, they should be totally creamy.
Notes
Place the cashews in a small pot, pan or mug and cover with boiling water. Let sit for 1 hour. Drain the water.
If you use frozen raspberries, you'll likely need 4 cups to reach 384 grams. You'll also want to thaw them first or quickly heat them in the pan before adding the rest of the ingredients in Step 5.
I haven't tried this recipe with other types of berries and am not very hopeful that it'd work well without reworking the recipe.