This paleo apple crisp is entirely maple-sweetened and has a crunchy walnut topping! Also vegan, gluten-free, grain-free and dairy-free. With a how-to recipe video.
I actually wanted to share a blueberry version of this crisp about a week ago (8/2017 update: here it is – paleo blueberry crisp) but then realized almost nobody (except maybe me?) cares about berries anymore. So here's an apple version instead!
If you're feeling the apple love already this year, you have to try my paleo apple mufffins. They've been getting rave reviews!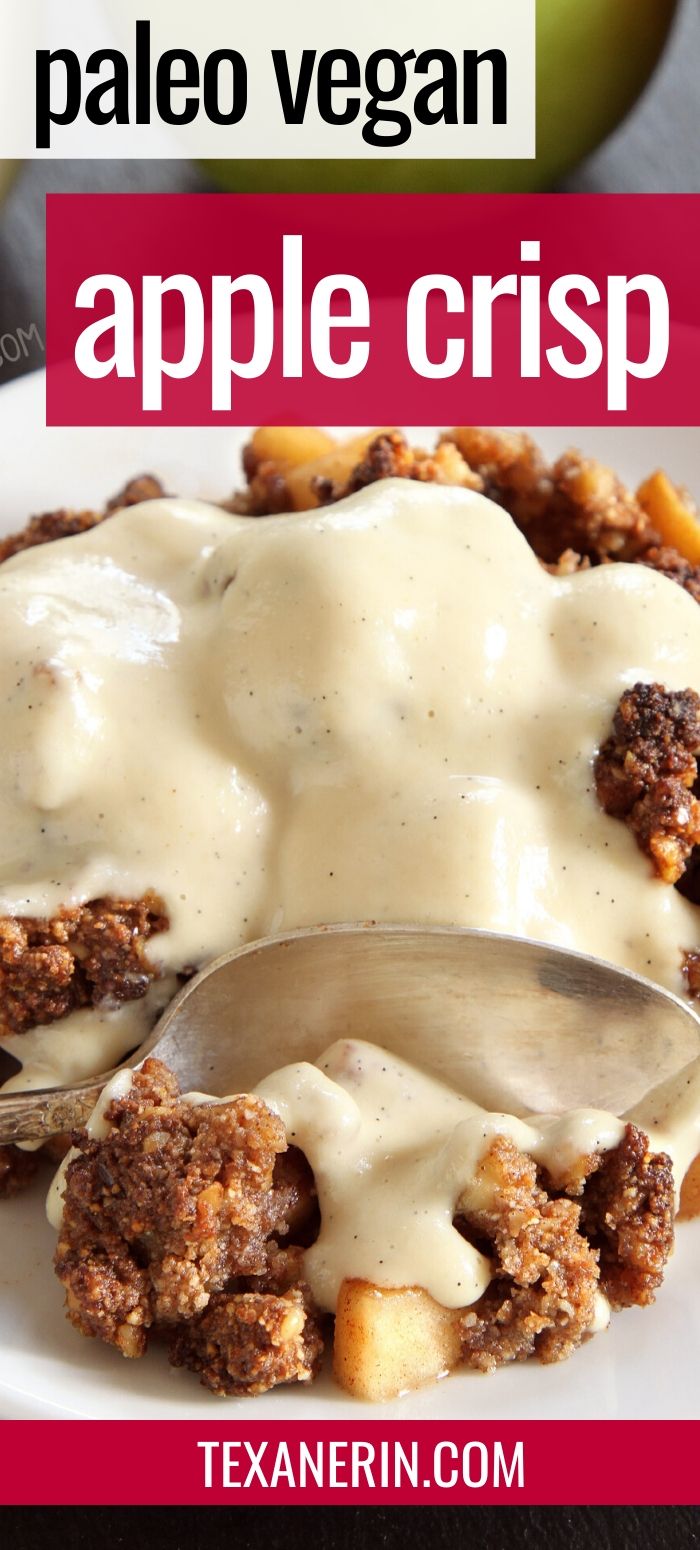 So now, on to this paleo apple crisp!
I've been getting a lot of questions recently about whether or not the small amount of coconut flour in certain recipes is really needed. It is!
This paleo apple crisp recipe only calls for 1 tablespoon, but since coconut flour absorbs a lot of liquid, this apple crisp won't come out the same without it and probably won't be as nice and crisp as it should be.
If you like grain-free baking, I suggest just getting some coconut flour. It's not expensive and you usually use such a small amount at a time that it lasts a really, really long time!
Besides, one you get some coconut flour, you can make my paleo pumpkin cake or pumpkin spice cookies! Which I'm pretty sure you're going to want to do. ;)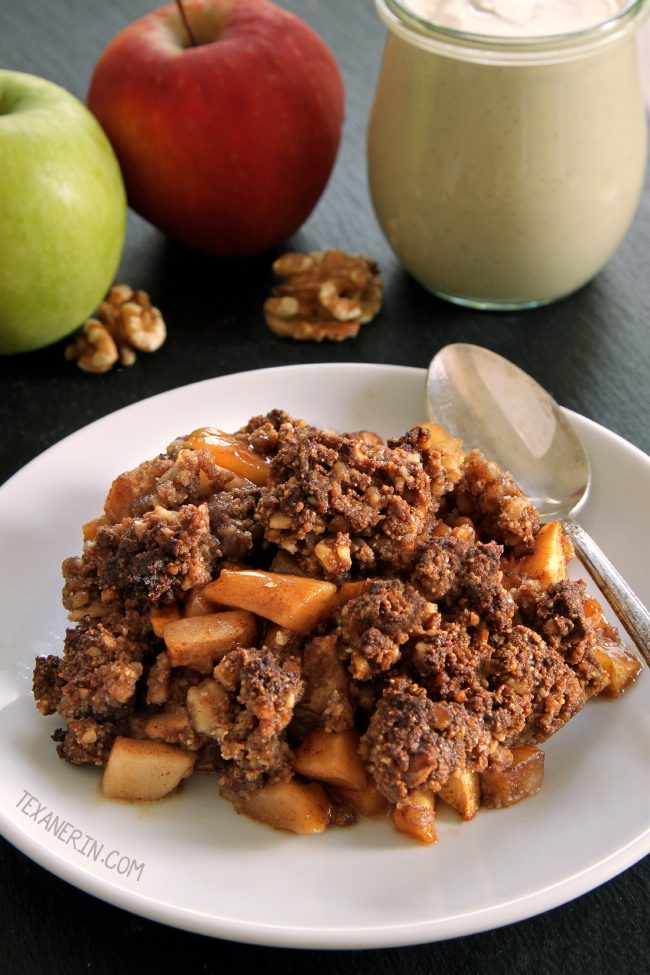 I also added more chopped walnuts than flour. I figured they'd help with the crunchiness and they did! Normally I'd say to leave out the nuts if you want, but they're essential in this vegan apple crisp. You could also use pecans instead. I just used walnuts because they're cheaper. :D
And the entire crisp is maple syrup sweetened! There are only 7 tablespoons of added sweetener in the entire crisp, so make sure to use sweet apples rather than tart. The apple part was plenty sweet but the topping was just sweet enough.
If you want it sweeter, I recommend topping this crisp with the vanilla sauce I posted last week.
I actually meant to use butter in this but accidentally used coconut oil instead, making this apple crisp vegan + dairy-free! If you want to use butter, you'd probably need to use a little more. Maybe 3.5 tablespoons? It's just a guess, though!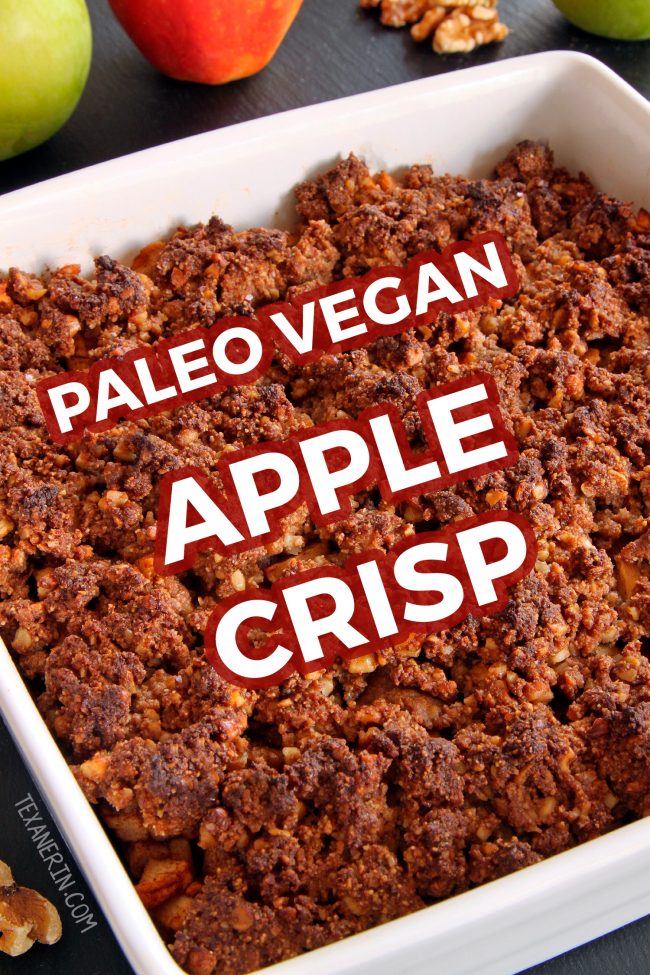 The only downside to the grain-free topping business is that it gets a bit soft on the second day. As have all paleo / grain-free crisps and crumbles I've tried. If you don't think you can eat all of it on the first day, the recipe is easily halvable!
This paleo vegan apple crisp would be perfect for Thanksgiving! As would my paleo vegan pumpkin pie. It's honestly even better than regular pie! This gluten-free vegan Swedish apple pie will also be making an appearance at our Thanksgiving table!
If you love the idea of apple crisp for breakfast, but this paleo apple crisp is just too dessert-y for you, try these easy apple crisp overnight oats from Fearless Dining!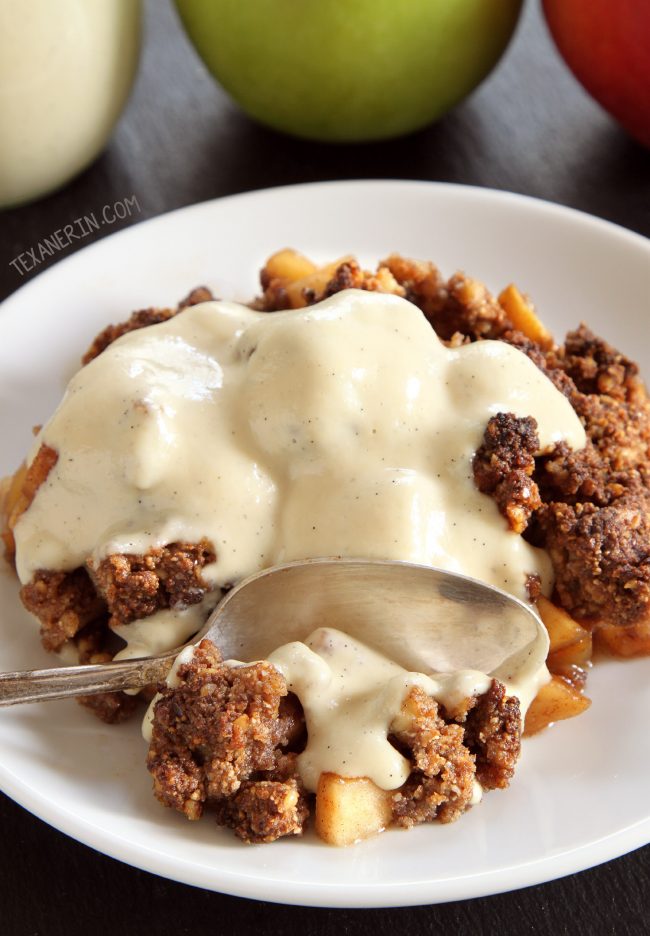 ❀
Paleo Apple Crisp (vegan, grain-free, gluten-free, dairy-free)
Prep Time:
Cook Time:
Ready in:
Yield:

6-10 servings
Ingredients
For the filling:

1/4 cup (60ml) maple syrup
1 tablespoon lemon juice
1 tablespoon arrowroot powder (or cornstarch if it doesn't need to be paleo)
1 teaspoon ground cinnamon
1/4 teaspoon ground nutmeg
1/8 teaspoon salt
5 1/2 cups chopped and peeled apples (this was about 5 small to medium apples, 774 grams with the core and 630 grams of apples, post coring)

For the topping:

3/4 cup (75 grams) blanched almond flour
1 tablespoons (8 grams) coconut flour
2 1/4 teaspoons ground cinnamon
3 tablespoons (42 grams) refined coconut oil1, room temperature (not melted)
3 tablespoons maple syrup
slightly less than 1/4 teaspoon salt
1 cup (110 grams) chopped pecans or walnuts (about 1/4" in size)

To serve:
Directions
Preheat the oven to 350°F (175°C) and get out an 8"x8" (20cmx20cm) pan.
Mix the maple syrup, lemon juice, arrowroot powder, cinnamon, nutmeg, and salt together in a large bowl.
Peel the apples, if desired, and core and cut into 1/3" pieces. Place the apples in the maple syrup mixture and stir until the apples are well coated in the mixture. Place in the ungreased pan.
In a medium mixing bowl, stir together the almond flour, coconut flour and cinnamon. Then add the coconut oil, maple syrup and salt and mix until combined.
Pulse the pecans or walnuts in a food processor a few times until they're in small pieces (about 1/8" in size). You can also chop them by hand but the food processor takes a lot less time. Stir the nuts into the topping mixture.
Drop walnut-sized pieces of topping over the apples. Gently press down any nuts that are sticking out so that they don't burn.
Bake for 40-50 minutes or until the topping is brown and crisp and the apples are bubbling. The topping will crisp up much slower than a traditional crisp, but don't worry as it will crisp up towards the very end of the baking time. Cover the crisp with foil if the topping starts to brown too early.
Let cool for 10 minutes and serve. If not serving immediately, once cool, loosely cover with a piece of plastic wrap (so the topping doesn't go soft). If storing overnight, properly cover the crisp with plastic wrap. Do note that the topping gets soft on the second day.
Notes
If you use unrefined coconut oil, this crisp will likely have some coconut taste to it.
Note: I originally posted this recipe a few years ago but updated it to add 50% more topping, use a food processor to chop the nuts (which saves a ton of time!) and to pat down any walnuts that stick out of the topping to prevent burning.