PB&J peanut butter cups! Like a regular peanut butter cup but with a layer of jam – and made healthier. Naturally gluten-free with vegan and dairy-free options.
While I was in the US this summer, I went to Trader Joe's for the first time. And these PB&J milk chocolate bars were probably my favorite thing. Well, after the mini peanut butter cups.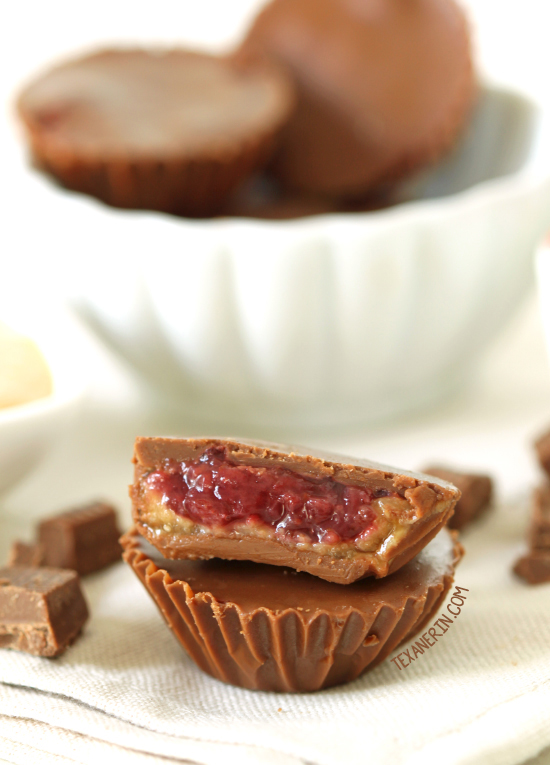 I knew the second I bit into one of those peanut butter and jelly chocolate bars that I'd have to recreate them when I got back to Germany. By the way, the only peanut butter candy we have over here is Chunky Peanut Butter Kit Kats. Have you all tried them?! They are… amazing.
These peanut butter cups aren't the quickest candy to make. Covering all those mini muffin liners with chocolate takes some time and then there are three chilling periods. An easy way to cut down on preparation time is to use a regular muffin pan.
I made these PB&J peanut butter cups twice. The first time I used semi-sweet chocolate and the second time I used milk chocolate. I'm not a fan of dark chocolate so for me, the lighter, the better! If you're a dark chocolate fan, go ahead and use it.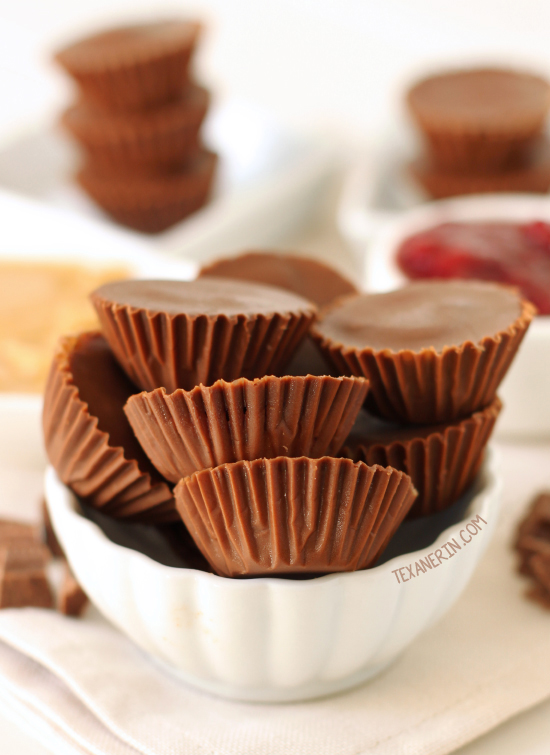 I used this homemade strawberry jam which only has 1/4 cup honey for 2 pounds of berries and I only used 1 tablespoon of honey to sweeten the peanut butter filling. So the filling isn't too sweet. If you use really sugary jam, you may want to think twice about using milk chocolate. Or not. This is candy. ;) The Trader Joe's version uses raspberry jam but I was more than content with my strawberry version.
Because of the jam, these need to be kept in the refrigerator. But if you take them out about 15 minutes before eating, they come to room temperature and are, in my opinion, much better! But then again, I don't normally like cold chocolate. And these are fine at room temperature for several hours or even a day. I just wouldn't leave them out longer than that.
So that's it for Back-to-School Week. It was pretty much a regular week, wasn't it? I think about 90% of my recipes are already kid and lunchbox friendly. I have the palate of a young child so it makes sense, I guess. :)
❀
Peanut Butter and Jelly Peanut Butter Cups (gluten-free with vegan, dairy-free options)
Prep Time:
Cook Time:
Ready in:
Yield:

24 mini peanut butter cups
Ingredients
For the chocolate shell:

7 ounces (200 grams / 1 cup + 3 tablespoons) milk chocolate or semi-sweet chocolate, chopped (Enjoy Life chocolate chips for dairy-free)
1 tablespoon (14 grams) refined coconut oil1 (or unsalted butter for a dairy-containing version)

For the PB&J filling:

1 tablespoon (20 grams) honey (agave for a vegan version)
2 tablespoons (28 grams) refined coconut oil (or unsalted butter for a dairy-containing version)
1/2 cup (128 grams) natural peanut butter (the kind with just nuts and salt)
1/3 cup - 1/2 cup strawberry jam
Directions
In a microwave safe bowl, melt the chocolate and coconut oil at half power in 30 second increments. Stir after every 30 seconds.
Line a 24 cup mini muffin pan with mini muffin liners.
Pour 1 teaspoon of chocolate in each cup. There should still be quite a bit of chocolate leftover. Set this aside.
Tilt the pan in a circular motion to cover the liners with chocolate. Make sure that the chocolate goes all the way up the edges of the wrapper. I used a small pastry brush to do this. It's okay if the chocolate oozes over a little. Once chilled, the peanut butter cups will be easy to remove from the pan.
Put the pan in the refrigerator and chill for 45 minutes.
Meanwhile, combine the honey, coconut oil, and peanut butter.
Spoon a teaspoon of the peanut butter onto the bottom of each chocolate cup.
Add about 3/4 teaspoon of jam on top of the peanut butter (or more if you like) but remember that you need to leave room to add chocolate on top.
Put the pan back in the refrigerator for another 45 minutes.
Melt the bowl of chocolate you previously used in the microwave (at half power) and pour on enough chocolate to fill the muffin liners.
Return the pan to the refrigerator for at least 2 hours.
Remove the chocolates from the molds and place them in a container.
Cover and store in the refrigerator for up to 1 week. Place in the freezer after 1 week.
Notes
If you use unrefined coconut oil, there might be a slight coconut taste. Refined coconut oil has no coconut taste at all.