These peanut butter coconut Rice Krispie Treats have a peanut butter crisp rice base and coconut peanut butter topping that make these bars hard to resist! With gluten-free, vegan and whole grain options.
Really. These treats are hard to put down. If you have issues with portion control, I suggest making 1/2 the recipe in a 9″x5″ loaf pan (or something even a little smaller) and having a friend around with whom you can share. :D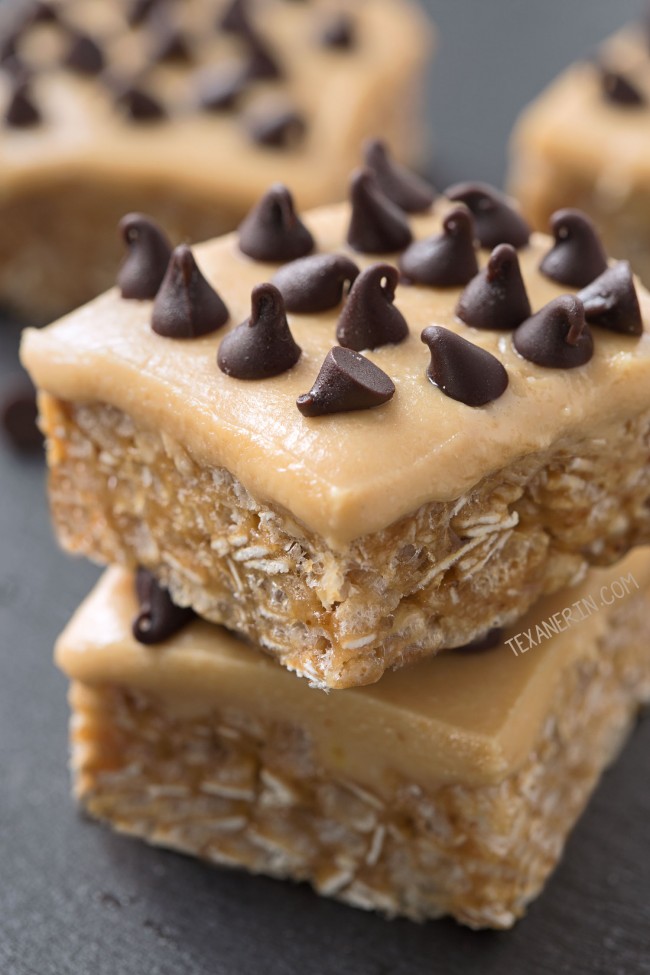 The base is similar to peanut butter Rice Krispie treats but with some oats thrown in. So don't expect these to be just like regular peanut butter Rice Krispie treats! I just couldn't think of a better name. ;) When I made these in the past, I used honey but tried brown rice syrup this time for a vegan version and they're just as delicious!
Then the topping is nothing but homemade peanut butter and coconut butter. Store bought works just as well, of course, but I prefer my more economical homemade versions. :) I want to put this topping on everything! I wish I could make a spread out of it. I've attempted that a few times but the problem is that it always hardens once it's cooled.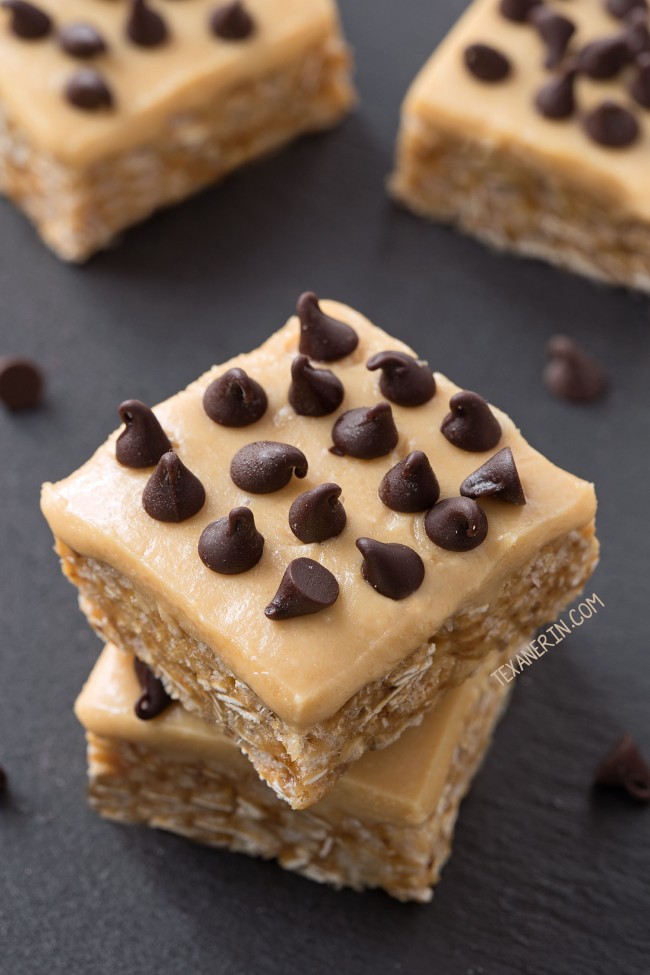 I topped them off with mini chocolate chips to make them look a little less drab but I don't think they added much taste-wise. If you want to add chocolate, I think some melted chocolate + coconut oil would be tastier. And for another chocolaty rice krispie treat, try these chocolate dipped Rice Krispie treats!
Because of the topping, they need to be kept refrigerated. Below you can see what happens when you leave them out at room temperature for two hours. They also freeze well! Though if you freeze them, you need to defrost them for maybe 20 minutes before eating because they get almost rock hard in there.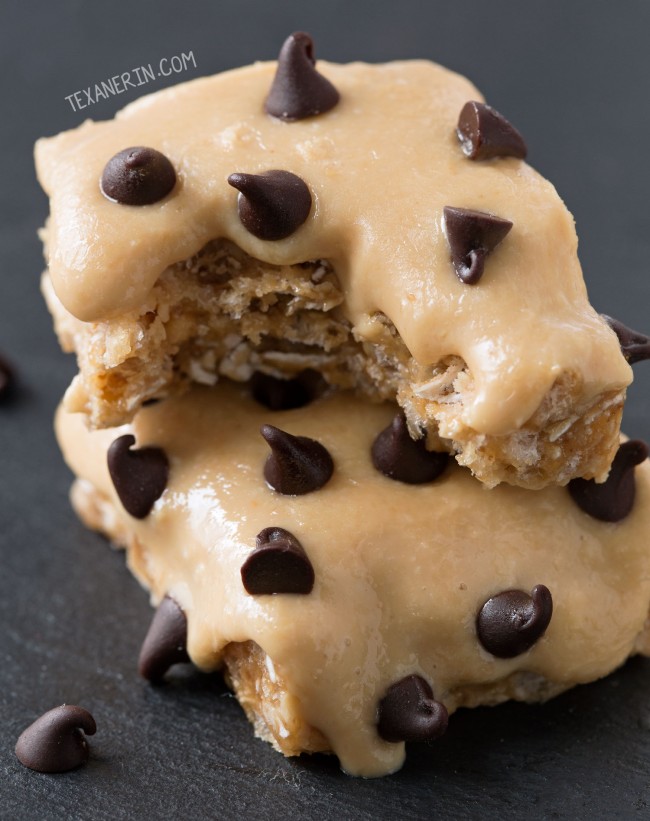 Love nut butter + coconut? Try these 3-step no-bake chocolate coconut cashew bars from Cotter Crunch! They're also paleo + vegan.
❀
Peanut Butter Coconut Rice Krispie Treats (gluten-free, vegan, whole grain options)
Prep Time:
Cook Time:
Ready in:
Yield:

16-20 pieces
Ingredients
Bottom layer:

1/4 cup (50 grams) coconut sugar, raw sugar or brown sugar
1/2 cup (160 grams) honey or 1/2 cup (150 grams) brown rice syrup for a vegan version
1/2 cup (128 grams) natural peanut butter (the kind with just nuts and salt)
2 cups (60 grams) brown rice cereal or normal Rice Krispies (make sure to use gluten-free / vegan / whole grain, if necessary)
1/2 cup (45 grams) rolled oats (make sure to use gluten-free oats, if necessary)

Topping:

1/4 cup (60 grams) melted coconut butter (the kind that's just ground up coconut, not coconut oil)1
3/4 cup (192 grams) natural peanut butter (the kind with just nuts and salt)
Directions
In a medium saucepan over low heat, combine the sugar, honey or brown rice syrup and peanut butter and stir until the sugar has dissolved. Remove the pan from the heat and add cereal and oats. If it's on the dry side, you may find it easiest to use your hands to combine the mixture. Press into an 8" x 8" baking pan lined with parchment paper.
Mix together the melted coconut butter and peanut butter and spread over the cereal mixture. Place the pan in the fridge for about an hour or until it's set. You can alternatively place the pan in the freezer for about 20 minutes. Refrigerate in an airtight container for up to 5 days. Can also be frozen.
Notes
I recommend weighing 60 grams into a small saucepan and melting it. 60 grams of unmelted coconut butter is actually a little more than 1/4 cup.