These 3-ingredient peanut butterscotch drops couldn't be any easier to make and are perfect for Easter!
I really had no idea what to call these so I went to Facebook and asked. I got loads of nice suggestions (thanks everyone!), but my favorite is a mishmash of the ideas: three ingredient little crunchy baskets of hope. Doesn't that sound delightful? ;) It really sums it up. They consist of just three ingredients, they're little, they're crunchy, and the baskets of hope was just too amazing not to include.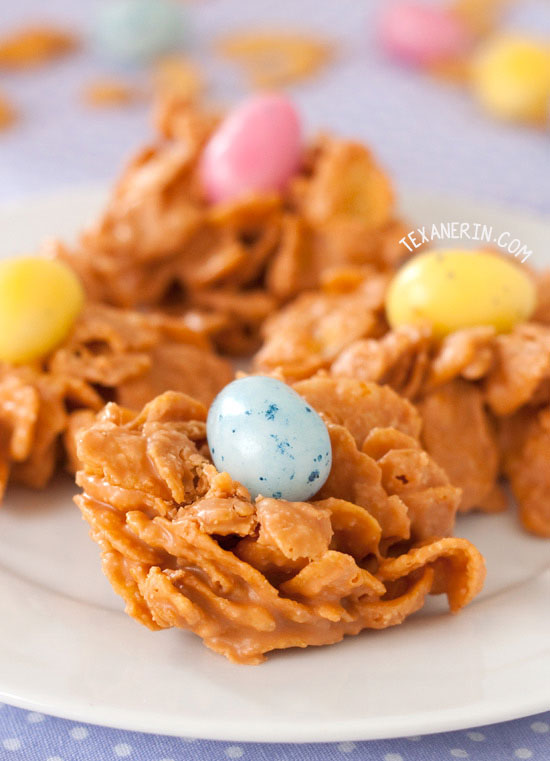 This is for sure the easiest recipe I've ever posted. You melt peanut butter and butterscotch chips and add cornflakes. That's the whole recipe.
It's true that these aren't exactly, or really at all, healthy, but hey… I used natural peanut butter! That should count for something. And if you want, you could use whole grain cereal flakes. I found some from Kashi but I've never tried them myself.
If you don't like the whole Easter egg cuteness thing, then just make them without. Then they're just blobs of awesomeness but I'm sure you can cope. :)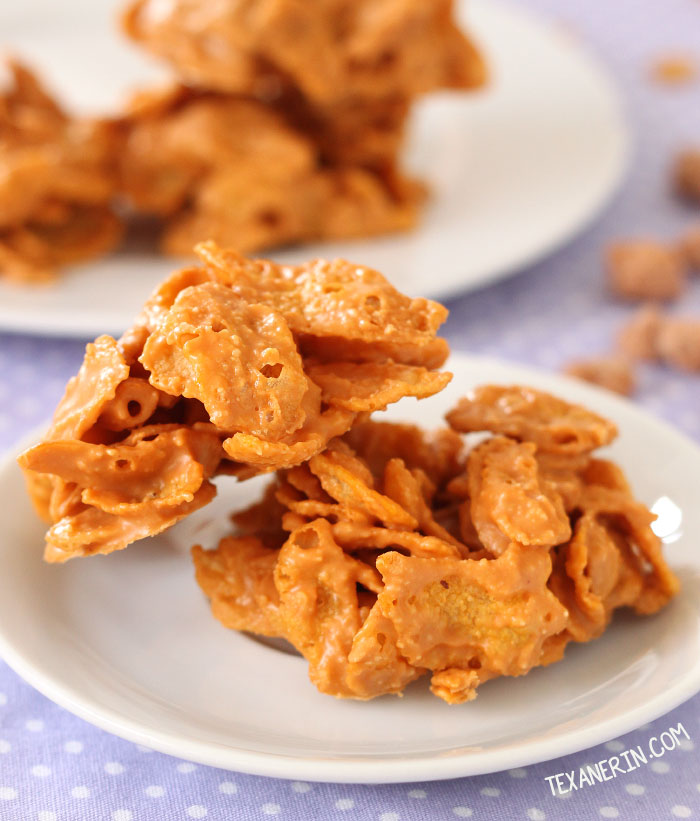 You can make these with regular peanut butter if you like and keep them at room temperature. But with natural peanut butter, they need to be kept refrigerated. At room temperature, they got a little gooey and starting falling apart.
And as for how long they keep, I have to admit that I ate them all on the first day. I even told myself, "I'll bring these to a friend instead of eating them all myself!" My mistake was not emailing this friend to tell her to expect some goodies. They just sat in the fridge, calling my name, and one after another, they all got eaten within a few hours. Luckily, I only made half the batch. If you have portion control issues, I'd suggest even only doing a fourth of the recipe.
After raspberry white chocolate, butterscotch is probably my favorite flavor. And I've never posted anything with butterscotch because it seems almost impossible to make anything even slightly healthy with butterscotch and still have it taste amazingly… butterscotch-y. What are your favorite recipes with butterscotch?
❀
Peanut Butter Butterscotch Drops
Prep Time:
Cook Time:
Ready in:
Yield:

16 - 20 drops
Ingredients
1/2 cup (128 grams) natural peanut butter (the kind with just peanuts and salt)
4.5 ounces (~ 1/2 cup / 128 grams) butterscotch chips
3 cups (7dl) corn flakes (make sure to use a brand that is gluten-free for a GF version)
16- 20 Easter egg candies
Directions
Melt the peanut butter and butterscotch chips together in a medium pot over medium-low heat. Carefully stir in the corn flakes and stir until all the corn flakes are coated in the peanut butter butterscotch mixture.
Drop spoonfuls of the candy onto a Silpat or piece of parchment paper or wax paper. Let sit for about 15 - 20 minutes in the refrigerator and then gently press your Easter egg candy firmly into the center of each nest. I had one nest that fell apart so be careful!
Store in an airtight container in the refrigerator.