These Keto Peanut Butter Cookies taste super peanut-buttery with a slightly chewy texture. They're made with a homemade 3-ingredient keto sweetener and basic cookie ingredients. Only 2.04 net carbs per cookie!
Today's recipe isn't a very pretty or exciting-looking treat, but they are truly tasty!
Here we have the keto version of my Gluten-free Peanut Butter Cookies, which are the most peanut buttery cookies I've ever had.
Some commenters have said they're the best peanut butter cookies ever. I won't disagree. ;) Though I'd say they're tied with my Vegan Peanut Butter Cookies.
They're an improved version of the famous 3-ingredient peanut butter cookies. I added vanilla, salt and baking soda to help with the taste and texture.
This keto version is less chewy and cakier than the gluten-free version (the keto cookies are also gluten-free), but when you refrigerate them, they get chewier. So I definitely recommend doing that!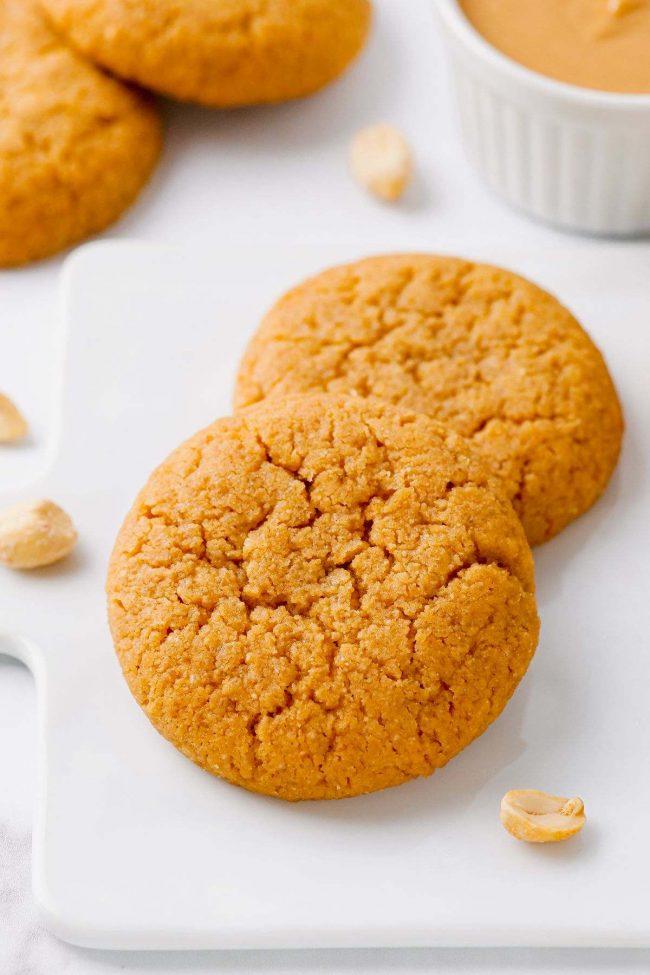 Ingredients
Just basic stuff! You probably have what you need already, except possibly the sweetener.
Natural peanut butter – you really have to use the kind with just peanuts and salt. No added fat or sugar. Check the label because a lot of brands say "natural" but contain fat and sugar.


Keto sweetener – you can use Trim Healthy Mama Gentle Sweet or the copycat recipe listed below. I go into much more detail on this in the post.


Eggs – I've only tried these cookies with regular eggs and am not hopeful egg subs would work. I know for a fact that regular chia eggs don't work, but a modified chia egg might.

You'd use 2 1/2 tablespoons of water instead of 3 tablespoons + 1 tablespoon of ground chia seeds. But like I said, I'm not very sure that it'd work.


Vanilla extract, baking soda and salt


What keto sweetener to use
Instead of using coconut sugar like I did in the other version, I used a blend of xylitol, erythritol and powdered stevia. It's the same blend of sweeteners I've used in all my keto desserts.
It's pretty much the only blend of sweeteners that I like. It's basically a copy of Trim Healthy Mama's Gentle Sweet, so if you have that, you can definitely use it in place of the blend of sweeteners in my recipe.
I have tried them with Lakanto Golden, but I don't like the taste. But I think that's a personal preference. I don't like Lakante Golden in anything.
I love Powdered Lakanto in my Keto Pumpkin Cheesecake and Keto Cheesecake, and to be honest, I can't really understand why.
Maybe the cream cheese does something magical to get rid of the Lakanto aftertaste. It's a mystery!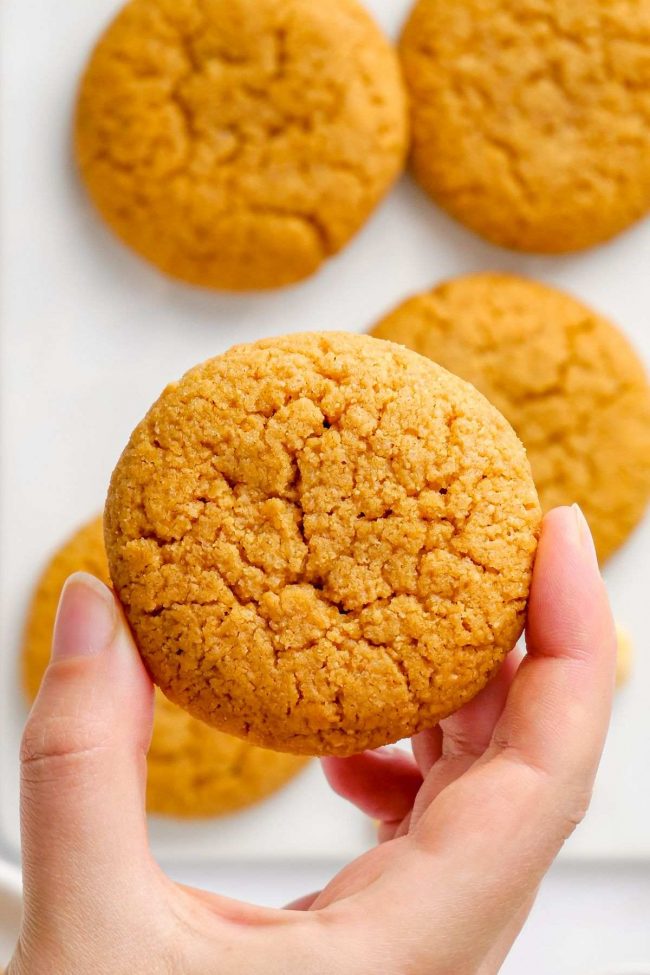 Gentle Sweet copycat
Here's what you need if you want to make a large batch.
1 pound (453 grams) xylitol = 2 1/4 cups
12 ounces (340 grams) erythritol = 1 1/2 cups + 3 tablespoons
2 teaspoons pure stevia powder
Note that this blend isn't a 1:1 sub for granulated sugar. When I use this blend, I use about 2/3 of the amount of granulated sugar called for in a recipe. Sometimes I use a bit more or less.
Once you have a large batch mixed up, you can make these other delicious keto desserts:
If you don't want to make a big batch just yet, this is what you need for just these cookies:
54 grams xylitol
42 grams erythritol
1/4 teaspoon powdered 100% stevia
How to make them
These peanut butter cookies are flourless, making it easy to mix them up in one bowl.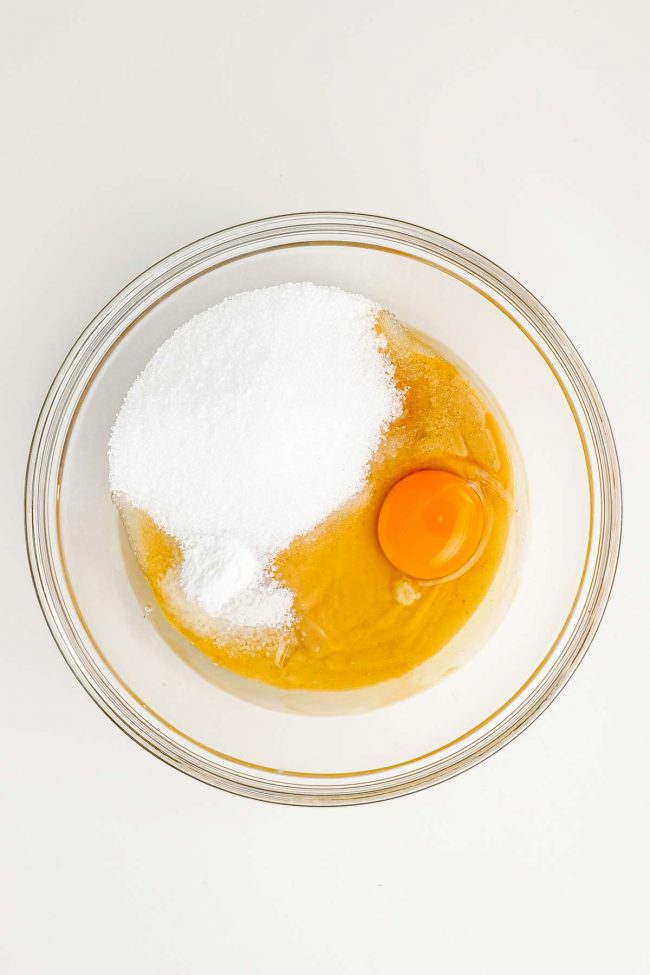 So all you did is toss all the ingredients into the bowl and mix.
About the egg – make sure it's cold! It helps the dough thicken. If you use a room temperature one, the dough is too wet to roll into balls.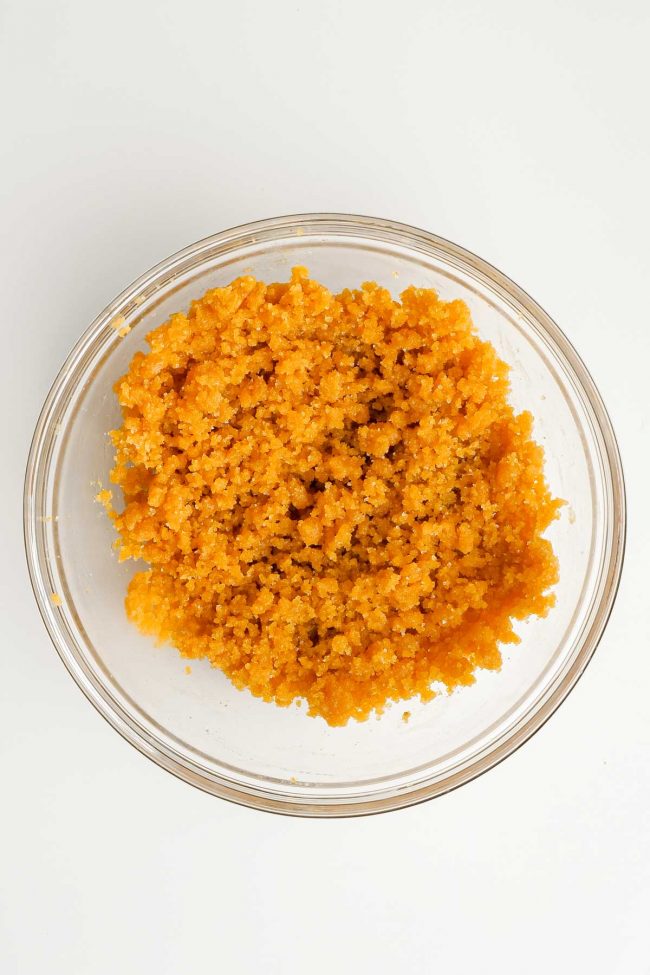 The dough looks pretty weird. The non-keto version doesn't look like this, so if you've made that version, don't be alarmed.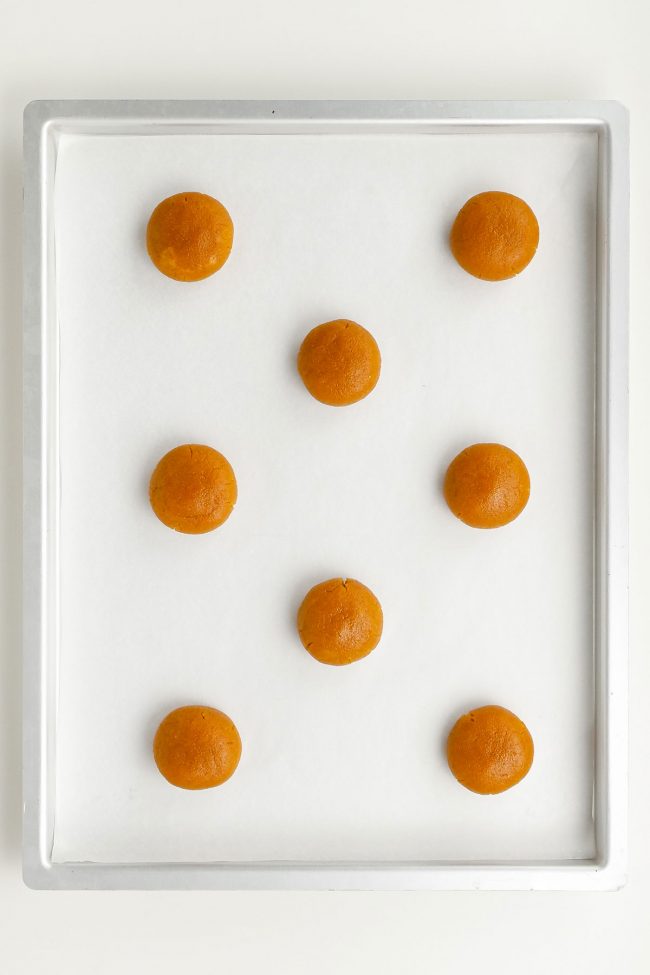 It also may or may not be oily. It depends on your brand of peanut butter. I used homemade.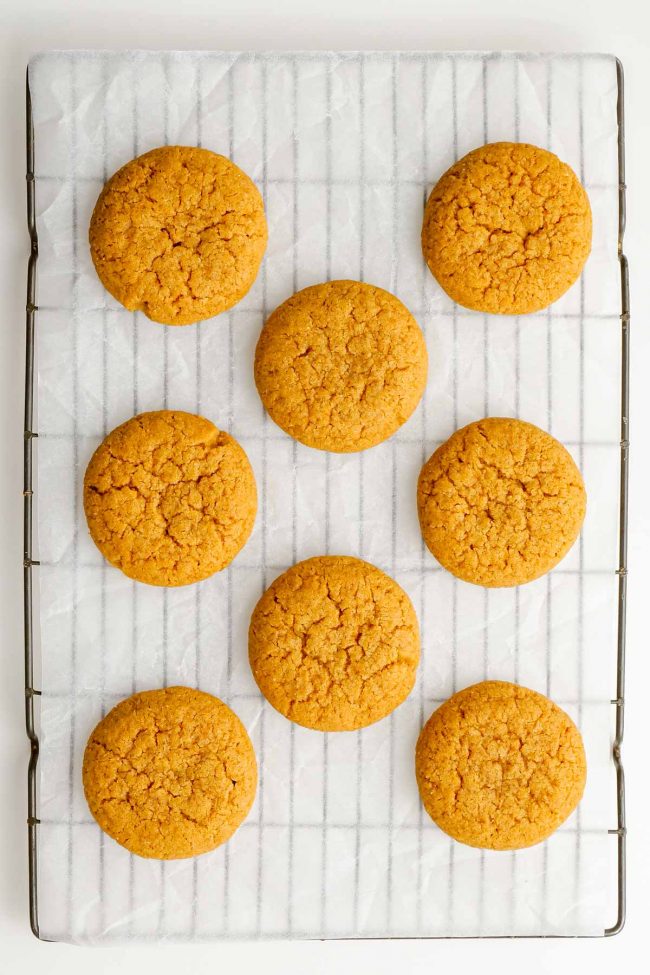 Here you can see that they spread a lot. So be sure to leave enough room so that they don't spread into each other.
Peanut butter sub?
I've tried these cookies with sunflower seed butter and almond butter, and neither worked out.
I've tried them loads of times, and they were greasy, flat and spread way too much.
I might sound like a broken record to my regular readers, but nut butters aren't always interchangeable! Especially in a flourless recipe like this with so few ingredients.
If you'd like to learn How to Make Peanut Butter, it's super easy and takes only 5 minutes!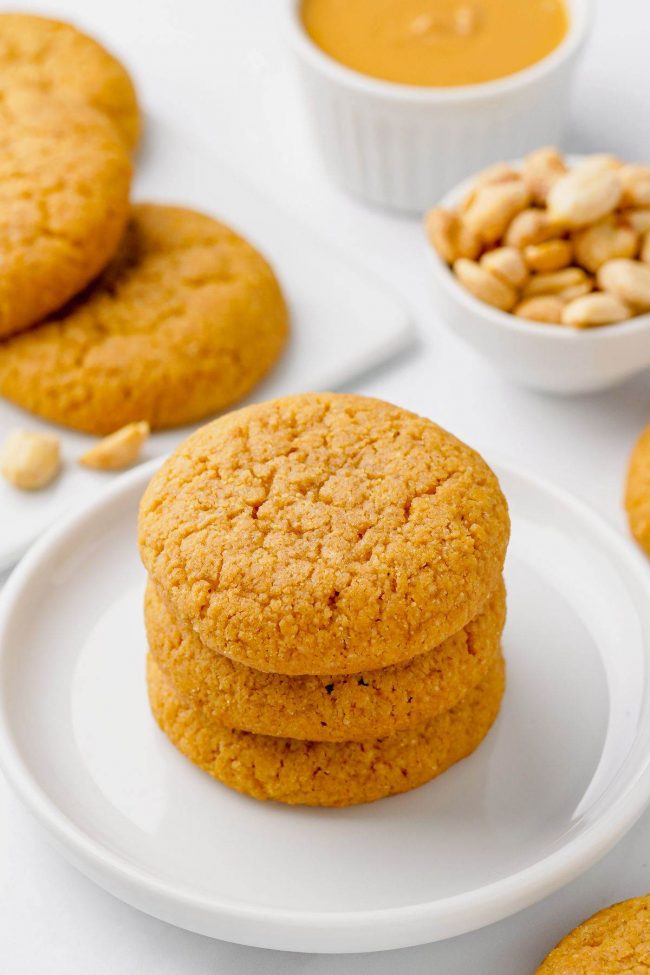 Other cookie recipes with a keto option
Nutritional info
The following information is provided as a courtesy and is an estimate only. I'm not a nutritionist nor a dietician. This information comes from online calculators. Although I do everything to attempt to provide accurate nutritional information, these figures are only estimates. Be aware that varying factors such as product types or brands used can change nutritional information in any recipe.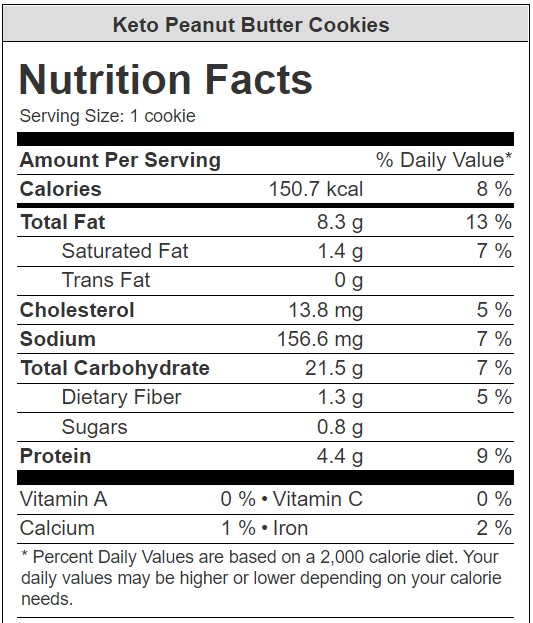 Net carbs = total carbs – fiber – sugar alcohols. So that's only 2.04 net carbs per big cookie!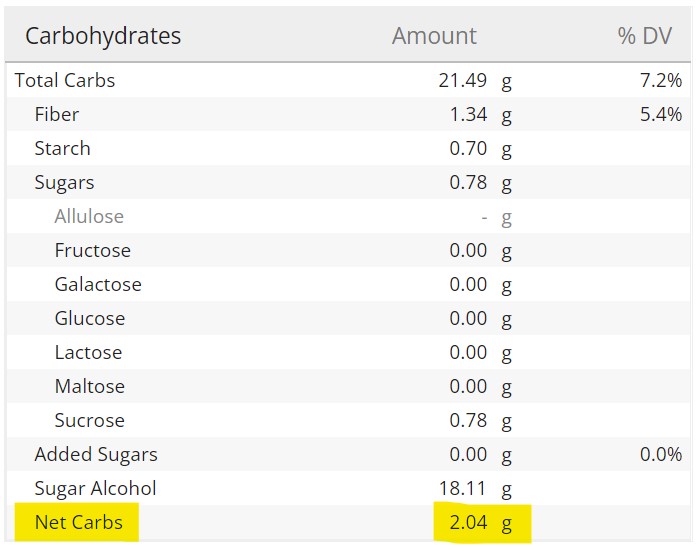 That's it! Please leave a comment if you try them out. I'd love to hear what you think!
❀
Keto Peanut Butter Cookies
Prep Time:
Cook Time:
Ready in:
Yield:

12 cookies
Ingredients
3/4 cup (192 grams) natural peanut butter (the kind with just peanuts and salt - no added fat or sugar)
1/2 cup (96 grams) THM Gentle Sweet or the copycat listed below1
1 1/2 teaspoons vanilla extract
1/4 teaspoon salt (add more if your peanut butter is unsalted)
1/2 teaspoon baking soda
1 large egg (50 grams, out of shell), cold
Directions
Preheat the oven to 350 °F (170 °C) and line a baking sheet with a piece of parchment paper. Position the oven rack to the lower third of the oven.
In a medium mixing bowl, add all the ingredients. Use an electric mixer on low to combine it. At first, it will be very thin but after about 30 seconds of mixing, it should be firm enough to roll into balls. The dough may or may not feel oily.
Divide into twelve 28-gram balls and place about 4" apart on the prepared cookie sheet. Press down slightly with the palm of your hand.
Bake immediately (it seems as though letting them sit for a while affects how they bake up). Bake for 12-16 minutes or until they've crackled nicely. Let them cool completely on the baking sheet (where they'll continue to bake). If you don't let them cool on the baking sheet, the bottoms of the cookies likely won't be baked enough.
Refrigerate them for a better, chewier texture. They can be refrigerated for up to 1 week or kept at room temperature for up to 3 days.
Notes
If you want to make a big batch of the THM Gentle Sweet copycat, see the post for the amounts. If you want to make enough for just this recipe, then you need:

- 54 grams xylitol
- 42 grams erythritol
- 1/4 teaspoon powdered stevia