It's time for the second installment of Even He Can Do It! Over to Alex.
Winter is coming! Temperatures have dropped below zero and we had the first few flakes of snow a couple of days ago — just in time for the beginning of Advent. The fourth Sunday before December 25 marks the beginning of this special season, which is probably best known for its traditions of lighting the candles of an Advent wreath and opening one door a day on your Advent calendar.
The weeks before Christmas here are usually busy weeks as there are so many things to do before the "old year" ends. Among the most pleasant activities during this time of year is, without a doubt, visiting Christmas markets. Soaking in the cozy atmosphere while strolling down the lit-up aisles of booths with yummy food and drinks or handmade crafts really gets you in the mood for Christmas.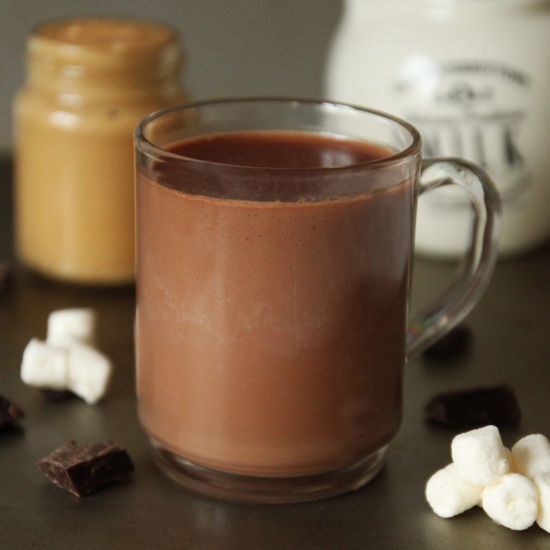 After being at the Christmas market for a couple of hours, Erin is usually freezing no matter how much clothing she put on. And when we come home, there is nothing more comforting than a big cup of hot chocolate. For any of you guys out there, the following recipe is super simple and sure to please any chocolate loving lady friend. ;)
I am not a big peanut butter lover, so I prefer my hot chocolate without it. Even then this is probably the world's best hot cocoa recipe! It's like liquid chocolate. You can even prepare this drink in the time it takes your lady friend to put on her cozy clothing after coming in! Or is Erin the only girl who drops everything when coming home in order to get changed into pajamas?
Thanks again to everybody who took the time to leave a comment on my last post! You gave me a very warm welcome. :) I wish you a nice and stress free Christmas time. See you soon! Alex
Erin's notes: We tried a few healthy versions with cocoa powder, milk and honey but it just wasn't doing it for me. If I'm going to have a treat like hot chocolate, I want it to taste chocolatey and not watery and vaguely chocolatey. And that involves lots of chocolate. And evaporated milk. It's so bad for you but I don't even care. It takes me to my happy place. You can also leave out the peanut butter if you prefer and still have the best plain hot chocolate of your life. I don't normally use commercial peanut butter, but the natural peanuts-only kind left the hot chocolate gritty. If you don't mind that, then go ahead and use the natural kind!
For another delicious hot chocolate recipe, try this Orange Hot Chocolate!
❀
Peanut Butter Hot Chocolate - Even He Can Do It!
Prep Time:
Cook Time:
Ready in:
Yield:

1-2 cups
Ingredients
1/4 cup (60ml) milk + up to an additional cup of milk
3/4 cup (180ml) evaporated milk
2 tablespoons smooth commercial (Jif, Skippy, Peter Pan, etc.) peanut butter
50 grams (a little less than 1/3 cup) semi-sweet or dark chocolate chips
1 teaspoon vanilla
pinch of salt
Directions
Combine 1/4 cup milk and the rest of the ingredients in a small saucepan over medium heat, stirring occassionally.
When the chocolate is melted, taste and if it's too rich, add more milk. You'll very likely want to add more milk, but I'm keeping the recipe the way it is in case someone is after something extremely rich (the way I am!)