This healthy and naturally sweetened raspberry coconut smoothie is dairy-free and vegan with the help of some coconut milk!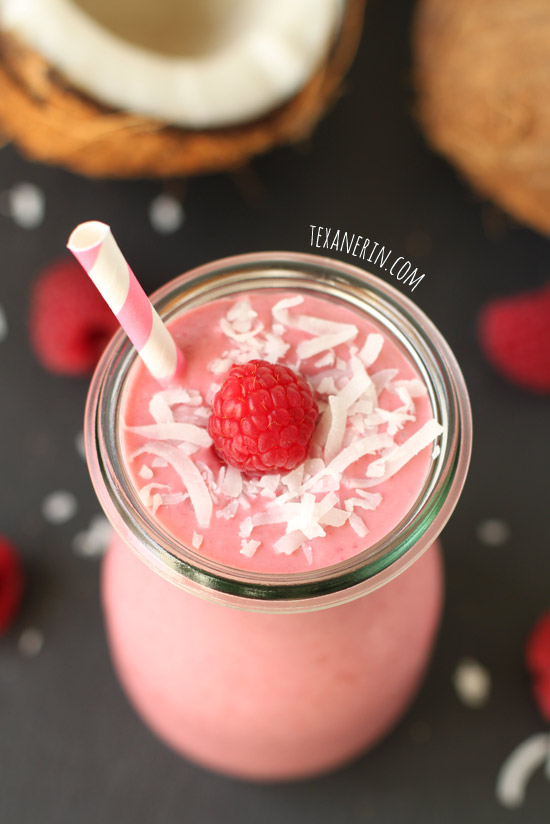 I'm all about smoothies right now. I'm sure I've whined about this before, but it feels like there are only apples, oranges and bananas over here during the winter. And as someone who struggles to eat veggies, I need my fruit! Luckily, frozen raspberries are super cheap over here so I go through about two pounds of them every week throughout the year, except for those few precious weeks when we have fresh berries.
Mr. Texanerin surprised me with two fresh coconuts right before Christmas. They turned out to be such pretty props that I've been making coconut everything! I was kind of shocked by how much I loved the raspberry coconut combination in these gluten-free raspberry coconut oat macaroons that I thought I'd give it another try.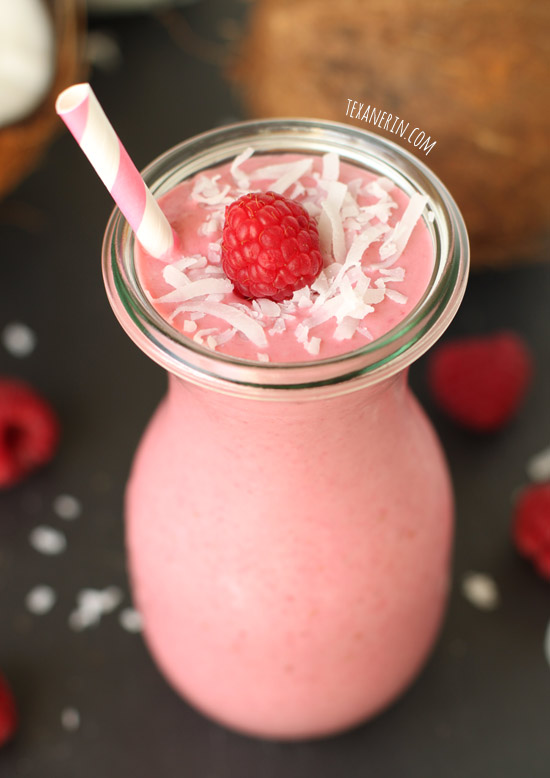 To make this raspberry coconut smoothie creamy, you can either use banana or avocado. If you use banana, the flavor will be really apparent and the smoothie will be naturally sweet. If you use avocado, you won't taste any avocado but you'll need to add some sweetener!
I'm getting a little tired of bananas so I went with avocado this time. I added a few drops of Stevia but you could add honey, agave, granulated sugar… whatever you want!
I added coconut butter to add some intense, creamy coconut flavor. I like my smoothie to be completely smooth and so shredded coconut wasn't going to happen. If you don't have coconut butter, don't bother buying it just for this smoothie. Make your own homemade coconut butter! Or leave it out and add shredded coconut or a little coconut extract.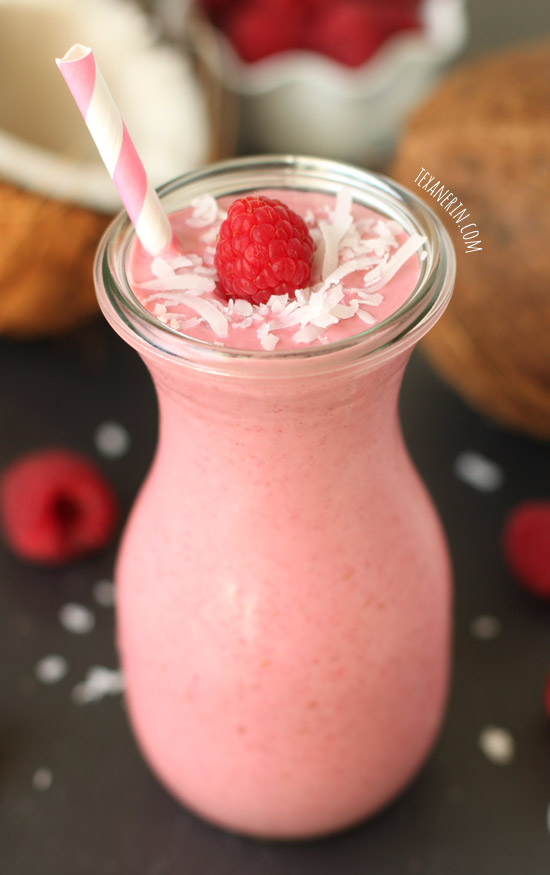 This raspberry coconut smoothie is also naturally dairy-free and vegan! No yogurt is needed. I used canned coconut milk instead of regular milk.
If you want a non-coconut version of this smoothie, check out this raspberry banana avocado smoothie! And for something different, try these turmeric smoothies.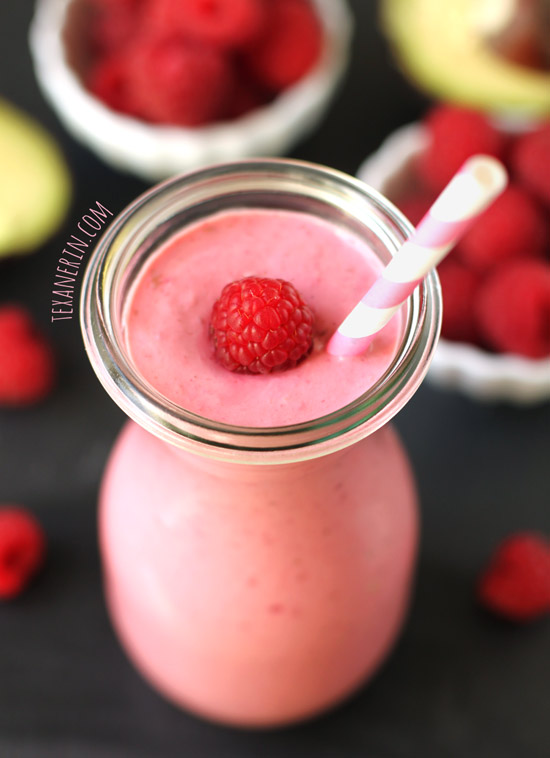 ❀
Raspberry Coconut Smoothie (dairy-free, vegan)
Prep Time:
Cook Time:
Ready in:
Yield:

1 smoothie
Ingredients
1/2 cup coconut milk (122 grams)
1 cup (125 grams) frozen raspberries
1 tablespoon coconut butter, optional, for extra coconut flavor
1 banana (150 grams) peeled and chopped into ½" pieces and frozen OR the flesh of 1/4 - 1/2 an avocado, chopped into 1/2" pieces and frozen
sweetener of choice, if using avocado instead of banana
Directions
Blend all of the ingredients in your blender, food processor or with an immersion blender.
Add sweetener to taste. If you use an avocado and not a banana, you'll need to add some sweetener.
If the smoothie is too thick for you, add milk until it's your desired consistency.
As an Amazon Associate, I earn from qualifying purchases. For more info, see my disclosure.