This spiced blueberry almond granola is naturally gluten-free, 100% whole grain and dairy-free!
Here's a nice way to make the transition to fall for those of us who aren't feeling so very autumnal yet. You've got your summer blueberries, but you've also got some cardamom, cinnamon and maple syrup for added coziness. I used this granola as a topper for my healthier Swedish blueberry soup, which also contains cardamom and maple syrup. It's really such a delicious combination!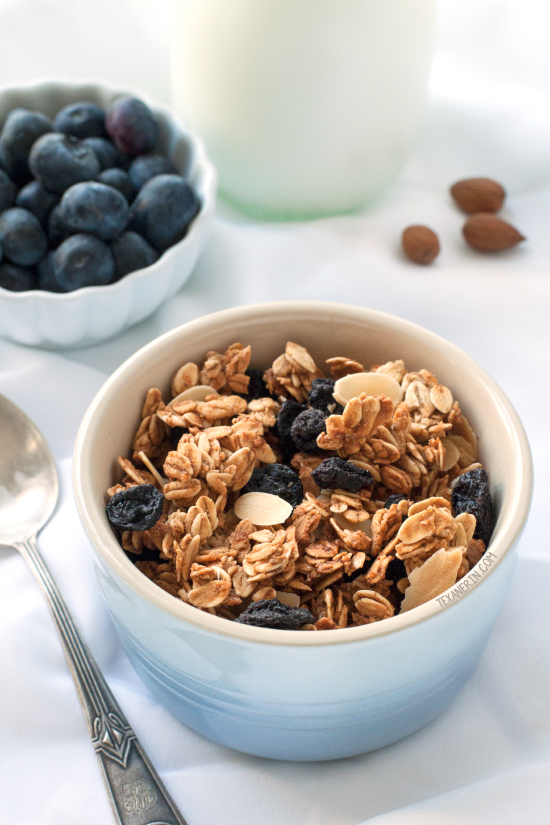 In my last granola recipe, this vegan and gluten-free granola, I talked about how the trick of adding an egg white to any granola recipe to make it cluster-y didn't work for me. The same is true here. I used an egg white, but it pretty much takes place of the fat in this recipe. There's only 1 teaspoon of coconut oil and 1/3 cup maple syrup so without the egg, there's just not enough liquid. Definitely don't omit it!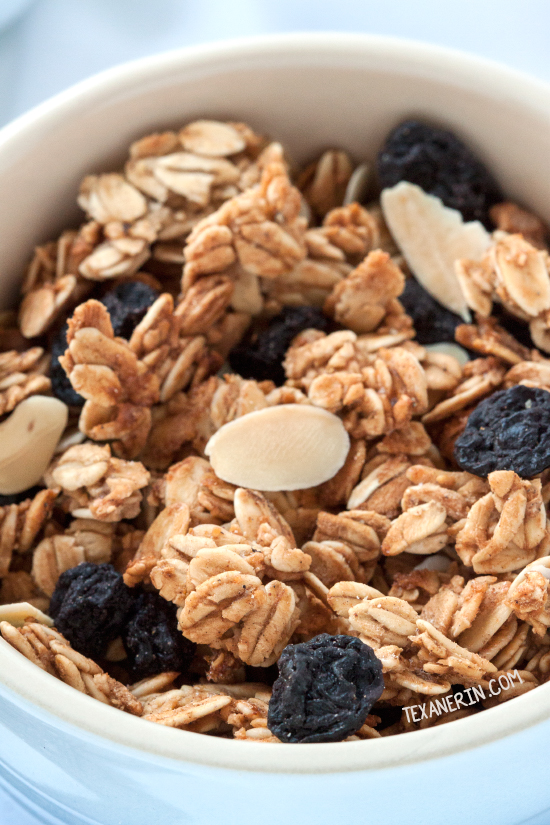 I made the first batch of this granola with just blueberries added in. It was great but it was begging for a second add-in. I happened to have some flaked almonds that needed to be used up, so in they went. If you don't have those, I'm sure any kind of almonds would do. Whole almonds, chopped almonds, slivered almonds… whatever. Pecans or walnuts would also go well here.
This blueberry granola is great for those first crisp mornings of the fall. It's very much a healthy granola and not your typical store-bought cluster granola, which is, in my opinion, so much more of a dessert. Truth be told, that's my favorite type of granola but I suppose not the best choice for breakfast. Especially with all the funky ingredients in the store-bought kind!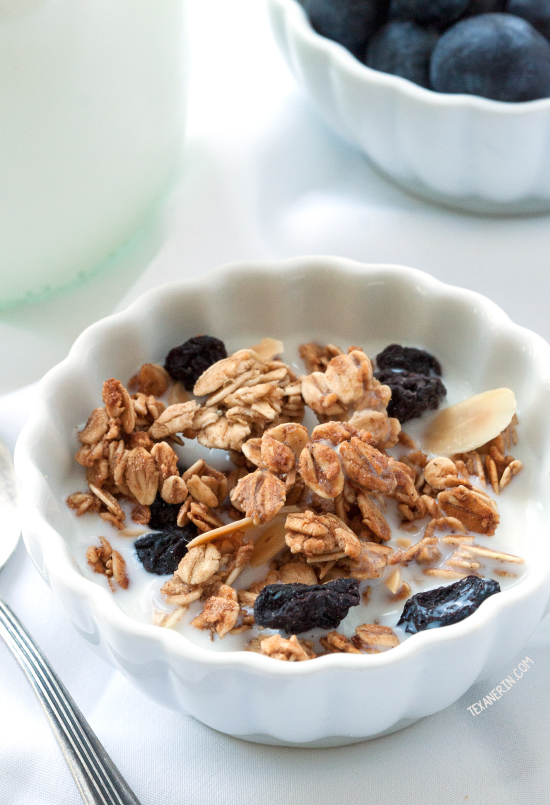 If you're looking for a grain-free alternative, try this paleo granola. I haven't tried it myself but it looks amazing! And for another oaty autumnal breakfast recipe, check out this apple cinnamon oatmeal.
❀
Spiced Blueberry Almond Granola (gluten-free, dairy-free, whole grain)
Prep Time:
Cook Time:
Ready in:
Yield:

2 1/4 cups granola
Ingredients
1 large egg white, room temperature
1 teaspoon coconut oil, melted (or any other oil you'd like)
1/3 cup (80 milliliters) maple syrup
1 teaspoon vanilla extract
2 cups (180 grams) rolled oats (use certified gluten-free oats, if necessary)
1 teaspoon ground cardamom
1/4 teaspoon ground cinnamon
1/8 teaspoon salt
1/3 cup (33 grams) flaked almonds
1/3 cup (53 grams) dried blueberries
Directions
Preheat the oven to 325 °F (163 °C) and line a baking sheet with a piece of parchment paper.
In a large mixing bowl, whisk together the egg, melted coconut oil, maple syrup and vanilla extract until well combined.
Add the oats, cardamom, cinnamon and salt until well incorporated.
Spread the granola on the prepared baking sheet and bake for 15 minutes. Stir and then add the almonds. Bake for another 10-13 minutes or until the granola has lightly browned. It'll be very soft but will harden as it cools. If after completely cooling, it hasn't firmed up, you can put it back in the oven for another 5 minutes or so while keeping a close eye on it. Add the dried blueberries.
Store in an airtight container for up to 2 weeks.