This foolproof salted maple caramel sauce is super easy and only has five ingredients! Makes a small batch but is easy to double.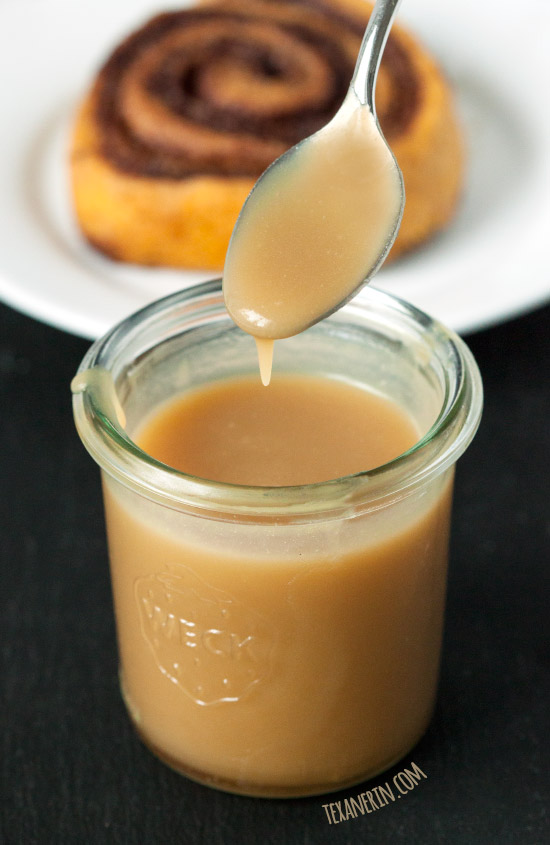 This isn't healthy in any shape or form, or even allergy-friendly, but this salted maple caramel sauce was just too good not to share! I figured some people may not like that I used brown sugar so I also made a coconut sugar version and will be posting that next week. :)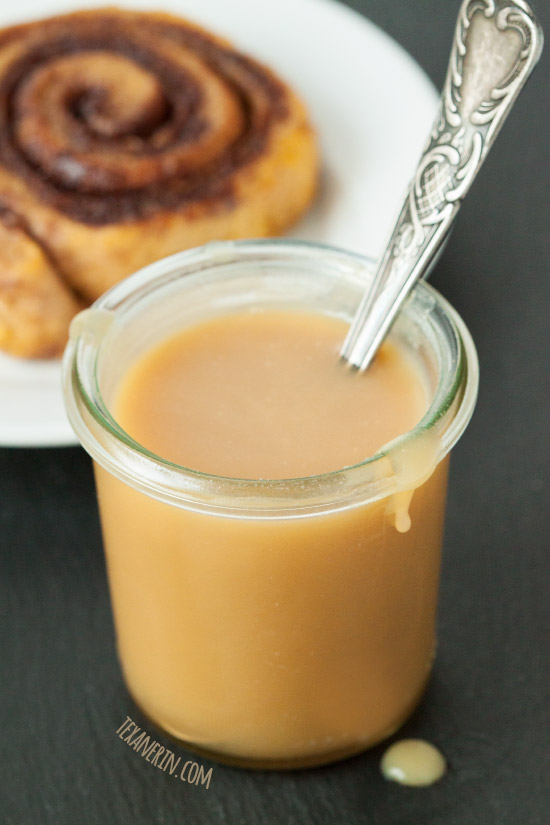 I tried a lot of different variations here. I thought spicing it up with pumpkin pie spice would be nice, but that just took away from the maple taste. I tried a cream-free version hoping to make it dairy-free, but the sugar never properly dissolved, making it gritty. I also tried Grade A (the lightest maple syrup) vs. Grade B (which has a more pronounced maple flavor). If you use Grade A, you'll have the best and easiest salted caramel sauce ever… but it won't taste very maple syrup-y. But you still need to add it so that you'll have the right consistency!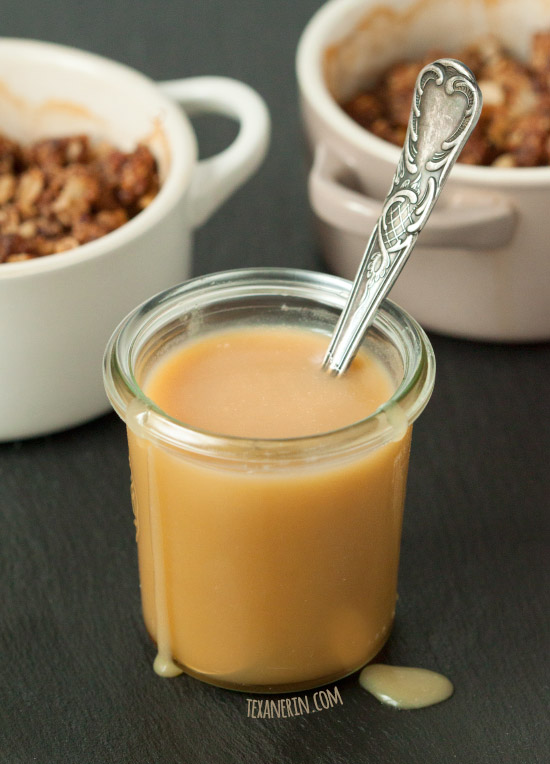 Before I tried this recipe, I had attempted making about a dozen other salted caramel sauce recipes that were supposedly really easy and maybe they are for people who are properly schooled in the wonders of candy and caramel-making. But if anything involves melting straight up sugar (as in putting it in a pan with nothing else and melting it), I am 99.6% likely to fail. Even after reading the recipe 7 times in preparation and having helpers! I'm just doomed when it comes to caramel. If I can make this caramel sauce, so can you!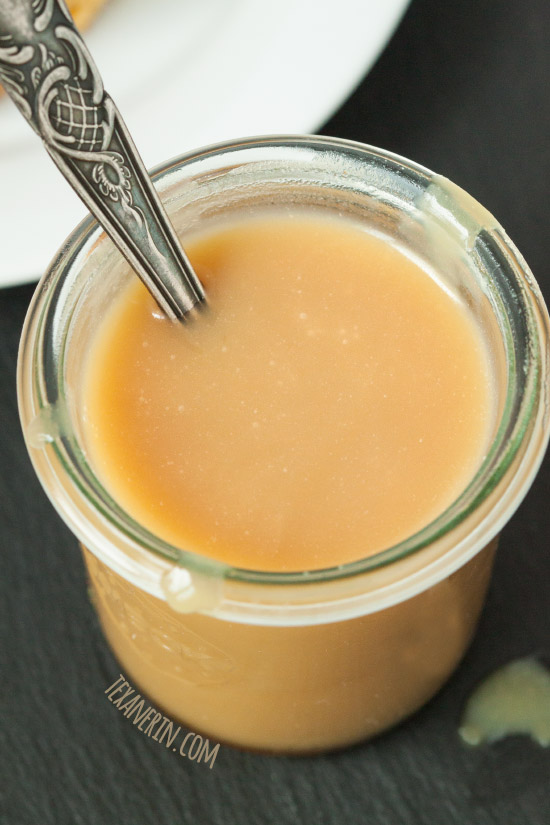 I've been pouring my multiple batches of this maple caramel goodness all over just about everything lately. Like the whole wheat pumpkin cinnamon buns I made the other day. And those apple crumbles in the background of the third picture, which will also be coming next week!
This yields a small amount but the recipe couldn't be easier to double, triple or even quadruple. You only need about 10 minutes to whip up a batch of this sauce so I figured I'd rather have my small batch than to have a huge batch that goes bad after a week (due to the cream). I can always (and do!) make more. :)
For a version without sugar, try this Sugar-free Caramel Sauce! If you can have sugar, these Caramels look great for a traditional version.
❀
Salted Maple Caramel Sauce
Prep Time:
Cook Time:
Ready in:
Yield:

1/2 - 2/3 cup
Ingredients
1/4 cup (56 grams) unsalted butter
1/2 cup (100 grams) brown sugar
1/4 cup (60 milliliters) heavy cream
1/4 cup (60 milliliters) Grade B maple syrup
1/8 - 1/4 teaspoon salt (I used 1/4 teaspoon)
Directions
In a small saucepan over medium heat, melt the butter.
Stir in the brown sugar until combined. It won't fully combine.
Add the cream and mix until fully combined, and continue stirring until the mixture comes to a boil. Continue boiling and stirring until it thickens enough to coat the back of a spoon, about 2-5 minutes.
Turn off the heat, remove the pan from the burner, and add the maple syrup and salt (start off with 1/8 teaspoon and add more to taste).
Stir until completely incorporated and the salt has dissolved.
Use immediately or let cool completely before covering and refrigerating.
Refrigerate for up to 1 week. Before serving, stir to reincorporate the maple syrup and reheat in the microwave at half power for 10-15 seconds or until warm enough for your liking.
Adapted from O Magazine's Maple Caramel Sauce
As an Amazon Associate, I earn from qualifying purchases. For more info, see my disclosure.