This matcha coffee is creamy, well-balanced, and the perfect pick-me-up for mornings and afternoons. It's made with a handful of staple ingredients plus matcha. This quick and easy drink can also be made paleo and vegan by using the right milk.
This matcha coffee drink has all the goodness of matcha tea with an extra kick of coffee. It's earthy, maple-sweetened and healthy.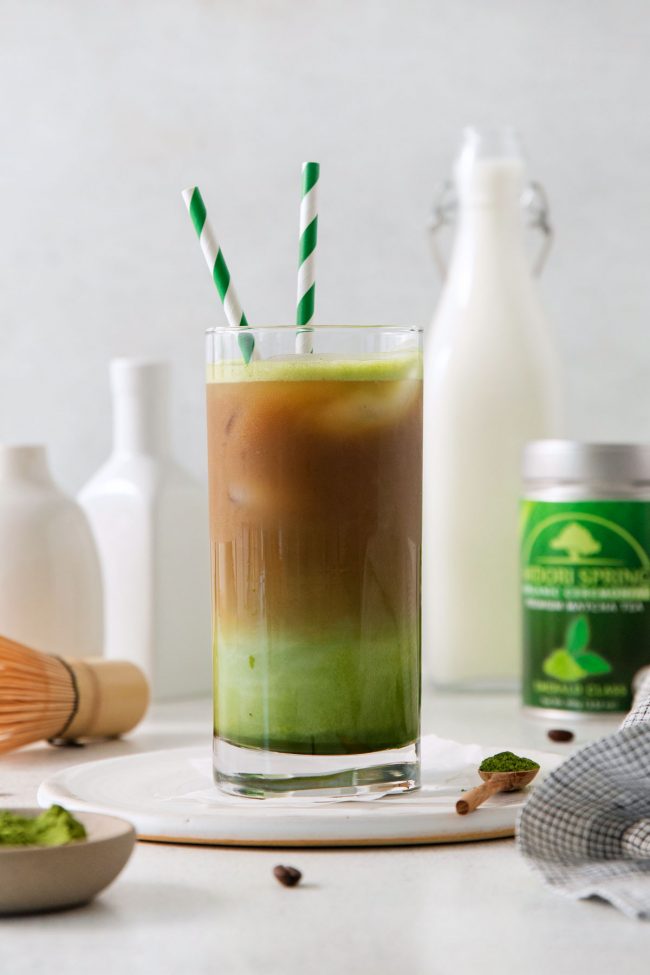 If you're looking for an iced matcha drink without the extra coffee, this Starbucks Matcha Latte is perfect. And if you like your matcha warm, try this Chai Matcha Latte.
Here's what you'll need for this iced matcha coffee.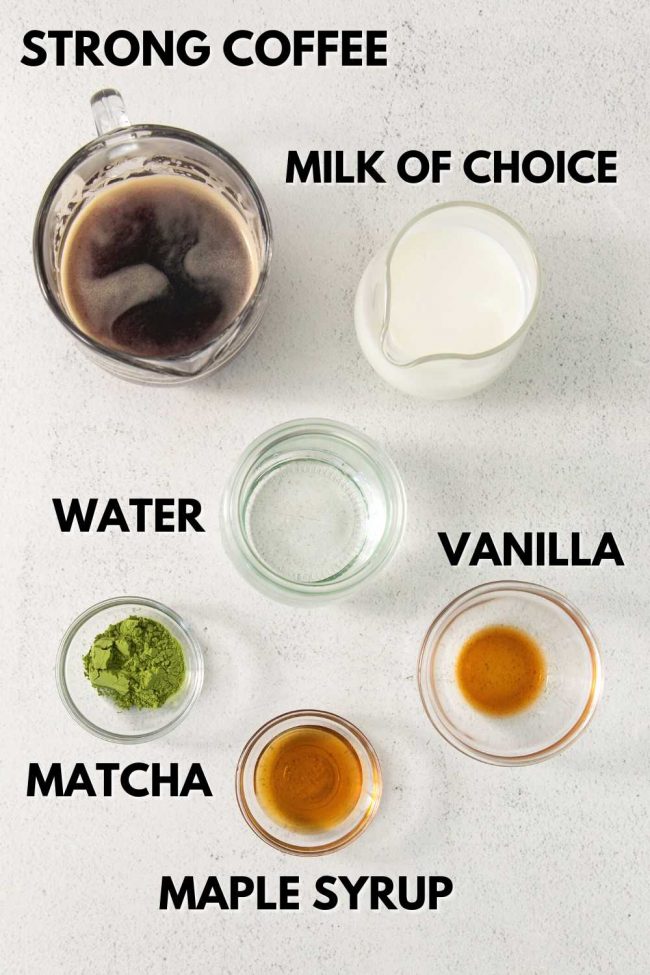 What is matcha?
Matcha is green tea powder made from pulverized tea leaves, distinguishing it from loose-leaf tea. They are both derived from the same plant, but they're just cultivated, harvested and processed differently.
It carries an earthy essence with a slight bitterness. I explain more here → What Does Matcha Taste Like?
If you haven't tried it yet, it can be an acquired taste. I really disliked it at first, but now I enjoy it, as long as it's in something sweetened.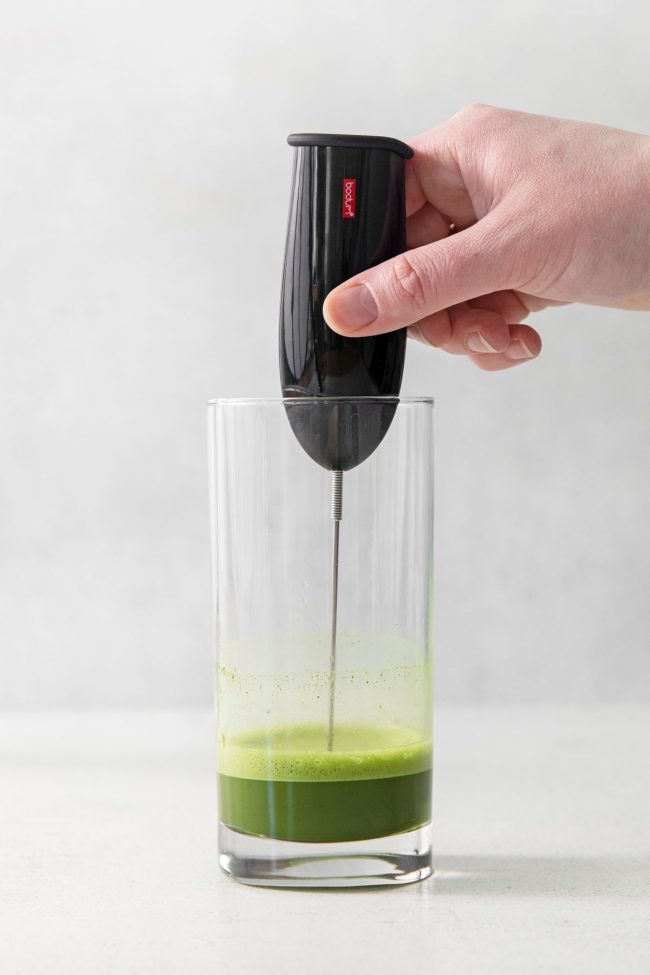 Grades of matcha
There's so much to discuss when looking to buy matcha. There are two grades with 5 subtypes, each with different qualities and price tags.
The subtypes of culinary matcha are premium, cafè, ingredient, kitchen and classic.
I discuss the different subtypes in this Vegan Matcha Cookies post. You can also see the differences in the green color of matcha using different grades, which is helpful if you're baking and want that vivid green.
I usually use premium culinary grade for drinks as it's pretty smooth and not as bitter as some other subtypes. For today's recipe, I used Midori Spring ceremonial matcha because I wanted a vibrant green for the bottom layer of this drink.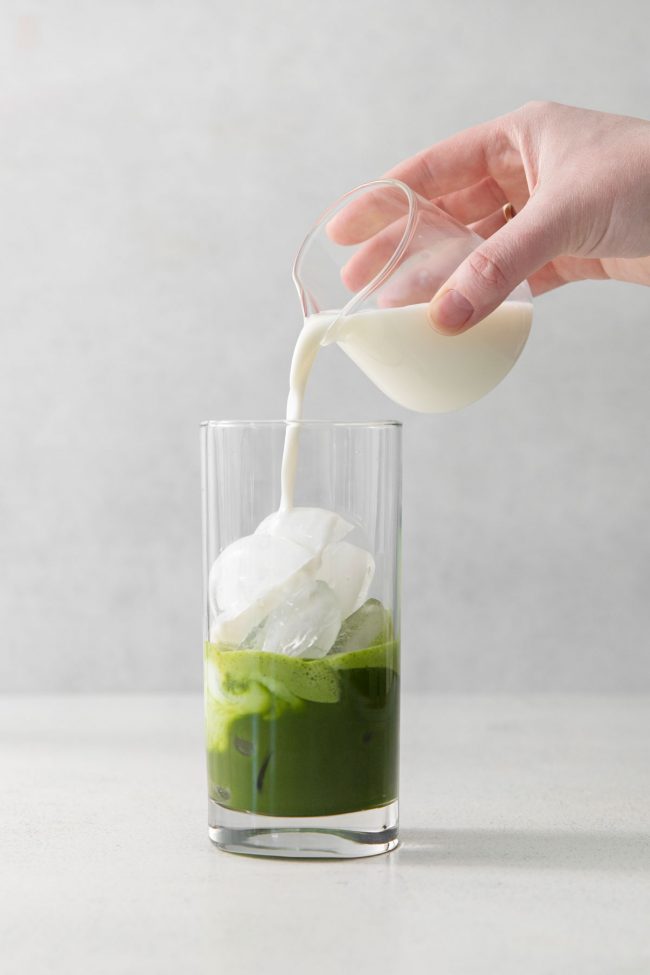 Matcha benefits
Matcha is a powerhouse of antioxidants, amino acids, vitamins and minerals that make it beneficial to incorporate into your diet.
It's higher in amino acid L-theanine than all other teas and is bioavailable, so you feel the results quickly.
Because matcha is shaded before harvest, the leaves have more chlorophyll, which helps to detoxify the body and has high amino acid content.
Matcha is also high in antioxidant content, specifically polyphenols and catechins. They're both good for improving gut microbiota and overall health (source).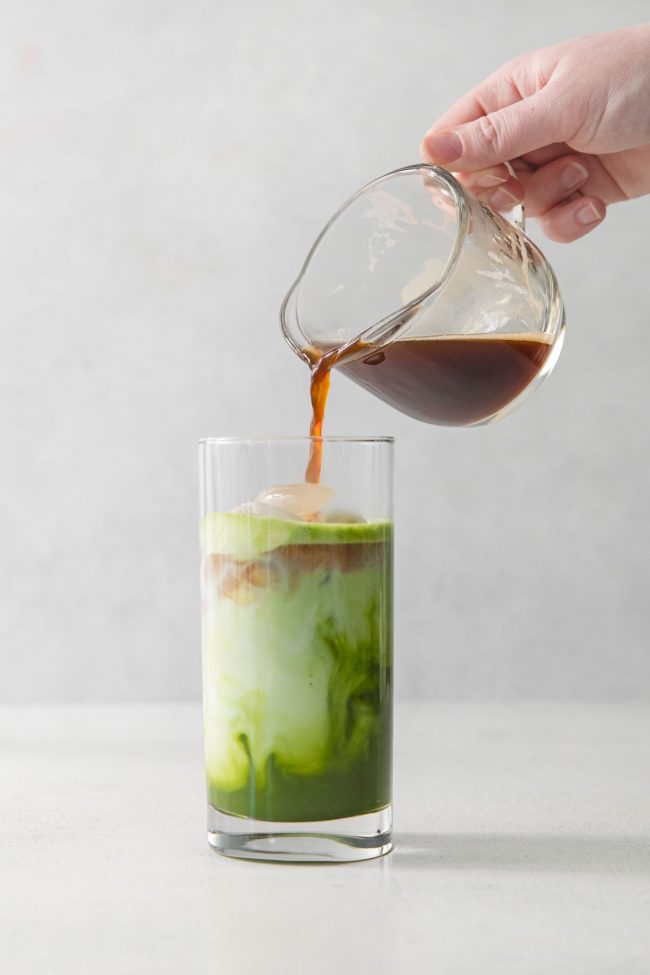 What type of coffee?
You can use any coffee you'd like. If you have a French press, this French Press Espresso is robust.
Because this is an iced drink, you might consider making a Cold Brew Espresso or Mason Jar Cold Brew. But you need to plan if you make these because they have to be brewed overnight.
You might also want to check out this Espresso Beans vs Coffee Beans post to help you navigate which beans to buy.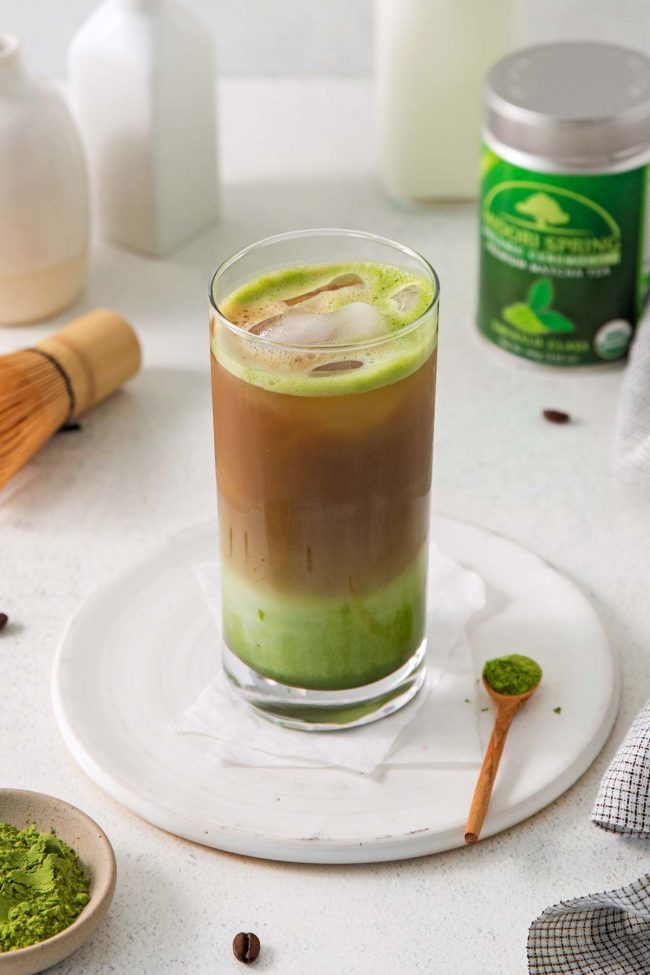 Paleo and vegan
As long as you use plant-based milk, this drink is vegan.
For paleo, make sure to use unsweetened nut milk without any funky ingredients. I always use unsweeneted cashew milk.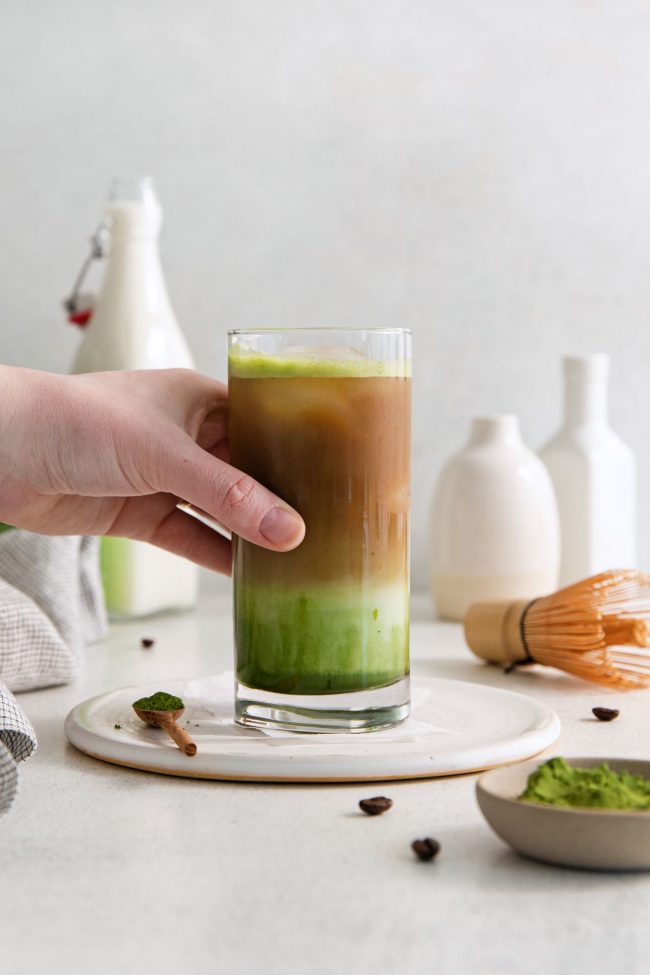 Sweeteners
I used maple syrup because it dissolves easily and doesn't interfere with the other flavors. But this drink is versatile because you can use whatever sweetener and milk you 'd ike.
If using granulated sugar, you might want to make a simple syrup because it's a cold beverage, and it's more difficult to dissolve in cold drinks.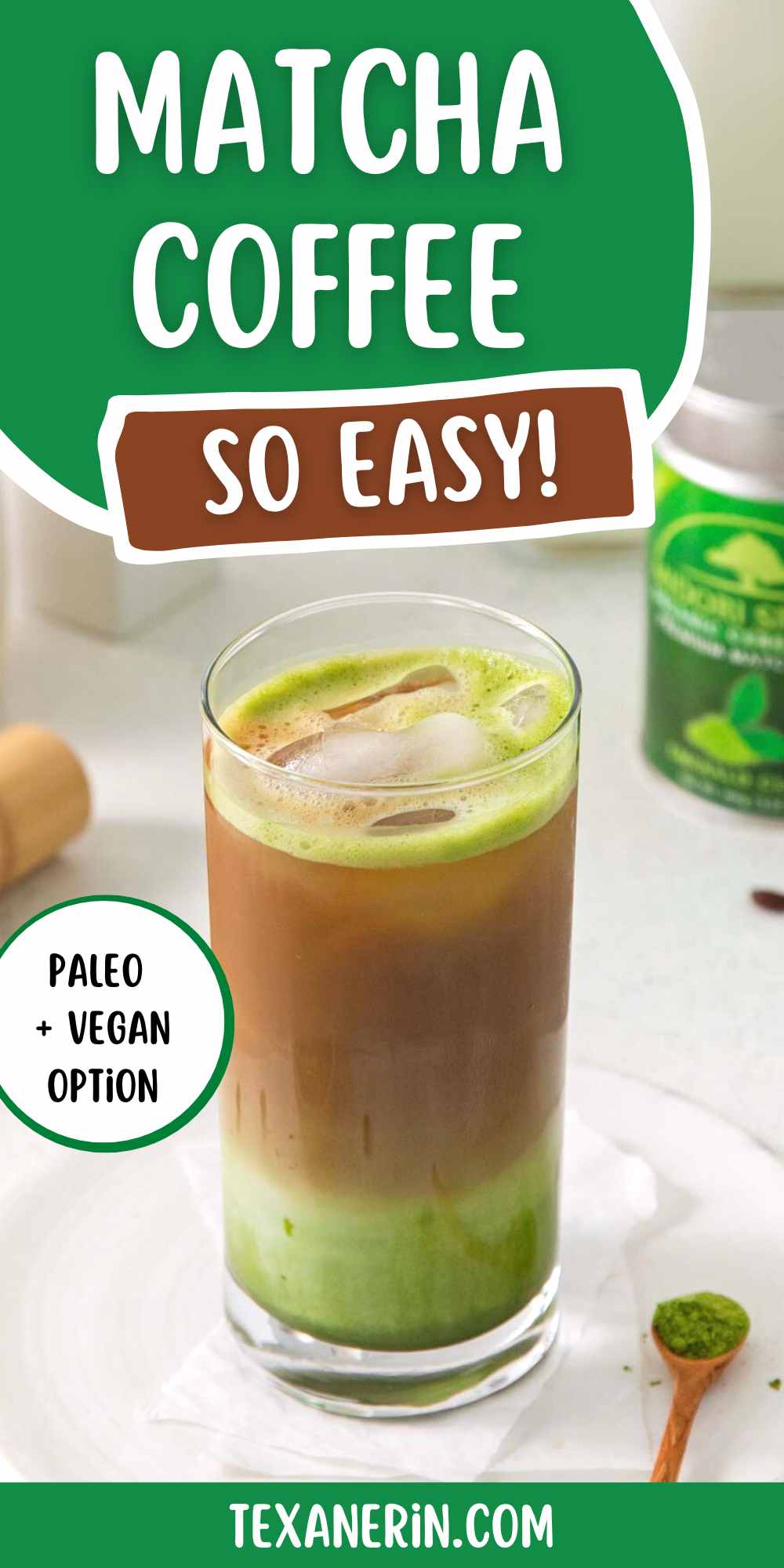 Other matcha treats
I hope you enjoy this matcha coffee. If you try it, please let us know how it turned out by commenting below. Thanks! :)
❀
Matcha Coffee (traditional or paleo/vegan)
Prep Time:
Cook Time:
Ready in:
Yield:

1
Ingredients
1 teaspoon matcha
1 teaspoon maple syrup
1/2 teaspoon vanilla extract
2 tablespoons warm or hot water
1/3 to 1/2 cup ice
1/3 cup (75 ml) milk of choice (I use unsweetened cashew milk for paleo/vegan)
1/3 cup (75 ml) brewed strong coffee, cooled or cold
Directions
Stir together the matcha, maple syrup, vanilla and water in the serving glass until no lumps remain.
Add the ice and top with milk and then the coffee.
Serve immediately.