This vegan cheesecake recipe is rich, creamy and so delicious! It's also paleo and no-bake. It really tastes similar to a traditional cheesecake!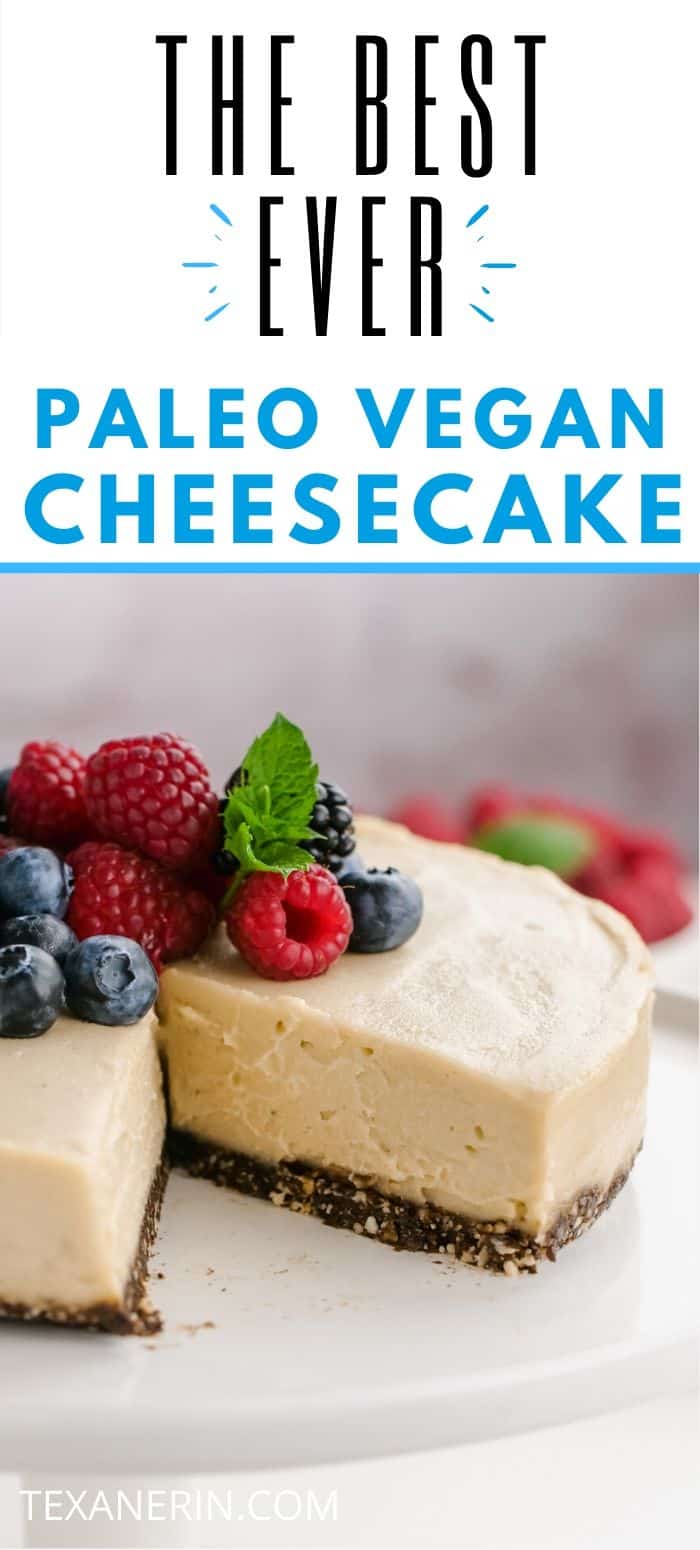 I've tried a lot of vegan cheesecake recipes and never really liked them (exceptions would be like paleo chocolate cheesecake and paleo strawberry cheesecakes). Maybe I have too much of a sweet tooth but a lot of them have hardly any sweetness and don't taste like much.
This is not that recipe! There's lots of flavor and enough sweetener to make it taste like dessert. You can of course reduce the maple syrup if you want but I think it's perfect as is.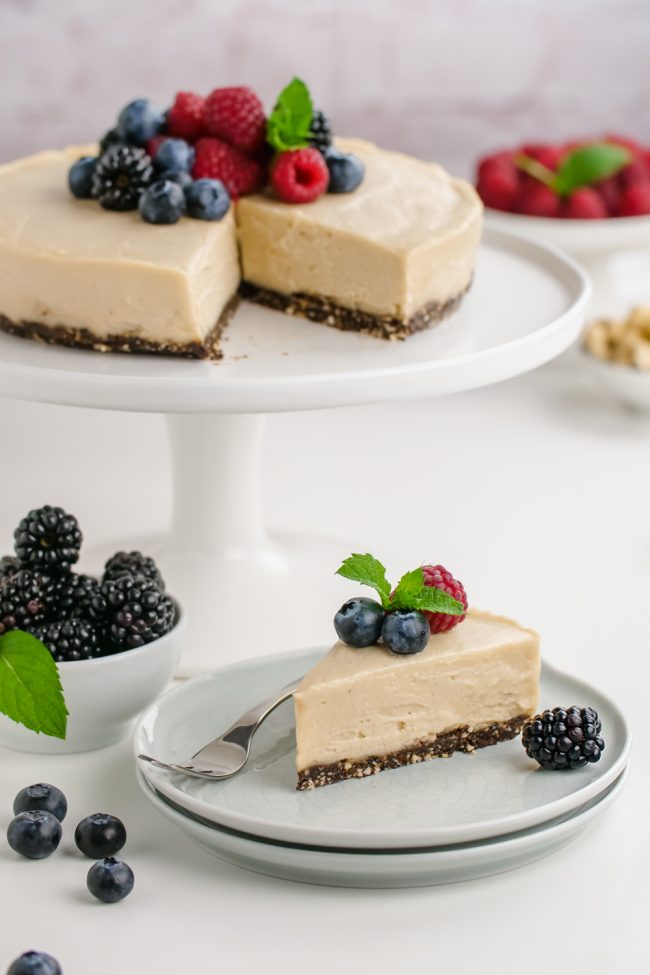 I've been working on a vegan cheesecake recipe for a few years but didn't like any of them enough to post. I have to really, really love something before posting. And this one was a huge hit!
If you've never had vegan cheesecake before, I feel like I should say it doesn't taste just like regular cheesecake. It's definitely different but still incredibly delicious.
At least in one of my freezers it didn't. We recently bought a second freezer (because European fridges come with small freezers!) and in that one, it was more of a challenge to cut.
This cheesecake is soft and kind of mousse-like when refrigerated and firm but not rock hard when frozen. I'm not sure which way I prefer. Both are amazing!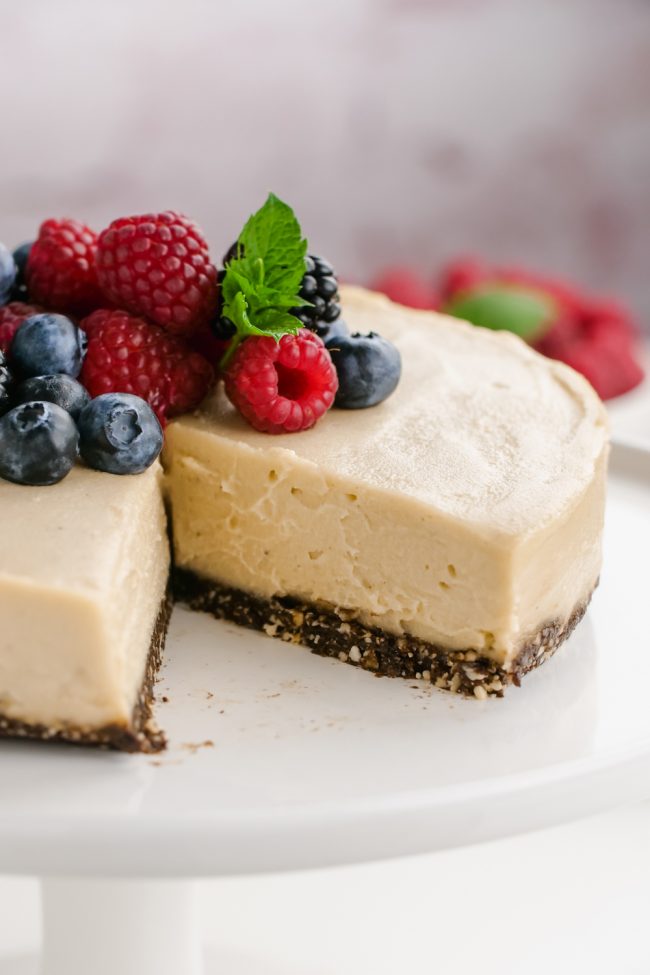 Be warned that it takes a long time to freeze. You can cut it at 9 hours but it's still a little soft. At 12 hours, it was totally firm.
The exact times will depend on the size of your pan and your freezer. If you're in a hurry, you can use an 8″x8″ pan and I think they'd only need about an hour in the freezer!
I don't recommend refrigerating it after preparing it because I feel like you'd be waiting around FOREVER getting it to firm up.
No-bake vegan desserts often (almost always?) use date and nut-based crusts. The ones I've tried usually don't taste like much. The crust blends right in with the filling and the crust doesn't add anything (in my opinion) other than calories.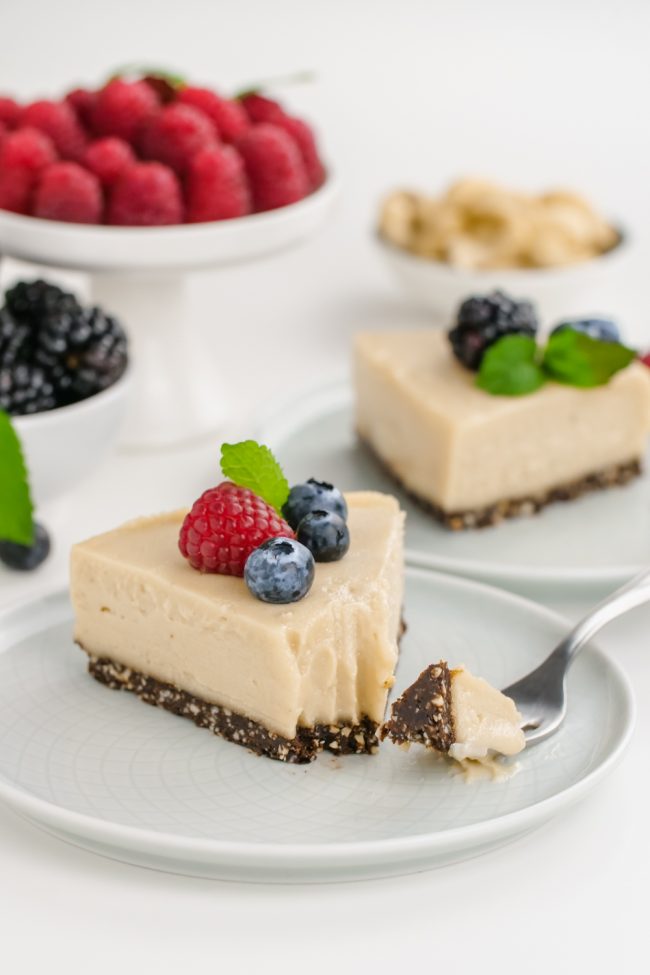 This one definitely tastes like something. :) It's chocolaty but not so chocolaty that you can't taste the cheesecake. It's nicely balanced.
For more no-bake treats, try these vegan no-bake peanut butter pies or vegan paleo raspberry cream pies. These paleo lemon bars are also cashew-based and super refreshing!
Substitution questions about this vegan cheesecake recipe?
What can I use in place of the cashews?

I think any nut would work for the crust. For the filling, I don't think there's a good sub. Has anyone ever used something in place of cashews in vegan desserts?

Can I use something instead of dates?

I haven't tried it but perhaps prunes would work. I'm not sure how different they taste but I think with all that cocoa powder, it'd cover up any unusual taste.

Can I use X type of cocoa powder?

Anything should work!

Can I use something other than coconut milk?

I think any milk would work but it won't be quite as rich, creamy or thick.

Can I use something other than maple syrup?

Any liquid sweetener would probably work (that you would use as a 1:1 sub for maple syrup or honey).

Can I use something other than coconut oil?

I've only tried this vegan cheesecake with coconut oil but think any solid fat would work.

Can I use something other than lemon juice?

Unfortunately not. It's needed to give the cheesecake it's slight zing. Without it, the cheesecake tastes kind of flat.

Can I use a different sized pan?

Definitely! Your cheesecake will just be thinner. Think about the crust, though. If you want an 8″x8″, you'll probably want to double the crust. If you use a 6″ springform, you'll have a little too much for the pan and will need to put the leftover filling in something else.

I don't have a food processor or high-speed blender. What else can I use?

Sorry to say that you need one of those. You can't chop up the dates finely enough without one. And because of more importantly – the filling. I really, really recommend a high-speed blender (not a regular blender!) over the food processor. It'll get the filling perfectly smooth and creamy. I can't say that all food processors will do the same (though I'm sure some would!).
❀
Vegan Cheesecake Recipe (paleo, grain-free, gluten-free)
Prep Time:
Cook Time:
Ready in:
Yield:

12 slices
Ingredients
For the crust:

2/3 cup (93 grams) raw cashews
2/3 cup (140 grams) pitted dates, firmly packed
2 tablespoons + 2 teaspoons (19 grams) cocoa powder
1/4 teaspoon salt

For the filling:

3 cups (435 grams) raw cashews1
3/4 cup (180 ml) full-fat canned coconut milk
2/3 cup (160 ml) maple syrup
2 teaspoon vanilla extract
1/4 cup (56 grams) coconut oil
3 tablespoons lemon juice
1/2 teaspoon salt

To garnish:

blueberries, raspberries and blackberries (or whatever you want!)
Directions
Prepare the crust:

Line the bottom and sides (all the way to the top) of a circular 7"x3" springform pan (if a little smaller, you can pour the leftover filling in a small dessert glass / bowl) with a piece of foil or plastic wrap.
In the bowl of your food processor using an S-blade, pulse all the crust ingredients until it starts to come together. Depending on your food processor, this will take 1-3 minutes. Pinch a bit of it together - it should stick together easily. You can also use a high-speed blender (the small jar used to make nut butter). Process it on high for about 20 seconds or until no large chunks remain. It might look very dry but once you pinch it, it'll come together.
Press firmly onto the bottom of the lined pan and press it down so that it's compacted.
Place the pan in the freezer while you prepare the filling.

Prepare the filling:

Get out a high-speed blender and make sure it's large enough to fit all the ingredients. The filling yields about 5-6 cups. Add all the filling ingredients, in the order listed, and blend for about 30-60 seconds, or even longer, depending on your blender, or until totally smooth and no lumps remain.
Pour the filling over the crust and place the cheesecake in the freezer for 9-12 hours or until the filling is frozen. Depending on your freezer, you might be able to cut it straight from the freezer. If not, you might need to let it sit at room temperature for 20 minutes or so.
Top with berries before serving.
Freeze for up to a month or refrigerate for up to 4 days.
Notes
It wasn't a problem for my Blendtec to use non-soaked cashews. If you prefer, you can put the cashews in a pot and pour boiling water over them. Let them sit for about 10-20 minutes and that'll soften them.