These ginger berry popsicles only have five ingredients and are naturally paleo, gluten-free, vegan, dairy-free and are sweetened with bananas!
Popsicles have never really been my thing. The ones from my childhood were basically sugar, artificial flavoring and coloring. I remember even getting headaches when eating them – and I don't get ice cream headaches!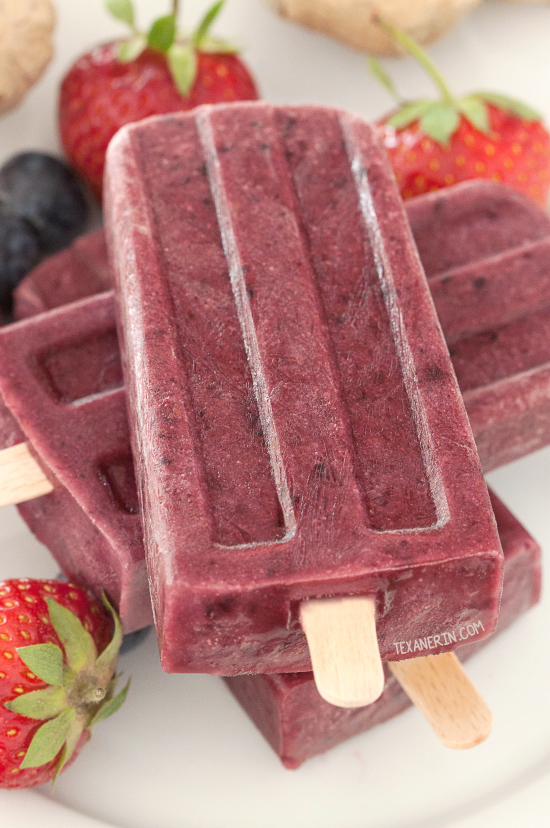 I just looked up the ingredients of the most popular popsicle brand of of my youth.
Water, high fructose corn syrup, corn syrup, sugar, contains 1 percent or less of each of the following: malic acid, citric acid, guar gum, natural and artificial flavor, red 40, ascorbic acid (vitamin c), locust bean gum, cherry juice concentrate
Mmm! Yummy, right? :D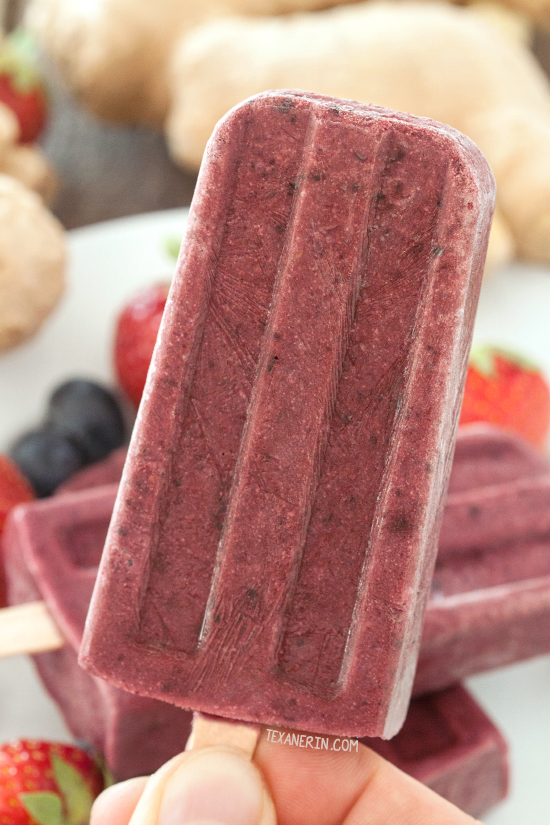 The ingredient list for these ginger berry popsicles?
Blueberries, strawberries, bananas, coconut milk, ginger
I used a banana to sweeten them and add a little creaminess. But just to be clear – these aren't creamy like ice cream. They're icy. If you don't want to use a banana, use some avocado and add some sweetener to taste. Without a banana or avocado, these are basically pureed frozen fruit with some coconut milk, which isn't the best treat texturally.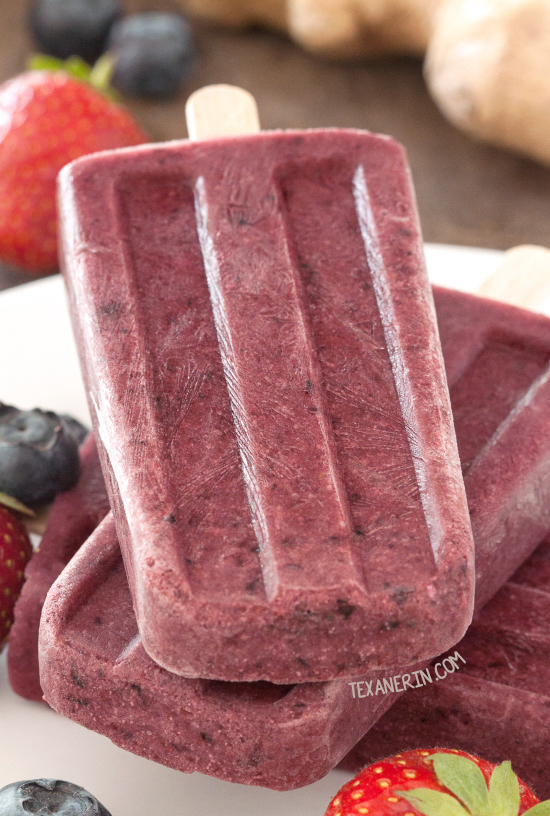 Coconut milk also adds a little fat and creaminess to the popsicles but if you want to use regular milk, that'd work, too. They'll just be a little icier!
If you're not a ginger fan, you'll want to reduce it by quite a bit or leave it out all together as it's the predominant flavor. I used to have an upset stomach pretty often and I was throwing ginger into everything. I'm not sure whether frozen food is technically good for nausea, but my stomach certainly felt better after eating one of these the other day!
I used this BPA-free popsicle mold and got ten 3-ounce (.375 cup) popsicles. If you don't have a popsicle mold, make half the recipe for a delicious, generously-sized smoothie!
Want something a little more tropical? Try this 5-Minute Mango Sorbet! These Lava Flow Popsicles also look awesome.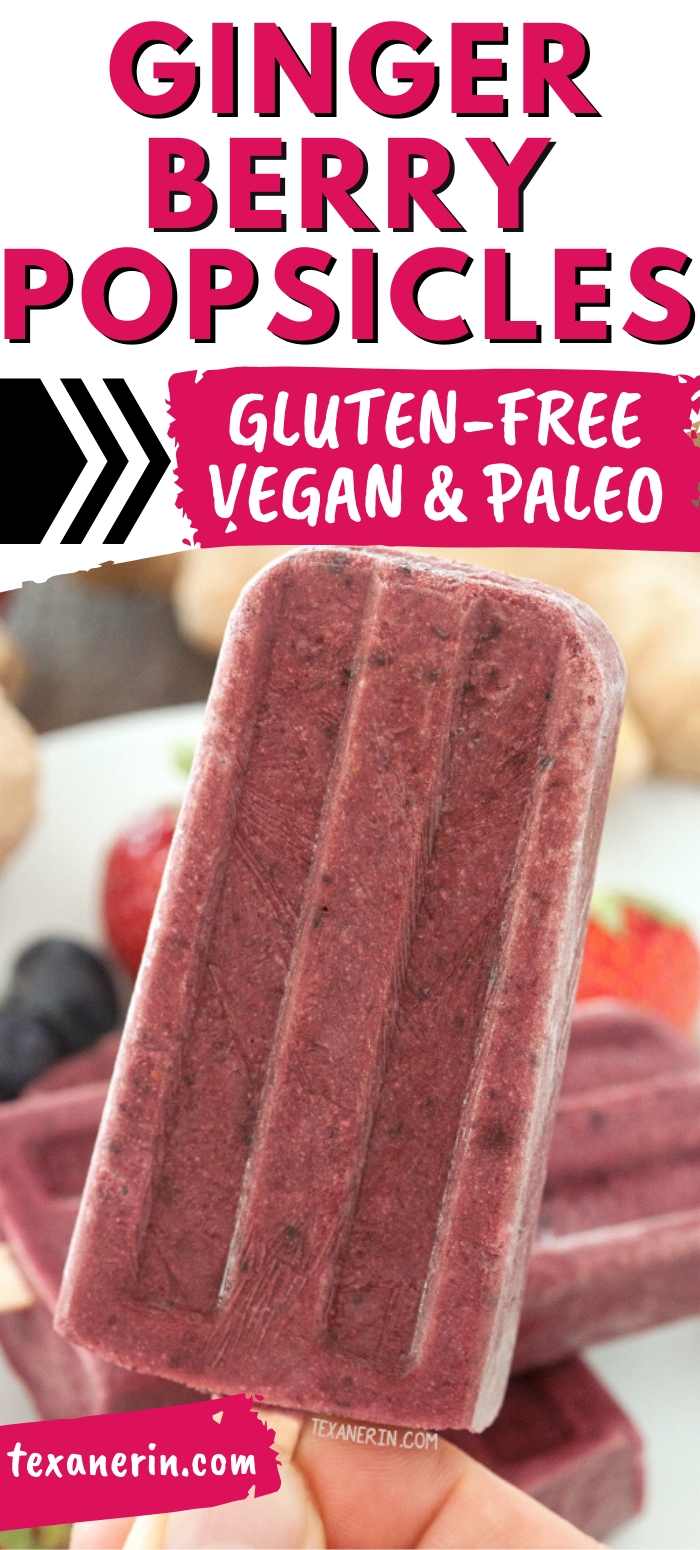 Prefer a frozen treat that's even quicker than these popsicles? Give these frozen grapes a try!
I hope you'll enjoy the popsicles! I'd love your feedback if you try them out.
❀
Ginger Berry Popsicles (naturally vegan, gluten-free)
Prep Time:
Cook Time:
Ready in:
Yield:

ten 3-ounce popsicles
Ingredients
1 cup (120 grams) blueberries
8 medium (180 grams) strawberries, hulled
35 grams (about a 2" piece) fresh ginger, peeled and chopped into 4 pieces
1 cup (240 milliliters) full-fat canned coconut milk
2 large bananas (mine were each 205 grams)
Directions
Blend everything together in a food processor, blender, or with an immersion blender.
Pour into ten 3-ounce popsicle molds and freeze for at least 4 hours.
To unmold the popsicles, let the mold sit at room temperature for about 15 minutes or run hot water around the molds.
As an Amazon Associate, I earn from qualifying purchases. For more info, see my disclosure.