Paleo ginger cookies that are super soft and chewy! Just as delicious, if not better, than a gluten-filled ginger cookie. They're also grain-free, gluten-free and dairy-free.
These paleo ginger cookies have the perfect texture! No funky gluten-free weirdness around here. I've made them so many times not just because they're so yummy, but because I keep eating them all before I can take pictures. I used a mixture of almond flour (almond meal would work, too!) and coconut flour. I find that this usually produces a nice chewy texture in cookies.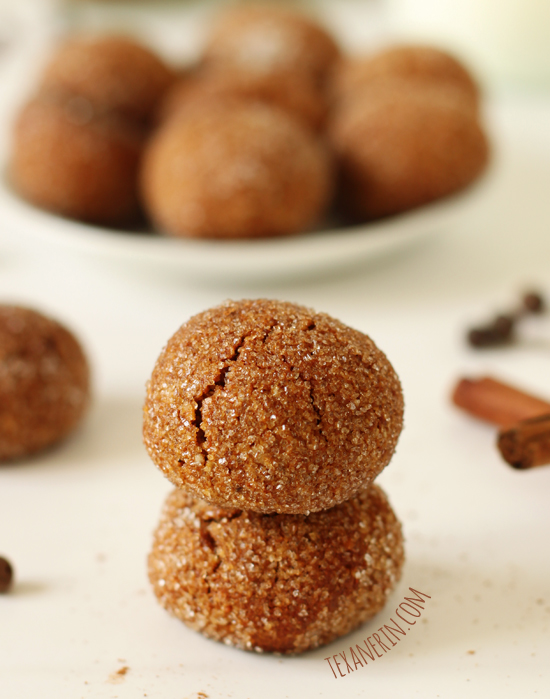 If you don't happen to have coconut flour, I really suggest buying some. It's not the cheapest flour but you only use a little bit at a time. I have my $10 container around for months and I bake with coconut flour a lot. But if you don't want to buy it or are really desperate for ginger cookies, these whole grain ginger cookies are amazing! But honestly, I prefer this grain-free version.
I love these ginger cookies plain, which is what you see here, but I've made them with crystallized ginger. And chocolate chips! And orange zest. One thing I haven't tried is white chocolate. I think that would be even yummier than with semi-sweet chocolate!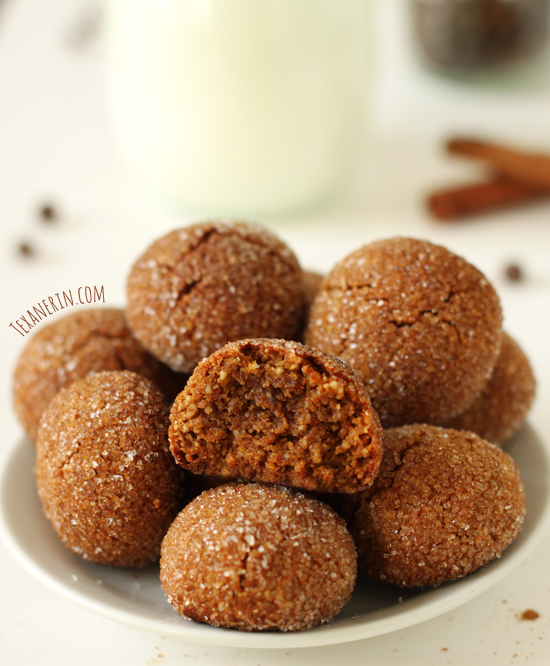 I rolled these paleo ginger cookies in granulated sugar just because I love the crackly crust it forms, but it's definitely not necessary. They're sweet enough without. :)
The outer crust of these (with raw sugar) is nice and firm and therefore perfect to give as a Christmas present! Or an everyday present. I doubt anyone would complain about receiving these during the other 11 months of the year. ;)
Sometimes grain-free cookies can be slightly sticky but rolling them in sugar solves that issue. Coconut sugar would work fine if you'd like to avoid the white stuff and keep these ginger cookies paleo!
If you prefer low-carb cookies, try out this amazing looking Low Carb Keto Cream Cheese Cookies Recipe!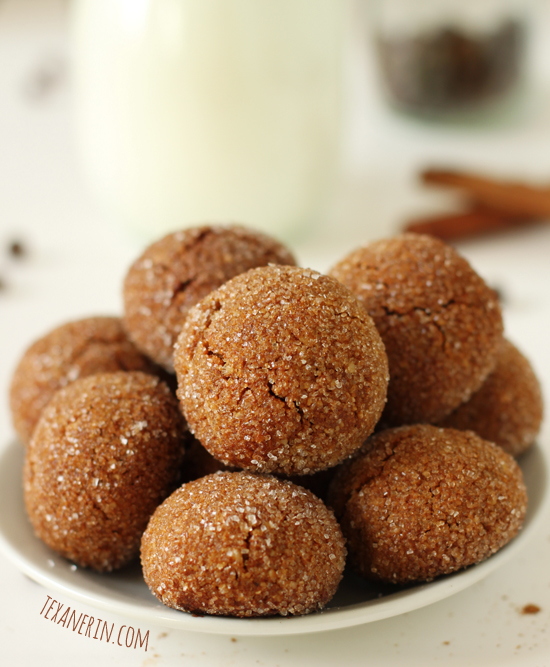 Looking for other gluten-free holiday cookies?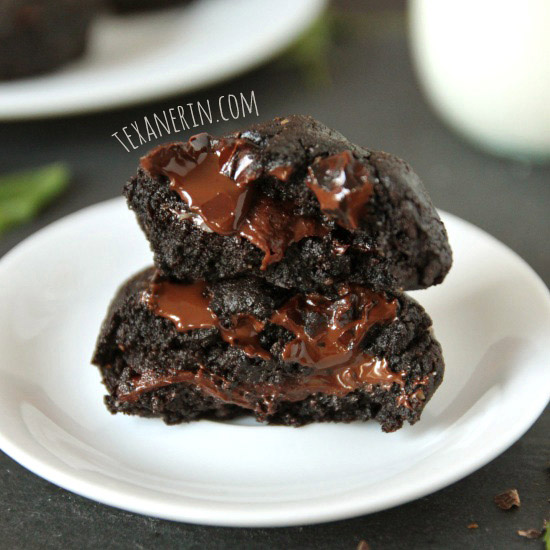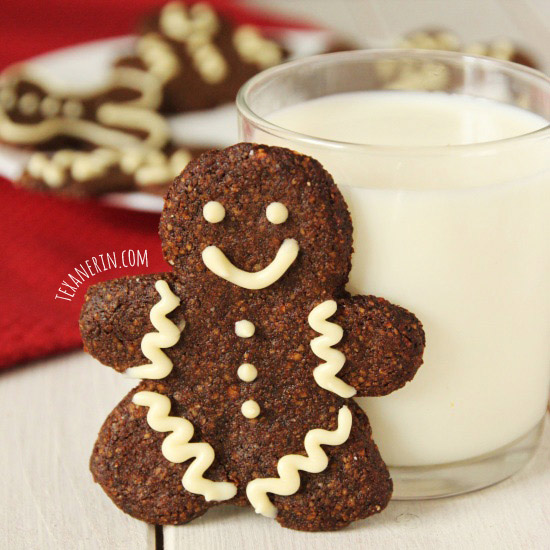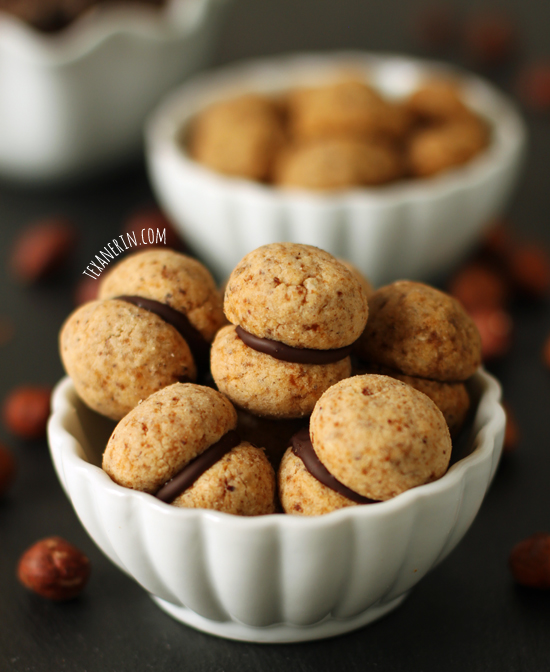 ❀
Chewy Paleo Ginger Cookies (grain-free, gluten-free, dairy-free)
Prep Time:
Cook Time:
Ready in:
Yield:

28 cookies
Ingredients
240 grams (~2 1/3 cups but please weigh!) almond flour or almond meal
1/2 cup (66 grams) coconut flour
1/2 teaspoon baking powder (use grain-free / paleo baking powder, if necessary)
1/4 teaspoon baking soda
1/4 teaspoon salt
2 teaspoons ground cinnamon
2 teaspoons ground ginger
1/2 teaspoon ground allspice
1/2 teaspoon ground nutmeg
1/2 cup (160 grams) honey
6 tablespoons (84 grams) coconut oil, melted
1/4 cup + 1 tablespoon (110 grams) molasses
2 teaspoons vanilla extract
1 large egg
coconut sugar, granulated or raw sugar, for rolling - optional (if you use coconut sugar, your cookies will look darker than mine)
Directions
Mix the dry ingredients (almond flour through nutmeg) in a medium bowl and set aside. In a large bowl, mix together the rest of the ingredients.
Add the dry mix to the wet mix and stir, just until combined. It will be like batter at this point. Chill in the refrigerator at least 30 minutes or until it's firm like regular cookie dough.
Preheat your oven to 350°F (176°C).
Form the dough into twenty-eight 1 1/2" balls. Roll in additional granulated or raw sugar, if desired, and place on a cookie sheet (I put mine on a Silpat) about 1 1/2" apart. There's no need to flatten them.
Bake for 14 minutes. They'll crackle a little (that's good!) and still be soft. Transfer the cookies to a wire rack to cool.
Store in an airtight container for up to 4 days.
As an Amazon Associate, I earn from qualifying purchases. For more info, see my disclosure.