This vegan tomato cream sauce is cashew-based, filled with garlic and basil and is made in a high-speed blender. It's also paleo, whole30 and keto-friendly.
This was my go-to recipe that I'd serve when we had vegan company over. I write this in the past tense because we haven't had anyone over for a whole year now.
That's depressing, right? But on a positive note, this sauce is amazing! And so easy.
First, you pour some boiling water over the cashews and let them sit for 10 minutes. Rinse, drain and then dump them and everything else into a high-speed blender. Blend for a minute or two.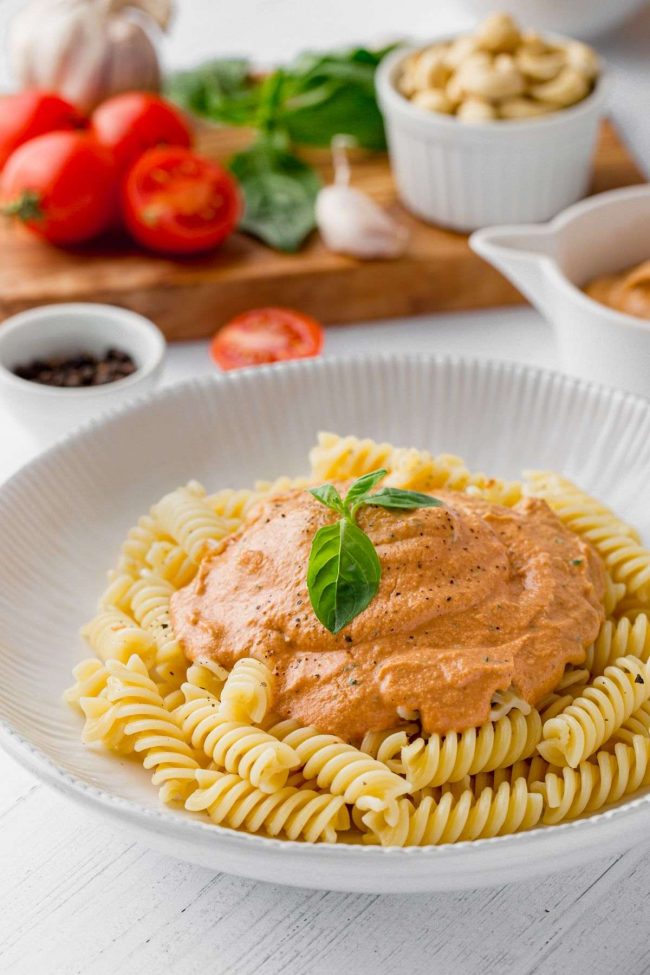 If you have a soup function on your blender, you can use that so that it heats up your sauce. Toss with some pasta and that's it!
It's so creamy and flavorful. Everyone I've served it to so far has loved it.
Cashews… really?
Before using cashews as a vegan replacement for cream, I thought it was a terrible, gross idea. I had even had some cashew-based treats from cafes that I thought were awful.
But the problem wasn't the cashews – it was the recipes! So if you've never made one of my cashew-based recipes, like these raspberry cream pies or key lime pies, try to have an open mind.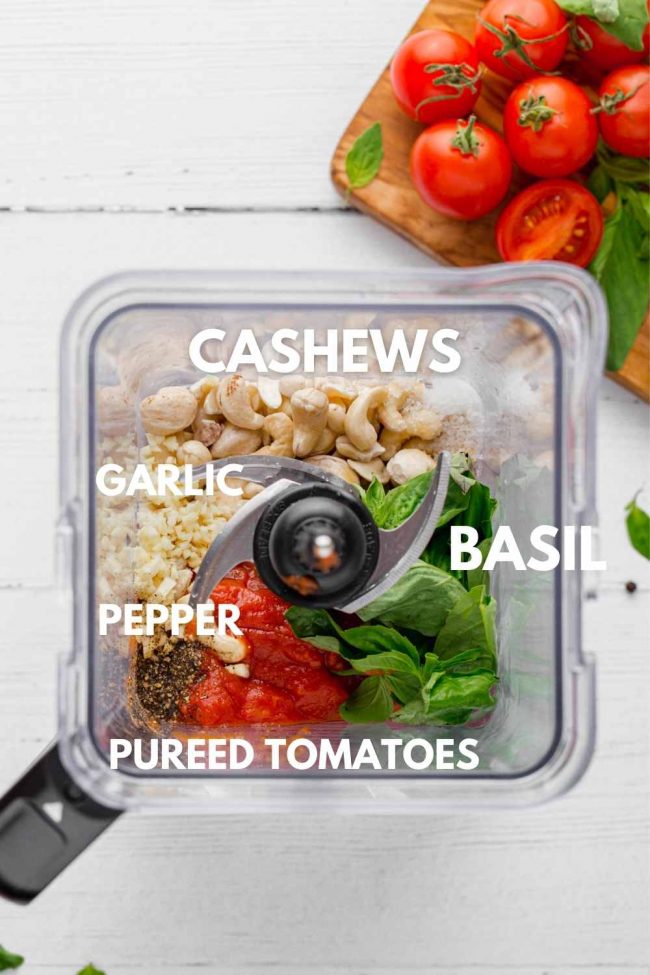 If you follow the directions for today's recipe, you'll have a totally smooth and creamy sauce.
If you skip the soaking or try making this in a normal blender or a food processor, then you can expect an unpleasant, lumpy sauce.
I'm very sorry that there's no alternative for this recipe. I know not everyone has a high-speed blender.
My Napoli sauce is vegan, but it's not creamy. You would have to add some vegan cream cheese or something to make it creamy.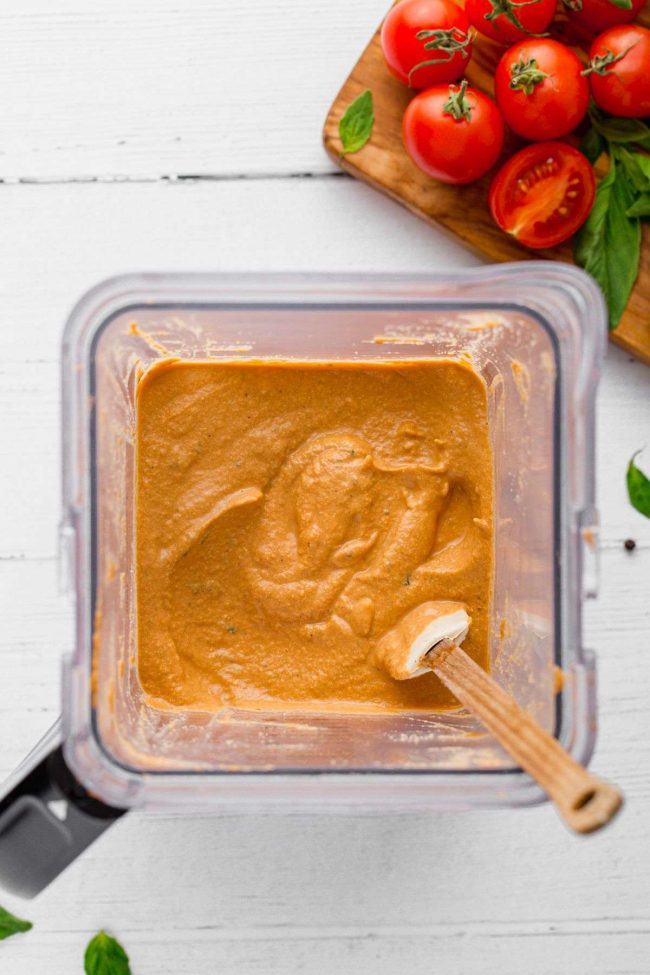 Soaking the cashews
You can do it the quick way for just 10 minutes. The purpose of that is to soften the cashews so that they blend easily.
If you have time to prepare, why not soak the cashews longer for some health benefits? More on that below!
Put the cashews in a large bowl.
Cover with water.
Stir in 1/2 teaspoon of sea salt.
Let them sit, uncovered, for 3 hours. Rinse and drain.
And if you're already familiar with soaking nuts, note that cashews have a shorter soaking time than other nuts. If cashews soak too long, they get slimy.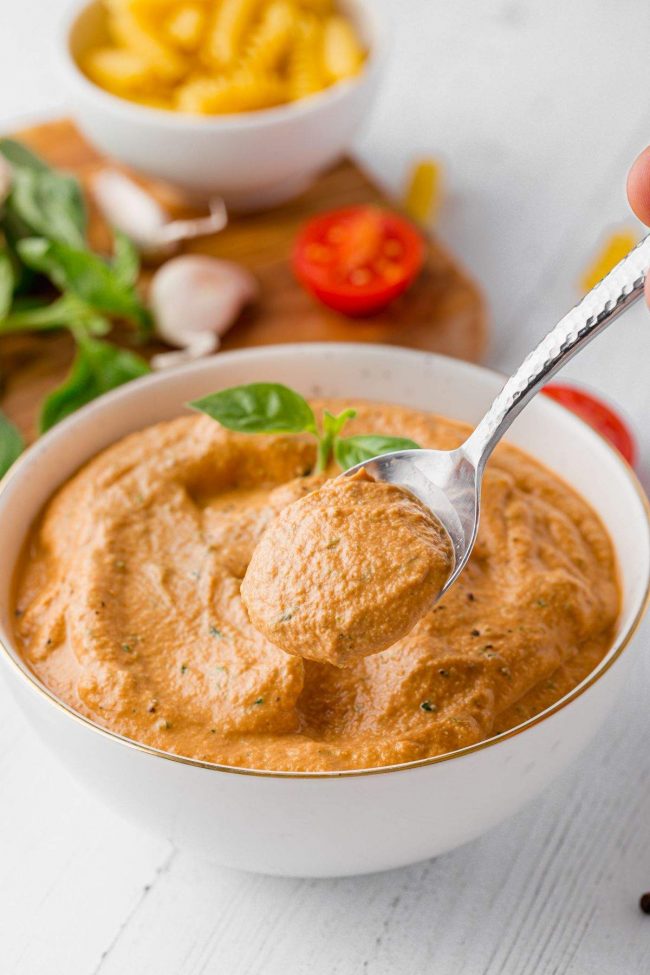 Benefits of soaking cashews
According to the experts, soaking raw nuts not only helps break the shell of the nut which aids in digestion, but also helps to better absorb nutrients.
The science behind this is that phytic acid that is found in nuts, seeds, and grains binds minerals in the digestive tract inhibiting the absorption of certain minerals. However, soaking nuts prior to eating can reduce the phytic acid up to two-thirds, making it easier to absorb the nutrients and easier to digest.
This is not to say that phytic acid is all bad. It has anti-inflammatory agents, helps to prevent cancer, and helps to protect from cardiovascular disease and diabetes.
So whether you soak or not, it all comes to balance. For this particular recipe, the benefits of soaking are not only for better absorption of nutrients but also for the ease of blending them into a creamy sauce.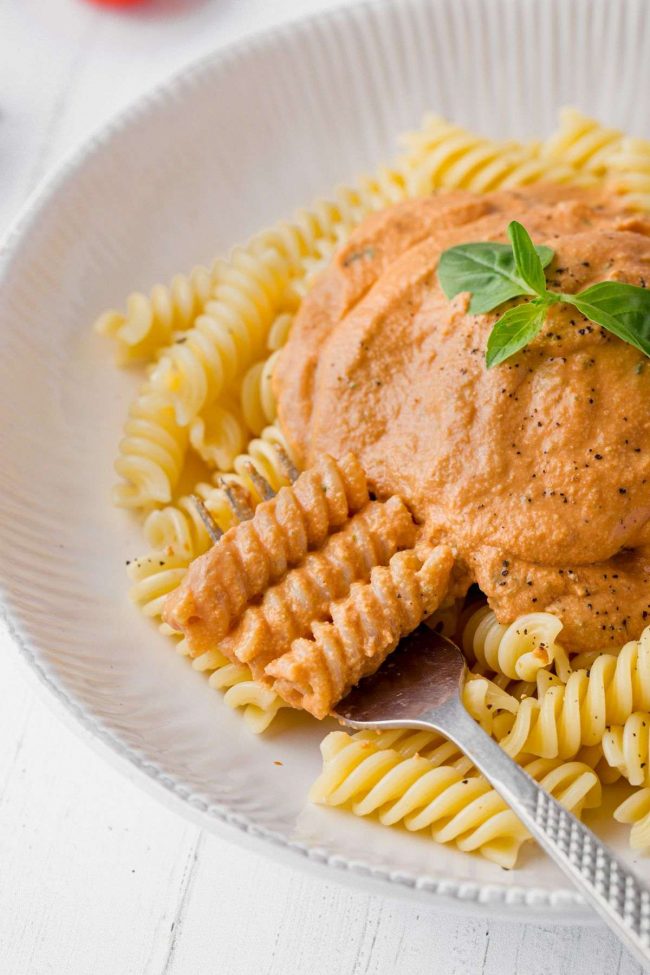 Freezes great
You can make a triple batch of the vegan tomato cream sauce in a Blendtec. It's quite full, but as long as you put the lid on tightly, it's fine and won't leak out or splatter.
I do this and then freeze most of it in silicone baby food containers. I put the frozen cubes in a bag and then take out two cubes for a quick lunch or dinner. It's especially useful whenever I have a little bit of pasta leftover.
You need to defrost it gently, though. Don't put the frozen cubes in the microwave at full power or they'll just burn.
The best method would be to thaw them in the fridge overnight. But I never plan that far ahead.
What I normally do is defrost them at 30% in the microwave and when they're half-way thawed, put them in the pot where the pasta was cooking and smash them up a bit with a fork.
But you can use any method you like, as long as it's gentle. If you put the sauce in a pot and put it on high, hoping that it'll heat up super quickly, you need to stand there stirring constantly.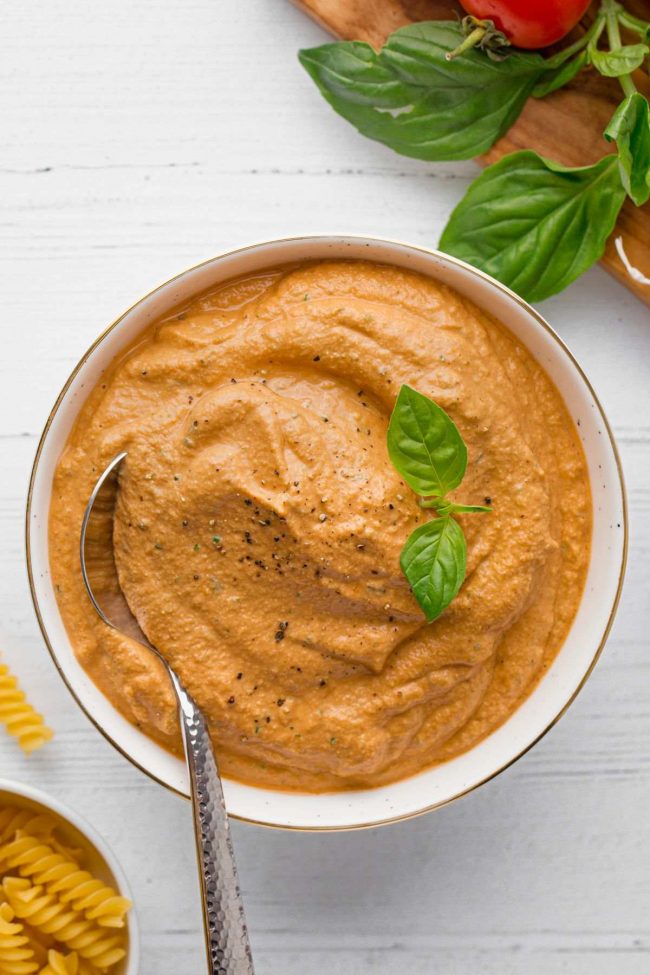 How to serve
I like my sauce really thick. If you don't, just add more water.
I normally like to load my pasta with cheese, but with the creaminess that the cashews add, it's not needed in this recipe.
For non-vegans – if you feel like you absolutely have to add cheese, I would add something with a lot of flavor so that you can actually taste it through all the other flavors. My favorite, Pecorino Romano, would be great.
For vegan, I wouldn't even bother with nutritional yeast in this recipe. It's really not needed! Save that for something else. Also, for another great vegan dish, try this vegan chow mein!
Paleo, keto, whole30 options
For paleo, I finally found Jovial Cassava Penne, and it is amazing with this pasta. It tastes just like traditional pasta!
For keto, you can use zucchini noodles or any brand of keto noodles.
For whole30, I believe that zucchini (or other vegetable) noodles are your only option. But they're still delicious!
Keto serving size
I looked at a bunch of other keto tomato sauce recipes to see what they were recommending as 1 serving. Each one listed nutritional info for a 1/2 cup serving.
So that's what I'm doing, too. So if you're keto, this is just tomato cream sauce can just be a side dish.
Here's the nutritional info. But first…
The following information is provided as a courtesy and is an estimate only. I'm not a nutritionist nor a dietician. This information comes from online calculators. Although I do everything to attempt to provide accurate nutritional information, these figures are only estimates. Be aware that varying factors such as product types or brands used can change nutritional information in any recipe.
Net carbs = 10.61 grams.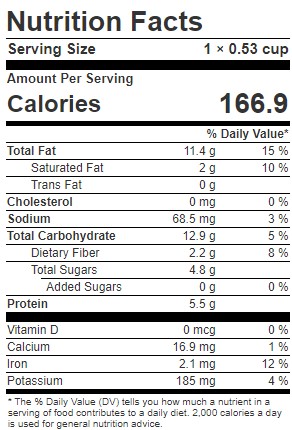 If you make this recipe, I'd love to see pictures of your creations on Instagram, Facebook and Twitter! Please hashtag them #texanerin so I can find them. :)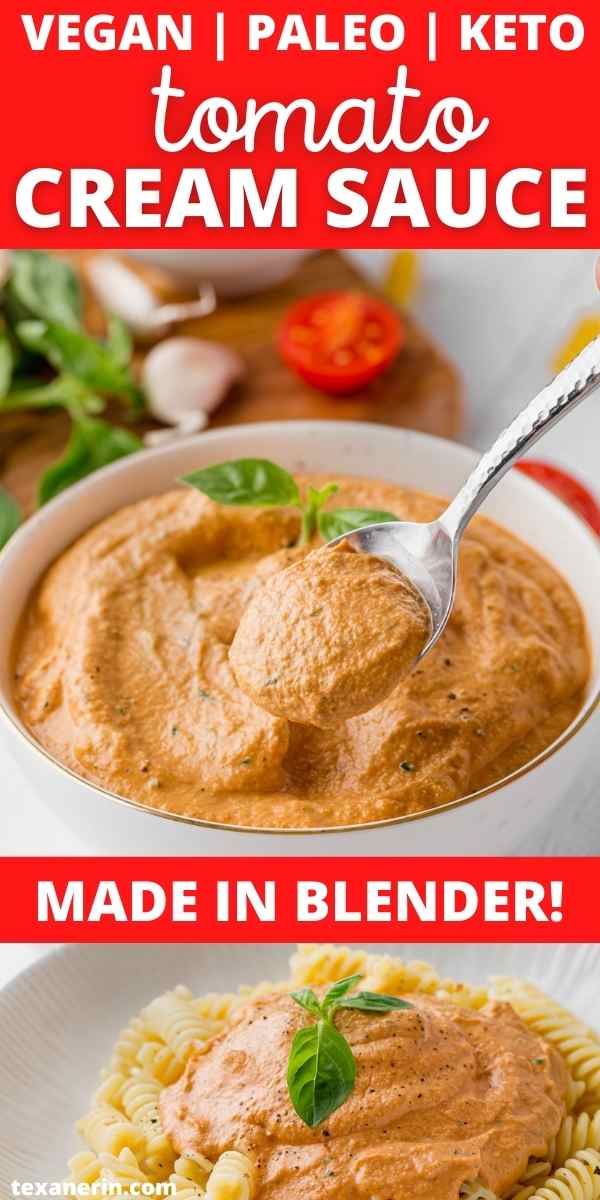 ❀
Vegan Tomato Cream Sauce (paleo, keto, whole30 options)
Prep Time:
Cook Time:
Ready in:
Yield:

~2 2/3 cups of sauce
Ingredients
1 cup (130 grams) raw cashews soaked in hot water for 10 minutes
1/4 cup (60 ml) water
1 14.5oz (400-gram) can of strained tomatoes or puree
1 1/2 teaspoons chopped garlic (this is about 1-2 cloves of garlic)1
1/2 cup (12 grams) fresh basil, divided + more to top finished pasta2
3/4 teaspoon salt
1/4 teaspoon fresh black pepper + more to top
3 1/2 cups of uncooked pasta (whatever type fits your diet) or zucchini noodles (from 3 or 4 medium zucchini)
Directions
Prepare the pasta according to the package and drain it.
Rinse and drain the soaked cashews. Place them, 1/4 cup water, the can of tomatoes, garlic, just 1/4 cup of basil, salt and pepper to a high-speed blender like a Blendtec.
Blend at high speed until creamy. If you want it hot, use the soup function. It only takes 1-2 minutes. Add the last 1/4 cup basil and blend for just a moment so that the basil isn't totally pureed. There should be some flecks of basil still.
Add more salt, if desired. Add more water, if desired.
Add the sauce to the pasta and stir until combined. Top with fresh black pepper and some basil leaves.
Notes
You can use just 2 teaspoons if you don't really love garlic.
I've used as little as 1/4 cup (6 grams) with great results.
Make sure to use the right noodles for your diet! For whole30, use zoodles. For paleo, use zoodles, cassava pasta or other compliant pasta. For keto, use zoodles or keto pasta.