Quick and easy, this lemon pesto pasta is perfect for a busy week night. Can be made gluten-free or 100% whole grain, if desired.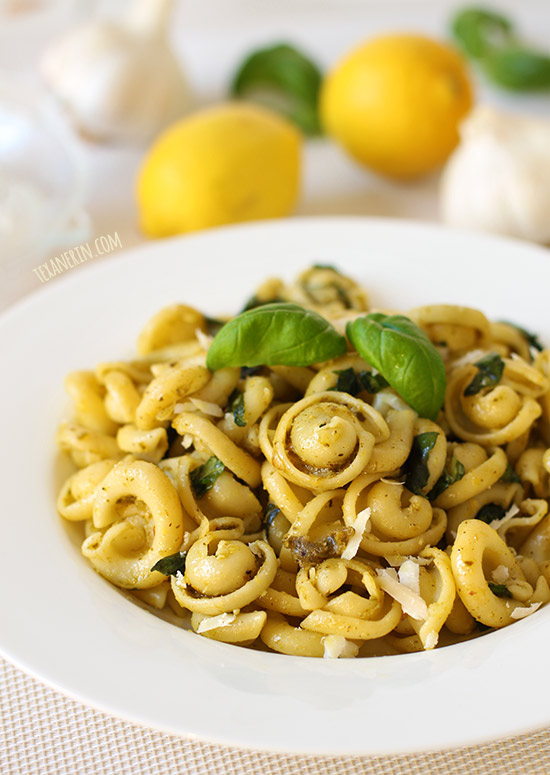 I know you all aren't wild about savory recipes but it's my birthday (the big three-oh!), meaning I get to do what I want. And today I want to share this awesome lemon pesto pasta recipe that I made for FoodFanatic with you. :D
We've had somewhat of a heat wave the past week. It doesn't get very hot here but when it does, it's miserable. Just like every other apartment and house in Germany, we don't have air conditioning. So when it's 95 degrees outside, all you can do is close the blinds, shut the windows and hope not to fry. So cooking and baking? Psh. No. Not going to happen!
Boiling some pasta isn't out of the question so I boil up a pot of pasta in the morning and make the rest of the recipe for lunch. Once the pasta is ready, it only takes 5 minutes from start to finish! Just what I need when it's too hot to do anything.
While you can eat this warm, I prefer it room temperature. Even cold is nice! That makes this my favorite pasta to bring to picnics. Actually, it's the only cold pasta I like. That makes it very popular with me. ;)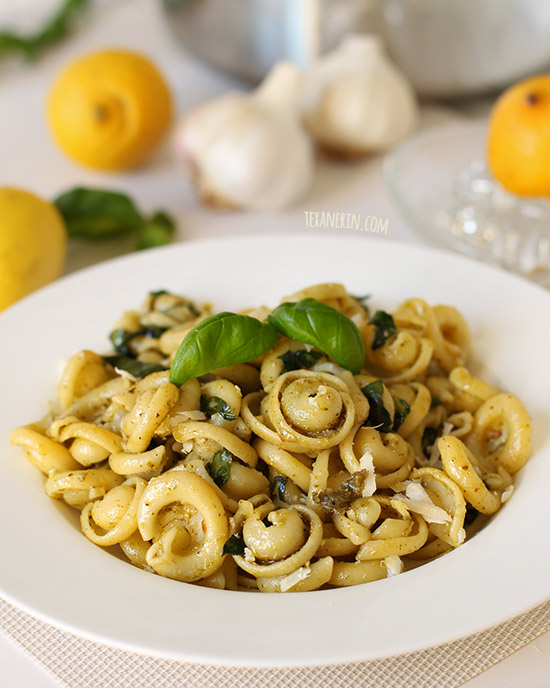 I adapted this recipe from Liz's lemony pesto pasta with peas. I added more cheese, some sauteed garlic, more pesto and obviously… got rid of the peas. ;)
This lemon pesto pasta can be made with gluten-free, 100% whole wheat or regular pasta. Whatever your family likes! While I normally use whole wheat pasta, I get wild with this one and use regular pasta. The lemon and pesto flavors aren't enough to cover up the whole grain taste and if you've got someone in the family who doesn't like whole grain pasta, you'll probably get some complaints.
I used this homemade pesto pasta recipe the first time because I was scared of trying store bought pesto (I can be odd like that sometimes). But at some point, I couldn't find any basil plants and had to buy store bought. I've now tried a few different brands of pesto and the deliciousness of this recipe depends almost entirely on the type of pesto you use! So buy a good one if you don't want to make your own.
As for me, I just got back from feeding the elephants! Mr. Texanerin planned the best surprise trip to the middle of nowhere to visit some elephants and it was awesome. Like I mention on my about page, I'm obsessed with elephants so it was really the best thing ever. :D
Now eat some pasta!