This Napoli sauce, aka Napolitana sauce, uses minimal ingredients and only needs to be simmered for 10-15 minutes. It's great on pasta, pizza and in pasta dishes like lasagna. This recipe is also naturally paleo, whole30-friendly and vegan.
Napoli sauce goes by many terms. In Italian, it's called salsa di pomodoro alla napoletana.
In English, it's also referred to as Neapolitan sauce, Napolitana sauce or Napoletana sauce.
What is Napolitana sauce? It's a super quick sauce made with just tomatoes, garlic, crushed red pepper, and basil.
It's also what Americans would call marinara. But marinara is a really confusing term.
I've been working on this post on and off for weeks because I was researching the term marinara and what it really means. It seems that in the rest of the world, marinara refers to a pasta dish with seafood.
If you read up on marinara, you'll find all kinds of stories and people arguing about what the real origins are. But I'm giving up on that research task because today's recipe is called Napoli sauce.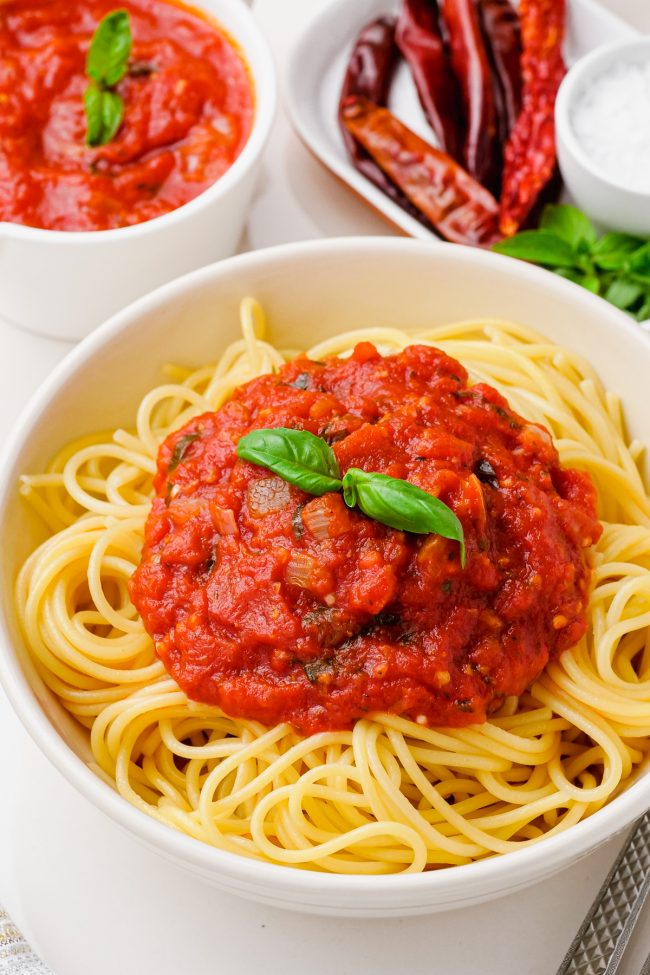 What that consists of and where it originates from (Naples) is clear. :) So now let's talk about the ingredients.
For the tomatoes, check out the questions section below where I talk about imposter San Marzano tomatoes and what brands are recommended. I just used store-brand organic canned whole tomatoes and was totally happy with the result.
When looking at Napoletana sauce recipes, I came across a few that called for a little bit of sugar to cut the acidity of the tomatoes. Using onion instead also does the trick. It also keeps this recipe naturally paleo and whole30-friendly.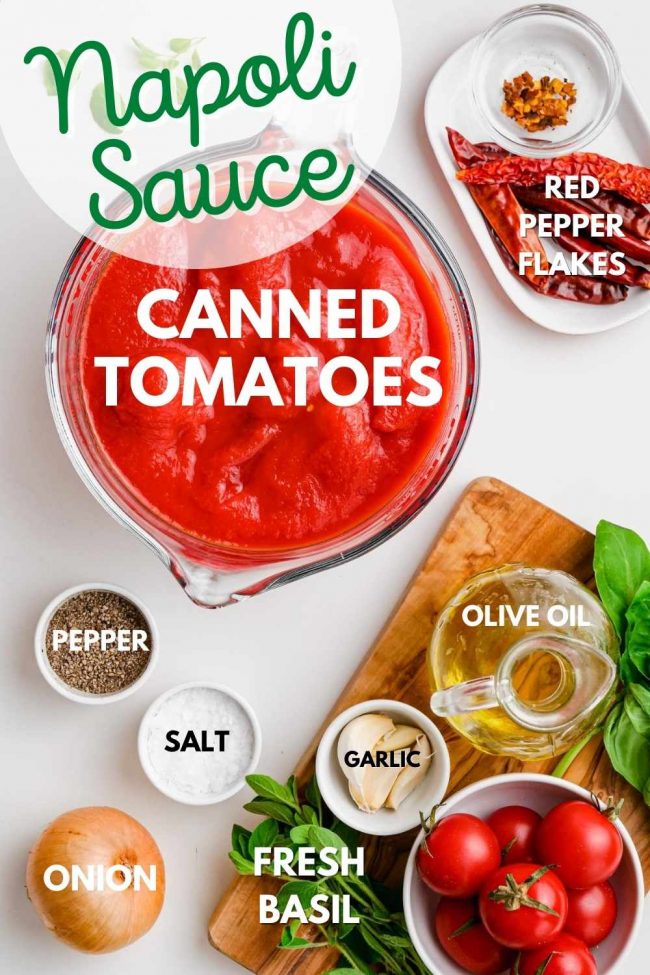 Some Napolitana sauce recipes use onion, some don't. I prefer to keep things as simple as possible and tried it without the onion but we preferred it with.
And to be honest, if I had used a bit of sugar, I feel like I would've gotten yelled at. I came across a lot of angry comments during my marinara research!
The difference between Napoli sauce and traditional tomato sauce?
While Napoli sauce is quick and tastes very fresh, tomato sauce takes more time and is more complex – in taste and method.
Just like marinara, it seems like there are a lot of different opinions on just what all is needed for tomato sauce. And of course, it varies from region to region in Italy.
But overall, I feel that it's safe to say that traditional tomato sauce usually uses pureed tomatoes, onion, celery, carrot, bay leaf and sometimes pork.
It has to simmer for hours to thicken and develop the flavors. The result is also sweeter than Neapolitan sauce.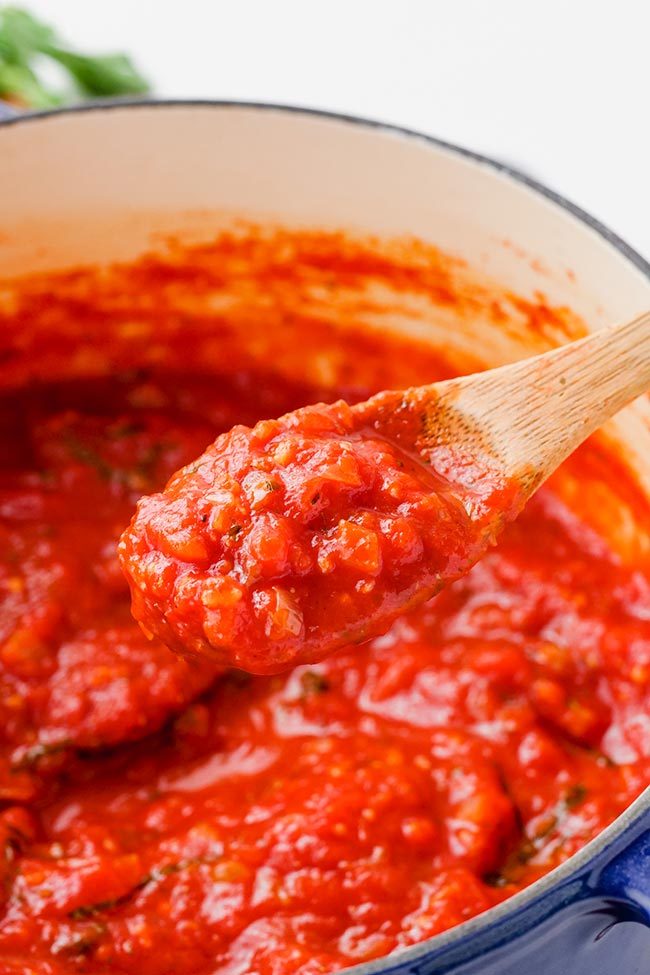 It's usually served over pasta and its thick texture makes it great for smothering foods, like chicken cacciatore. It's generally not used as pizza sauce.
To make things more confusing, products labeled as tomato sauce are usually marinara.
How to make Napolitana sauce:
Saute onion and garlic.
Add the rest of the ingredients.
Simmer for 10 minutes. Or maybe 15. It's up to you.
Yes, just 10-15 minutes! You're done. For another super simple pasta dish, check out my lemon garlic pasta or healthy alfredo sauce recipe.
And if you're looking for a delicious Italian dessert, try my Italian lemon almond flour cake.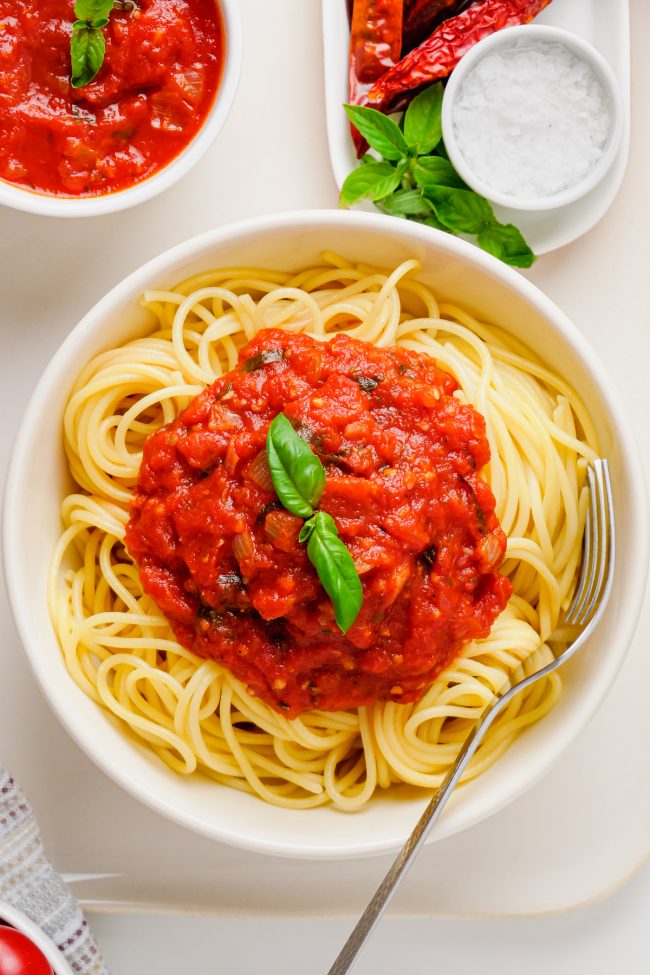 Questions about this recipe?
What kind of tomatoes should I use?

I had read that San Marzano (canned) tomatoes are the best. Again and again and again.

Then I read that most San Marzano tomatoes are really just imposters. Apparently, 95% of San Marzano tomatoes sold in the US are fake.

Then I found this article, in which Epicurious does a taste test. The surprise winner is Redpack (aka Red Gold) tomatoes! Right from the US.

For an organic option, it looks like Muir Glen San Marzano-style Whole Peeled Tomatoes would be the best to buy. They come from California.

To be honest, I just used store-brand organic canned tomatoes. And I loved the result.

Can I use fresh tomatoes?

I would recommend finding a different recipe for Neapolitan sauce that specifically calls for fresh tomatoes. You'd either have to blanch and peel the tomatoes or use whole unpeeled tomatoes but simmer longer and then possibly use an immersion blender or food processor.

How do I use Napoli sauce?

It's super versatile. You can use it over pasta, as pizza sauce (it'd be great on this margherita pizza!) or in lasagna or other pasta dishes.

Can I use something other than olive oil?

Olive oil is, of course, the traditional oil to use but you can use any fat you'd like.

Can I omit the onion?

Yes, but then you'll have to add a bit of sugar. How much, I don't know. Add a pinch at a time until the sauce is sweet enough.

Can I omit the garlic / oregano / red pepper flakes / black pepper?

Garlic adds so much flavor but if you're allergic, you can omit it. The other three you can omit if you must, without it making a huge difference.

But black pepper isn't authentic!!!

I know (I talked about it in my posts for Italian tomato salad and mozzarella bruschetta), which is why it's optional and specifically called out as non-authentic in the recipe. :) We tried this sauce with and without black pepper and preferred it with.

I assume most people want to make the recipe in the most delicious way, even if it means adding a tiny addition that isn't authentic.

Can I omit the basil?

This one I have to insist on. You need the basil! And it needs to be fresh. The result with dried basil tastes totally different and is not at all delicious, in my opinion.

Does it freeze well?

Yes, it freezes great.
If you give this Napoli sauce a try, I'd love to hear what you think!
❀
Napoli Sauce (aka Napolitana Sauce)
Prep Time:
Cook Time:
Ready in:
Yield:

~6 1/2 cups sauce
Ingredients
1/4 cup (60 milliliters) olive oil
1 cup (145 grams) onion, diced
3 tablespoons (about 6-8 cloves) garlic, peeled and minced
2 28-ounce (800-gram) cans whole tomatoes
2 teaspoons dried oregano
1/4 teaspoon red pepper flakes
1 1/2 teaspoons salt
1/4 teaspoon ground black pepper, optional and non-authentic but we preferred this sauce with it
20 basil leaves, chiffonade
Directions
Pour the oil in a large pot over medium heat.
Stir in the onion and continue cooking, stirring often, until the onion is soft. This takes about 5 minutes.
Add the garlic and cook, stirring often, another 1 minute.
Pour in the full contents of the cans and use a wooden spoon to break the tomatoes into pieces.
Add the remaining ingredients. Cover and bring to a boil, stirring occasionally.
Turn the heat down to keep it at a simmer. Simmer, uncovered, for about 10-15 minutes.
Let cool completely. Store in an airtight container in the fridge for up to 5 days. It can also be frozen for several months.