These cheese buns are stuffed with Gouda or cheddar cheese and are sure to be a hit! And there's only a 30-minute rising period, making this recipe super easy.
These are my favorite buns or rolls ever. They do involve yeast but they're SO simple. The dough is really easy to work with and requires only 30 minutes of rising time.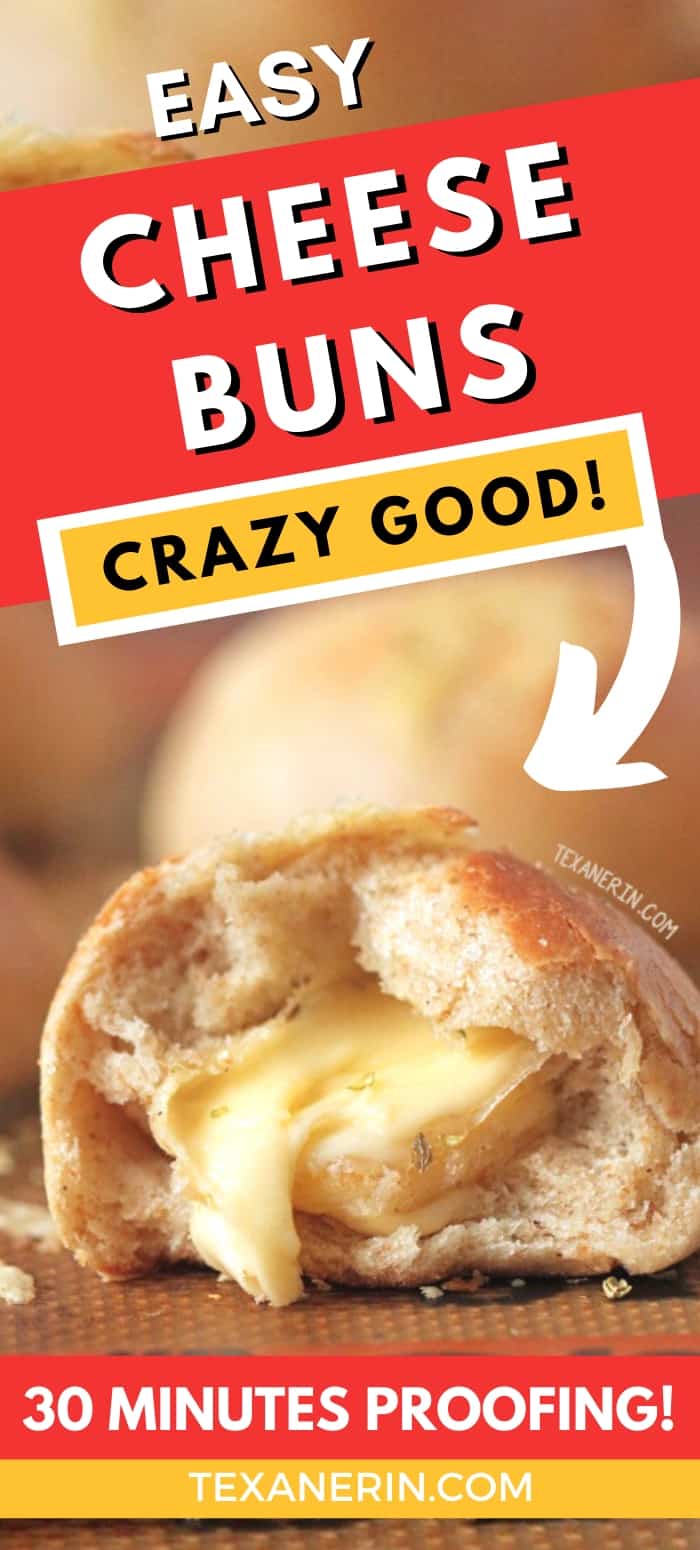 I've made these cheese buns oodles of times but once I made them for a party, didn't tell anyone what they were, and the looks on some of the peoples' faces were pretty funny when they bit into them. I saw one guy standing near the buns, looking so ponderously into the center of the bun. He was mesmerized.
Me: It's cheese.
Guest: I know. This is my fourth.
I think he ended up eating like, 7 of them.
They look so boring and plain, right? But then you bite into one and there's all that melty gooey cheese. It's bliss. And the bready part itself is light and fluffy.
With yeast recipes, I like to make the dough the night before and let it sit in the fridge overnight. That doesn't work with these. There's so much yeast in them and the next day, after baking, they taste like yeast. They don't just taste yeasty, they actually taste like you're eating a roll of yeast. So don't do that.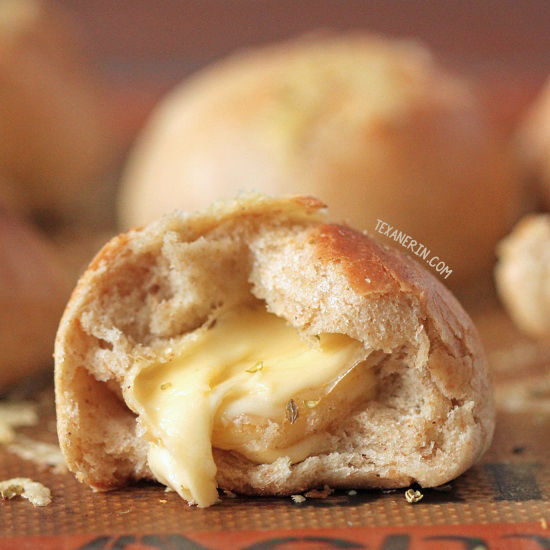 If you're having a party and are worried about timing everything, what you can do is put your first guests – the few that are actually on time – to work (am I the only one who does this?) Get the dough out, tell them to cut it into balls, and then they get to stuff them with cheese. And who doesn't love stuffing things? ;)
And these cheese buns are best right out of the oven. I wouldn't recommend them room temperature. They're just not nearly as good. But a quick reheat in the microwave will solve that!
I've used different combinations of flours: all all-purpose flour, 1/3 whole wheat and 2/3 whole wheat and they're all great. 2/3 whole wheat is perhaps too much if you don't like the taste of whole wheat but 1/3 is no problem. And I haven't even bothered with 100% whole wheat. I don't want anything taking away from that cheesy taste!
I think these cheese buns would be a fantastic addition to any Super Bowl party. Or any party. I mean… it's cheese and carbs. This Maple Cayenne Chex Party Mix would also be great!
Valentine's Day is coming up and I'm back in the mood for baking sweets. Finally! Expect to be bombarded with chocolaty goodness. Happy weekend and enjoy the Super Bowl (food) on Sunday!
❀
Cheese Buns (so easy and delicious!)
Prep Time:
Cook Time:
Ready in:
Yield:

20 buns
Ingredients
1 cup (235ml) warm water (somewhere between 105ºF / 40°C and 115ºF / 45°C)
2 tablespoons yeast
2 tablespoons sugar
2 teaspoons garlic powder
1/4 cup (56 grams) melted butter
1/4 cup (60ml) olive oil
2 teaspoons salt
2 cups (250 grams) all-purpose flour
1 cup (125 grams) more all-purpose flour or white whole wheat flour or whole wheat flour
8 ounces (225 grams) cheddar or Gouda cheese, cut into 3/4" chunks
1 cup (100 grams) shredded cheddar or Gouda, optional
2 tablespoons melted butter, optional
oregano, optional
Directions
In the bowl of your stand mixer, combine the water and yeast and let it sit for 10 minutes. Add the sugar, garlic powder, melted butter and oil.
Add the salt and flour, half a cup at a time, and mix with the dough hook of your mixer (or by hand). Knead on low for 10 minutes. The dough should not be sticky. If it is, add a little flour at a time until it's no longer sticky. Cover the bowl and let the dough rise in a warm place for 30 minutes.
Preheat the oven to 375°F / 190°C. Divide the dough into 20 pieces and place a 3/4" cheese chunk into the center of each piece. Pinch the edges tightly together.
Place the buns on a Silpat or parchment lined baking sheet, with the pinched side down. Sprinkle the buns with the shredded cheese, which I find unnecessary for the taste but it makes them look a little nicer. Bake for 11 - 15 minutes or until the buns are golden brown and the cheese is bubbly.
Remove from the oven and brush with melted butter and sprinkle with oregano, if you like, and serve warm.
Adapted from Peeta's Stuffed Cheese Buns