This homemade lasagna has homemade red wine sauce, a super creamy cheese filling and can be made with gluten-free, whole wheat or regular noodles.
I'm having one of those spells where nothing I make works. For weeks, I've had nothing but failures. Today I spent my day making a bundt cake, writing the post (because I was positive that the recipe was a winner), taking pictures and when I cut into the cake to take a picture of the inside, I found out that it waaay too moist. It just kind of collapsed.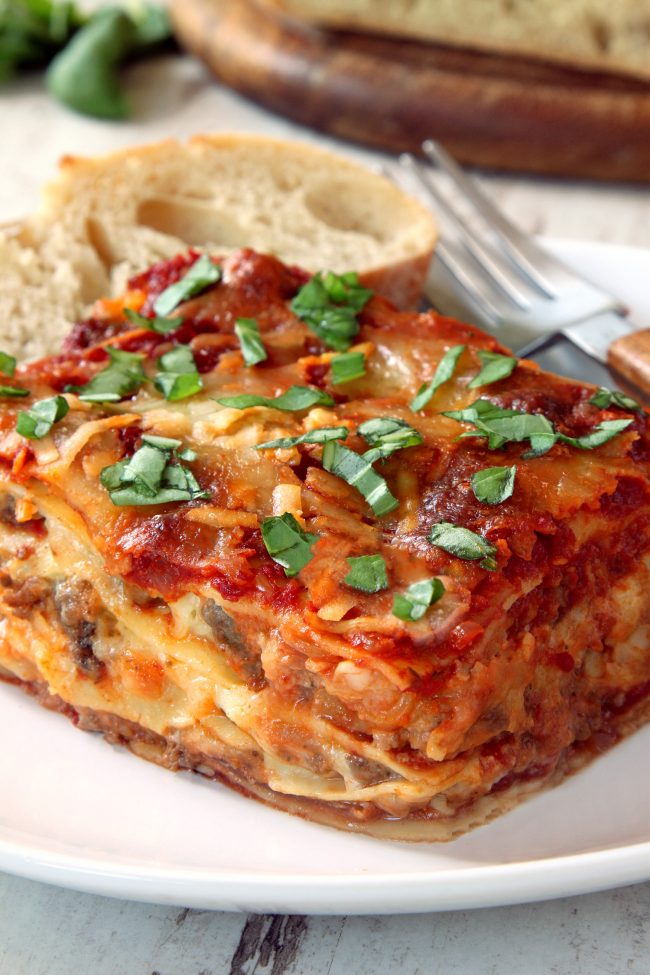 This homemade lasagna, though, is the total opposite of a failure. :) It's my favorite main dish ever. I could eat it every day.
I've been making this for years but rarely make it because it takes a ton of time. But it yields a lot! I always freeze a bunch and reheat it on busy days.
Since I so rarely make lasagna, I go all out and make homemade ricotta. All you need is milk, cream, lemon juice and salt!
It's incredibly easy and the result is so much more creamy and delicious than the store-bought kind. I make the ricotta the night before I prepare the lasagna so that I have one fewer step to do the next day.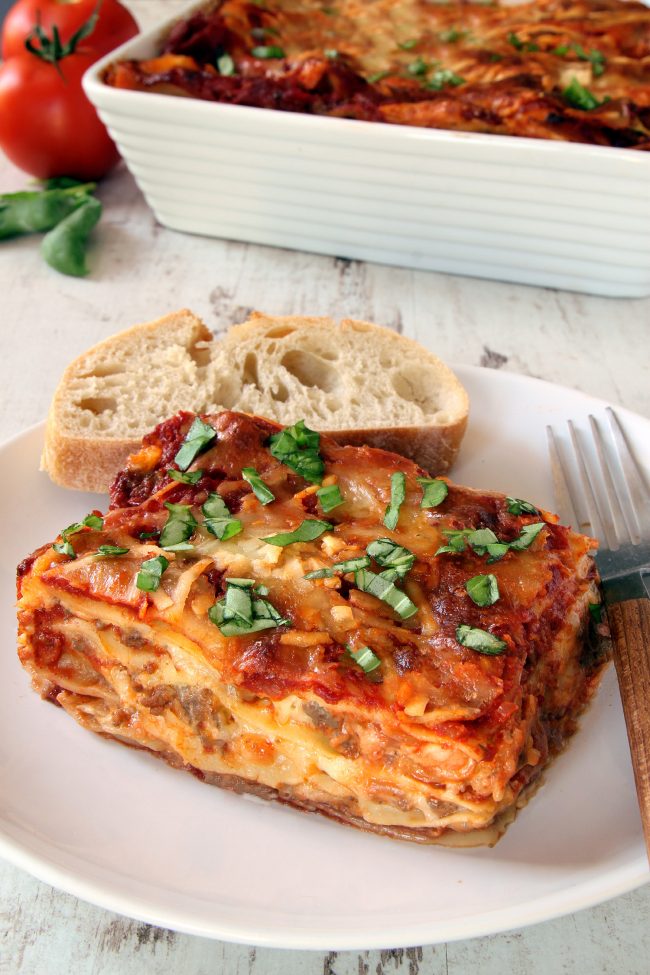 I've also made it with homemade lasagna noodles but then it becomes absurdly time-consuming. That's saved for anniversaries and other special occasions!
One thing I've started doing recently is adding an egg to the cheese mixture. I had always wondered why anyone would want to add egg to lasagna.
I was thinking that it'd make it eggy, which didn't sound very nice, but maybe that it'd help firm up the cheese, making the lasagna easier to cut. Surprisingly for me, it wasn't easier to cut but the cheese layer was even creamier than usual.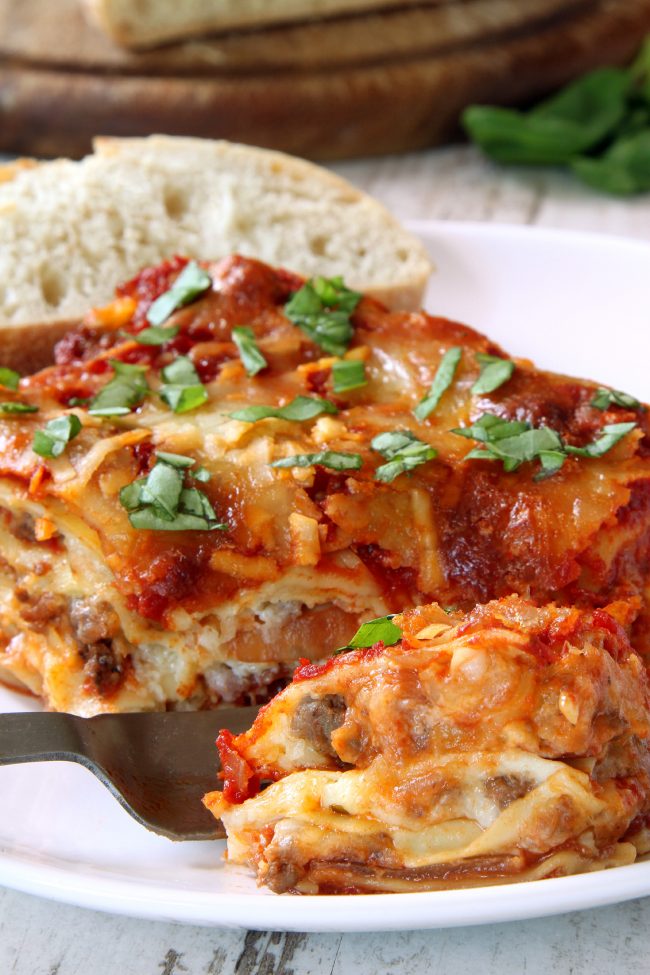 Definitely give it a try if you haven't before!
There's a range in the number of lasagna noodles listed due to the different sizes. If you use the really long lasagna noodles that fit the width of a casserole dish (about 13″ long), then you'll only need 12 noodles.
If you use the shorter noodles, you'll need 16. If you only have access to the thicker kind of noodles that you have to boil, you may want to consider only using three layers of noodles, as opposed to the four called for in this recipe.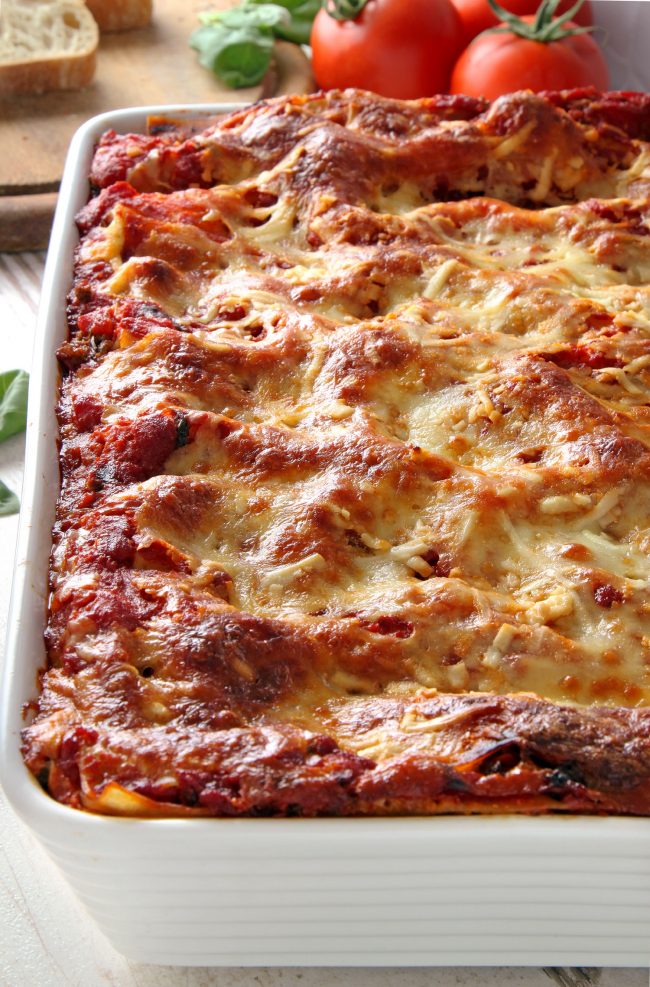 You'll also, of course, need to boil the noodles first. And you can use gluten-free, whole wheat or regular noodles. I've used them all and they're all great. For grain-free, you could try these lasagna noodles! I've heard great things about them.
I used a 9-inch x 13-inch x 3-inch pan and it was just large enough for this homemade lasagna recipe. If you have a dish that's slightly bigger than that, use it, just to be on the safe side. I definitely don't recommend using a smaller one!
If you need a grain-free version, try this awesome looking keto and paleo lasagna!
❀
Classic Homemade Lasagna (gluten-free, whole wheat options)
Prep Time:
Cook Time:
Ready in:
Yield:

8-10
Ingredients
For the sauce:

1 tablespoon olive oil
1 1/2 cups (200 grams) diced onion
1 1/2 tablespoons (15 grams) minced garlic
1/8 teaspoon red pepper flakes
2/3 cup (158 milliliters) red wine
1 28-ounce (794-gram) can diced tomatoes, undrained
1 14.5-ounce (411-gram) can diced tomatoes, undrained
1 6-ounce (170-gram) can tomato paste
1 1/2 teaspoons dried parsley
2 tablespoons (7 grams) chopped fresh basil
1 1/4 teaspoons salt

For the meat:

1 1/2 pounds (680 grams) ground beef
1/4 teaspoon salt
1/4 teaspoon pepper
1 1/2 teaspoons dried Italian seasoning

For the cheese mixture:

1 15-ounce (425-gram or 1 3/4 cups) container ricotta cheese or homemade ricotta
4 cups (453 grams) shredded mozzarella, divided
1 1/4 cups (120 grams) grated Pecorino Romano or Parmesan cheese, divided
1 egg (50 grams, weighed out of shell)
1/4 teaspoon salt
1/4 teaspoon pepper
12-16 no-boil lasagna sheets (enough for 4 layers of noodles)1
Directions
Prepare the sauce:

In a large pot over medium heat, cook the onion in the olive oil until the onion is softened, about 6-9 minutes. Add the garlic and cook for another minute. Add the red pepper flakes and red wine and cook for about 3-5 minutes or until most of the wine has been absorbed. Add the remaining sauce ingredients and simmer over low heat for about 15-20 minutes, stirring occasionally. Add more salt to taste. Remove from the heat and let cool while preparing the rest of the lasagna.

Prepare the meat:

In a large skillet over medium heat, add the ground beef and sprinkle the salt, pepper and Italian seasoning over the top. Break up the meat, stir, and cook until browned, stirring occasionally. Drain the fat and set the meat aside.

Prepare the cheese mixture:

In a medium mixing bowl, mix together the ricotta, 3 cups (340 grams) shredded mozzarella, 1 cup (96 grams) Pecorino Romano, egg, salt and pepper until thoroughly combined. Set aside. Mix together the remaining 1 cup (113 grams) mozzarella and 1/4 cup (24 grams) Pecorino Romano in a small bowl. Set aside for topping the lasagna. Preheat the oven to 350° F (175° C).

Assemble and bake the lasagna:

Spread slightly more than 1 cup of tomato sauce over the bottom of a 9″x 13″ x 3″ baking dish. Cover with a layer of lasagna noodles, overlapping them just by a little bit. Add another 1 cup sauce, then 1/3 of the meat, followed by 1/3 of the cheese mixture. Add another layer of lasagna noodles and gently press down to compact the first layer. Repeat two more layers, gently pressing down each layer, and top off with the remaining sauce and reserved cheese. Bake for 30-40 minutes or until the edges are bubbling and the cheese has browned. If you don't want the cheese thoroughly browned, cover the lasagna before baking and remove the foil for the last 10 minutes.
Let the lasagna sit for 10-15 minutes before serving.
Notes
If you are using traditional dried lasagna noodles that must be boiled, first boil them to an al-dente texture and lay them out on tea towels to dry slightly before proceeding with the recipe as directed.
Source: My post on Gluten-free on a Shoestring – Gluten-free Lasagna