These raspberry lemon bars have a creamy, honey-sweetened filling and a buttery 100% whole grain crust!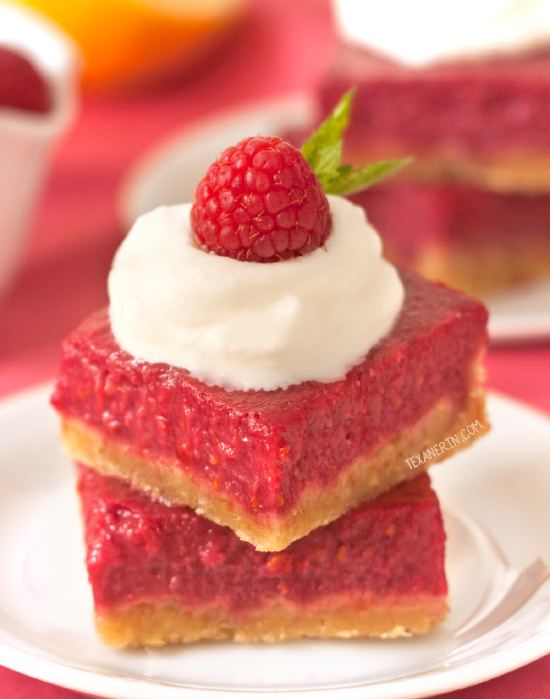 I can't get over it. These raspberry lemon bars are ridiculously delicious! Nobody will have a clue that they're made a little healthier – and loads healthier than some other raspberry lemonade bars that call for Jell-o. I don't think I can ever go back to boring old lemon bars. These are so creamy and that crust… it's not a normal crust. It's a buttery cookie crust.
I'd been trying to come up with my own honey sweetened lemon bars recipe since January when I was experiencing some winter denial. They were all catastrophic disasters. It was a sad situation and much honey was sacrificed.
So when I saw this recipe from Food Doodles the other day, I pounced. If you prefer a lemon version, she also has a honey sweetened lemon bar recipe!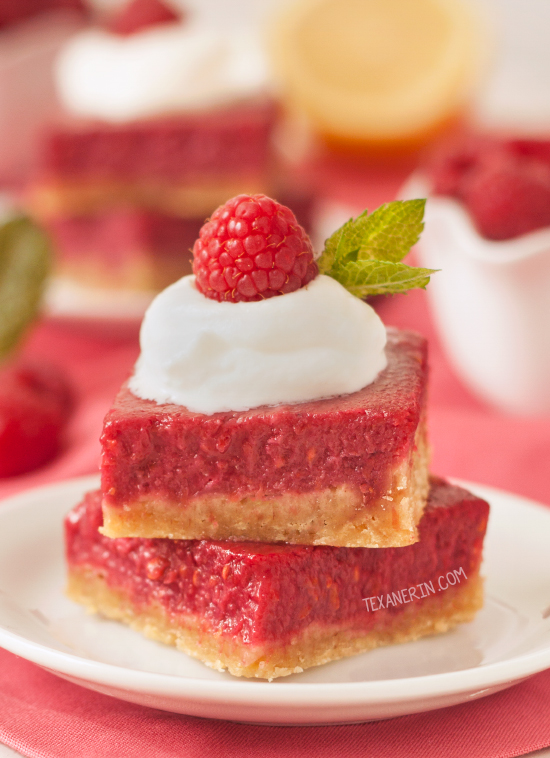 I could never use fresh raspberries in something baked like this. They're just too precious. And expensive! So if you can find them frozen at a decent price, grab some and make these raspberry bars!
And I realize it's really hot in some areas but these bars are really worth it. Just do your baking in the morning, let them chill until lunch, and then you can feast on these when it starts to warm up. That's a brilliant plan, yes? :)
This recipe also halves wonderfully. Use a 9″x5″ loaf pan and bake the crust for 15 minutes and then the filling for 20 minutes. Having these bars just sitting in the fridge, calling my name, was a bit like torture so it's a good thing I only made half.
Raspberry Lemon Bars – 100% Whole Grain and Honey Sweetened
Prep Time:
Cook Time:
Ready in:
Yield:

16 bars
Ingredients
Cookie crust:

1/2 cup butter, room temperature
1/2 cup raw sugar or granulated sugar
1 teaspoon vanilla
1 tablespoon lemon zest
1/8 teaspoon sea salt
1 cup + 2 tablespoons whole wheat pastry flour

Raspberry lemon filling:

4 large eggs
1/4 cup white whole wheat or whole wheat pastry flour
1/2 cup liquid honey
2 tablespoons lemon zest
1/2 cup freshly squeezed lemon juice
scant 1 cup raspberry juice and pulp (from approximately 2-2 1/2 cups frozen berries)
Directions
Preheat oven to 350 degrees F (175 degrees C).
Line an 8"×8" pan with parchment paper or spray the pan with cooking spray.
In a medium bowl, cream together the butter and sugar until light and fluffy.
Add the vanilla, lemon zest, salt and 1/2 cup of the flour. Mix well and then add in the rest of the flour.
Continue beating until well combined (it's okay if it's crumbly).
Press onto the bottom of the pan and bake for 15 - 17 minutes until it just starts to brown around the edges.
Remove the pan from the oven and let cool while preparing the raspberry lemon filling.
Thaw raspberries and then puree them in a food processor or immersion blender.
Press the raspberries through a food mill or a small sieve. Try to remove most of the seeds.
Measure out 1 cup of puree (slightly less than 1 cup is also okay). Set this aside.
Place the eggs and whole grain flour in a large bowl and whisk until no lumps remain. Be sure to get out all the lumps now because it will be difficult later!
If your honey is solid, gently warm it in the microwave so that it's pourable. Add the honey to the egg and flour mixture and stir.
Add the lemon zest and lemon juice and whisk until well combined.
Stir in the raspberry puree and mix until thoroughly combined.
Pour the raspberry mixture over the crust and bake for 28-30 minutes in the 350 degree oven. The filling should be mostly set, but the middle might jiggle a little. It will continue to set while cooling.
Cool the bars completely and then place in the refrigerator to chill for another 2 hours before cutting.
Store covered in the refrigerator for up to 5 days.
Adapted from Whole Grain Honey Sweetened Raspberry Lemonade Bars – Food Doodles