These vegan matcha cookies are filled with chocolate chips, are naturally green, and have the perfect texture! With an easy gluten-free option. I also tested them with 6 brands of matcha and share the results below.
I actually wanted to post this recipe for Christmas, but I just realized they'd make for a great Halloween treat! Kids will absolutely love them as long as they don't mind the taste of matcha.
Can you taste the matcha?
The first time I tried these cookies with ceremonial matcha, I thought that they had ZERO matcha flavor. All I tasted was a totally normal chocolate chip cookie.
I thought, "How cool! I can list a brand that yields zero matcha taste and try other brands to find one that will give some matcha flavor."
That first brand was Midori Spring, which I can get here in Germany and is also available on US Amazon.
Then I ordered 5 more brands from the US.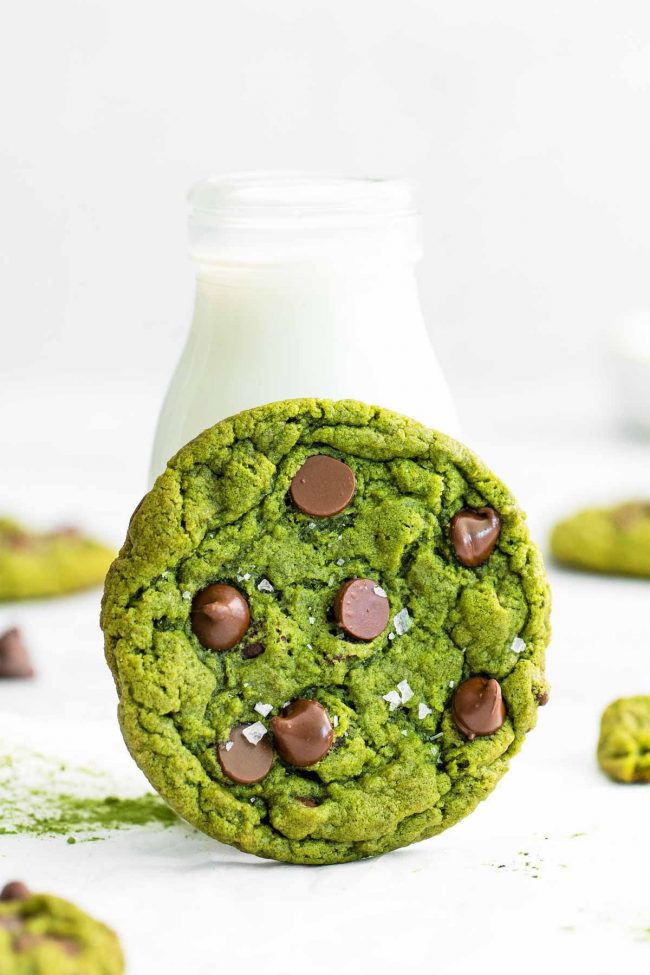 I tested all 6 brands at the same time, and… the cookies all taste of matcha! Including the ones made with Midori Spring.
So my test was for nothing. I had originally made the cookies when I was having some allergy issues and apparently didn't realize my taste was off.
So now on to the opinions on how strong the taste was.
My 5-year-old loved these and didn't even notice the matcha flavor. All he saw was green! However, he never gets normal chocolate chip cookies like these, so he's not the best judge.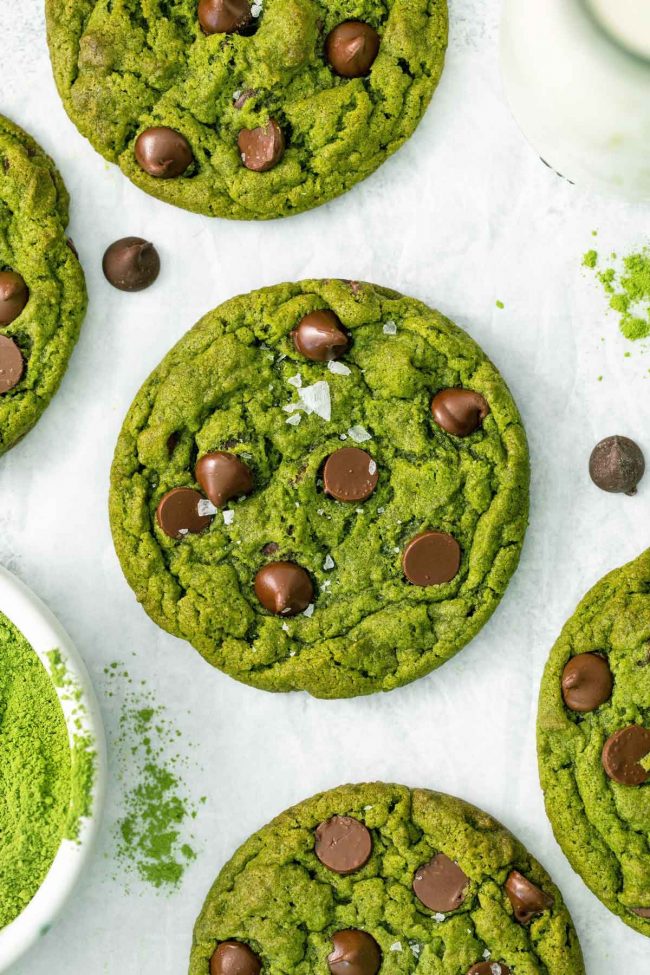 My husband said they have a strong matcha flavor.
I thought that the taste was mild. So I asked my photographer.
She used Midori Spring in these cookies, and she said, "I thought they had a subtle earthiness, but it didn't scream matcha to me. They definitely didn't taste 100% like normal chocolate chip cookies, but they looked more matcha-y than they tasted. I think I should clarify that I don't love matcha, but I still liked the cookies – so maybe that means they weren't super matcha-y."
If you omit the chocolate chips, they taste super matcha-y. If you use the amount of chocolate called for, the taste is much less noticeable.
So, in summary: 1) Don't make these cookies if you don't like matcha flavor. 2) How strong you find the matcha flavor will depend on your tastebuds. ;) And if you do love matcha, check out my Matcha Cheesecake and Matcha Cake Recipe.
And if you've never had matcha before and don't know what it tastes like, you can find out more here → What Does Matcha Taste Like?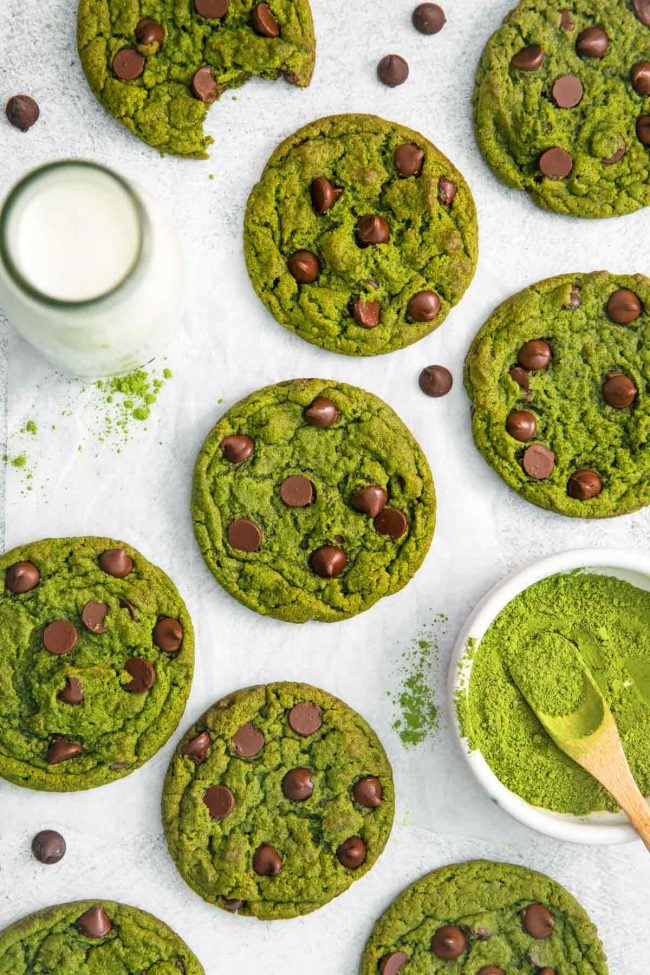 Ingredients
Vegan butter or refined coconut oil – as always, I recommend using refined coconut oil unless you want some coconut taste. If you're not vegan, regular butter works great.


Granulated + brown sugar – I really recommend using these instead of coconut sugar. More on that below!


Applesauce – you can't taste the applesauce at all. If you don't have any on hand, there's more about this at the bottom of the post.


Matcha – most of this post is about what type of matcha to use, so keep reading. :)


Flour – you can use regular all-purpose flour, white whole wheat flour or a gluten-free baking blend. King Arthur Flour Gluten-free Measure for Measure Flour and Bob's Red Mill Gluten-free 1-to-1 Baking Flour both work.

I thought the texture was better with King Arthur – they didn't taste at all gluten-free. The ones with Bob's were slightly sandy.

If other brands of gluten-free flour work just as well, I can't say for sure.

But whatever brand you choose, it should be a 1:1 replacement for all-purpose flour. So, that means not almond flour and not coconut flour.

The photographer used regular all-purpose flour in these cookies, and in my cookie comparison photo below, I used King Arthur's GF flour. You can see that the cookies are a bit thicker than with all-purpose flour, which is definitely not a bad thing. They came out absolutely perfect. :)


Chocolate – make sure to use vegan chocolate!


Vanilla, baking powder, baking soda and salt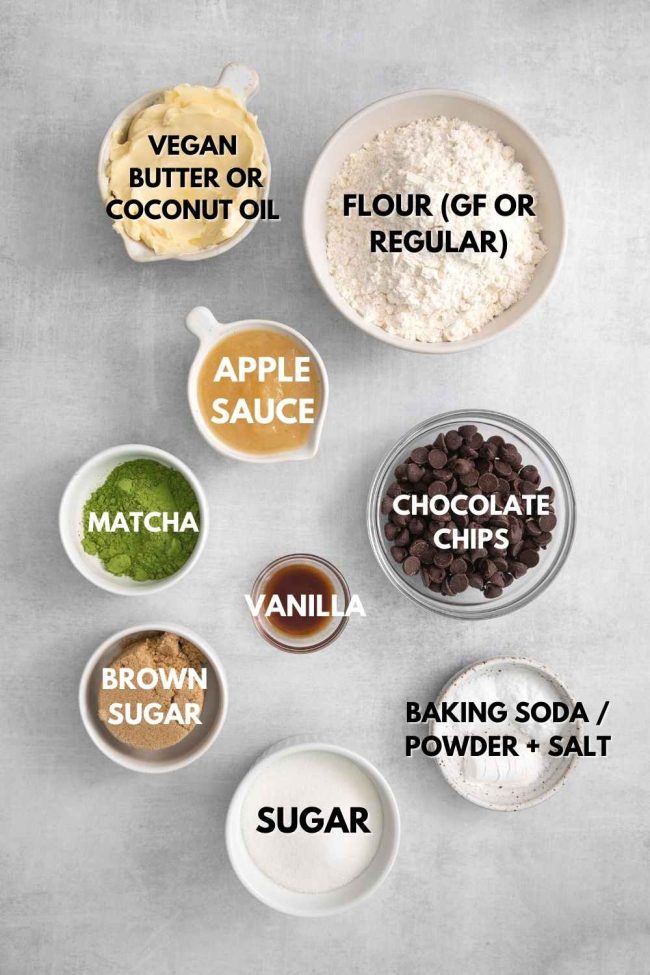 Matcha types
There are two main types of matcha.
Ceremonial: this is at the top of the matcha quality hierarchy. It's a bit more nuanced and subtle than the other type of matcha – culinary grade.


Culinary: right under ceremonial comes culinary grade matcha, and there are 5 subtypes here: premium, café, ingredient, kitchen and classic. Premium, the type of culinary matcha I've used in my little experiment below, is slightly more bitter than ceremonial, but not by much.
When I make this Iced Matcha Latte (Starbucks Copycat), or any matcha drink, I use premium grade matcha. Ceremonial is just too expensive to use on a regular basis.
For baking, I only use ceremonial.
Which matcha is best for baking?
When researching what type of matcha to use for baking, you'll find opinions vary depending on where you're looking.
Baking bloggers seem to recommend ceremonial. Matcha companies say to use culinary for baking.
Matcha companies will also tell you that ceremonial is too expensive and the flavor too delicate to bake with.
I see their point. It IS expensive, but you can definitely taste the matcha.
The problem with culinary matcha is that the color is greenish brown. If you don't care about the color, then you can certainly go with culinary. But be warned, it's a little more bitter than the other two types.
If you want the pretty green color you see in the photos here, you have to use ceremonial.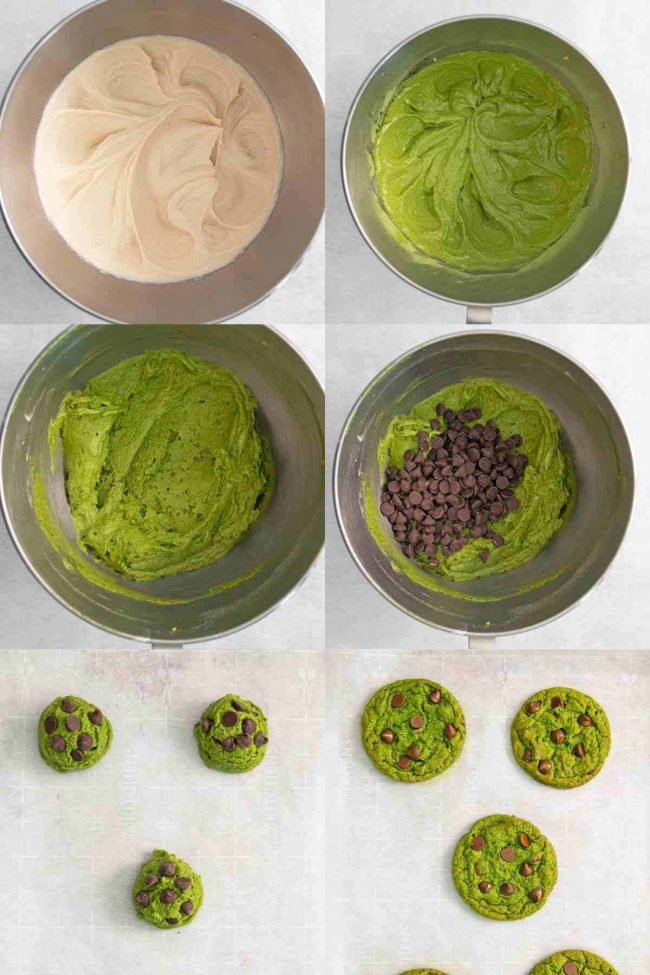 I think that some people who bake with culinary matcha are editing their photos a huge amount and/or using green food coloring. I've tried so many matcha recipes and so many different brands of matcha, and that green color is not happening with just culinary matcha.
These photos weren't edited to make the green extra vibrant. That's how they really look!
I should say, if you're using Firefox mobile browser, the cookies might appear more vibrant than they really are because all photos in that browser look oversaturated. This could be true for different browsers and monitors. I have one laptop where absolutely everything looks way more vibrant than it does everywhere else.
Anyway. I did some searching on Amazon to find the highest-reviewed ceremonial matcha that doesn't cost approximately a billion dollars per pound.
And I found Midori Spring Ceremonial Matcha. The price and reviews were great.
6 matcha brands compared
As I mentioned above, I ended up buying 5 more brands to try out.
I tested 4 ceremonial and 2 premium culinary matchas in these cookies. Each ball of cookie dough was 67 grams.
I couldn't tell the ceremonial cookies apart by taste.
And the color was also very similar. I'm pretty confident that you can use any brand of ceremonial matcha in these cookies with great success.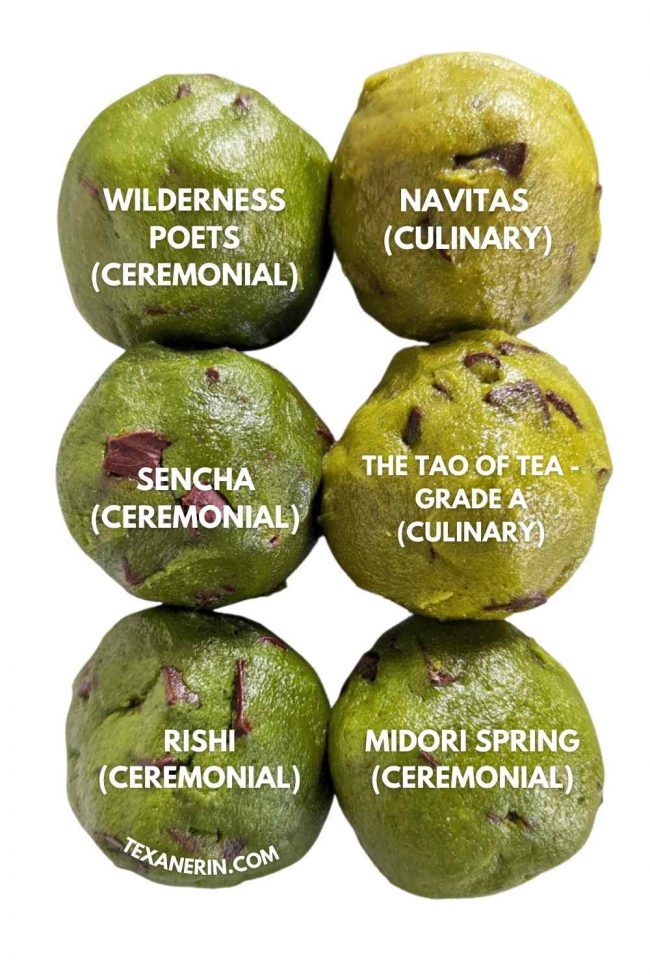 The cookies with culinary matcha looked very different. They were a not-very-pretty mix of brown and green.
The cookies were a bit more bitter than with ceremonial matcha, but they were still delicious.
They didn't absorb as much liquid as ceremonial matcha, so the dough was noticeably stickier. The Navitas cookies spread quite a lot.
I wish I had taken a photo to show you how thin they were! They were also kind of gooey and underdone. I would not bake with this one again.
Gooey and underdone isn't a huge deal for cookies, but it would be for cake. For something like ice cream, I think it'd be fine.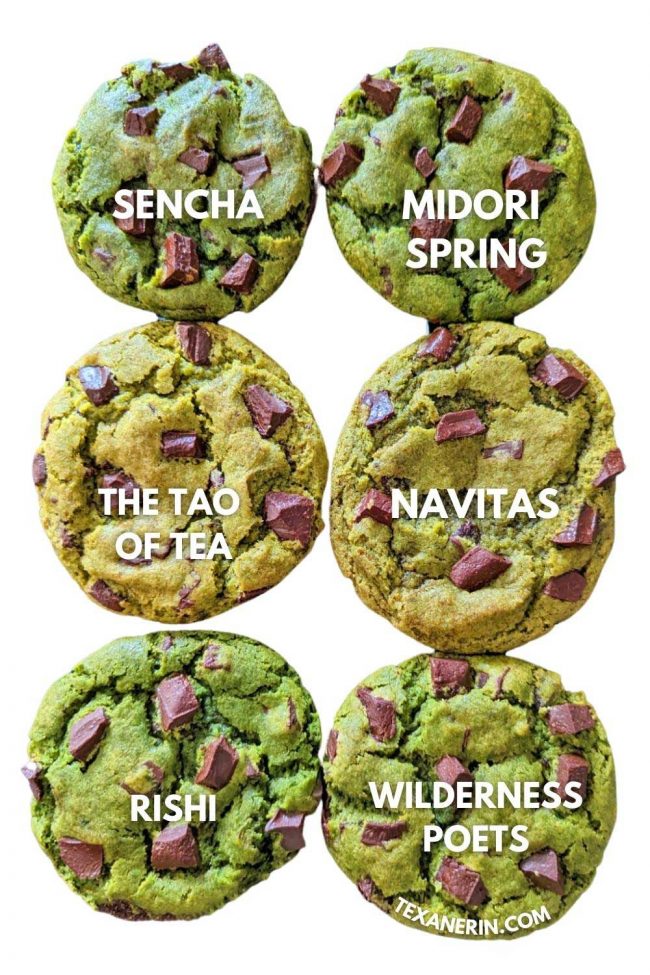 I got all of these from iHerb except for Midori Spring, which came from Amazon. The prices are accurate as of October 10, 2022, but prices often change. All of the following products are organic.
I actually also tested these cookies with 2 brands of German premium culinary matcha. I used them in my first attempts before realizing I needed to use ceremonial for the best color.
The results were the same as the US brands.
Also, I didn't opt for any brands of super expensive matcha. I had read great things about Kyoto Ippodo, but it was $2,200 per kilo ($63 per ounce) on German Amazon. I wasn't going to buy that for some green cookies!
It's "only" $36.73/oz on US Amazon right now, so still way more expensive than the abovementioned products.
I don't have applesauce!
1/4 cup of applesauce = 1 normal egg. But this recipe calls for 1/3 cup of applesauce.
So that means you'd need 1.33 egg sub. I have not tried anything other than applesauce in this recipe, so the following are just guesses.
To make the amount of chia egg you'd need for 1.33 eggs, you can use 4 teaspoons of ground chia seeds + 4 tablespoons of water.
BUT – then you're going to have ugly brown specks in your cookies. I tried using one chia egg in a matcha cake, and the result was terribly ugly.
I think Bob's Red Mill Gluten-free Vegan Egg Replacer might work here. Just follow the instructions on the bag to make 1.33 eggs.
And if you're not in the mood for matcha cookies, try these Plant Based Cookies!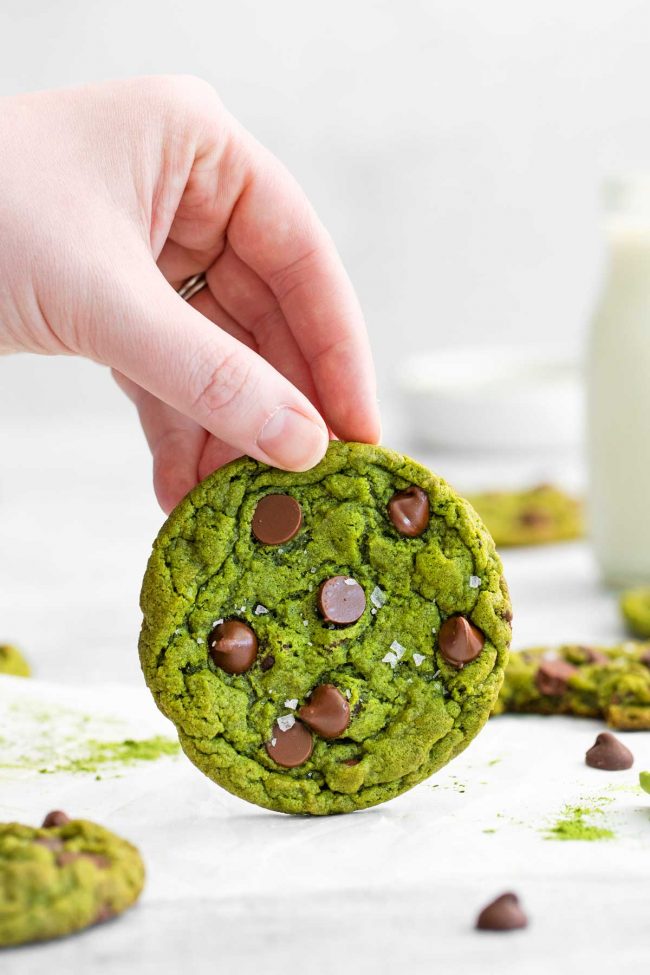 How to de-veganify these?
You can use regular butter. If you don't want to use applesauce, you'd need 67 grams of egg.
One large egg + 1 large egg yolk = 68 grams. So that would probably work nicely. But, like I mentioned above, I haven't tried anything but applesauce in these cookies.
I have another non-vegan matcha cookie recipe coming up, in case you don't feel like experimenting.
Can I use a different sweetener?
Coconut sugar might work in place of brown sugar, but the cookies will be browner and less chewy. I wouldn't recommend using it in place of the granulated sugar, though.
The cookies would be very, very brown (but brown mixed with green, so an ugly brown) and likely very crumbly. And the taste of the coconut sugar would almost definitely cover up the taste of the matcha.
And liquid sweeteners won't work. There's no liquid here to reduce to make up for the added liquid from a liquid sweetener.
Other vegan Halloween treats
This Halloween Fruit Salad is the best way to have fruit treats without having to bob for apples! It's a watermelon carved like a jack-o-lantern, and has fruit spilling out of the mouth. :D


These Halloween Dirt Cups have a chocolaty pudding base with chocolate cookie crumbs and a ghostly face made from a banana.


These Halloween Monster Mouths are perfectly nutritious and fun and made with fruit, strawberry jam, and nut butter!
I would love to hear from you if you make these vegan matcha cookies! Please leave a comment below or on social media, mention @texanerinbaking or tag #texanerin so I can be sure to see them.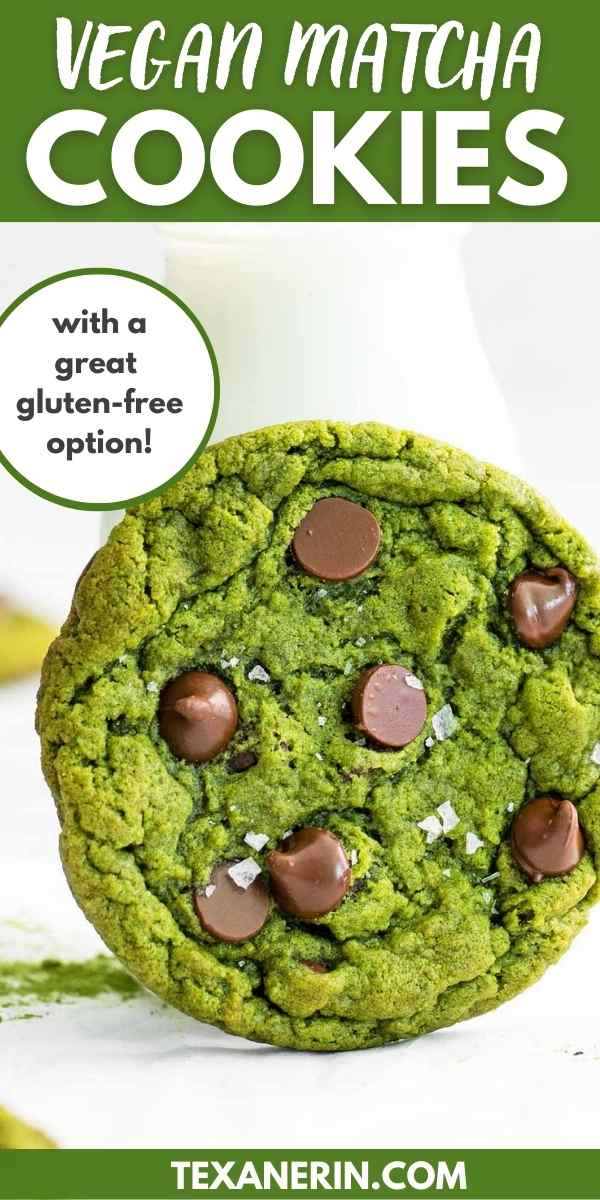 ❀
Vegan Matcha Cookies
Prep Time:
Cook Time:
Ready in:
Yield:

12
Ingredients
1/2 cup (113 grams) vegan butter or 7 1/2 tablespoons (105 grams) refined coconut oil
2/3 cup (133 grams) granulated sugar
1/3 cup (66 grams) brown sugar
1/3 cup (86 grams) unsweetened applesauce
2 teaspoons vanilla extract
2 tablespoons (16 grams) ceremonial matcha
1 teaspoon baking powder
1 teaspoon baking soda
1/2 teaspoon salt
1 2/3 cup (208 grams) all-purpose flour, white whole wheat flour or for gluten-free, use 1 2/3 cups (208 grams) King Arthur Flour Gluten-free Measure for Measure Flour or 1 2/3 cups (230 grams) Bob's Red Mill Gluten-free 1-to-1 Baking Flour
1 1/4 cups (212 grams) vegan semi-sweet chocolate chips
Directions
Preheat the oven to 350 °F (175 °C). Line a baking sheet with a piece of parchment paper.
In a large mixing bowl with a stand mixer, beat together the butter or coconut oil, sugar and brown sugar until light and fluffy. Beat in the applesauce and vanilla until well combined.
Sprinkle the matcha powder, baking powder, baking soda and salt on top, beat until combined, and then add in the flour on low speed.
Stir in 1 cup of chocolate chips until combined.
Place the bowl in the fridge for 1 hour.
Take out of the fridge and form 1/4 cup (67-gram) balls and press the remaining chocolate chips on top.
Place 4" apart on the prepared baking sheet.
Bake for 15-18 minutes or until they're set. They won't brown.
Let cool completely on the baking sheet. Store cooled cookies in an airtight container for up to 5 days.