These almond flour sugar cookies are crisp around the edges and have chewy centers, but can also be made totally crisp if desired. They're topped off with cream cheese frosting and they only call for almond flour rather than a mix of flours.
I am extremely excited to share these cookies today! They are my ideal sugar cookies.
I love these healthier sugar cookies, but they're whole wheat, and I haven't been able to come up with super delicious gluten-free sugar cookies – until now!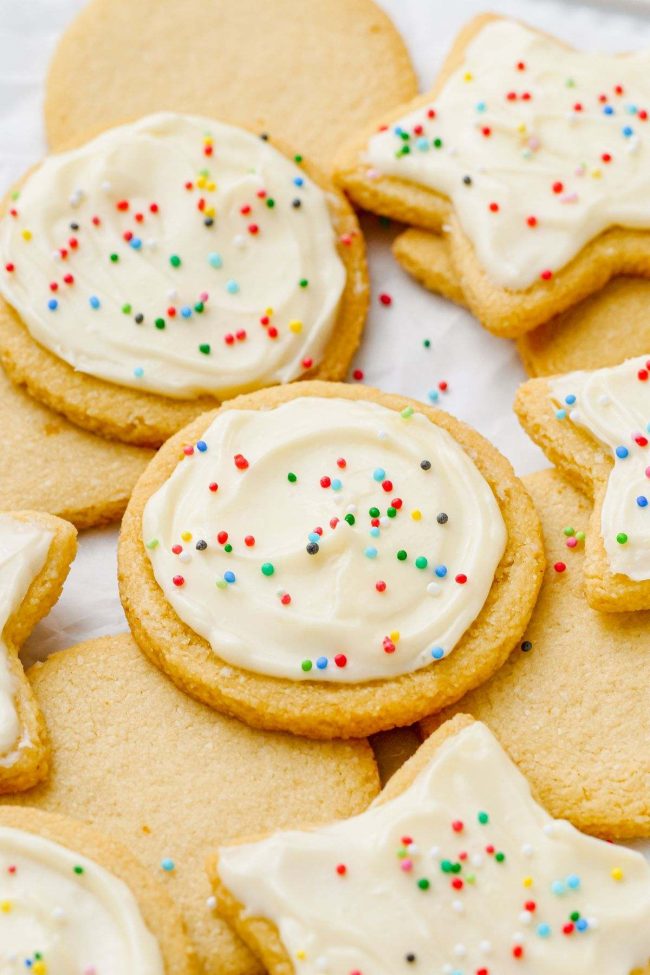 Just almond flour needed
I normally mix almond flour and coconut flour in my paleo cookie recipes, but today's recipe just calls for almond flour.
And that sets this recipe apart from a lot of other almond flour sugar cookie recipes that use almond flour + another type of flour. Why call them almond flour cookies if you use almond flour + coconut flour + tapioca starch?!
Sorry, but this drives me crazy when I'm looking for recipes to make for my family. ;)
For more almond flour recipes (that just call for almond flour!) try my: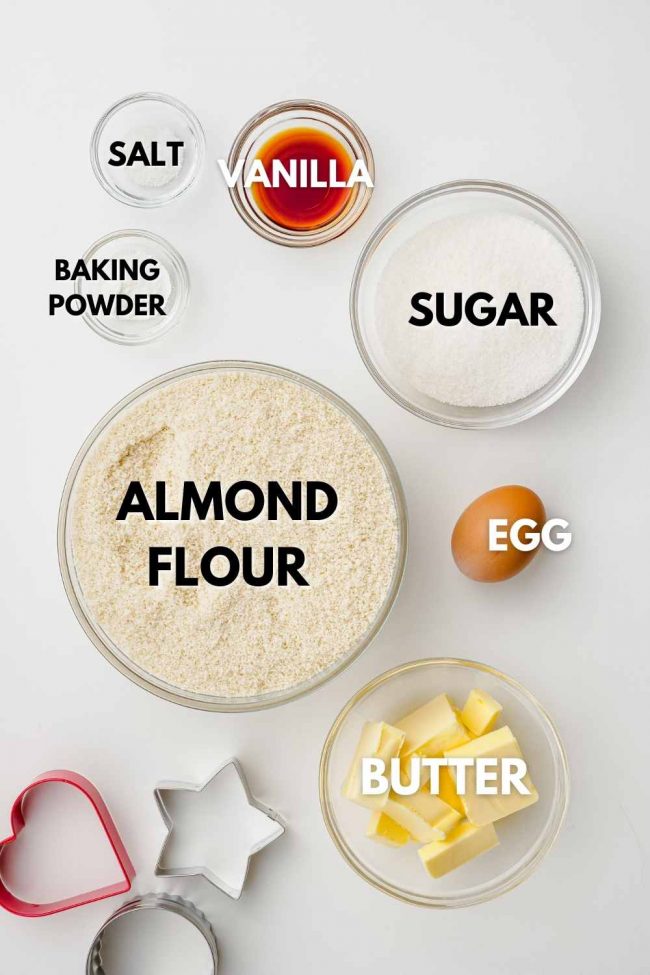 Use finely ground almond flour
The few people who have commented on my almond flour recipes to say that they used homemade almond flour have done so to say that it didn't work. That's because there's no way to get homemade almond flour as finely ground as store-bought almond flour.
I recently bought a ton of almond flour to use in our everyday life. Not for blog recipes. It, unfortunately, looks like something I could've done in my food processor.
When I bake with it, I have to reduce the oil by 25%. Otherwise, there's a big oily mess.
So imagine you tried using that for this recipe, where it's super important that the cookies hold their shape during baking.
Don't do it! Make sure to find a bag that says something like finely ground.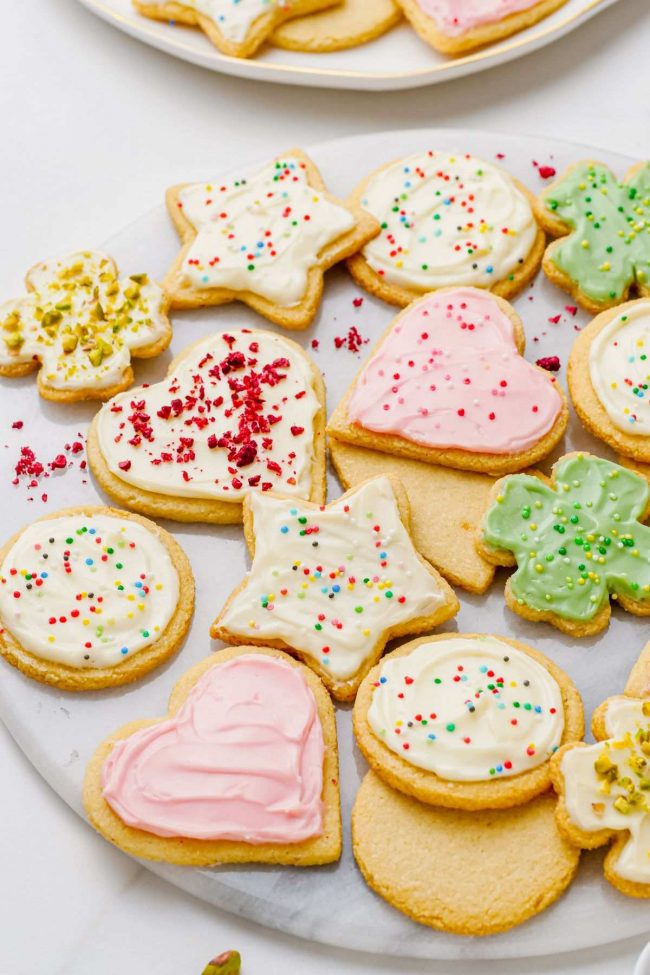 Easy-to-work-with dough
I put the dough in the freezer for about 30 minutes, and the dough was easy to work with. I forgot to put the dough back in the freezer while the first batch was baking, and I didn't have any issues rolling it out or moving the shapes from the counter to the baking pan.
But still, I think it's safer to just keep everything in the fridge or freezer to ensure that you won't have any problems.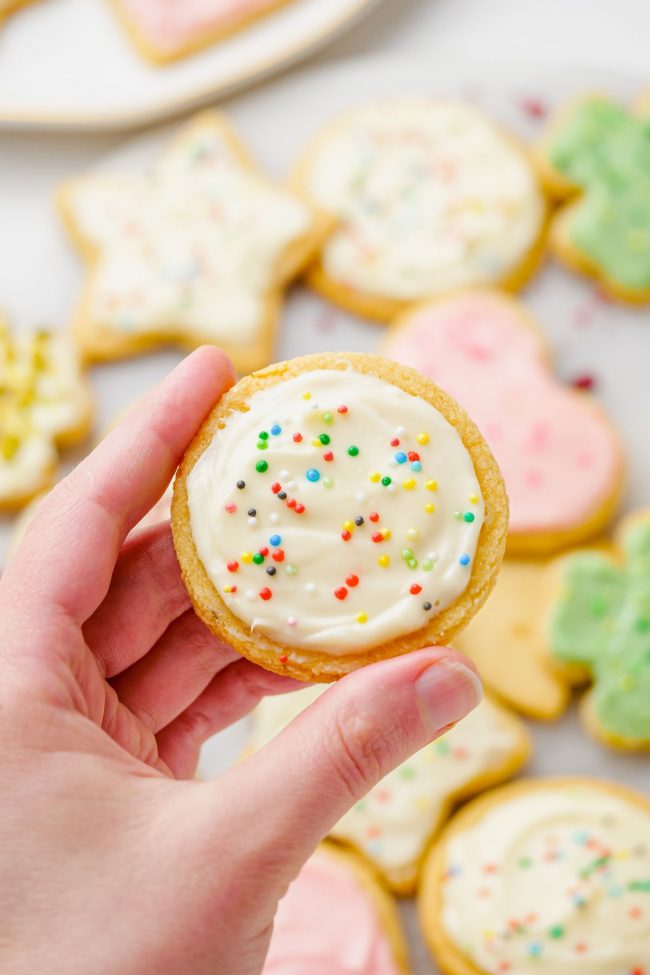 Lots of flavor
When I was working on this recipe, I started off with 1/2 teaspoon of vanilla. I finished the recipe with 4 teaspoons of vanilla.
I need my cookies (and everything else I make) to have lots of flavor and 4 teaspoons of vanilla was the perfect amount.
If you can't have vanilla, you could also use water + maybe 1/2 to 1 teaspoon of almond or lemon extract instead of vanilla to get to the 4 teaspoons of liquid.
You just can't omit the liquid or the wet to dry proportions will be off. And those are super important for cut-out sugar cookies!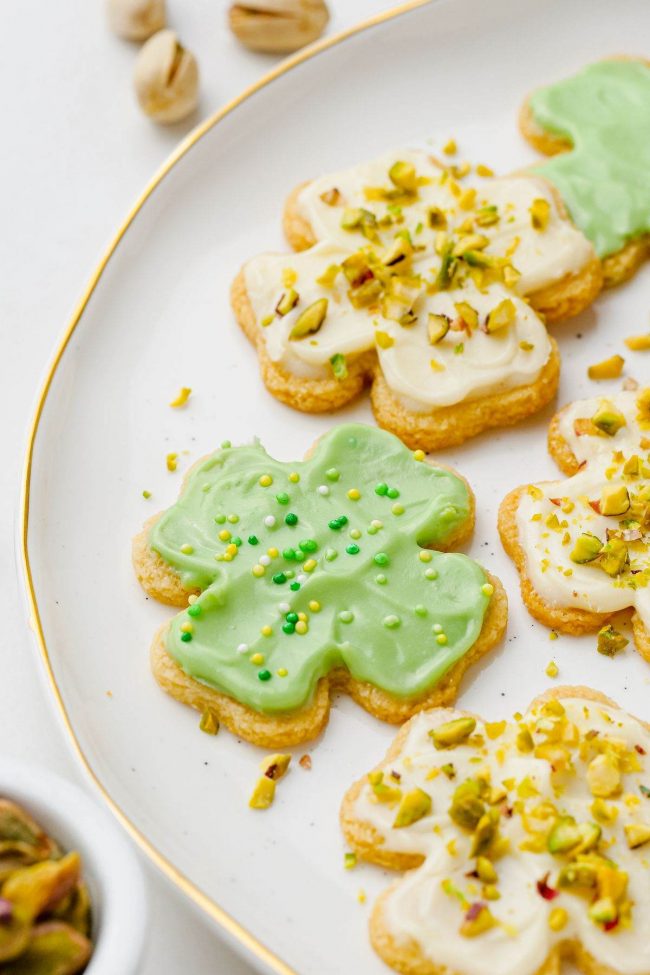 Chewy or crisp – your choice
The baking time yields cookies that are crisp around the edges, but they're still chewy. If you want them totally crisp, then bake them a minute or two longer.
Keep a close eye on them, though! Cut-out sugar cookies tend to burn quickly.
No paleo or vegan options?
I wanted these almond flour cookies to taste as traditional as possible, so I used butter and granulated sugar.
If you want to use coconut oil, you can't use the same amount as butter. I believe 7.5 tablespoons is the right amount, but I haven't tried it.
I have tried them using coconut sugar. When using the same amount of coconut sugar as granulated sugar, they spread out a little and were kind of puffy. The cookies weren't very tasty.
So I tried again with 1/2 cup of coconut sugar instead of the 3/4 cup of granulated sugar that's called for in the recipe. Those were even less tasty. They held their shape perfectly, though!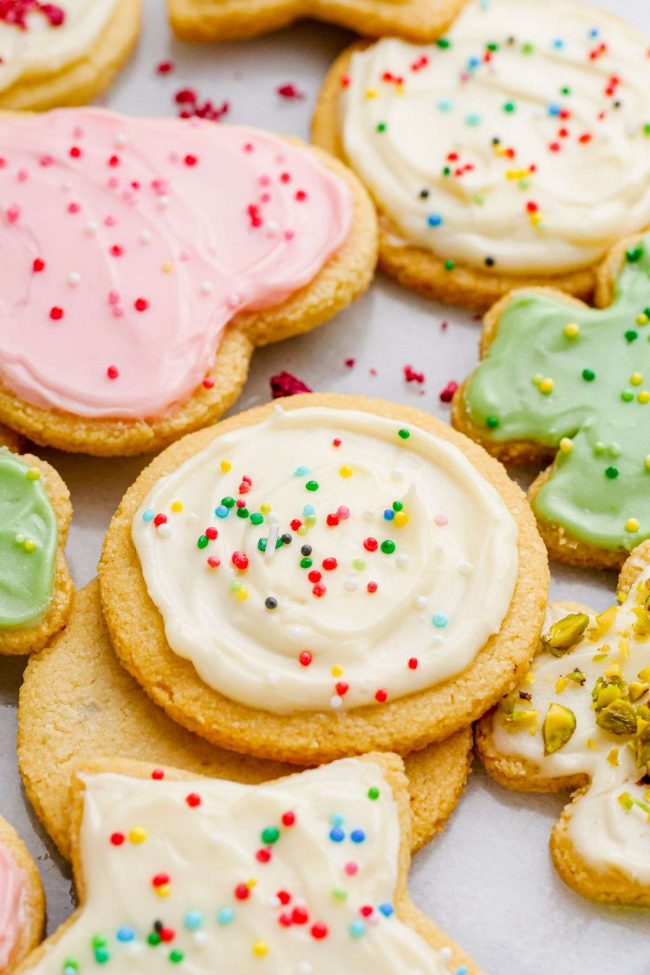 I do have quite a sweet tooth so if you're topping the cookies with cream cheese frosting, the coconut sugar version may work for you. I just didn't like them, so I'm not listing it as an option.
I do plan on posting paleo sugar cookies at some point so hang tight! For now, I can refer you to these awesome cassava flour cookies, which are also sugar cookies. They're paleo with a vegan option and can even be made AIP-friendly.
In addition to the butter in today's recipe, you'd have to replace the egg to make this recipe vegan. Those changes are too big for me to recommend that you try experimenting. And that's not even taking the totally un-vegan cream cheese frosting into account.
I also plan on posting a vegan version of this recipe. And regular gluten-free sugar cookies. And keto sugar cookies. I have lots of plans for this recipe. ;)
Are cookie cutters necessary?
Nope. You can form little balls and then press them down flat. The dough doesn't spread like regular cookie dough, which is a good thing because it means the cookies retain their shape once baked.
I found the dough easy to work with, but if you have issues, then chill the dough. Wrap it up in plastic wrap and put it in the freezer.
If you have more time, then putting it in the fridge will chill it more uniformly.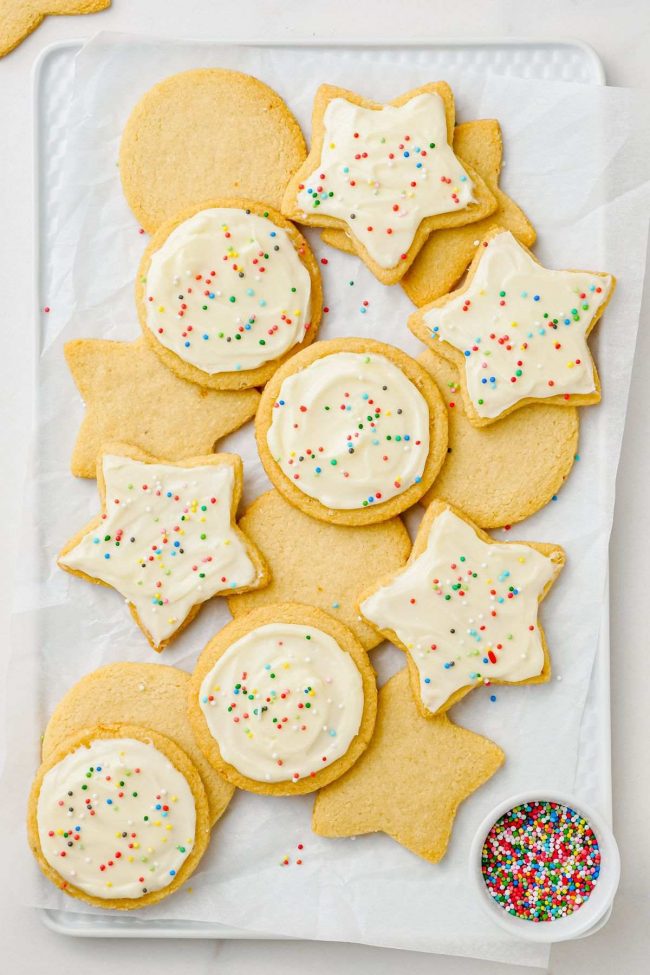 Cream cheese frosting
For me, cream cheese frosting is an absolute must when it comes to sugar cookies. Buttercream frosting just isn't my thing.
This is the same frosting recipe I use in every other recipe of mine that uses cream cheese frosting. It's a scaled-down version of my Healthier Cream Cheese Frosting.
It uses a lot less sugar than regular frosting and tastes similar to cream cheese tart filling. Which is to say – amazing!
It's absolutely perfect on this Gluten-free Carrot Cake and these Pumpkin Cupcakes and really, all your cream cheese frosting needs. :)
I used natural food coloring to color the frosting for the shamrocks and heart-shaped cookies. If you happen to live in Germany, I used the one from Biovegan. For the folks in the US, is there a natural food coloring brand you could recommend?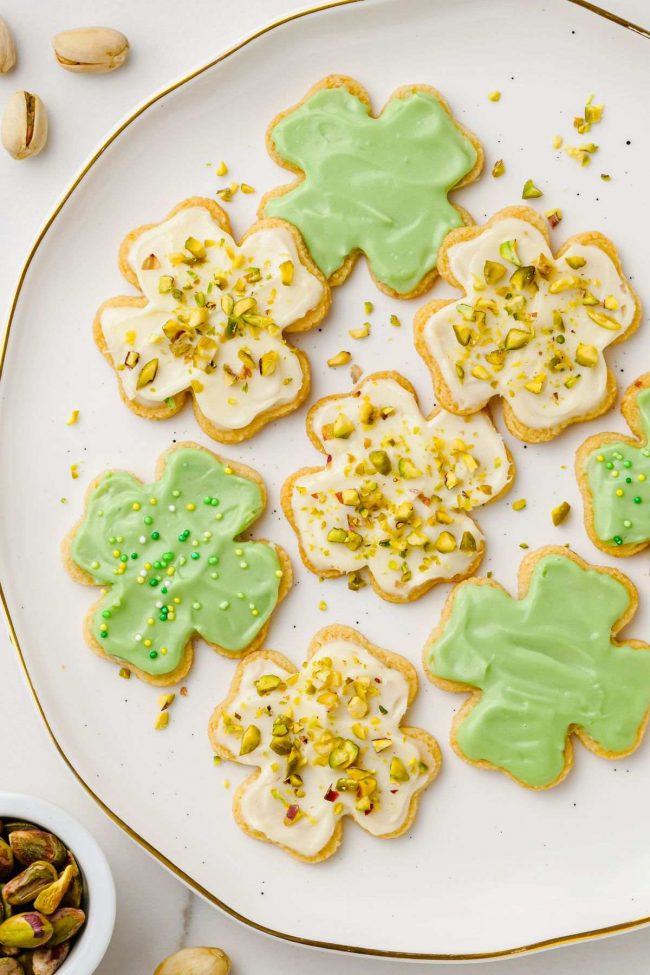 Decoration ideas
Some stars, snowman or Christmas tree cookie cutters would make for some really nice almond flour Christmas cookies.
Sprinkles are the classic option. My healthier topping ideas are chopped nuts and freeze-dried raspberries.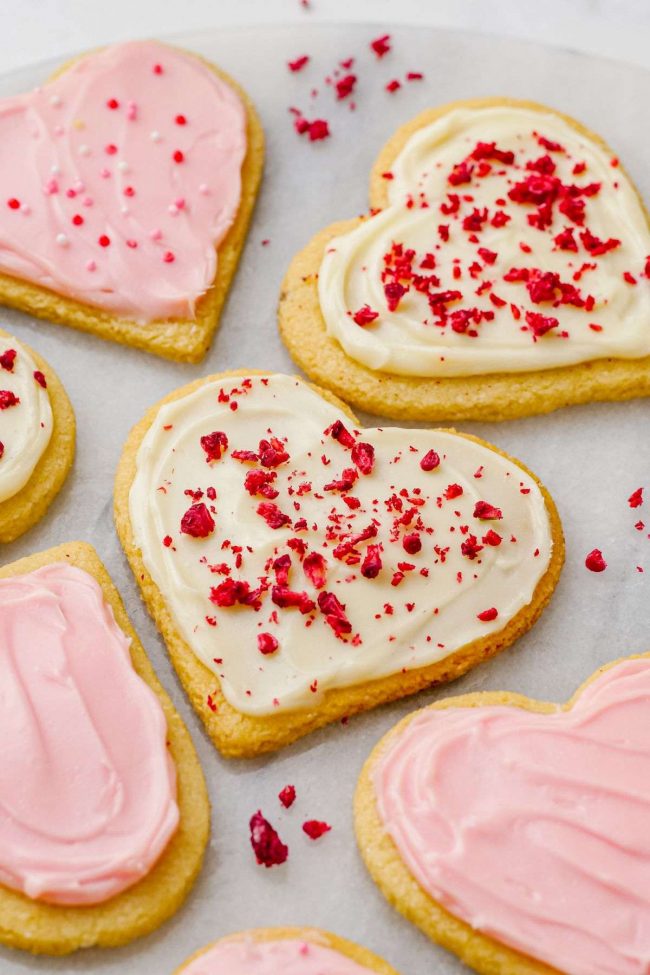 Can you decorate them in advance?
Surprisingly, yes! I thought for sure that they'd get soggy from the cream cheese.
I've never had them last longer than a day in the fridge so that's as long as I can recommend storing frosted cookies. I'm pretty sure they'd soften, anyway, after one day.
Ready to get started? Any questions? See below!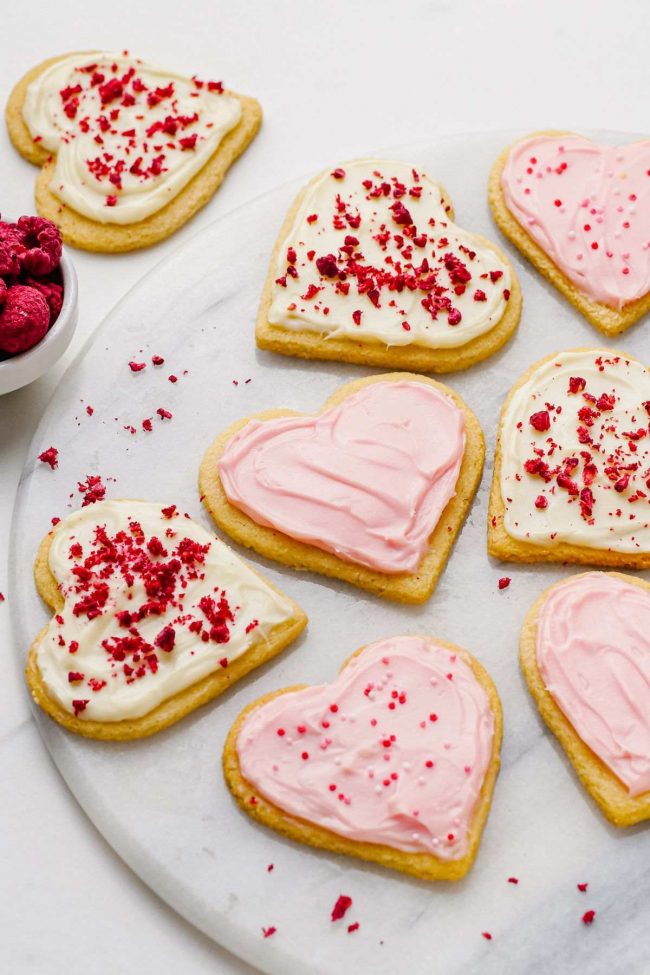 Questions about these almond flour sugar cookies?
Can I use vegan butter or coconut oil?

I'm assuming vegan butter would work fine. I think 7.5 tablespoons of coconut oil would likely work, but haven't tried it. I'd recommend using refined, so that there's no coconut taste.

Can I reduce the sugar?

Reducing the sugar at all would mess with the texture of the cookies. If you want them to bake up properly and taste good, then I would not recommend reducing the sugar.

Can I use something other than the listed sweeteners?

I've tried them with coconut sugar and thought that they weren't good. At all. I don't recommend playing around with the sweetener. Whether or not Truvia, keto sweeteners or anything else would work, I really have no idea. Sorry.

Can I omit the vanilla?

Yes, but you'd need to replace it with water to make sure the wet to dry proportions are correct. Four teaspoons is way too much liquid to just omit. You could also use water + maybe 1/2 to 1 teaspoon of almond or lemon extract instead of vanilla to get to the 4 teaspoons of liquid.

Do I have to use almond flour?

Yes (or almond meal, if you don't mind the specks of the skin, and as long as it's very finely ground). These are almond flour sugar cookies. If you want coconut flour sugar cookies, please google "coconut flour sugar cookies" or whatever type you're looking for. :)

Another type of nut flour/nutmeal might work, but I wouldn't recommend experimenting as it's likely to not turn out 100% the same as mine. It'll likely also be quite costly, with 4 cups of nut flour!

Do these cookies taste gluten-free?

Not at all! In almond flour recipes, you don't have the grittiness or gumminess that you often get in other gluten-free recipes.

That said, almond flour recipes are often greasy or soggy. Not these cookies! They have an amazing texture.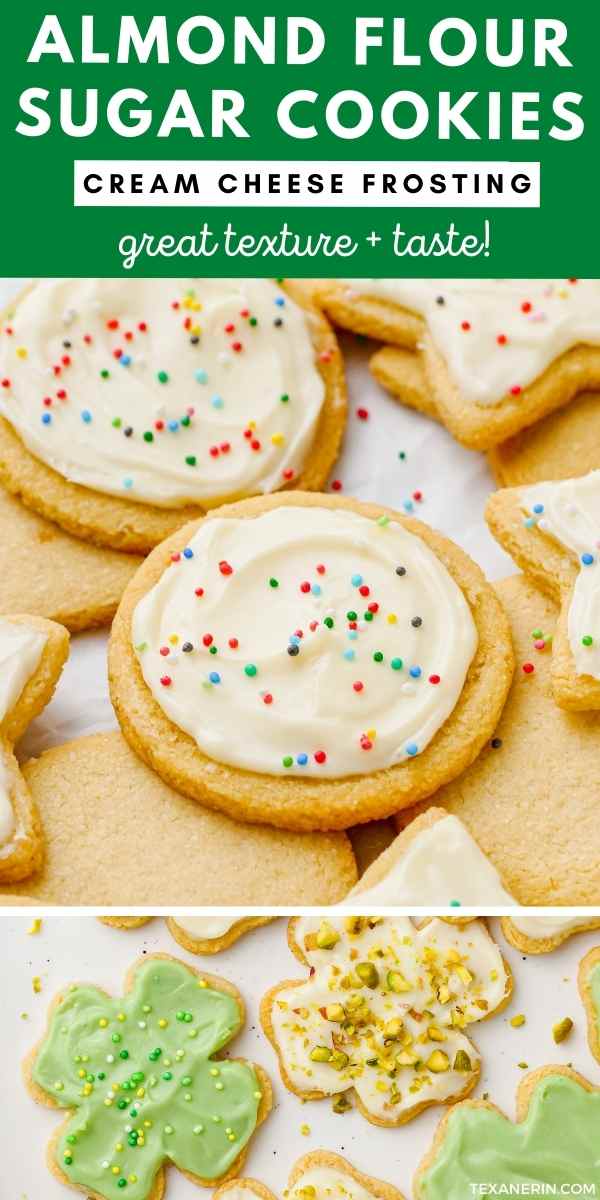 I hope you'll enjoy the cookies! If you make this recipe or any other of my recipes, I'd love to see pictures of your creations on Instagram, Facebook and Twitter! Please hashtag them #texanerin so I can find them. :)
❀
Almond Flour Sugar Cookies
Prep Time:
Cook Time:
Ready in:
Yield:

26-30 cookies
Ingredients
For the cookie dough:

1/2 cup (113 grams) butter, room temperature
3/4 cup (150 grams) granulated sugar
4 teaspoons vanilla extract (or 1 tsp almond extract + 3 tsp vanilla)
1 large (50 grams, out of shell) egg
1 teaspoon baking powder
1/2 teaspoon salt
4 cups (400 grams) blanched almond flour

For the frosting:

12 ounces (340 grams) cream cheese1, room temperature
3 tablespoons (42 grams) unsalted butter, room temperature
1 cup (120 grams) powdered sugar
pinch of salt
1/2 teaspoon vanilla extract

For decoration:

cream cheese frosting
natural food coloring
freeze-dried raspberries
chopped pistachios, pecans, or other nuts
sprinkles
Directions
To make the cookies:

In a large mixing bowl, beat together the butter, sugar and vanilla with a hand mixer at medium speed until well combined.
Beat in the egg until combined.
Sprinkle the baking powder and salt on the top and mix until combined.
Add the almond flour and mix until completely incorporated and a dough forms.
Cover and chill for 3+ hours in the fridge or place in the freezer for 30 minutes or so. If freezing, I like to form 2 very flat discs and freeze them that way so that they chill more quickly.
Preheat the oven to 325 °F (163 °C).
Between two pieces of parchment paper, roll out a test ball. Roll it out to 1/8" thick and cut out a cookie. If you can easily use a spatula to pick it up, then roll out the rest of the dough, keeping what you don't use in the fridge. If it's difficult to get the shapes up easily (I haven't had any issues), roll all the dough into a ball and dust with almond flour on the top and the bottom.
Roll the dough about 1/8" thick (or a tad bit thicker) and use cookie cutters to cut out shapes. If they're a little rough around the edges, press into shape.
Bake for 12-14 minutes. Keep an eye on them! The baking time will vary depending on how thick they are and if you use a cookie cutter. They'll have browned very lightly around the edges but they'll still be soft until they've cooled. Cool completely on the baking sheet. They should still be a bit soft (not totally hard) after they've cooled. If you want them completely crisp and to stay crisp, bake for an extra minute or two, keeping a close eye on them.

To make the frosting:

In a medium mixing bowl, beat the cream cheese and butter together with an electric hand mixer at medium speed until well combined. It's okay if it looks a little crumbly.
Gradually beat in the powdered sugar until totally combined and then beat in the salt and vanilla.

To decorate:

Top the totally cooled cookies with the frosting. I wouldn't recommend frosting more than 1 day in advance. Top with decorations.
Refrigerate frosted cookies for 1 day. Store unfrosted cookies in an airtight container at room temperature for up to 4 days.
Notes
If you live outside of North America and have the kind of cream cheese that's meant for toast (that comes in a little plastic tub) rather than American style brick cream cheese, then get 450 grams of cream cheese, place it in the center of a cheesecloth, and wring out the liquid until you have 340 grams of cream cheese left.