This Godiva chocolate martini is the perfect after-dinner drink! It's rich and creamy with just the right amount of chocolate. Try this martini with a chocolate drizzle in the glass to make it extra special! With a vegan and dairy-free option.
This chocolaty twist on a classic martini is a terrifically boozy dessert cocktail. It's easy to make with two sweet and creamy liquors and a bit of vodka with a swirl of chocolate to dress it up for the holidays.
This Espresso Martini with Baileys recipe has been a big hit. But I'm betting this Godiva chocolate martini recipe will quickly become a favorite, especially for chocolate lovers.
It's easy to make with just a stir and a pour, so let's make some fancy cocktails!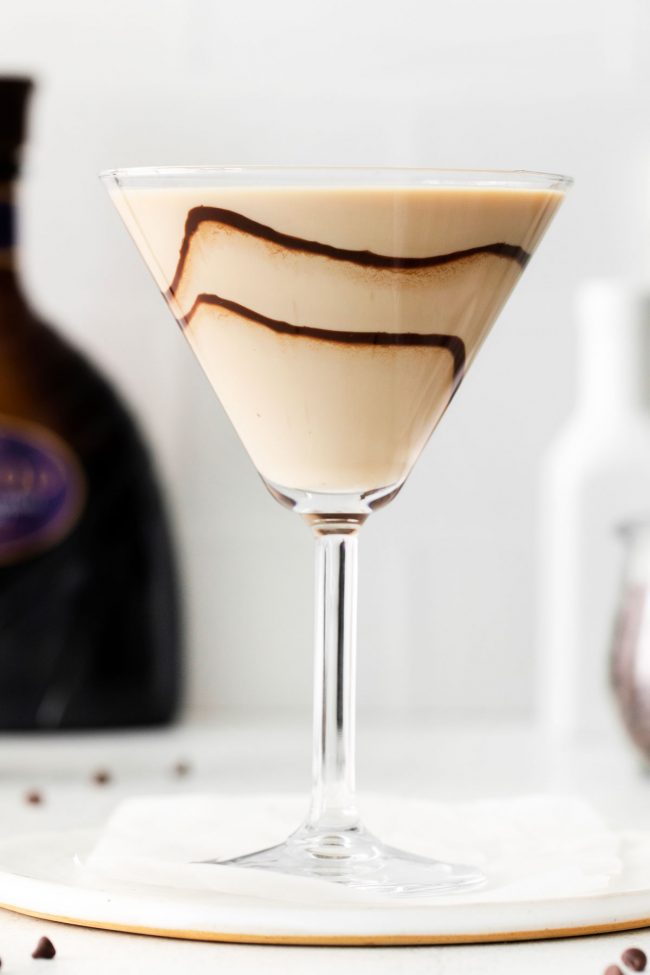 Ingredients
Godiva or Mozart Chocolate Liqueur is the key to this martini. I used Godiva dark chocolate liqueur, but milk chocolate or white chocolate would also be delicious. For vegan, you need to use Mozart dark.


Baileys Irish Cream adds creaminess to the martini. If you're vegan, use my homemade vegan Baileys, which I talk about below.


Vodka adds a little extra booze to the martini. Feel free to leave it out for a less-alcoholic martini.


Half-and-half or cashew milk adds a bit of extra richness and creaminess to the cocktail.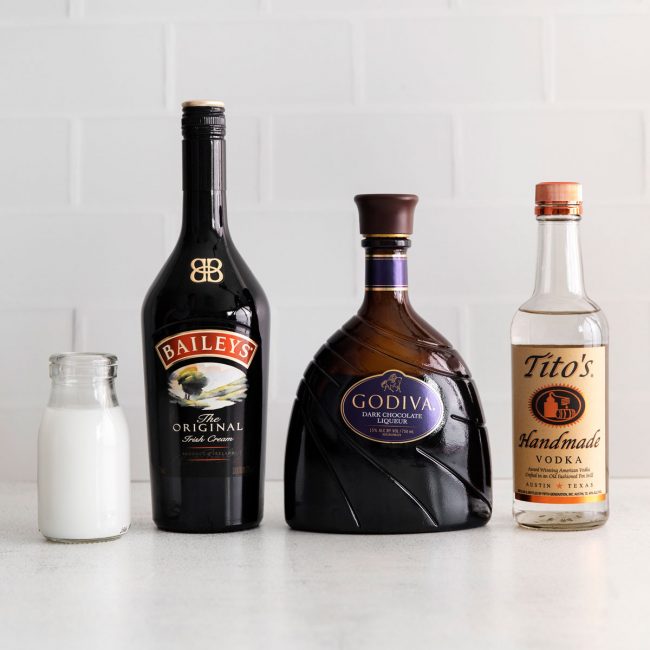 Equipment
To make a chocolate martini, you'll need a cocktail shaker with a strainer and preferably a martini glass.
We use a cocktail shaker because it chills the ingredients while combining them quickly and comes with its own strainer!
If you don't have one, you shouldn't have any problems finding something that'll work from your kitchen. Protein shakers, blender bottles, coffee travel mugs, and mason jars all work. You just need a strainer, and you're ready to pour.
If you don't have a specific martini glass, you can use any elegant glass with a wide mouth to make it easier to swirl in the chocolate sauce. A red wine glass would also work well.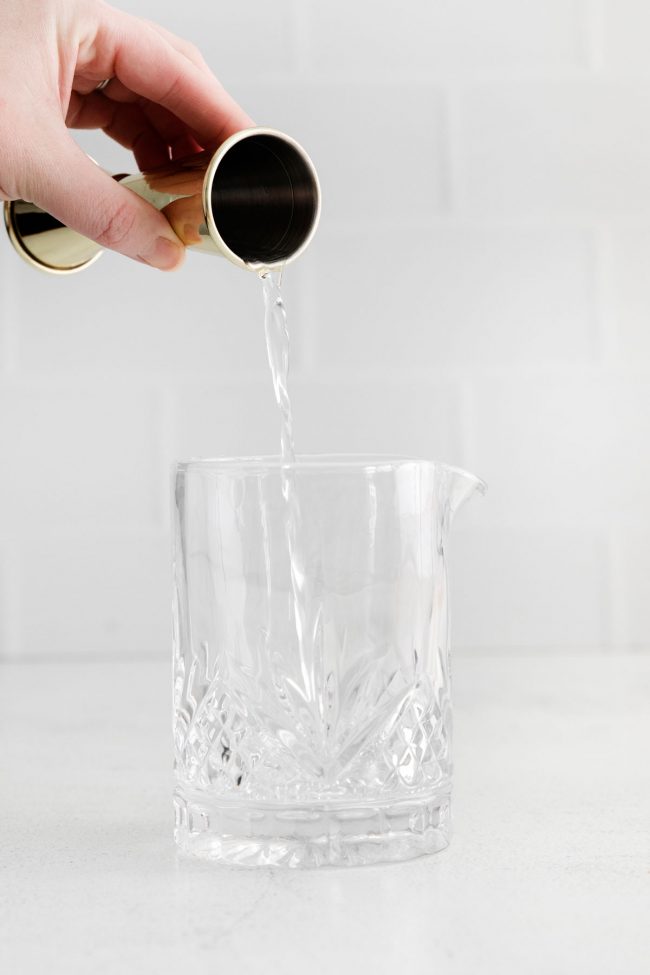 What is Godiva Chocolate Liqueur?
Godiva is a master of gourmet chocolates that originated in Belgium. The company started to produce chocolate liqueurs in the 1990s. These liqueurs are dessert-like beverages made by adding chocolate to an alcohol base liquor.
Although the liqueur is 30-proof alcohol, the alcohol taste is subtle against the velvety richness of the chocolate. There are three types of Godiva chocolate liqueurs: milk chocolate, white chocolate and dark chocolate.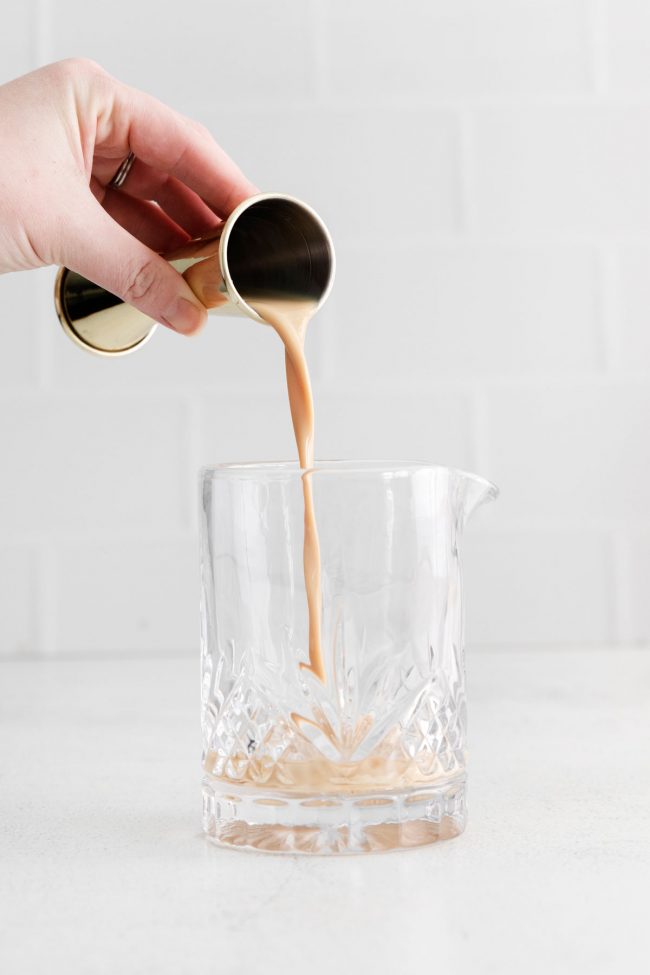 Differences between chocolate liqueurs
Chocolate liqueurs can vary significantly in taste, consistency and color.
Godiva lends to a decadent chocolate taste, and it's sweet on the front end without a conflicting finish.
Another type is Mozart chocolate cream liqueur, which comes from Austria. I actually prefer this over Godiva.
It's creamier and richer than Godiva. It's known for its intense milk chocolate taste with notes of hazelnut and vanilla with a softened marshmallow finish.
I live 1 hour from Austria, so it's easy to get here. Unfortunately, it's not as easy to find in the US.
The Mozart website has a list of places you can get it here, and I see Cost Plus World Market has it, along with several other chains in the US.
Another option is creme de cacao, which is an extremely sweet chocolate liqueur made by many brands like Bols, Hiram Walker and DeKuyper. It's thick but isn't creamy like Godiva and Mozart.
So if you use that, you might want to add some extra half-and-half or cashew milk.
Also, the cocktail will be sweeter and might look muddy instead of silky like you get from Godiva and Mozart.
Can I substitute a different chocolate liqueur?
Godiva and Mozart are your best bets.
If you have a different type of chocolate liqueur, you can certainly use it in this martini, but I can't say if it'd be as tasty.
Is Godiva gluten-free?
I'm seeing conflicting info on their chocolate liqueurs. Some sources say they use gluten ingredients, some sources say that they don't, but aren't careful with cross-contamination. And a lot of their chocolates are known to have gluten in them.
So I would avoid Godiva if you're gluten-free. Go with Mozart instead!
On Mozart's product page, they've listed the varieties cream, white, dark, and coffee as being gluten-free. Only pumpkin spice and strawberry don't say gluten-free. And their dark variety is even vegan!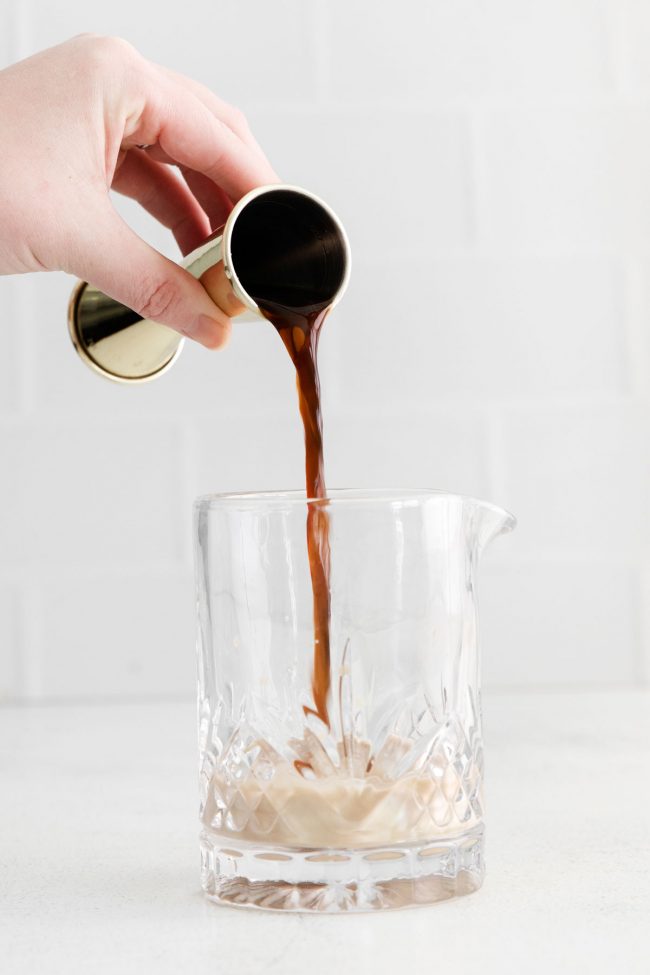 Vegan version
Godiva dark chocolate liqueur is dairy-free, but the company does not claim that it's vegan. If you want a dairy-free version, then you could use Godiva Dark with this Vegan Baileys Recipe and replace the half-and-half with cashew milk.
But if you're vegan, you need to use Mozart Dark Chocolate and use my homemade vegan Baileys recipe and cashew milk.
Who invented the chocolate martini?
When it comes to cocktails, mixologists and professional bartenders are usually the inventors, but not with this martini!
The chocolate martini was "invented" in 1955 during the filming of the classic movie Giant. Rock Hudson and co-star Elizabeth Taylor became fast friends and learned they both had a fondness for chocolate and vodka.
In Hudson's memoir, he recounts the night they both decided to add chocolate syrup and liqueur to their vodka martinis. And that's how this famous martini was born.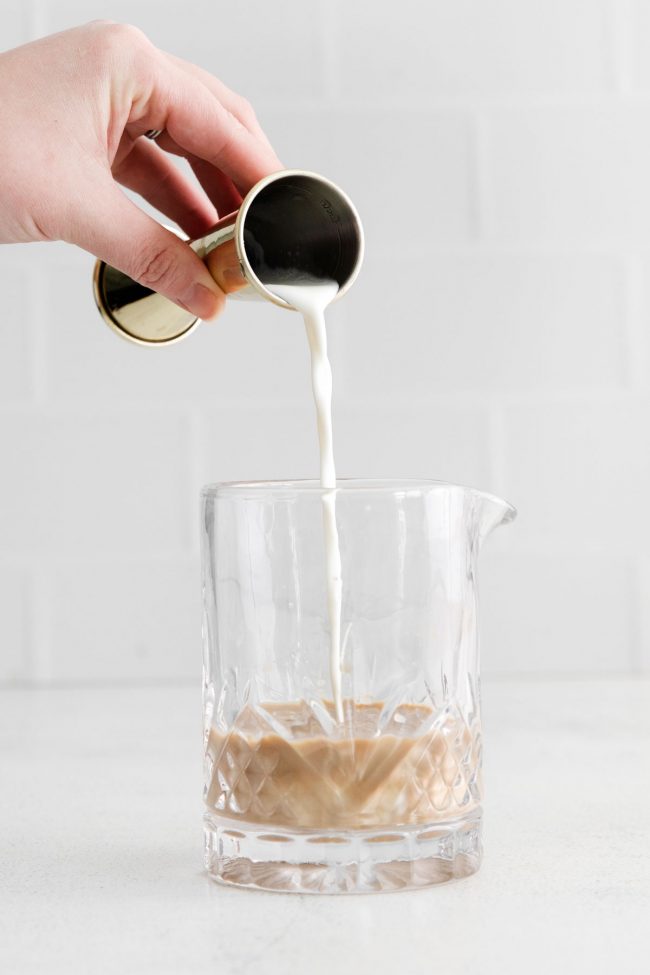 Garnishes
I'm all for the chocolate syrup in the martini glass. It's an elegant touch that gives it extra chocolate flavor.
Rimming the glass also adds a touch of class to this cocktail. It's easy to rim it with cocoa powder.
You can dust the top of the drink with cocoa powder or sprinkle on grated chocolate.
You can get even fancier with a strawberry on the rim or plop in a raspberry for extra color or garnish with a sprig of mint.
Even though you can have it all, you don't want the drink to be overstated, so I recommend choosing one elaborate garnish, maybe two, and sticking with it.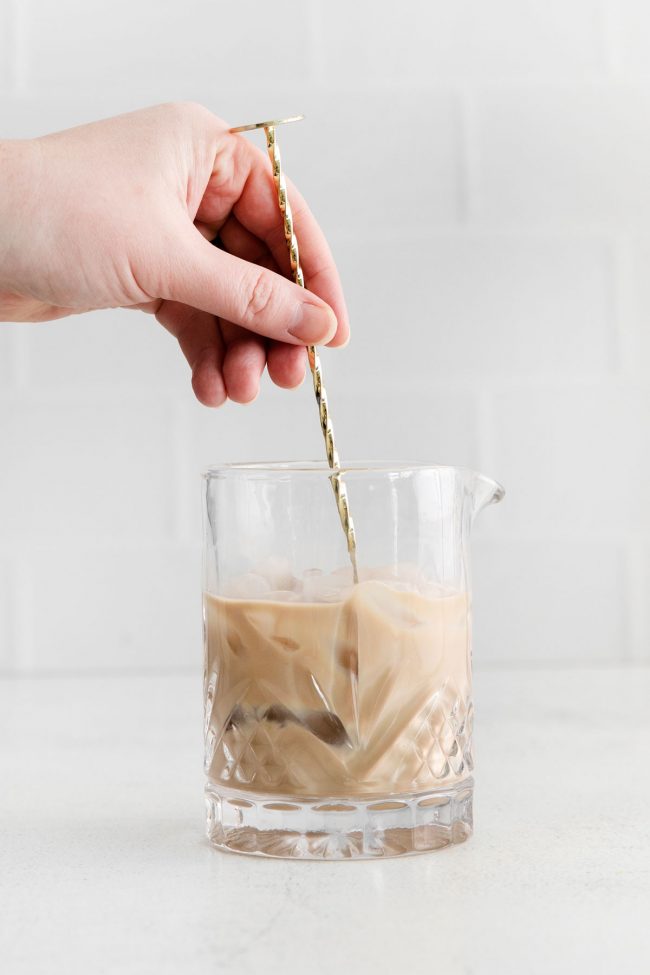 Tips
You can double the recipe if you're making dessert cocktails for two.


If you swirl in the chocolate sauce as the ultimate chocolate garnish and you want to rim the glass, you will want to rim the glass first. You can rim the glass with cocoa or chocolate shavings.


To get a good swirl, tip the glass and turn it while you drizzle. Any design will work: zig-zag stripes around or down the side of the glass; whatever you like.


Once the glass is garnished, pour the cocktail and enjoy!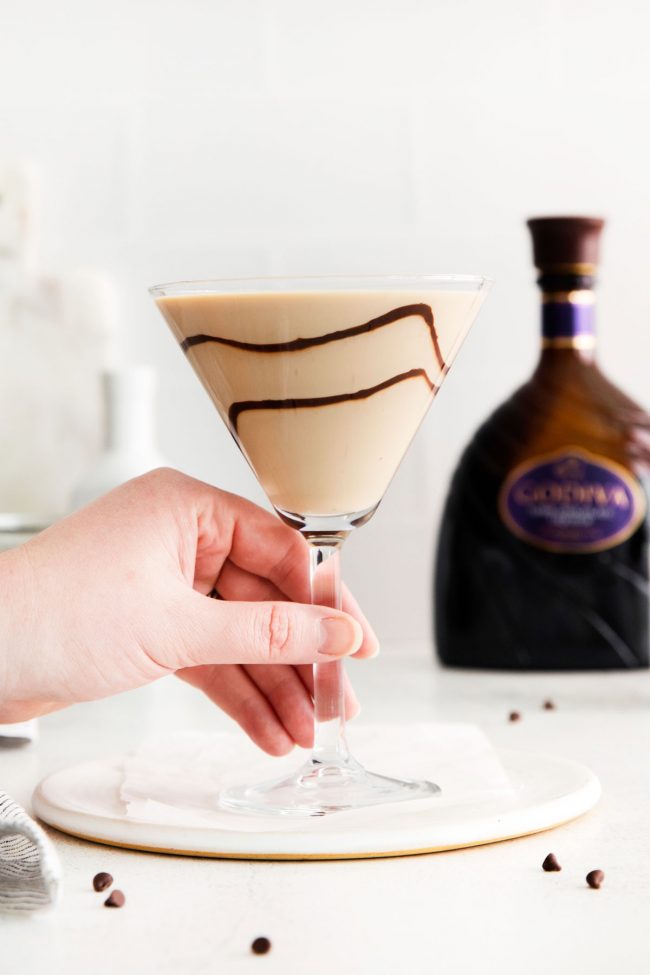 Shaken or stirred?
Technically, both work. In this instance, the recipe calls for a good shake in an ice-filled cocktail shaker so that the ingredients combine and the drink is chilled.
In contrast, if you were using gin like in this Gin Margarita, you would want to stir to avoid bruising the gin and crushing its effervescent notes.
You'll notice that the shaker will get frosty, and that's when you know the drink is ready to pour.
What to serve with a chocolate martini?
This drink is already a dessert, and even with my sweet tooth, I think it's enough.
But if you want a treat along with the martini, I would provide something not overly sweet and more tart, like Cheesecake Cookie Cups. Or something small like these Coconut Chocolate Balls.
But definitely nothing rich. Something fruity would be good!
Variations
I think all the ingredients in this cocktail are uber-rich, making an elegant, sweet dessert cocktail.
But maybe you're not as into chocolate as I am, so you could replace the chocolate drizzle with vanilla syrup or try a fruit-flavored vodka to bring out a slight tartness.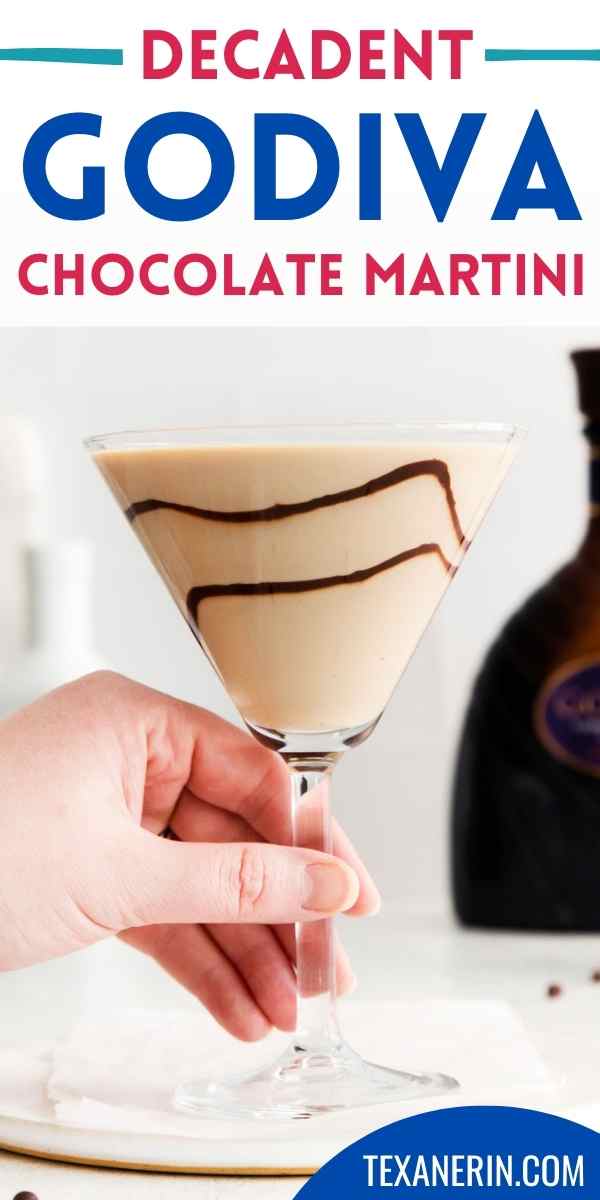 Looking for other holiday cocktails?
We've got you covered! We have many drinks that are perfect for the season, both alcoholic and non-alcoholic. Here are a few of our favorites.
I hope you treat yourself to this Godiva chocolate martini! If you do, please leave a comment and tell us about it. :) Better yet, please share on social media using #texanerin so I can be sure to see your creation. Cheers!
❀
Godiva Chocolate Martini
Prep Time:
Cook Time:
Ready in:
Yield:

1
Ingredients
optional - chocolate sauce for martini glass
2 ounces (1/4 cup) Godiva Chocolate Liqueur (I used dark but milk works) or Mozart Chocolate Cream Liqueur or for vegan, use Mozart Dark Chocolate Liqueur1
1 ounce (2 tablespoons) Baileys Irish Cream or for vegan use my Vegan Baileys Recipe
1 ounce (2 tablespoons) vodka
1/2 ounce (1 tablespoon) half-and-half or cashew milk for vegan2
Directions
Optional - drizzle the inside of your martini glass with 1 teaspoon of chocolate sauce and set it aside.
Add all of the ingredients to a cocktail shaker with ice and stir until well chilled– about 15 seconds.
Strain the martini into your prepared glass and enjoy immediately.
Notes
Mozart Dark Chocolate Liqueur is very fluid and not thick and syrupy like the original version. It's also not creamy, so you might want to add some extra cashew milk!
I use cashew milk, but you can use whatever type of milk you'd like.
If you're vegan, make sure to use the vegan options in the recipe and vegan chocolate syrup, if using.