So blueberries were on sale last week. And when berries are on sale, I strike. They were taking up so much room in my fridge that I had to find a way to use some of them up quickly.
I keep seeing "blueberry syrup" during "American week" at the grocery stores here, and although I love the idea of blueberry syrup, I don't love the idea of sugar + fake blueberry flavoring. With this recipe, the problem is all solved. View it as maple syrup made less sugary with more vitamins. :)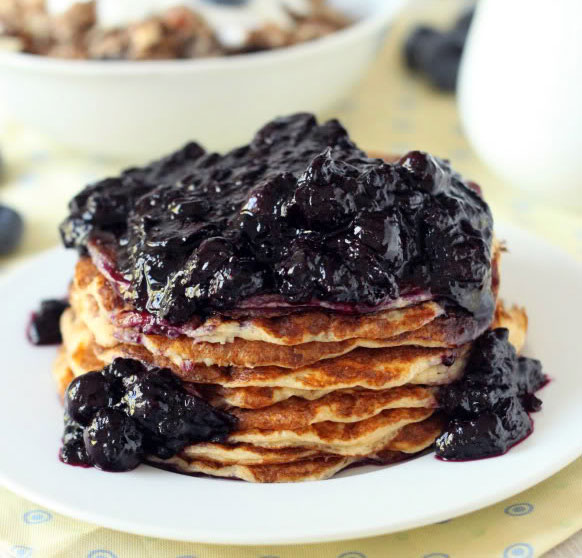 I use it with these whole grain pancakes for two.
All you have to do is cook the maple syrup and blueberries for 15 minutes. That's it. And add some vanilla and salt! No straining and no fussy methods.
So the next time you want to make something special and you need to do it quickly, here you go! I imagine it would work with other types of fruit but I can't think of any that go as well with maple syrup as blueberries do.
❀
Blueberry Maple Syrup Sauce
Prep Time:
Cook Time:
Ready in:
Yield:

3/4 - 1 cup
Ingredients
2 cups (300 grams) blueberries
1/2 cup (118 ml) maple syrup
1 1/2 teaspoons vanilla extract
pinch of salt
Directions
In a medium saucepan, cook the blueberries and maple syrup over medium heat. The blueberries will pop and get very soft, so be careful with stirring.
Stir every now and then, cooking about 15 minutes, until the sauce has thickened. Stir in the vanilla and salt. Let cool for 5 minutes before serving. It'll firm up like jam once cooled, so reheat, if desired.
Store in the fridge and reheat before serving.