This paleo blueberry crisp is entirely maple-sweetened with a delicious walnut and almond flour based topping! It's also vegan, gluten-free, grain-free and dairy-free.
First off, if you don't want a grain-free crisp, try my vegan blueberry crisp. It uses white whole wheat flour and has a nice, thick layer of topping!
So for this paleo blueberry crisp, I used the same topping that's in my paleo apple crisp. People seem to love that recipe and I figure why fix what's not broken?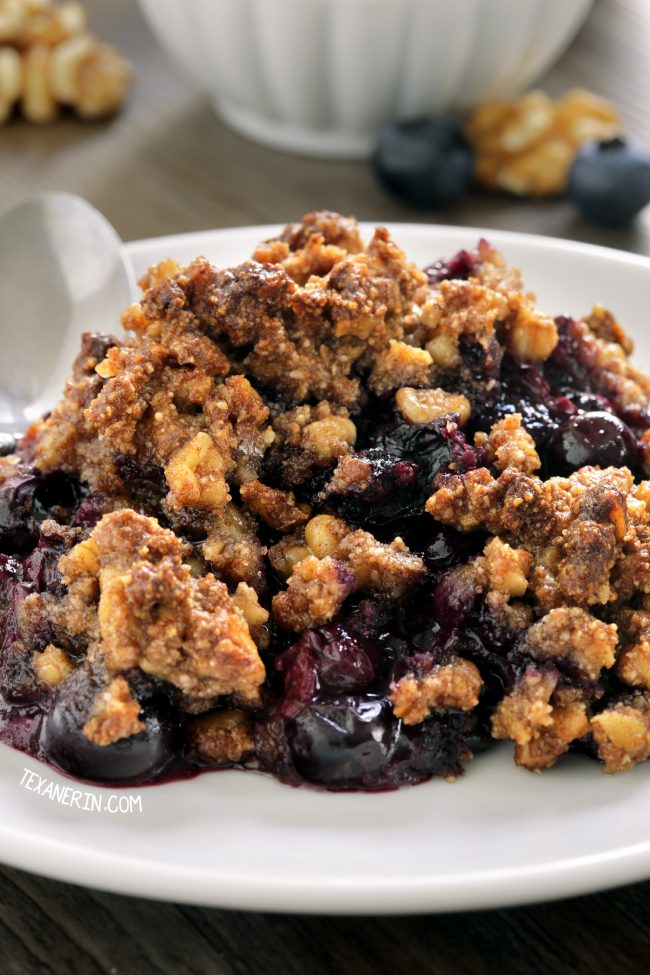 There's a cup of chopped walnuts or pecans in the topping. You can use a knife for the chopping but the last time I made this, I realized it's a whole lot quicker to toss the nuts in the food processor and pulse a few times.
I don't recommend doing that in a high-speed blender like a Blendtec, though. It chops them too unevenly and you'll end up with some pieces that are on their way to becoming nut butter and then some pieces that didn't get chopped at all.
To top it off, I recommend using this paleo vegan vanilla sauce. And this is kind of weird, but I think this paleo vegan maple cream frosting would also be awesome alongside it.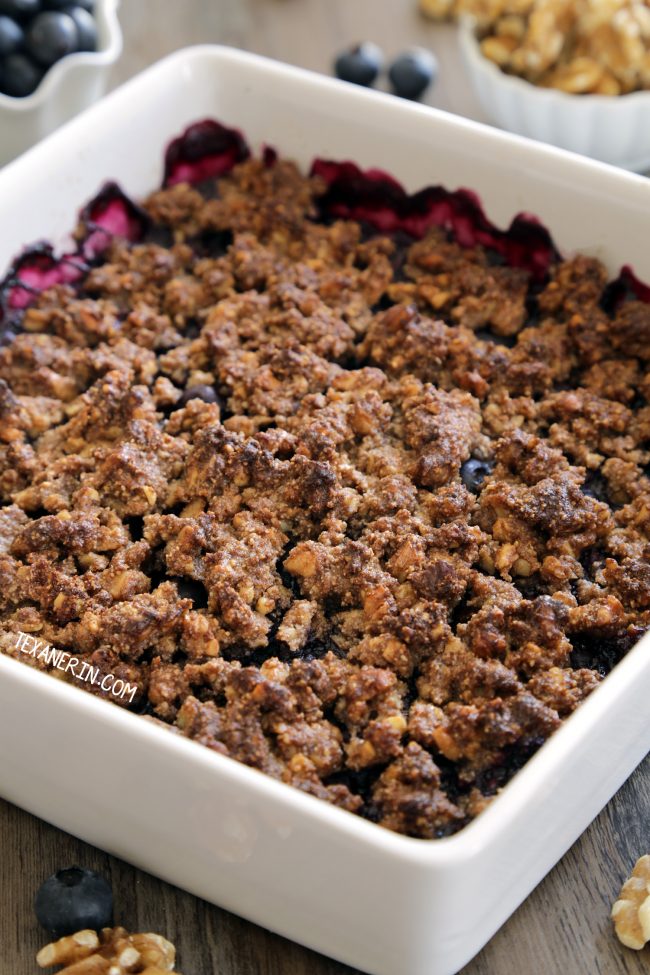 You can see in the pictures of the frosting post that it's not super firm like a regular frosting. And when you make it and before chilling, it kind of has a whipped cream consistency. And the maple combined with the blueberries?! So good!
If my blueberry crisp doesn't strike your fancy, this gluten-free berry crisp from Crunchy Creamy Sweet also looks delicious! If you've already moved on to apples and away from berries, try this old-fashioned apple crisp from Barefeet in the Kitchen!
This paleo blueberry crisp is super easy and straight-forward so I'm done talking about the recipe. Scroll down if you want to skip over my little life update!
Like I mentioned in my last post, these no-bake oatmeal cookies, I'm 6 1/2 months pregnant and we've moved to Munich! I had lived in Berlin for 8 years and wanted to move almost from the very beginning, so to say that I'm happy about the move is an understatement.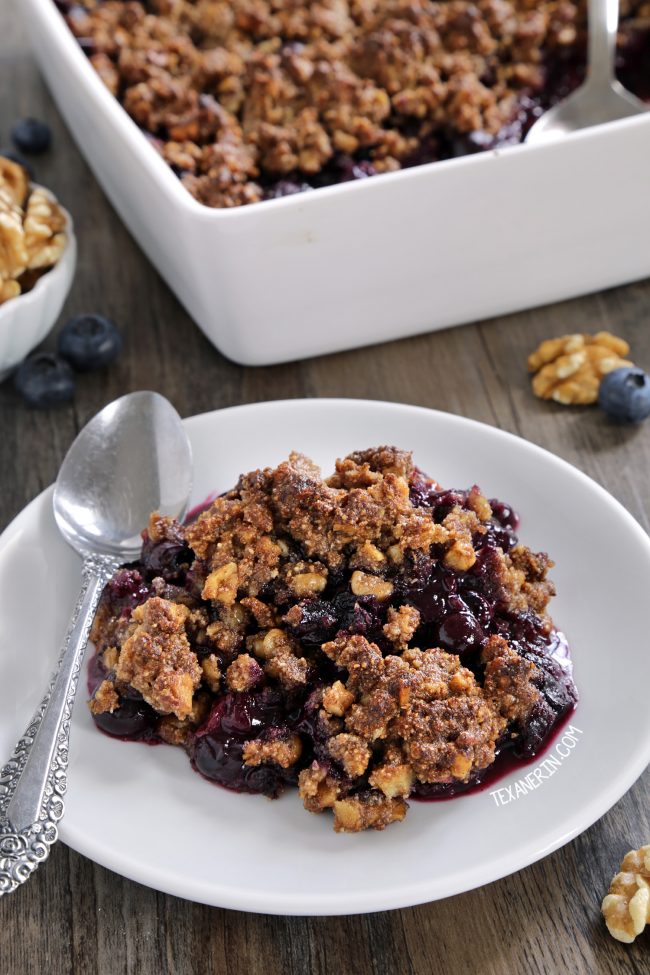 We've been here for 6 weeks but it looks like we've just moved in. The kitchens in Germany come empty and we don't even have a kitchen sink yet. Or a sofa, a table and places to sit. But that's all okay because I'm just so happy to be out of Berlin. :D
A big part of the reason why we're not all settled in yet is because I'm not really doing anything to help. I can't build furniture and even unpacking boxes doesn't really work well for me at this point (thanks to some lovely pelvic bone pain that makes doing anything painful).
A huge thank you to my husband who is doing all the moving in business, housework, and grocery shopping while I sit on my exercise ball and prepare posts for the first few months after the baby is born! ♥ Thanks to him, the recipes will keep coming. :)
❀
Paleo Blueberry Crisp (vegan, grain-free, gluten-free, dairy-free)
Prep Time:
Cook Time:
Ready in:
Yield:

6-8 servings
Ingredients
For the topping:

3/4 cup (75 grams) blanched almond flour
1 tablespoons (8 grams) coconut flour
2 1/4 teaspoons ground cinnamon
3 tablespoons (42 grams) refined coconut oil, room temperature
3 tablespoons maple syrup
slightly less than 1/4 teaspoon salt
1 cup (110 grams) chopped pecans or walnuts (about 1/4" in size)

For the blueberry filling:

1/4 cup (60ml) maple syrup
1 tablespoons vanilla extract
1 tablespoon arrowroot starch (or I'm guessing 2 1/2 teaspoons cornstarch)
1 teaspoon ground cinnamon
pinch of salt
4 cups (570 grams) blueberries, rinsed and patted dry

To serve:
Directions
Preheat the oven to 350 °F (175 °C) and get out an 8"x8" (20cmx20cm) baking dish.
In a medium mixing bowl, stir together the almond flour, coconut flour and cinnamon. Then add the coconut oil, maple syrup and salt and mix until combined.
Pulse the pecans or walnuts in a food processor a few times until they're in small pieces (about 1/8" in size). You can also chop them by hand but the food processor takes a lot less time. Stir the nuts into the topping mixture.
In another medium mixing bowl, stir together the filling ingredients except for the blueberries. When well combined, gently stir in the blueberries and coat in the liquid mixture.
Pour the blueberry mixture in the baking dish.
Distribute the topping evenly over the blueberries.
Bake for 35-40 minutes or until the topping is firm and the blueberries are bubbling. The topping will crisp up much slower than a traditional crisp, but don't worry as it will crisp up towards the very end of the baking time. Cover the crisp with foil if the topping starts to brown too early.
Let cool for 10 minutes and serve. If not serving immediately, once cool, loosely cover with a piece of plastic wrap (so the topping doesn't go soft). If storing overnight, properly cover the crisp with plastic wrap. Do note that the topping gets soft on the second day. Serve with vanilla sauce or ice cream.