This 100% whole wheat banana bread is full of banana flavor and cinnamon and is naturally dairy-free! Can also be made with all-purpose flour.
Whole wheat banana bread seems like such a boring first post, I know, but it's one of our favorites! You really can't tell that this banana bread is made with 100% whole wheat flour (or spelt flour!).
Mr. T usually doesn't like whole wheat treats but this is an exception. There's so much flavor in the bananas and all the added cinnamon that all you taste is pure cinnamony banana bliss. Nobody will know this banana bread is whole wheat!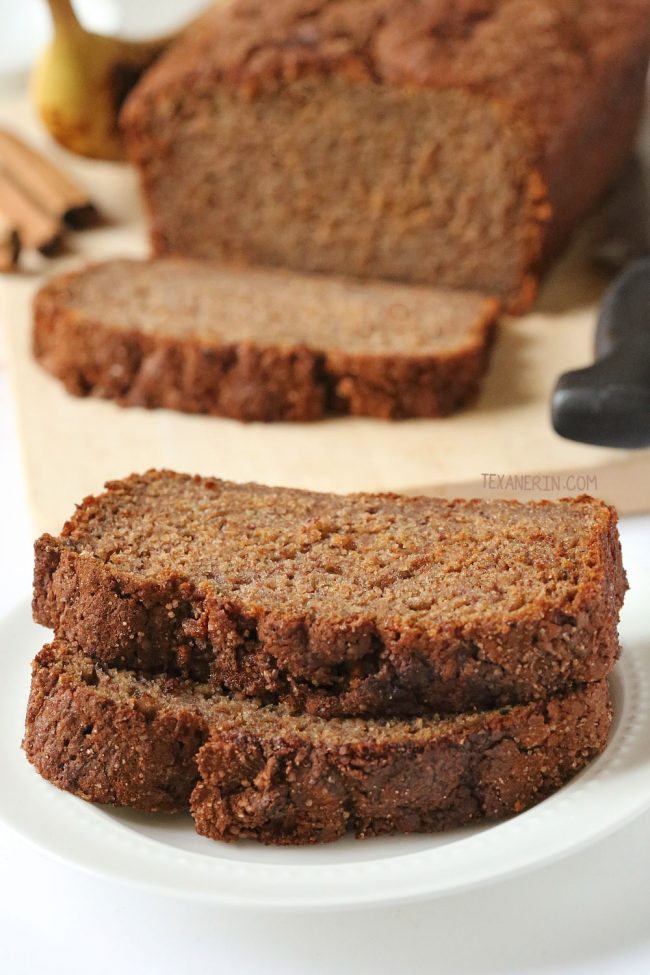 One thing that's super important is the bananas. They need to be as dark as possible. You see the banana in the background of the second picture? It'd be best if the bananas are even darker than that!
If your bananas aren't ripe enough, your bread won't be as sweet as it should be, and since we're reducing the sugar quite a bit, we need those bananas to be sweet.
Another result is using not-ripe-enough bananas is that the bread will be less moist. More sugar = more moisture.
If you find yourself with too many over ripe bananas than you need for this banana bread, you could try my peanut butter banana bars for another delicious whole grain treat!
These whole grain banana pancakes would also be a delicious option! They're made with ground up oats (oat flour) and 100% whole grain. And for a grain-free treat, try this paleo coconut flour banana bread.
This banana bread recipe calls for only 3 tablespoons of oil. I used olive oil but you can't taste it at all! I'm guessing melted coconut oil or melted butter would also work for a non-dairy-free version.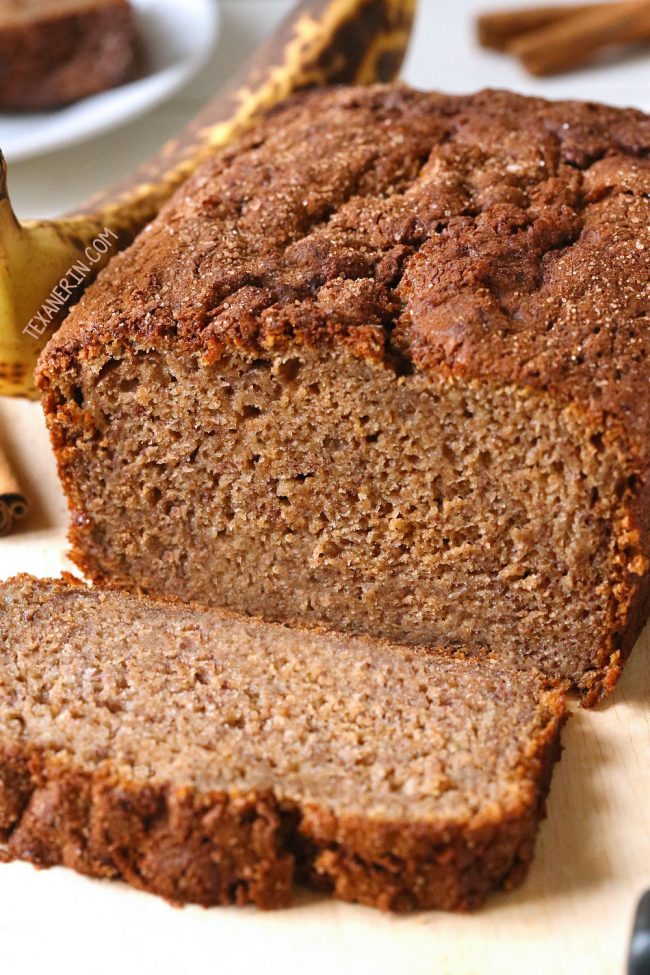 The bananas and cinnamon mellow the whole grain taste that many, including myself, really dislike. You can use traditional whole wheat (which is what I use) or white whole wheat flour, which is less grain-y tasting. You can even use all-purpose flour, if you prefer.
If you want to make this whole wheat banana bread it a bit more exciting, you can add walnuts or chocolate chips to the batter (like Beaming Baker did with her awesome looking Gluten Free Vegan Banana Nut Muffins!).
I'm also thinking of trying a peanut butter version (and this Sunflower Seed Butter And Chocolate Chip Banana Bread looks amazing!). What other add-ins do you add to banana bread?
Hope you enjoy the bread! I'd love to hear how it goes if you try it out. If you'd rather bake it in muffin form, try these banana muffins with a Nutella swirl!
And if you're looking for a gluten-free version, try this gluten-free banana bread from What the Fork!
❀
100% Whole Grain Banana Bread (naturally dairy-free, can also be made with AP flour)
Prep Time:
Cook Time:
Ready in:
Yield:

12 servings
Ingredients
1 1/2 cups (195 grams) whole spelt flour, whole wheat flour or all-purpose flour
1 teaspoon baking soda
1/2 teaspoon baking powder
1/2 teaspoon salt
2 teaspoons cinnamon
1/2 cup (100 grams) raw, or normal brown sugar
2 eggs
1/4 cup (85 grams) honey
3 tablespoons oil (I used olive oil)
1 teaspoon vanilla
4 medium (480 grams without the peel) bananas, mashed

Optional:

1/2 cup (60 grams) chopped walnuts
cinnamon sugar (1 tablespoon unrefined sugar + 1 teaspoon cinnamon)
Directions
Preheat your oven to 350°F / 175°C. Grease a 10.5″ x 3″ (27cm x 8cm) pan and grease it well.
In a medium-sized bowl, whisk together flour, baking soda, baking powder, salt, cinnamon and sugar.
In another medium-sized bowl, lightly beat the eggs. Add honey, canola oil, vanilla and mashed bananas.
To prevent more dish washing, I put one banana at a time in the liquid mix, and mash it with the bottom of a glass. If they're ripe enough, really TRULY ripe enough, this will be easy. You can also puree the bananas. Add the nuts if using.
Add the wet mix to the dry mix, but just until combined.
Pour into the prepared pan and add cinnamon sugar, if using.
Bake for 40-45 minutes. Remember to adjust the time accordingly depending on pan size.
Remove to a rack to cool for 15 minutes before turning out onto the rack to cool completely.
Notes
If you live in a humid environment, refrigerate this after a few days. It's incredibly moist and humidity isn't its friend.