These peanut butter banana bars are like a cross between a blondie and a cake bar! They're also made a little healthier and are 100% whole grain and dairy-free.
First of all – these taste WAY better than they look. I sprinkled some chocolate chips on top in an attempt to make them look more appealing but I can't do anything about the drabness. They just look blah. But once you taste them, you won't care!
When I try a new recipe, I normally only make a fourth and sometimes a half. This means I'm something of a fractions ninja. But I'm also pretty absent-minded and do stuff like halving one ingredient when I only did a fourth of the rest.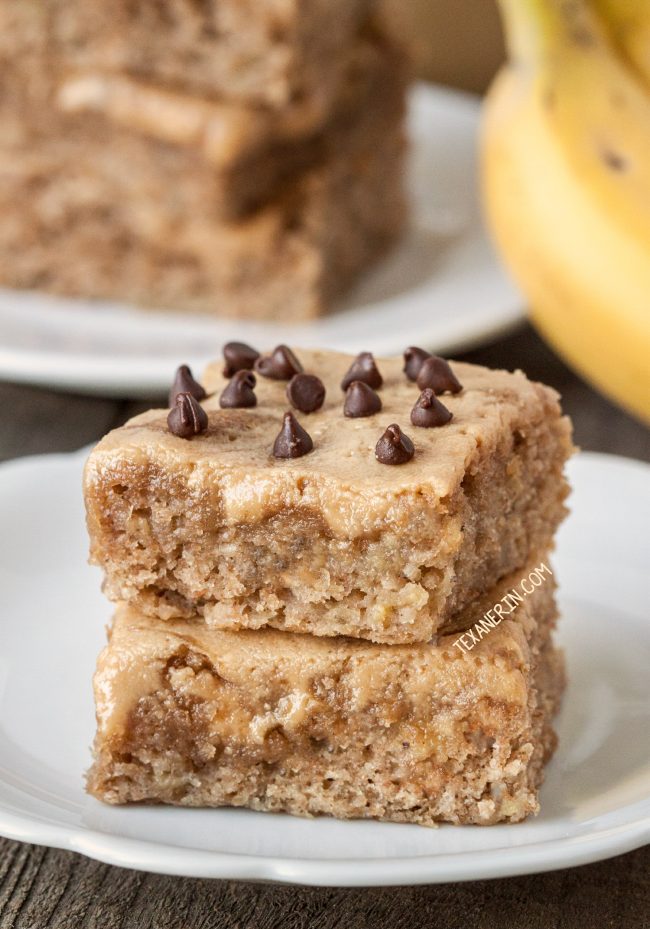 And for the record – I always test recipes more than once before posting them so you don't need to worry about mistakes in my recipes!
When I made these peanut butter banana bars the second time, I realized that I had accidentally used twice as much flour as I should have and was really confused because I loved how they came out.
I thought that perhaps it was a fluke or that my mind was playing tricks on me. So I made them again with the same amount of flour and they came out exactly the same. It was a pretty awesome morning.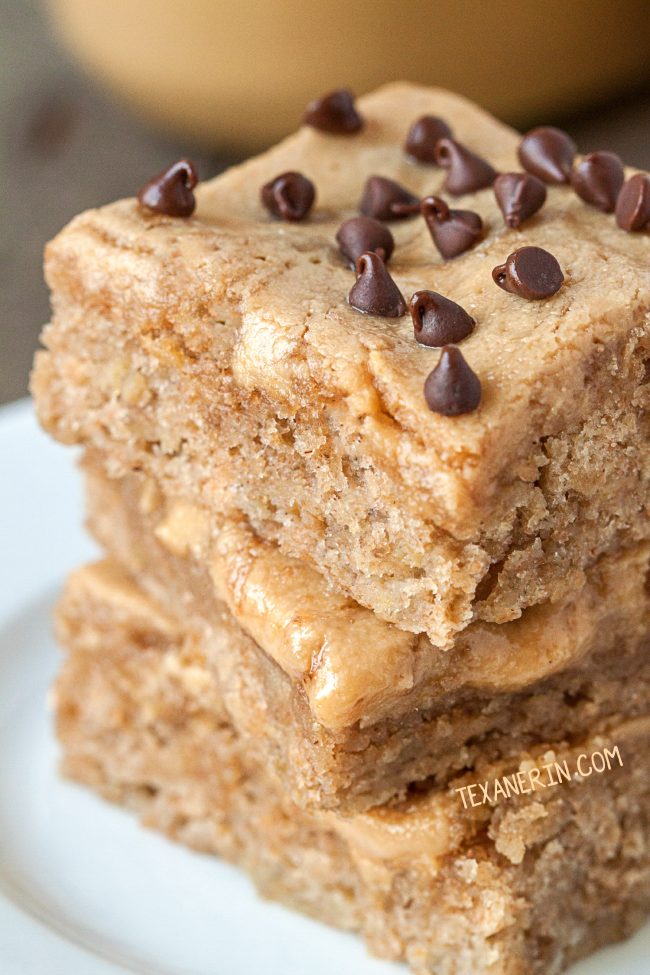 I adapted these form Dinners, Dishes and Desserts' banana snickerdoodle bars. I'm sure my version with double the flour (and an extra banana) isn't as dense and blondie-like as the original but I still couldn't stop eating them!
Erin's version uses cinnamon, cinnamon chips and has a yummy sounding topping, which I can't wait to try, but first I wanted to peanut butter them up.
So I mixed together a bunch of peanut butter with a little honey and coconut oil and poured that over the batter. The banana bar base isn't all that sweet but when paired with the peanut butter topping, it's perfect.
I think it also contributes to the somewhat gooey and dense texture of the bars so I really do not recommend making the bars without the peanut butter topping! I'm pretty sure they'd be too dry and not sweet enough.
Want peanut butter + chocolate for breakfast? Try these easy vegan peanut butter banana breakfast cookies from Beaming Baker! They're also whole grain as well as naturally gluten-free. These peanut butter blondies also look like a great sweet treat!
❀
Peanut Butter Banana Bars (100% whole grain, dairy-free)
Prep Time:
Cook Time:
Ready in:
Yield:

12-16 bars
Ingredients
For the topping:

1/2 cup (128 grams) salted natural peanut butter (the kind with just peanuts and salt!)
3 tablespoons (60 grams) honey
2 tablespoons (28 grams) coconut oil, room temperature1

For the bars:

1 cup (125 grams) white whole wheat or whole spelt flour
1/2 teaspoon baking powder
1/4 teaspoon baking soda
1/8 teaspoon salt
2 very ripe bananas (mine were each 182 with the peel and 135 grams without the peel)
1/2 cup raw sugar or brown sugar
3 tablespoons coconut oil, melted and cooled slightly
1 teaspoon vanilla extract
1 large egg, room temperature
Directions
Preheat the oven to 350 °F (175 °C). Line an 8"x8" (20cmx20cm) pan with a piece of parchment paper.
In a small mixing bowl, stir together all the topping ingredients until well combined. Set aside.
In a medium mixing bowl, stir together the flour, baking powder, baking soda and salt. Set aside.
In a large mixing bowl, mash the bananas very well with the bottom of a drinking glass (or mash however you wish). Add the sugar, coconut oil, and vanilla and stir until well combined. Add the egg and stir just until combined.
Add the dry mix to the wet and stir just until combined.
Pour into the prepared pan. Add the topping – it will cover the entire surface.
Bake for 16 minutes or until a toothpick inserted in the center comes out without any batter on it, keeping in mind that the peanut butter layer may still be sticky or gooey.
Remove from the oven and let cool completely.
Cover and store in the refrigerator for up to 3 days.
Notes
I used refined coconut oil, which doesn't have any coconut taste. If you use unrefined coconut oil, these may have some coconut taste to them.
Adapted from Banana Snickerdoodle Bars on Dinners, Dishes and Dessserts