Homemade 100% whole wheat cheese crackers that are even better than store bought! Just blend everything together, roll out and bake.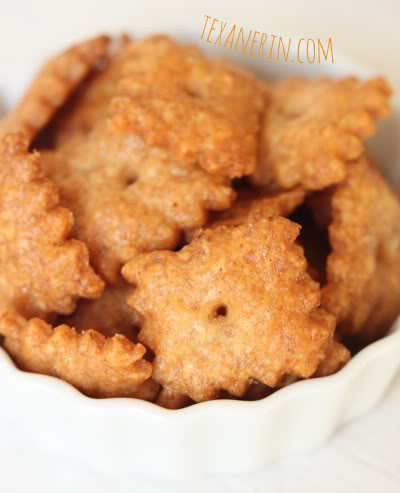 Wheat Thins and Cheez-its have always been my favorite snacks. Healthy, right? Luckily for my health, they don't have them here. Nor do they have, in my opinion, any good snack food. But it doesn't matter any more because I have these homemade cheese crackers! These don't taste exactly like Cheez-its or Goldfish, but perhaps a cross between the two.
If you give me a bag of Cheez-its, I eat almost the entire thing and then feel sick. I do the same with these. I just can't help it. They're so good. If you have to share these, I definitely recommend doubling the recipe.
With all the cheese and butter, they're not exactly healthy, but they're way healthier than what comes out of the box, so let's celebrate!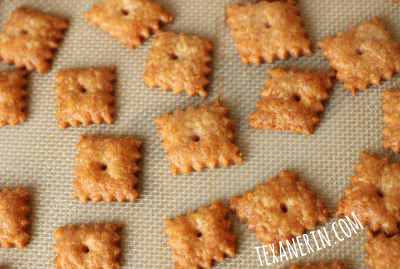 You don't have to separate the crackers too much. They puff up just a little.
That's my still dirty pasta cutter thingie, in case you're wondering how I made mine ruffly.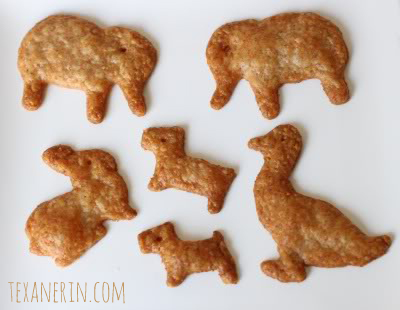 I made a pathetic zoo out of my homemade cheese crackers. Or an awesome petting zoo with elephants and gigantic killer ducks and bunnies.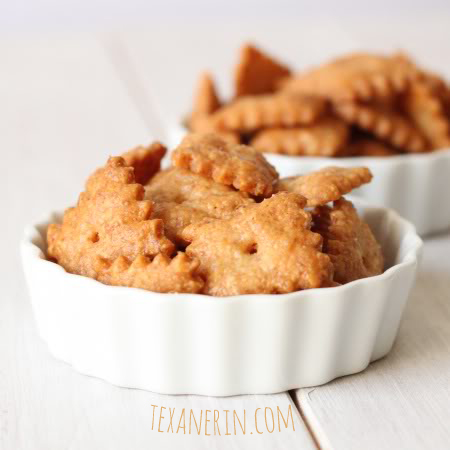 Good luck with not eating the entire batch!
❀
100% Whole Grain Cheez-its / Goldfish
Prep Time:
Cook Time:
Ready in:
Yield:

8 servings
Ingredients
1 1/2 cups (6 ounces / 170 grams) grated cheddar
4 tablespoons (57 grams) butter
3/4 cup (95 grams) whole spelt, whole wheat pastry, or whole wheat flour
1/8 - 1/4 teaspoon onion powder
1/8 - 1/4 teaspoon salt
Directions
Preheat your oven to 350°F / 175°C. Combine all of the ingredients in a food processor, and run until it forms a ball. It should take about two minutes.
Then you can roll it out (I do it between two Silpats) or refrigerate it for about 30 minutes so that it'll be easier to handle. You can also roll it out on a lightly floured surface. Roll the dough to about an eighth of an inch. I like to sprinkle mine with some table salt, but I like them really salty.
Cut shapes however you wish, and then with a skewer, prick a small hole in the middle to prevent them from puffing up.
Spread them out on a piece of parchment paper or on a Silpat, leaving just a little room for them to grow.
Baking time will depend on the size of your shapes, but my mock Cheez-its took 8 minutes. They should just be turning brown at the edges. My elephants took around 13 minutes.
Adapted from Goldfish Crackers