These moist spiced applesauce cupcakes (or muffins) are grain-free, gluten-free, dairy-free and have the most amazing maple almond butter frosting!
I did it – I turned in the manuscript! Thank you all for not abandoning the blog (and me!) I thought that when I finished, I'd be so sick of baking that I'd need at least a few days off. But instead, I've just been so glad to bake what I want, whenever I want, that I've been baking all kinds of goodies for the blog! I've missed blogging, reading other blogs and life in general. So happy to be back. :)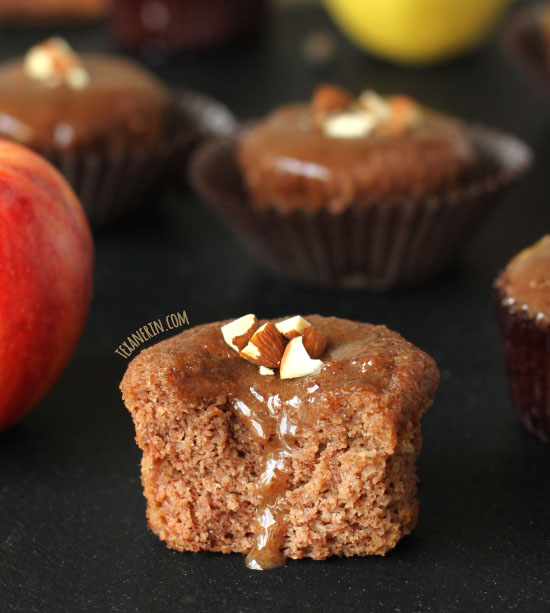 Before pumpkin mania takes over, I have one more apple recipe to share! I attempted some grain-free apple bars which didn't want to work and after that drama, I just wanted something easy. So I took this apple butter cake I made last year in 6-cup bundt pan, which most people don't seem to own, and because I know people are going to make it with applesauce instead of apple butter, I thought I'd better see if that actually works. I increased the almond flour just a little to make up for the extra moisture in the applesauce and added extra spice to make up for the loss in the apple butter.
These applesauce cupcakes could just as well be called muffins. Is there really a difference in texture between grain-free cupcakes and muffins made with almond flour and coconut flours? I've never noticed any, though it could just be the recipes I've tried. I topped them off with this maple cinnamon almond butter glaze frosting kind of thing which I'm putting on everything nowadays. It's heavenly. Just don't be like me and not let it chill enough before topping your cupcakes. If you let it firm up in the refrigerator like you're supposed to, it won't run that much. And the cupcakes and the frosting are both completely maple syrup sweetened and aren't that sweet at all.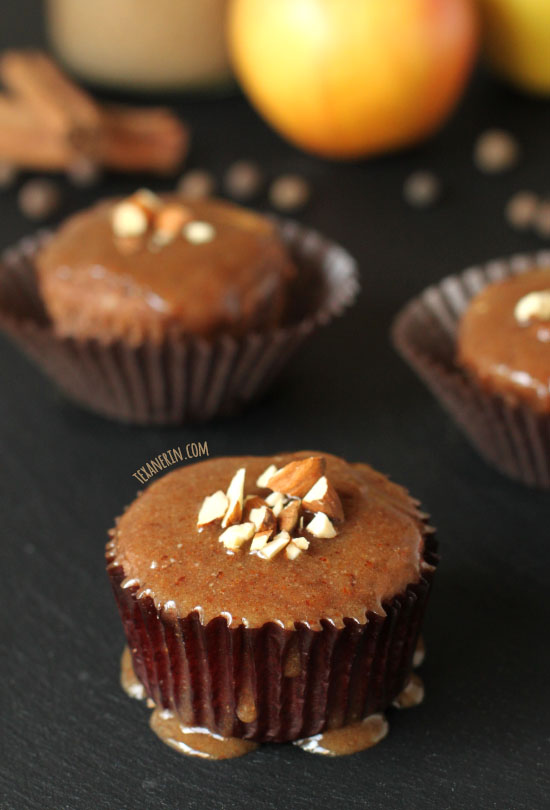 If you look at that first picture and wonder if these sink in the middle – they don't! I knew that the cupcakes had to sit for a while (they're not so good straight from the oven), but I dug a little hole out of the top for a taste, anyway, thinking I'd be able to cover it up. Apparently I don't pay attention to anything when taking pictures, because I picked the one cupcake that had a gaping hole in it. Womp womp. Enjoy the cupcakes! Or muffins if you want to eat them for breakfast. :)
If you prefer something without coconut flour, check out this Applesauce Snack Cake, which uses oat flour and almond flour. It looks great!
❀
Grain-free, Gluten-free and Dairy-free Spiced Applesauce Cupcakes
Prep Time:
Cook Time:
Ready in:
Yield:

12
Ingredients
For the cupcakes:

1/2 cup (66 grams) coconut flour, sifted if lumpy
3/4 cup + 1 tablepsoons (81 grams) almond flour
1 1/4 teaspoons baking soda
2 3/4 teaspoons cinnamon
3/4 teaspoon ginger
3/4 teaspoon allspice
1/2 teaspoon nutmeg
1/2 teaspoon cloves
1/4 teaspoon salt
4 large eggs
7 tablespoons (98 grams) coconut oil, melted1
1/2 cup (120ml) maple syrup
1/2 cup (116 grams) unsweetened applesauce
2 teaspoons vanilla extract

For the frosting glaze:

1/4 cup (67 grams) almond butter
3 tablespoons maple syrup
1/2 teaspoon cinnamon
4 teaspoons (19 grams) coconut oil, softened
1 1/2 teaspoons vanilla extract
up to 1/8 teaspoon salt
Directions
Preheat your oven to 350°F (175°C). Line a muffin tin with 12 muffin liners.
Mix together the dry ingredients (coconut flour through salt) in a medium bowl.
Mix together the wet ingredients (eggs through vanilla) in a large bowl.
Add the dry mixture to the wet one and stir until combined.
Divide the batter among the liners and bake for 15-18 minutes or until a toothpick inserted in the middle of a cupcake comes out clean.
Let the cupcakes cool for 5 minutes in the pan and then invert onto a wire rack to cool completely. These don't have the best texture straight from the oven. I recommend giving them at least 8 hours before eating.
To prepare the frosting, in a small bowl, stir all the frosting ingredients together, and place in the refrigerator to firm up, about 1-1 1/2 hours.
I recommend removing the liners so that you don't lose any frosting to the liner should it run down the sides. Place 1 1/2 teaspoons of frosting on top of each cupcake. It will slowly spread across the cucpakes, so don't spread it all the way to the edge. Place the cupcakes in a container or on a clean surface in case the frosting runs.
Store in an airtight container in the refrigerator for up to 3 days.
Notes
I used refined coconut oil, which has no coconut taste. If you use unrefined coconut oil, there may be some coconut flavor.