These Air Fryer Apples are perfect for an easy, yet delectable fall treat. They're like sauteed apples but made in the air fryer. These air-fried apples are lightly sweetened with maple syrup and vanilla, spiced with cinnamon, and they're done in no time. With options for dairy-free, paleo and vegan.
Apples may not be the most exciting side dish or dessert for Thanksgiving, but I'm always ecstatic to see them on the table. I love sauteed apples, but I'm not a fan of how sugary and gloppy they can be.
I want to taste the apples, so this recipe is sweetened with maple syrup, leaving the rest to the apples.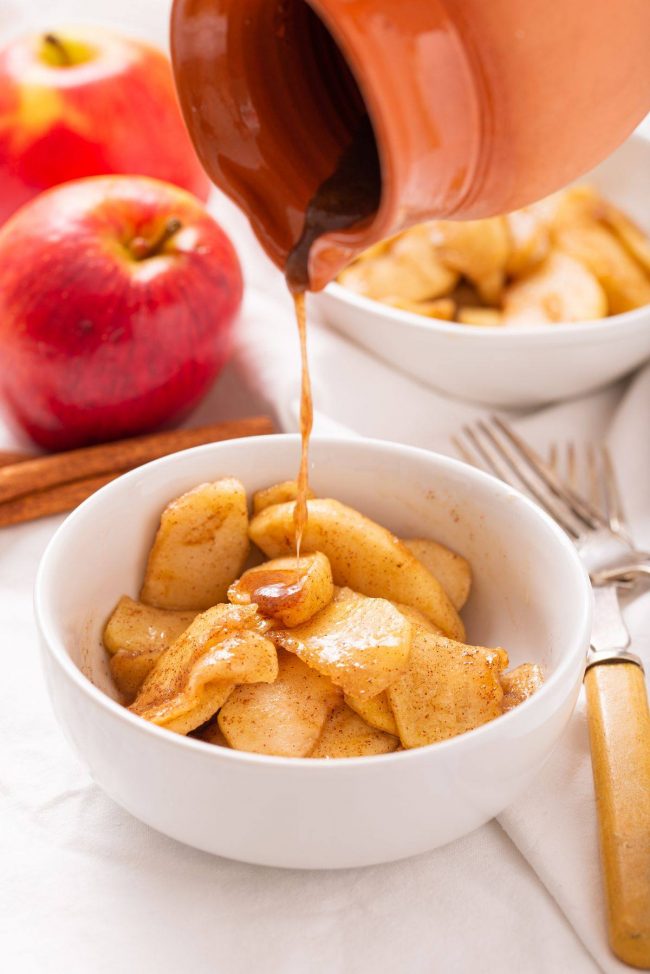 Making these apples in the air fryer makes things so simple. The air fryer makes the apples tender and with a simple sauce, they're just irresistible.
You don't have to wait for Thanksgiving, you can make a batch for yourself any time without a lot of hassle.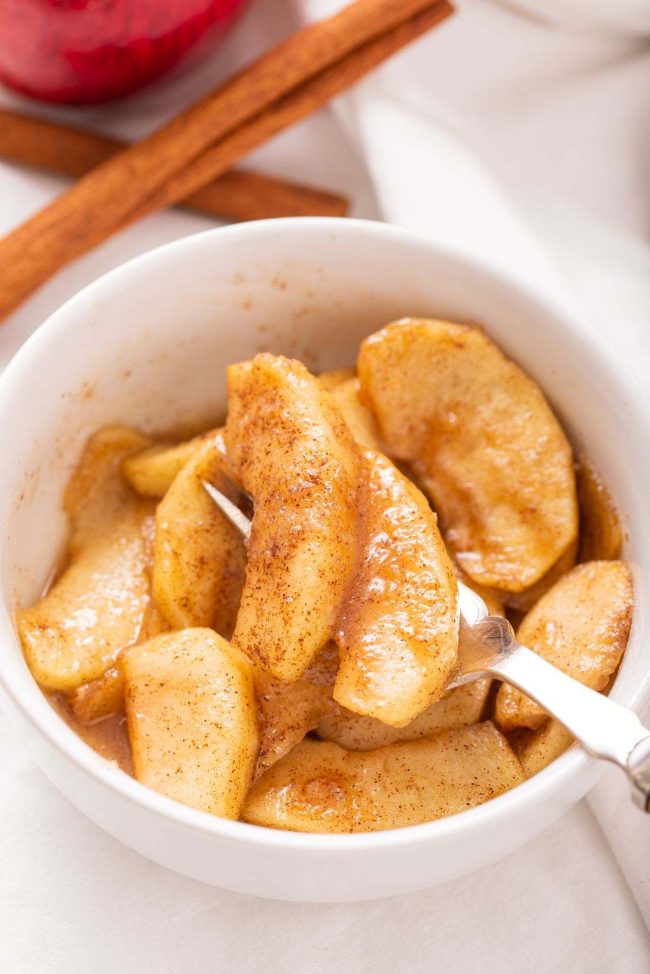 Ingredients:
Melted butter or for paleo/vegan/dairy-free, use refined coconut oil
Maple syrup
Vanilla extract
Ground cinnamon
Peeled sweet apples (instead of tart ones like Granny Smith)
How to make air fryer apples:
Mix melted butter, maple syrup, vanilla and cinnamon.
Add apples and toss to coat.
Put them in an air fryer-safe dish and cook.
Stir and cook some more.
Remove, let them sit, then serve!
The result is soft and warm cinnamon-spiced apples.
If you like more spice, you could add nutmeg, allspice and cloves to the mix, or just add some apple pie spice to taste.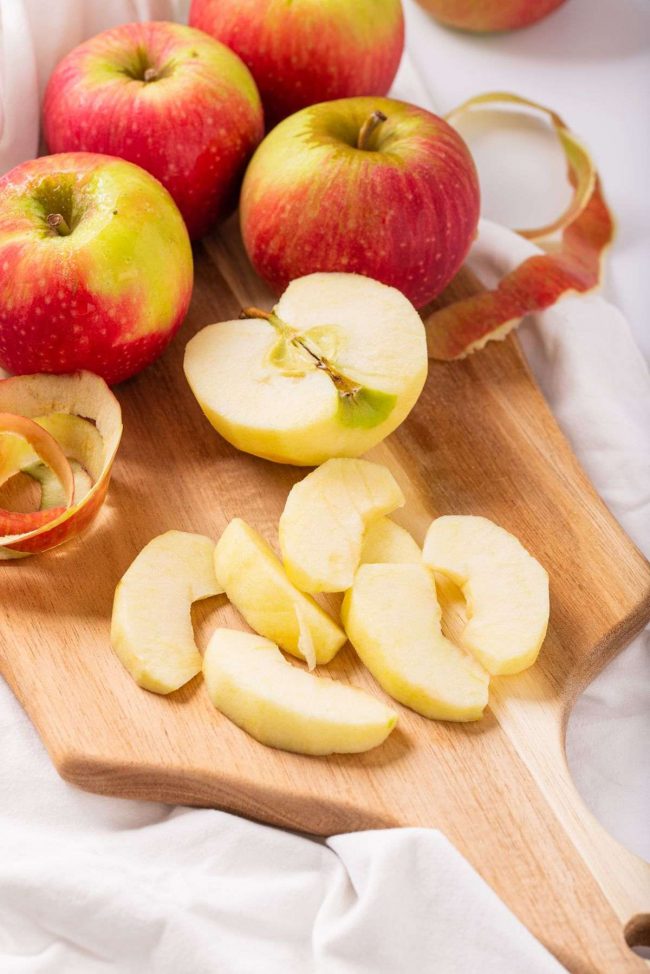 Why use an air fryer?
There are so many reasons! First, they're energy-efficient, they're so versatile, and they're great for small batches when you're not needing a whole pan of sweets. Plus, they're less messy and no fuss.
But in the case of Thanksgiving, Christmas and other holidays, using an air fryer is especially great so that you can free up the stove for other recipes, like Sweet Potato Mac and Cheese or these Red Skinned Mashed Potatoes.
There's so much you can do with the air fryer that it's a shame it took me all these years to finally buy one. If you love apples, then you should also try these Air Fryer Baked Apples.
They're like mini apple crisps and ready in 15 minutes. Gluten-free and vegan options are included.
Wondering what other desserts you can make in an air fryer? I also love these super easy Air Fryer Chocolate Chip Cookies and the Paleo Air Fryer Cookies. And don't forget the Air Fryer Brownies and the Air Fryer Paleo Brownies.
See?! The possibilities are endless!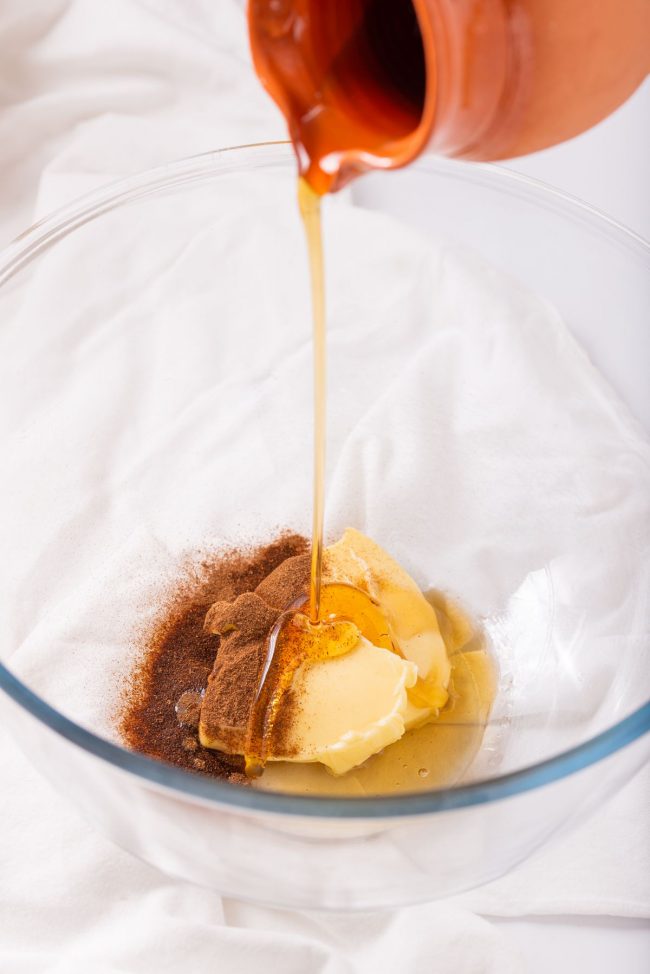 What air fryer did you use?
In the photos, you see the Tower T17023 Air Fryer, but it's not available in the US.
If you have a similar style, you can just put the apples directly into the basket, like you see below.
But I've also made them in the Ninja SP101 Foodi 8-in-1 Digital Air Fryer. If using that one, you need to put the apples in an air fryer-safe pan that will fit in the air fryer. That's because this style doesn't have a basket, but looks like a mini oven.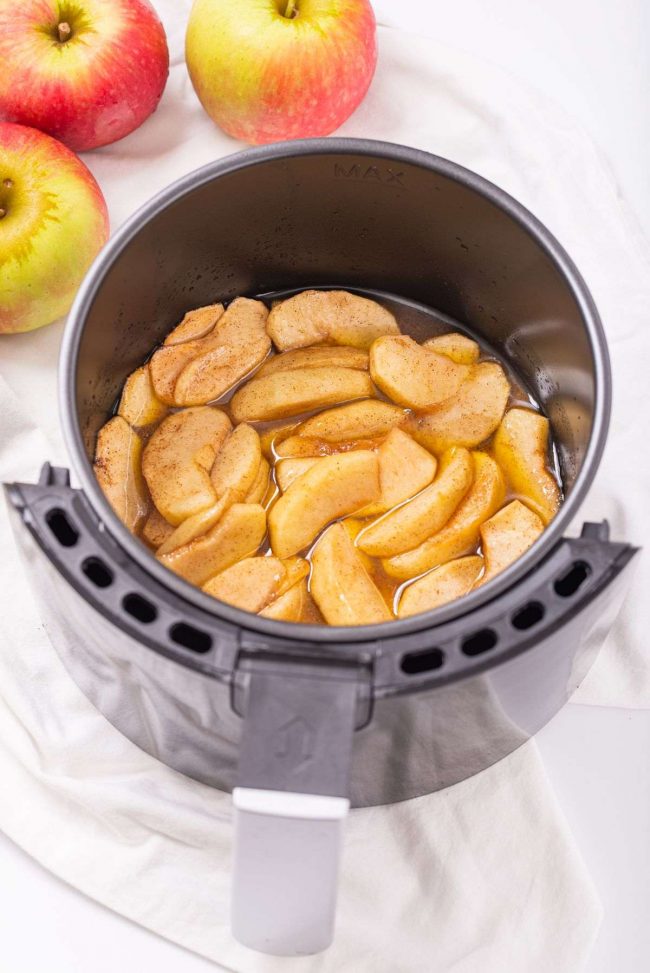 What if I don't have an air fryer?
Not a problem! These apples are based on my Sauteed Apples recipe.
So if you want to make these apples on the stove, just check out that recipe.
I believe you could also make them in the oven, but I have no idea of the bake time. My guess would be 350 °F (175 °C) for 25-35 minutes.
If you try it out, please let us know in the comments! And these Microwave Cinnamon Apples also look like a great option.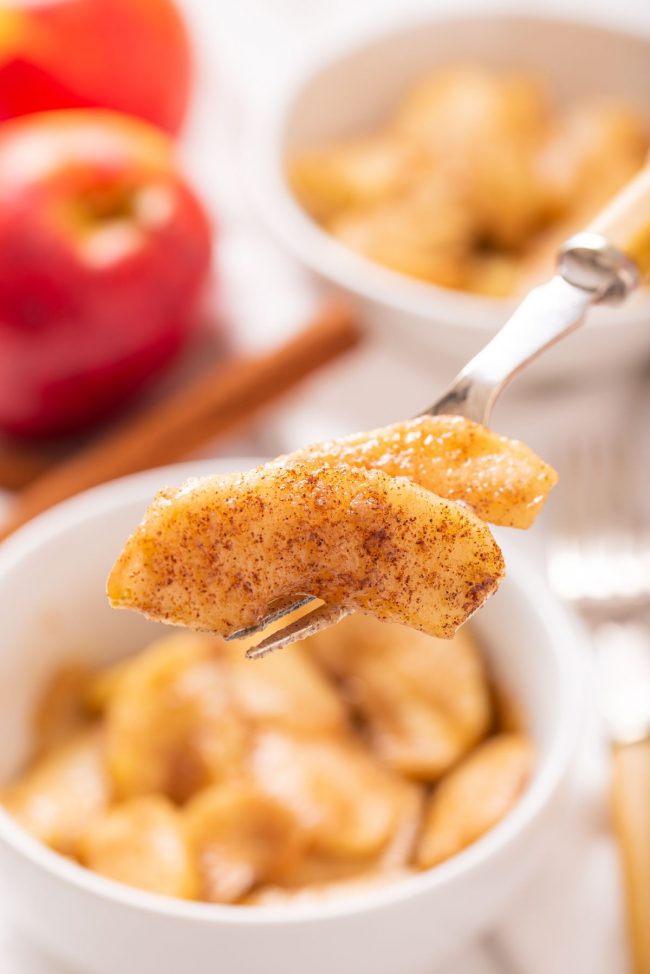 Do I have to use butter or coconut oil?
I haven't tried it, but you can likely use any neutral-tasting oil like vegetable oil.
I think if you just omitted the fat, then the maple syrup would caramelize quickly and you wouldn't really have sauce. I think the maple would start burning before the apples are tender.
But it's just a guess! I could totally be wrong.
And for greasing the air fryer basket, don't use an aerosol spray like Pam! You will run the risk of cracking the coating on the air fryer basket and that would be sad.
How to serve air fried apples
They're great as a side dish for Thanksgiving or Christmas. Then you just serve them as-is!
But they also make for a great dessert.
For my paleo/vegan readers – if you really want to do it up, add this Paleo Vegan Vanilla Sauce on top.
Don't have a high-speed blender to make that? Try this Vegan Custard! This Vegan Caramel Sauce would also be fantastic.
And if you love your dairy, go ahead and try this Maple Ice Cream or this Salted Maple Caramel Sauce. Or both!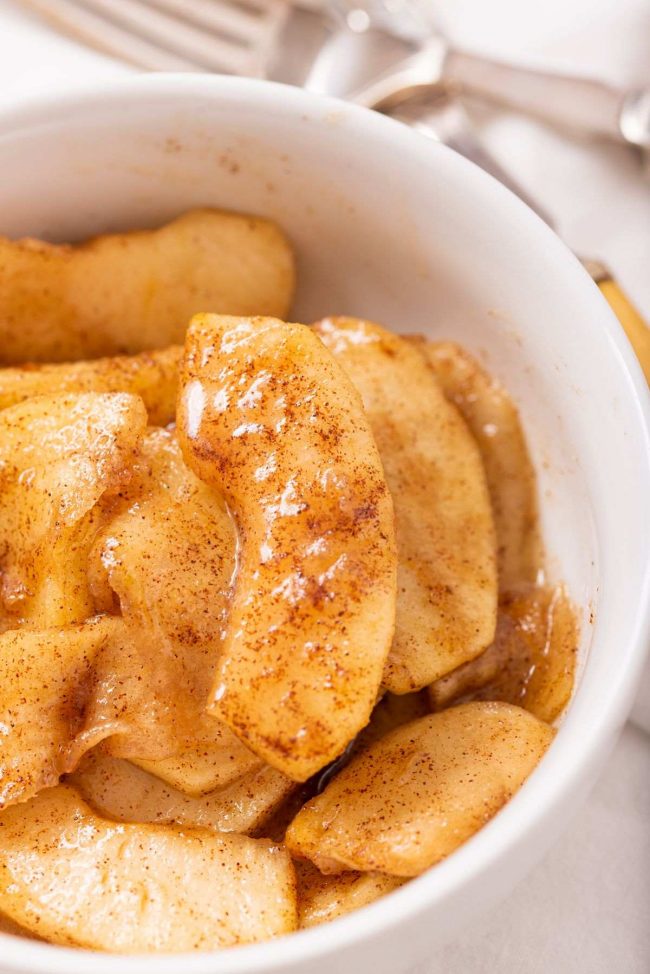 What kind of apple should I use?
I used Elstar apples because they are very common here in Germany, but you can use any sweet apple. I wouldn't use a tart apple because it might not be sweet enough.
My apples usually aren't very fresh and they absorb most of the maple syrup sauce (which is not a bad thing!) during cooking. That happens towards the end of the baking time.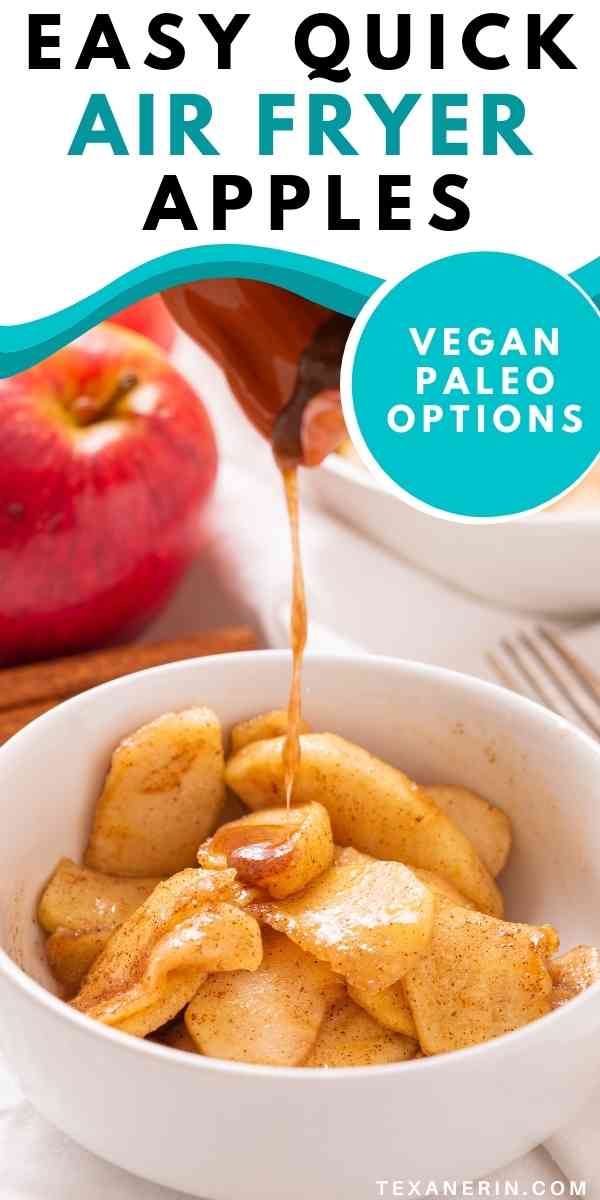 What you see in the photos were fresh Jazz apples and there was a little sauce leftover, which is what you see being drizzled over the apples in the first photo.
I'm thinking Fuji, Gala, or Golden Delicious would all be great. I wouldn't use Red Delicious because I think they're useless. ;)
But then again, any apple is better than no apple, so use what you have and sweeten it a bit more if your apples are too tart.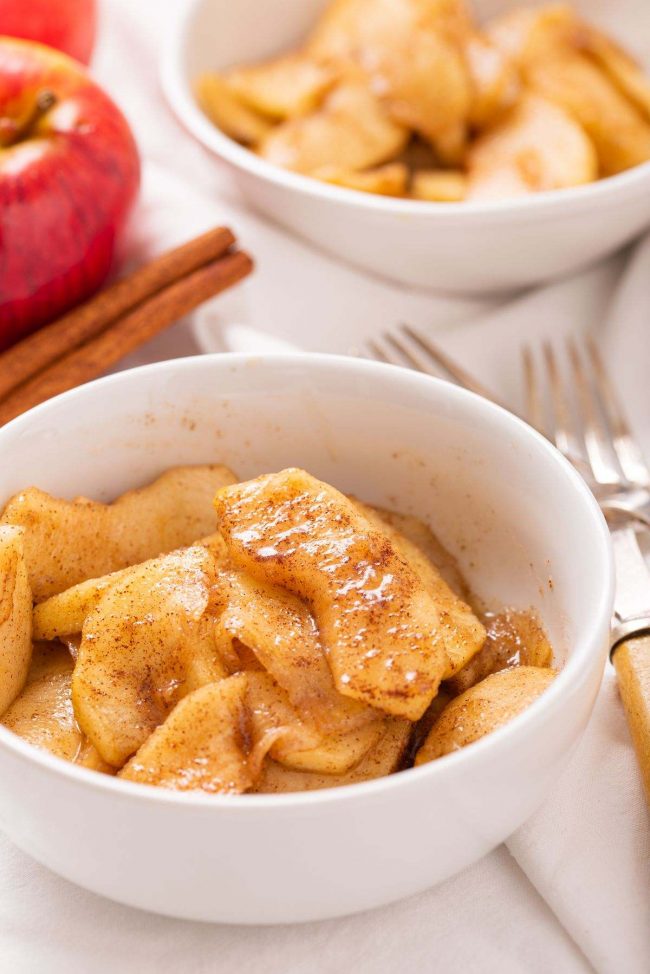 Other Thanksgiving side dishes:
I don't know about you, but I love apples as a side dish for Thanksgiving. So here are some of my other favorite dishes.
I'm getting hungry just thinking about it. What traditional sides do you like most at Thanksgiving?
If you try these Air Fryer Apples, please leave me a comment below and let me know how they turned out, or snap a pic and post to social media. Don't forget to tag #texanerin so I can easily find them!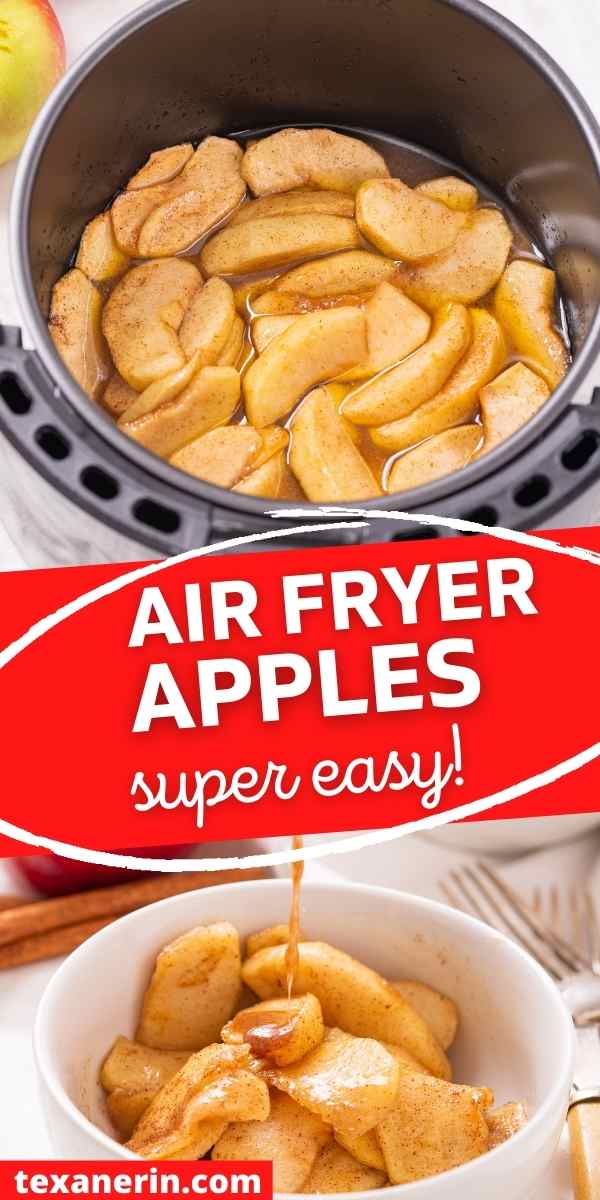 ❀
Air Fryer Apples
Prep Time:
Cook Time:
Ready in:
Yield:

6 servings
Ingredients
2 tablespoons (28 grams) melted butter or for paleo/vegan/dairy-free, use refined coconut oil1
1/4 cup (60 milliliters) maple syrup
2 teaspoons vanilla extract
1 teaspoon ground cinnamon
4 sweet apples (810 grams / 1.75 pounds), peeled, cored and sliced into 1/4" slices
Directions
Directions
In a medium mixing bowl, stir together melted butter, maple syrup, vanilla and cinnamon.
Add the peeled and sliced apples and toss to coat them in the liquid.
If you have the type of air fryer basket where you can directly place the apples, then grease the basket. If you have a different style, then grease an air fryer-safe dish that's large enough for all the apples and that will fit in your air fryer.
Transfer the apples (and all the liquid) to the greased air fryer basket or dish.
Preheat the air fryer to 375 °F (190 °C).
Cook for 12 minutes. Then stir to make sure the apples are well coated in the liquid, and cook for another 8-15 minutes, or until they're soft enough for your liking.
Remove the apples from the air fryer and let them sit for 10 minutes and then serve. The liquid will gel a little as it cools.
Cool any leftovers and refrigerate in an airtight container for up to 5 days.
Notes
You can also use unrefined coconut oil if you don't mind coconut flavor. With refined coconut oil, there's no coconut flavor.